As an Amazon Associate we earn from qualifying purchases.
If you're curvy, it can be confusing to know if bras that are meant for full figured or plus sized women will also work for you. What is considered full figured is not necessarily the same as what's considered curvy.
You might be thinking, how do you even begin to distinguish the differences between being curvy and full figured if they seem to mean the same thing?
Well, each of the terms refers to different aspects of bra sizes, and I'm here to settle the difference once and for all.
​What Is Considered Full Figured?
​A full figured woman, in the general sense, means someone who wears at least a size 12. Her body shape is "voluptuous" and has an "overall rounded frame."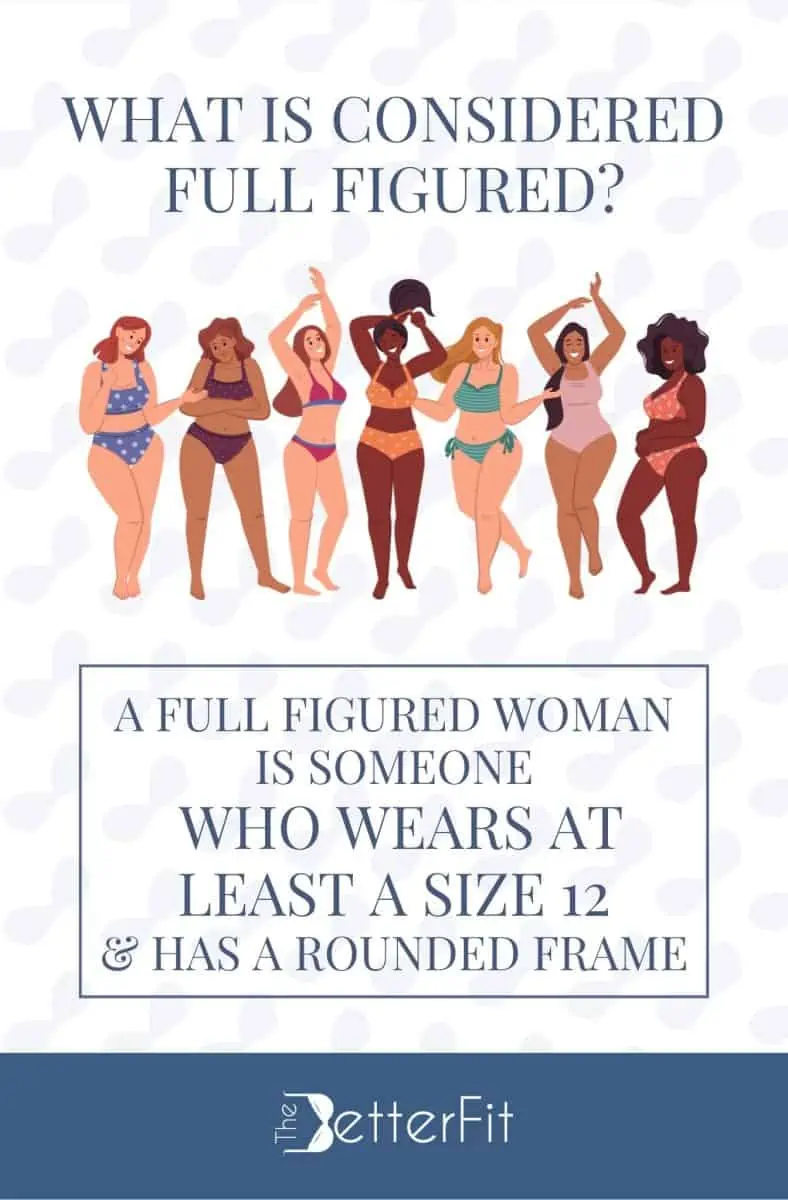 Full figured women can be what the Internet likes to call "thick" because they have wider hips and waistlines, full breasts, and a rounded backside.
Don't be fooled by the word "rounded" though, because full figured doesn't automatically mean overweight. It might just be that the body fat and weight are equally distributed in all areas of your body.
What Full Figured Means in the Lingerie Industry
In the world of lingerie, however, the term full figured focuses more on the size of the bust or chest area. This definition disregards any specific body shape just means that the breasts are larger than average.
It's not a matter of how much body fat you have or where it is in other parts of your body. Rather, it's the size of your actual breasts that will determine if you'll fit a full figured bra or not.
Full Figured Bra Sizes
To determine if a bra is for full figured women, you have to look solely at the cup size, or the letter in one of your ​great push up bras for full figured women.
All you need to know is that the minimum is a D. You can be the thinnest girl in the world and still fit a full figured bra if you have breasts that require nothing smaller than a D cup.
Before, cup sizes mostly ranged from A to D – the former being the smallest and D the largest. A DD was considered pretty big, but breast sizes have increased significantly over the last 50 years and they continue to increase.
The cup sizes follow this trajectory and have also expanded to large extremes. The largest I've seen some brands offer reach a K. Between D and K you'll find other double and triple sizes for each.
They can all be classified as full figured. Full figured women also often look at bras that solve their specific problems, such as a highly rated minimizer bra to provide a little more support and slimming features.
Full Figured vs Curvy
​Being curvy sure sounds similar to having a full figure. However, they can also mean different things in the broad, wide world of fashion. I've distinguished full figured as having the weight equally distributed all over the body.
Comparing Full Figured and Curvy
Body Type
Description
Cup Sizes
Best Bra Styles
Full Figured
Wider hips and waistline, full breasts, rounded backside
D to K
Minimizer, full-coverage, sports
Curvy
Narrower waistline, full breasts, rounded backsideB and upFull-coverage, demi, bustier
​What Is Considered Curvy?
Curvy is the opposite as it focuses weight and fat on certain body parts, thus creating curves. It can also be associated with having an hourglass figure.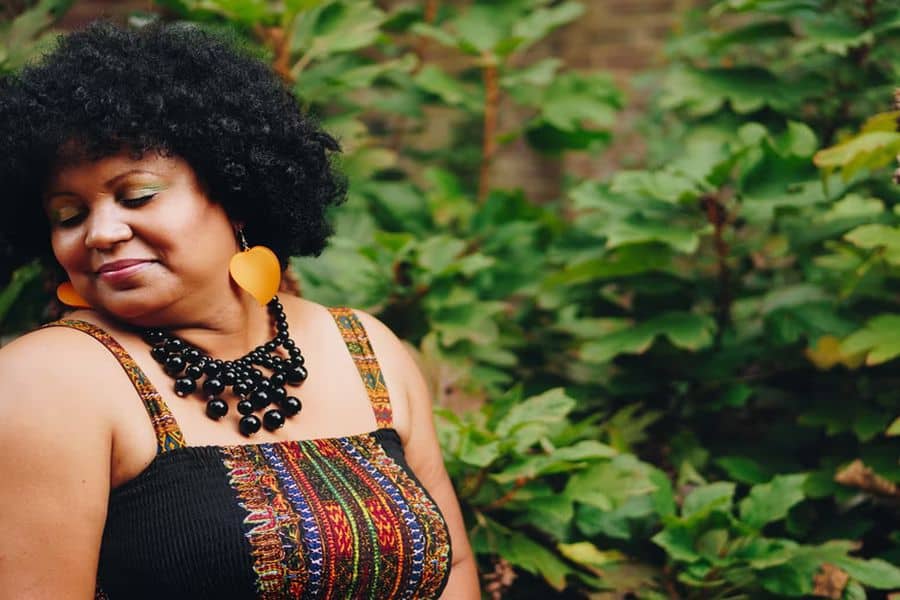 An hourglass shape is almost similar to a full figure with one exception: a narrower waist. It is where the curve is most prominent, and where the term is taken from.
Since almost everything is similar, including the breasts, curvy women ​don't differ much from full figured women when it comes to the various types of bras they use.
Curvy vs Plus Size
Another term for curvy and full figure gets interchanged often is plus size. While full figured women are only prominent in the chest and hips areas and curvy women are determined by their hourglass shape,
Complete Fashion Magazine's Adaeze Ibechukwu differentiates plus size as having:
​"Extra pounds on all parts of the body from the face, to the upper arms, legs, back and everywhere that can absorb extra fat."
This can include the underside of the breasts or the area around the ribcage that cause bulges. Therefore, plus size bras are usually distinguished by a wider band (the number on your standard bra sizes) so as to not cut tight through plus size women's skin.
A band size of 38 is the usual starting point of plus sized bands in bras and some specialized brands can go even up to 60.
Bras for Curvy Women
Since the term curvy relies more on the body shape than the breast size, curvy women do not strictly require a D cup or above. You can wear a B or C cup and still be considered curvy as long as your waist is smaller than the breasts and hips.
However, the shape renders itself more likely that you'll have bigger breasts when you're curvy. In this way, you might find that large cup sizes fit your breasts better.
Bras for curvy women differ in the way that it also considers the band size, especially longline bras or bras with lower bands that reach the waist.
Bras made for curvy women should consider that their waist is narrower while their breasts are large, so the band size and cup size should vary in those proportions.
Full Figured vs Fat
A full figured body doesn't necessarily equate to being fat. Being full figured describes the body's size and shape, whereas fat refers to excess body fat. For instance, a full figured person can still be within their ideal weight range, while there are fat average-weight women.
​Differences in Bra Sizes for Full Figure, Curvy, and Plus Size
​In summary, you can easily distinguish a bra for the full figure, curvy, or plus size woman if you know what each of them signifies in the size.
The full figure refers more to the cup size, while plus size means the band size. Bras for curvy women, however, vary both in band and cup size according to the size of their hourglass body shape.
​Why It's Important to Know the Difference
It matters that you know the difference between curvy and full figured because these body physiques can affect your clothing options, bra sizing, health, mindset, and lifestyle.
Bra sizes: The terms full figure and curvy indicate two different body types, not to mention there's yet another one which is plus size. It also means that the bra market has several labels, either sole categories of the three or varied combinations of them. A majority of women wear the wrong bra and it most often comes down to size.
Clothing choices: Your body shape provides the outline as your foundation when styling clothes. Understanding the difference between curvy and full-figured can help you evaluate the right clothes for your body frame.
Health: Knowing whether you are curvy or full figured enables you to determine which parts of your body accumulate fat first. Likewise, you can consult on how to burn fat quickly while building muscle mass safely.
Mindset: Judgement based on physical appearance is something you can't avoid at times. Such words can have a negative impact on your well-being. However, if you are aware of what's happening in your body, you can do what needs to be done and learn to love your body.
Training and lifestyle: Most full figured and curvy ladies can be endomorphs who gain weight quickly yet find it difficult to shed it off. Being knowledgeable about your body can help your trainer custom your workout routines and schedules to target particular body parts.
The terms are loosely used alternately with each other, so many associates themselves with the wrong one. The truth is you can fall under two or all categories at once.
Even though there are similar bras that are available in each category, knowing the difference between full figure and plus sizes is essential when it comes to shopping for bras. Holly Jackson stated, ​
​"Everyone deserves clothes and lingerie that make them look beautiful, but the two markets have very different needs. The significance of their differences lies in the way bras are manufactured."
Different Ways Bras are Created
Different bra sizes have different requirements in the creation or manufacturing process. An A cup may only need simple foam padding to be enough support.
The construction of a D cup bra, however, may need more advanced techniques and materials to carry the weight of large breasts the way ​a push up bra made for ​big breasts does.
Even though brands may provide a bigger size, some manufacturers simply don't have the means to apply some advanced (and probably more expensive and time-consuming) method to create a sturdier and more supportive construction for one particular size.
Things like this should be factored in when you shop for bras. Most commonly though for plus size breasts, a full coverage bra is recommended, or a push up minimizer bra.
​Brand Preferences
A 38D bra from a brand that carries core sizes may fit differently (read: less supportive) than a 38D bra from a brand that carries more full bust and plus sizes.
This is because the latter knows more about the needs of full-figured and plus sized women than the brands that do more average sizes.
How to Dress Full Figured and Curvy Bodies
Understanding your body shape can help you style your outfits properly. In this way, you can avoid unflattering clothes and prioritize the ones that can dazzle your frame.
Dressing Up a Curvy Body
If you're conscious of your curves, it's understandable that the first thing you do is hide them. However, you should do the opposite, and that is to flaunt them.
Use tops that fit you: Avoid oversized blouses, shirts, and sweaters. Clothes that don't fit the body add bulk and weight to your frame.
Highlight your narrow waistline: Curvy ladies tend to have a naturally defined waistline. Emphasize your waist by wearing a belt, high-waisted jeans, crop top, or color-blocking coordinates.
Wear A-line skirts: If you have considerably wide hips and thighs, you can make the lower half of your body look slimmer by wearing A-line skirts. This cut can give a straighter silhouette rather than a curvy frame.
Wear darker flared pants: Dark-colored pants tend to form an illusion of a leaner physique. Meanwhile, flared pants can visually distribute your volume, creating an even proportion for your lower body.
Dressing Up a Full Figured Body
A full-figured body features a voluminous bust, so the key to a flattering style is using the correct undergarments and properly-fitting clothes.
Choose a well-fitting bra: The right bra for a full-figured body can hold up your body features, especially the breast tissue. There are also bras for lift and side support and push-up bras for D cups and bigger sizes.
Accessorize: Opt for long, dangling earrings to make your neck look longer. Meanwhile, an oversized necklace can make your bust look more proportionate.
Opt for floor-length dresses Full-length dresses, even the right bodycon dresses, can help elongate your figure.
Wear suitable necklines: A deep V-neckline can elongate your neckline, minimizing your bust visually. Meanwhile, off-the-shoulder tops can steer attention to your neck and face while balancing the broadness of your hips.
Related Questions
How Can I Take Care of My Body Frame?
Whether a full-figured or curvy woman, you can take care of your body frame by eating healthy, exercising, and pampering yourself. Aside from improving your nutrition and lifestyle, dressing according to your body type can also help maintain your physique.
Is It Possible to Change Your Full Figured or Curvy Body Frame?
Yes, you can outgrow your full-figured or curvy body shape. However, it will take time and effort to see evident results. Working out consistently and following a strict diet schedule is among the best ways to change your physique.
Why Do Bra Brands Fit Differently for Full Figured and Curvy?
Bra bands fit differently for curvy and full figured because manufacturers may follow the sizing system in their particular region. For example, the US sizing is different from the UK size chart. Brands may also be using varying model measurements.
What Is a Full Coverage Bra? (Don't Buy Your Grandma's Bra!)
Conclusion
It's true what they say: knowledge is power. If knowledge of full figure, curvy, and plus size means better decisions about the bras you buy, then you certainly have the power to prevent any future bra-related aches and pains that can become permanent.
If you've ever had to make a choice between band size, cup size, or a disproportionate bra.
Simply understanding the differences between these phrases will enable you to recognize at a glance which brands and bras cater to your body shape and bust type, making bra purchasing and wearing delightful experiences.