As an Amazon Associate we earn from qualifying purchases.
Do you need a strap-free bra and wonder if you even own one? Below we discuss four ways women can convert everyday bras into functional strapless bras.
​How to Make a Bra Strapless
To transform a bra into strapless, use convertible straps, hide the straps, cut the straps, sew the bra into your top, or convert your sports bra. The best choice depends on how much effort you are willing to put into it and how open you are to altering bras permanently.
We're going to walk you through different bra hacks for how to turn a bra into a strapless version on the fly!
Ways to Make a Regular Bra Strapless
| Method | Action |
| --- | --- |
| Method 1 | Reconfigure convertible straps |
| Method 2 | Hide the straps |
| Method 3 | Remove the straps |
| Method 4 | Sew the straps into your top |
| Method 5 | Convert your sports bra |
​Method 1: Use Convertible Straps
Using convertible straps is the easiest way to make your old bra a strapless one.
Adjust your bra straps to the maximum length. You may adjust them to be shorter later.
Wrap it around your ribcage on the left side and your back until you get to where you typically hook in your right strap.
​​Hook the left bra strap into the right hook on the backside of your band until it's secure, making sure the bra strap doesn't slip.
Now, repeat steps 3 and 4 with the opposite one.
Adjust the fit to tighten against the body.
Method 2: Hide the Bra Straps
Hiding the straps doesn't necessarily turn your bra strap-free forever, which is a better option if you don't want to alter your regular bra permanently.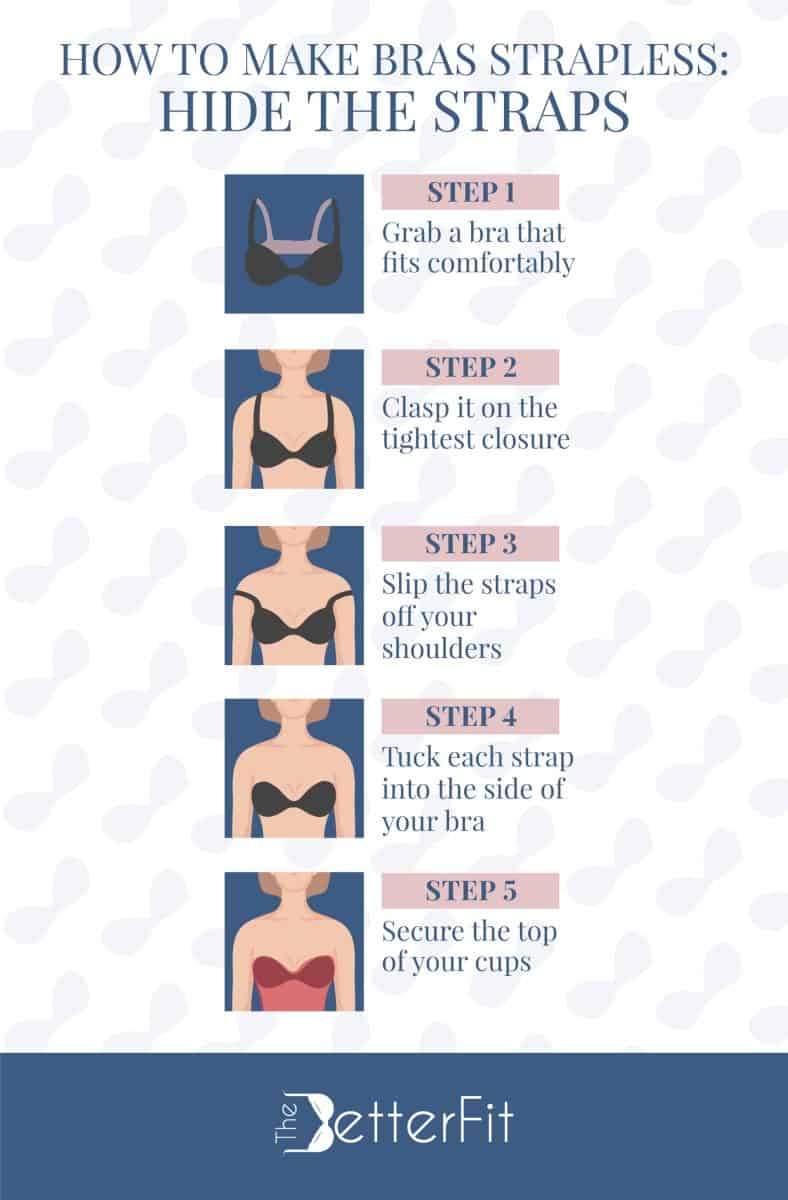 Similar to the first method, this hack works best for clothes with little to no coverage in the shoulders.
How to Make a Bra Strapless - 4 Methods from Simple to In Depth
Take the bra and put it on like you usually would. Clasp it on the tightest closure on the band to ensure a snug fit
Slide the straps off your shoulders and adjust the length to be as short as possible.
Tuck each one into the side of your bra and the cups to avoid a bumpy appearance.
If they bulge or stick out, secure them with safety pins, fashion tape, boob tape, or even masking tape if you're in a pinch.
​Method 3: Cut​​​​​ the Straps
If you can sew and don't mind permanently altering your bra, this DIY option is a good alternative to hiding the back straps.
Lay the bra down on a flat surface. Clip off the straps from the back and front of the bra. Try to cut as close to the seams.
Do a zig-zag stitch along the area. This step will help keep the fabric from unraveling and allow you to wash and wear it as if you had bought it this way.
InsideSmarts Delicates Laundry Wash Bags, Set of 4...
DELICATES WASH BAG SET OF 4 ~ Buy the Best Now: 2 Medium 12" x 15" Bags (2 White) & 2 Large 16" x...
LINGERIE BAGS FOR LAUNDRY - You & your clothes will LOVE the premium, silky mesh protecting fine...
2023 DESIGN* MESH LAUNDRY BAGS - Choose the BEST to protect delicates, extend the life of lingerie,...
You can do this with a needle and thread if you don't have a sewing machine.
​Method 4: Sewing The Bra Into Your Top
Like the previous method, stitching an old bra in your favorite dress or tank top is another permanent solution.
When done, you'll have a DIY bra that is built into your shirt or tank top.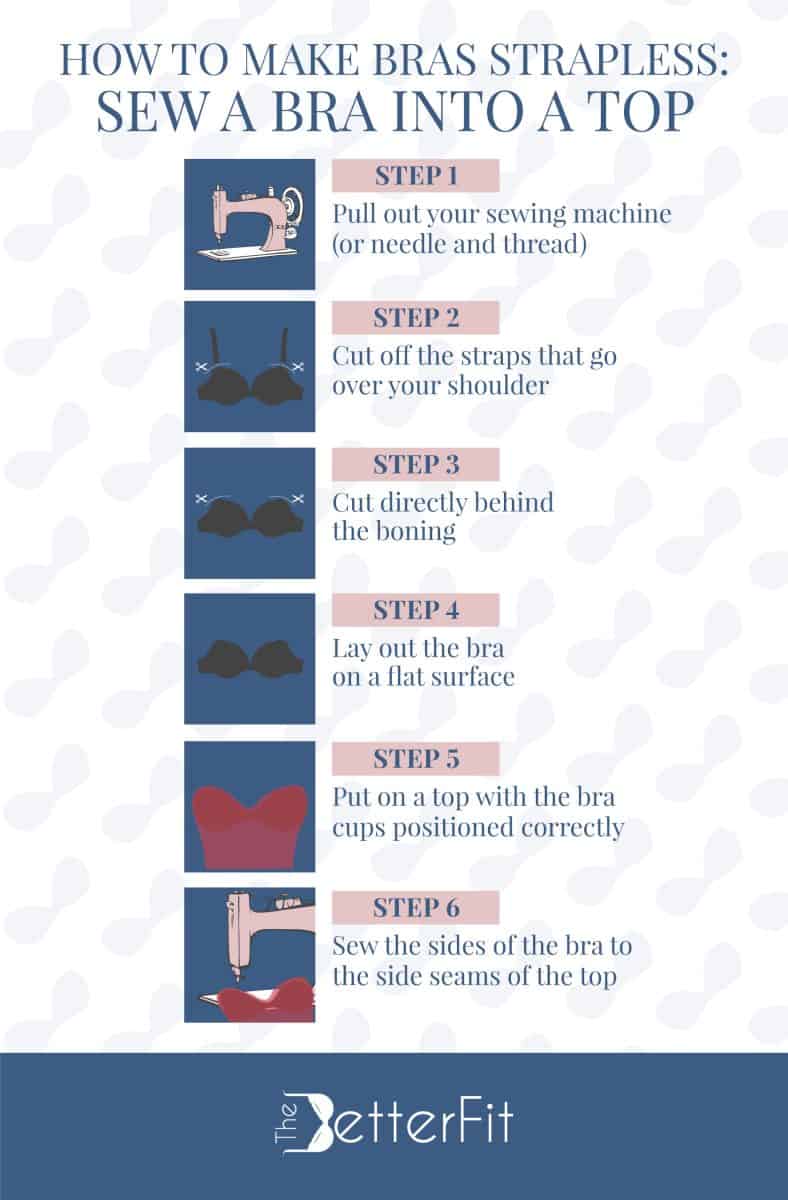 Similar to the third method we discussed, this option will permanently alter your bra and put your sewing skills to the test.
Pull out your sewing machine (or needle and thread) for this method.
​​​​Carefully cut off the straps that go over the shoulders, both in the front and the back (as you did in the third method).
Take the bra and cut it on the sides, about an inch from the cup. A hard piece of boning should be on either side to keep the bra's shape.
At this point, you have two options: You can cut directly behind the boning to keep the stronger structure of the undergarment, or choose to cut and remove the boning. If you have a larger chest or prefer more support, we recommend keeping the wiring in and cutting behind it (on the band).
Lay out the bra on a flat surface. You should now have the two cups left. Pick out the tank top or dress that you want.
Try your top on with the bra cup positioned inside. Move the cups around until they are in the desired place, and then pin the cups to the article of clothing. Do this to avoid extremely lopsided boobs.
Carefully begin sewing the undergarment into the top. Start with one cup and work your way around to the other. If your top is thin and has one layer of material, only sew the sides of the bra to the side seams of the top – this way, the thread will blend in.
Fearless Tape - Double Sided Tape for Fashion,...
✅ HOLDS CLOTHING STEADY - Fearless double sided tape will hold your clothing and hemlines...
✅ SAFE ON SKIN - Our special adhesive is designed to be skin safe and not cause irritation when...
✅ FABRIC FRIENDLY - Stop ruining your clothing and fabrics with holes from metal pins! Unlike...
If you're unsure about wanting to sew the cups into your top (or maybe you want to test it out for a night to see if it is something you want to sew in permanently), try using double-sided fashion tape before deciding to commit fully!
Method 5: Convert Your Sports Bra
If you prefer to keep your normal bras intact than sewing them, consider using one of the sports bras you have lying around in your sock drawer.
Follow the steps outlined in Method 3 above to cut and remove the straps. From there, you'll seal up the areas you cut with a little sewing magic, and voila, your bra is now strap-free!
AKAMC Women's Removable Padded Sports Bras Medium...
Seamless Design & Removeable Soft Padding, gives you maximum freedom of movement.
Made from premium quality, breathable & sweat-absorbent compression fabric, nylon 96%, spandex 4%.
Soft,comfortable,stretchy and light weightGood support and good coverage;Nice for yoga,biking,boxing...
Related Questions
How Can I Hide a Bra Strap?
Try utilizing bra clips in addition to changing the bra straps to move or conceal the straps. The sleeves and neckline of the top you're wearing can also help hide them.
Can I Wear Off-Shoulder Tops Without a Strapless Bra?
You can wear off-shoulder tops without strap-free bras if the style goes well with visible straps. Certain designs, such as bralettes, cage, and strappy bras, can complement shoulder-baring clothing.
How Can I Keep Strap-Free Bras Stay Up?
You can use double-sided fashion tape to keep strapless bras in place. You should also ensure that the band isn't too loose, as the band helps the bra to stay put.
Why I HATE Strapless Bras (And You Should Too!!!)
Conclusion
​So there you have it – 4 different ways to make regular bras strap-free. Some of these methods take more effort and offer a more permanent solution than others. When attempting these bra hacks, choose the one that makes you feel the most secure and confident.