As an Amazon Associate we earn from qualifying purchases.
There are many types and styles of bras on the market: Push up bras, full coverage bras, bralettes… the list goes on and on. The name of the bra style usually gives you a clue as to what the bra does, but sometimes you are left wondering what they could possibly be.
​What Is a Shelf Bra?
There are 2 types of bras: built-in bras and platform. These bras are very different from each other. Built-in bras can be found within camisoles and tank tops, and oftentimes, built-in bras are great for smaller breasts and can be a girl's first bra. On the other hand, platform bras are more risque than built-in bras, only cover a small portion of your breast, and are typically worn as lingerie.
​Built-In Bras
Built-in bras are the extra layer of fabric found within whatever outwear it may be attached to (i.e. camisoles or swimsuits), usually as a singlet. The support system on built-in bras consists of an elastic band that replaces the underwire in underwire bras.
Roaman's Women's Plus Size Bra Cami with...
PLUS SIZING: Size Medium will fit Plus sizes 14 to 16
Part top, part bra, all sleek, it's layering made easy. With a slim fit that hugs your body and a...
28" length. Cotton/spandex
Built-in bras employs compression and sometimes padding to stay in place and support your breasts. Most built-in bras are extremely comfortable, which makes built-in bras a great option to wear regularly.
You will want to ensure the elastic band are adjustable straps are thick enough to stay in place throughout the day. It may roll up under your breasts after a couple of hours of wear if it's too thin.
​​This bra camisole combo is comfortable, has adjustable bra straps, and pairs well with pretty much everything. It's very affordable and comes highly recommended.
Hanes womens Stretch Cotton With Built-in Shelf...
QUALITY FABRIC - Hanes women's stretch cami is crafted from super-soft cotton-rich fabric for...
BUILT-IN BRA - The ultra-soft women's camisole features a built-in shelf bra, providing light...
ADJUSTABLE STRAPS - A style that stays in place, Hanes cotton cami is designed with adjustable...
Platform Bras
Rather than being built-in into a top like the first bra I discussed, this bra stands alone, like a normal bra. It closely resembles an open-cup bra due to the number of breasts it exposes. The main difference is that not all built-in bras expose the nipple as open-cup bras do.
Let's break down the anatomy of a built in bras:
​Built in Bras Band Structure
The Built in Bras band can be either thin elastic bra straps, or have a hook and eye closure. More often than not, the back part of the band is a small piece of fabric.
​Cup Structure
The main cup in built-in bras is usually molded to the quarter half of the breast. The second cup usually is a rigid fabric such as lace, or nylon. It is used to prevent any spillage while still providing a seductive appearance.
​​​My favorite ​​platform bra ​is​​​ the Rosme Women's Balconette Bra, which is a supportive underwire bra with gorgeous lace details.
Advantages of Each Bra Type
A bra has the following advantages:
Comfort Some built-in bras may have padding, but generally, built-in bras are not built like a normal bra. There may be light support but there's also no poking, chafing, and painful tightness that can happen with a normal bra.
Compression
Built-in bras support your breasts through compression. This style of bra doesn't have separate padded cups as regular bras do, so it compresses and holds your breasts closer to your chest to keep them in place.
Economy
I love all the convenience and economy of an all-in-one outfit. A built-in bra might not be a whole outfit, but it's a top with a built-in bra. It combines two layers into one. That's one less extra layer of clothing to worry about!
Versatility
Camisoles are not the only garments you'll see a bra in. They're also in tankinis, bikini tops, leotards, and tank tops and can support you under your outdoor wear. They're also versatile. They can be dressed up appropriately for more conservative settings, but can also be sexy and demure for sleeping and lounging purposes.
Widely Available
Built-in bra camisoles can be found at almost all places where bras and clothing are available. They can be bought from your neighborhood general store, high-end department stores, and even online.
Advantages of the Platform Bra
When on the hunt for a new bra, keep in mind what this seductive garment can offer you, such as:
Fuller Breast Appearance
Smaller padded cups sizes could benefit from the full-breast look that quarter-cup bras can provide, especially when you buy one with the two-cup system. The molded central cup pushes smaller breasts up, and the second quarter cup rounds it all off. This ensures a smooth, supple look under your clothes.
Comparing Shelf Bras to Other Bras
| Bra Style | Coverage | Support |
| --- | --- | --- |
| Shelf | Quarter to full-coverage | Elastic or underwire |
| Platform | Open or half cup | Elastic |
| Camisole | Full-coverage | Elastic |
Speedo Women's Swimsuit One Piece Endurance+...
Solid Ultraback styling features wide straps for a secure and comfortable fit, and a high back cut...
Four-Way Stretch technology providing a body-hugging fit, great shape retention and soft comfort.
Helps resist sagging and bagging, keeping swimwear fitting newer longer.
When and How to Wear Shelf Bras
There's a time, occasion, and matching garment for every bra. These bras are no exception, however versatile they may be.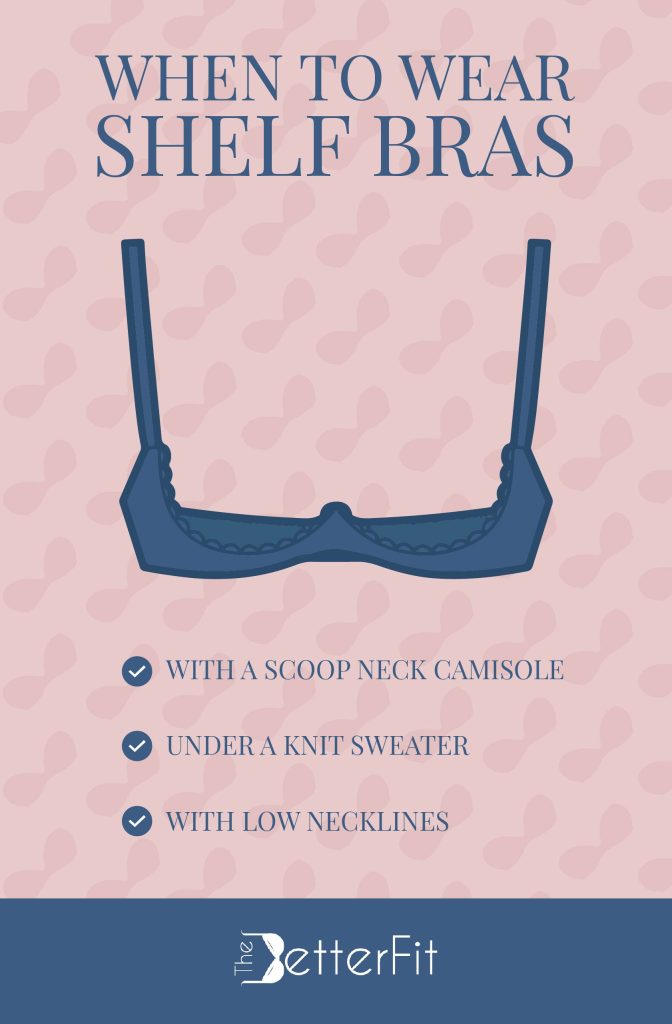 How to Wear a Built-In Bra
These built-in bras are meant for everyday wear or low-impact activity. Don't expect it to withstand an hour-long session at the gym, but it will be perfect for your walk in the park, or lounging around your house.
How to Wear Platform Bras
Fit is almost everything when it comes to a great bra! When attempting a quarter-cup bra for the first time, don't be afraid to grab sizes outside your range.
When a platform bra is worn underneath a V-neck or low cut shirt, the delicate lace of the bra can be seen at the neckline like you would see when wearing a bralette.
Related Questions
What Is a Hidden Bra?
A hidden bra is a built-in bra woven into swimsuits or bikini tops. It provides additional coverage and light support without making the swimsuit too bulky.
What Are the Disadvantages of This Type of Bra?
The biggest drawback of this bra is that its padded cups lack the rigidity and firmness of those seen in normal bras. In effect, it may not help you form perkier breasts.
Is This Bra the Same as a Camisole Bra?
No, this type of bra isn't the same as a camisole bra. These bras focus on the breasts, whereas a camisole bra can cover the torso.
What Is a Shelf Bra? (Hint - There are Two VERY Different Types!!!)
​Conclusion
As you can see, the 2 types of shelf bras are pretty different. The built-in bra is comfortable good for everyday wear. The platform bra is meant for more seductive occasions, with way less coverage than the built-in bra. Most women reserve the platform bra for their lingerie collection.