As an Amazon Associate we earn from qualifying purchases.
Push up bras, full coverage bras, bralettes… the list goes on when it comes to bra types. Most of the time, you can picture what each type of bra is and know it's general use, but other types leave you questioning what it could possibly be.
Exhibit A: shelf bras. What is a shelf bra? There are actually different types of this bra, which we'll get into below. Once you know the basics of each, it's very easy to tell them apart!
​What Is a Shelf Bra?
There are 2 types of shelf bras: built-in and quarter-cup. And, they are both pretty different from one another. Initially, we know this might sound confusing. But we'll go through both types and help you decipher when and how to wear each!
​Built-In Shelf Bras
Tired of having to put so many pieces on just to wear a simple tank top, but don't want to let the girls hang loose? Cue the built-in shelf bra in camisoles. Whoever designed this truly understood the struggle of the constant contraptions woman must wiggle in and out of each day.
Built-in shelf bras are an extra piece of fabric found within whatever outwear it may be attached to (i.e. camisoles or swimsuits), usually as a singlet. Its support system consists of an elastic band where the underwire would be, which uses compression and sometimes padding to keep the girls in place. Most of them are insanely comfortable, making this a great option to wear on the regular.
Just remember that you get what you pay for! Some that are cheaper in price are also cheaper in quality. At the very least, make sure the bottom band is thick enough to stay in place throughout the day. If it's too thin, it might end up rolling into a sausage under your breast after a couple hours of wear.
​Materials and Colors
While picking a new built-in shelf bra camisole, keep in mind the temperature that you plan to wear your new tank in. If you suffer from chronic boob sweat (which so many of us do!) and it's summer, you may benefit from sticking to dark colors to prevent the appearance of sweat stains.
Another way to combat that is to find camisoles that are 100% cotton for the best breast breathability. Wearing cotton camisoles could open up the door to most of the color spectrum for any season you choose to pull this out.
Like the bralette, what is a shelf bra cami unless it comes in every color imaginable? In these cases, don't be afraid to pick colors that could add a pop to your outerwear choice!
​Padding Options
There is a high possibility that nipples can peep through this kind of top due to the thin layer between the built-in bra and the actual camisole. So, best practices indicate to make sure that your camisole has some type of padding. Most pads are removable, so you can pop them in and out whenever it suits you.
If you come across a camisole without padding in the shelf bra, it is relatively easy to fix this dilemma. Buy some bra pad inserts online or in-store to add it yourself or opt for the self-adhesive bras without straps or back. This way you can customize your padding to your specifications.
​​​Our favorite ​built-in shelf bra ​is​​​ the Hanes Women's Stretch Cotton Cami with Built-in Shelf Bra. ​Basic and simple (which means its easy to pair with pretty much anything), this camisole is super affordable and super highly rated (is that a phrase?). It even has adjustable straps!
Stretch Cotton Cami with Built-In Shelf Bra...
Super-soft cotton-rich fabric moves with you for all-day ease
Comfy built-in shelf bra provides light support and coverage. No need to wear a separate bra and no...
Skinny camisole straps adjust discreetly in back
Platform Shelf Bras
Unlike built-in shelf bras, platform shelf bras (also known as quarter cup, open cup, half cup, or split cup bras), cover much less of your boob.
They are usually are composed of a lace fabric that only covers the lower part of your breast, an elastic band serving as the underwire, and thin straps for secrecy.
Rather than being built-in to a top like the first shelf bra we discussed, this bra stands alone (like a normal bra). It closely resembles an open cup bra due to the amount of exposure of your chest.
The difference is that not all shelf bras expose the nipple as open cup bras do. Before we get into how to wear a shelf bra, let's break down the anatomy of it a bit.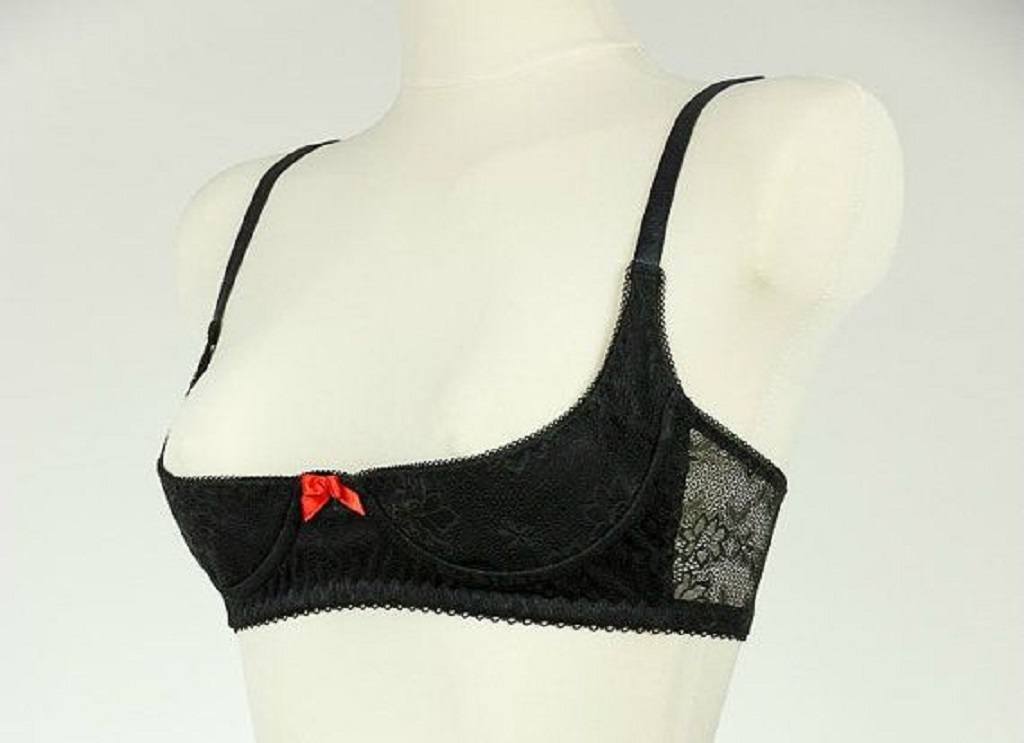 ​Bra Band Structure
The band can be either elastic, thin straps, or have the hook and eye closure. More often than not, the back part of the band is a small piece of fabric. If you're a fan of extra hold or have larger assets, take time to find one of these bras that provide thick straps for more support, along with 2-3 hook and eye closures.
​Cup Structure
This bra can either can come with one or two cups stacked on top of one another. When shelf bras are composed of two cups, one is for support and the other is for decoration. The main cup is usually molded to the quarter half of the breast. The second cup usually is a rigid fabric such as lace, or nylon. It is used to prevent spillage while still providing a seductive appearance.
​​​Our favorite ​​platform shelf bra ​is​​​ the Rosme Women's Balconette Bra. ​​It has supportive underwire with gorgeous lacing (yes, this is a sexy bra).
Advantages of Each Shelf Bra Type
The two types of shelf bras are very distinct from one another. It's only expected that they also differ a lot in terms of the advantages they offer.
Advantages of the Built-In Shelf Bra
Choosing built-in shelf bras isn't just a choice in bra, it's a choice of half of your outfits as well because they're already attached to a camisole. Go over these advantages to see if you're fully sold to the concept of a top with a built-in bra.
Comfortability: Pads are not a requirement for shelf bras. While some may have padding, generally they are not built like a normal bra. There may be less support, but there's also no poking, chafing, and tightness that are the most annoying about regular bras.
Compression: The way built-in shelf bras compensate for support is through compression. It doesn't have separate cups like regular bras do, so it pushes your breasts toward your chest to keep them in place despite lacking some features. No more bouncy boobs and shoulder pain with this bra!
Economy: We all love the convenience and economy of an all-in-one outfit. A built-in shelf bra might not be a whole outfit, but it's basically a top with a built-in bra. It combines two layers into one. That's one less clothing to worry about!
Versatility: Nowadays, camisoles are not the only garments you'll see a shelf bra in. They're also in tankinis, bikini tops, leotards, and tank tops and can provide a lot of support for you under your outdoor wear.
Appropriate Yet Sexy: They're also versatile in appeal. They can be dressed up appropriately for more conservative settings, but can also be sexy and demure for sleeping and lounging purposes.
Easy Braless Hack: Going braless is more and more a trend now, but this provides a more doable solution for those who want to try but don't want to go completely without a bra.
Find Them Anywhere: Luckily, you have your pick of the litter in places that carry built-in bra camisoles. They can be found in a wide array of places, from your neighborhood general store to a high-end department store.
Advantages of the Platform Bra
When on the look for a new brassiere, keep in mind what this seductive garment could offer, such as:
100% cotton: One of the perks of platform shelf bras is that most are made of 100% cotton. Depending on your fabric preference, this could give you a breath of relief due to the many benefits of cotton.
Fuller Breast Appearance: Small cup sizes could really benefit from the full-breast look that quarter-cup shelf bras tend to provide, especially when you buy one with the two-cup system. The molded main cup pushes it up, and then the second quarter cup rounds it all off. This ensures a smooth, supple look under your clothes.
Lift and Support: Like its namesake, shelf bras are supposed to provide lift to the bosom resting on it. Cup sizes C and below should be fine without the underwire that most quarter-cups don't include. However, D+ cups would benefit from finding a shelf bra that does include a comfortable underwire for maximum support.
Insulation: Since this type of bra has very short to no cups at all, it covers only the bottom part of your breasts. Hence, it sits comfortably under thick outerwear to keep you warm in the winter and underneath thin tops to cool you in the summer.
Durability: When cared for correctly, it has the potential to last for years
Hypoallergenic: This type of fabric rarely causes allergic reactions
Environmentally friendly: When you find shelf bras made from organic cotton, it usually has produced less carbon due to the chemical free production
No products found.
Bust Sizes Good for Each Shelf Bra Type
With shelf bras — both the built-in and the platform bra — being an all around comfortable and convenient garment to wear, it's a popular choice to wear for numerous occasions. But, who should actually wear them?
Built-In Shelf Bras for Small Breasts
Small cup sizes that don't need copious amounts of support usually find the built-in bra to be a dream. It offers a freedom to wear this item in multiple low-impact situations.
It also allows for a break from the traditional constricting, underwire biting, tight strapped support systems found in standard bras and top rated push up bras for smaller cup sizes!
Built-In Shelf Bras for Large Breasts
While women ranging from A-C will be able to wear pretty much any variety that this bra comes in, bigger chested women like those who wear supportive push up bras for plus size boobs will likely need to be more selective.
Rather than only looking for a cami that includes a thin lining for the bra, look for ones with padding and a thicker band. Some are designed with structured cups inside, and these can help in keeping the girls up throughout the day!
Click here to see the price on our favorite built-in shelf bra for larger breasts!
If you still need more support, try wearing a normal bra as a main base under the cami. This sort of defeats the purpose of buying a shirt with a built-in bra, though it can work if needed.
Platform Bras for Small Breasts
In the list of advantages of platform bras, there's the fuller breast appearance. From that, we can incur that this type of shelf bra is more beneficial for women with small breasts than women with large breasts.
The underwire push the boobs up to look larger than they are. Since platform bras focus more on the bottom of the breasts, they're not as compressing as regular bras or the built-in shelf bra which have a tendency to flatten the chest more.
What Is a Shelf Bra in a Swimsuit?
Along with tanks that can be worn for everyday use, this bra is also found in bathing suits! You know that trusty one piece that always works in a pinch? It most likely has a built-in shelf bra in it.
Speedo Women's Swimsuit One Piece Endurance+...
Solid Ultraback styling features wide straps for a secure and comfortable fit, and a high back cut...
Four-Way Stretch technology providing a body-hugging fit, great shape retention and soft comfort.
Helps resist sagging and bagging, keeping swimwear fitting newer longer.
So, exactly what is a shelf bra in a bathing suit? Think of it as a secret life saver that keeps everything compressed. Halter, tankinis, and one-piece bathing suits use this built-in weapon within their garments to provide an extra lift that, unfortunately, Mai Tai's poolside can't.
​Heads up – you won't find a shelf bra in your most popular bikinis and two piece suits.
Many new moms, recent mastectomy patients, or anyone who suffers from tender breasts could benefit from this type of swimwear due to the soft, cotton material that is often used.
Tip: ​For extra comfort, cut off the tag on the inside. That way you won't have that unforgiving itch that sometimes occurs.
When and How to Wear Shelf Bras
There's a time, occasion, and matching garment for every bra. Shelf bras are no exception, however versatile and timeless they may be. Learn the best circumstances and ways of wearing a shelf bra, either a built-in bra in a camisole or a platform bra.
We also have a guide on how to pick the right bra to wear under tank tops.
How to Wear a Built-In Shelf Bra
These built-in bras are meant for every day wear or low-impact activity. Don't expect it to withstand an hour long HIIT session at the gym (you'll need a good sports bra for that one). However, it should be able to hold its own in your weekly Bikram hot yoga session!
Due to the limited amount of structure and support, you have to be strategic in the outfits you wear this built-in camisole with. Try pairing a scoop neck camisole underneath a light-weight sports jacket for errand running, or wear it under a knit sweater and you can even use it for breast feeding your baby.
Rather than a bralette, use a spaghetti strap camisole as an undershirt with a button up for a smooth appearance (this is a great option for work!). If you have a larger chest, this is also a wonderful way to stay covered and still wear that button up you love!
How to Wear Platform Bras
With three-quarters of the standard bra cup missing, it can be a challenge wearing this bra under clothing in public, especially if you are bigger chested, and you don't want it to look as big as it really is.
Quarter cup shelf bras were likely created solely for lingerie purposes. Yet, society has a way of turning anything into fashion, so women have started wearing this out and about.

Fit is almost everything when it comes to a great bra! When attempting a quarter-cup shelf bra for the first time, don't be afraid to grab sizes outside your range. Due to the intricate lace cup, you may need a smaller band with a larger cup to ensure a tight fit.

When worn underneath a V-neck, some women enjoy the delicate lace, or straps, that can peep above the neckline like you would when sporting a bralette. Other women prefer to keep it solely for their collection of lingerie due to the amount of skin exposure, and lack of support.

Regardless which route you take, there can be countless ways to incorporate shelf bras into your full bra collection and wardrobe. So be daring, and try a multitude of outfits until you find the way it works for you.
Great Under Large Clothes
Look for quarter-cup shelf bras that are comprised of an intricate system of straps, front or back. This look usually pairs so well with an oversized sweater. The shelf bra provides a sassy peek-a-boo when oversized sweaters have a cutout in the back, or large holes near the shoulder.
For an added bonus, find a sweater that has a front V-neck. This can give a subtle snippet of the lace detailing that is found near the top of your shelf bra. Then go show off your fashion forward take on lounge wear.
When wearing the quarter-cup under clothing out in public, pasties are usually necessary. Wearing pasties could keep your nipples from peeping out at inappropriate moments.
Add to Your Lingerie Arsenal
When selected carefully, you can end up adding a beautiful piece of alluring lingerie to your wardrobe which provide a feminine touch to those wearing it.Regardless of your relationship status, this bra is a power piece. Pair a delicate, lace shelf bra with a matching pair of panties to a deliciously satin robe for a night in. Most likely you'll love the empowered feeling it brings to be so enticing for no other reason than you want to.
Shelf Bra for Large Bust
​For larger busted women, you're probably more accustomed to looking for a good minimizer bra to knock down your size a bit. Don't rule out the shelf bra, though, because they can be a great way to add some shape while keeping the attractive appeal.
Features of a Shelf Bra for Large Bust
If you're a woman who's constantly on the lookout for minimizer bras for D cups or larger, be on the search for your perfect shelf bra instead.
Don't forget to look for these features:
​Strong underwire in cups for support

​Customized fit

​3 column, 3 row hook, and eye back closure

​Quality stretch in lace
Even with all that support it may be the type of undergarment best left for a steamy night at home. Shelf bras aren't designed to provide a strong enough support system that larger cup sizes are used to for public wear. This also means it won't serve as a good alternative to ​a posture bra if you need one.
However, it is still dependent on your personal preference with the movement, and support of the particular quarter cup shelf bra you're trying.
Related Questions
What Is a Camisole Bra?
A camisole bra is a full-length cami with a bra covering the cleavage. While it doesn't provide full coverage, the seamless and stretchable cups make it comfortable to wear. Camisole bras are usually ideal for tops with low necklines.
​Conclusion
As you can see, the 2 types of shelf bras are pretty different. The built-in is comfortable and easily wearable on a daily basis, and the quarter-cup is a bit more risque with less coverage. On your hunt for your perfect match, keep in mind that with quarter-cup shelf bra it's all about the right fit, and with built-in shelf bra it's about finding the right style, and fabric.