If you're raising a young lady approaching the first digits, you knew the time would come. You know you're going to have to bite the bullet and have the joys of womanhood conversations, like puberty, periods, and wearing a bra. But, when?
You may have thought back to the first time you wore a bra. You may wonder if that's an acceptable time to start the bra-wearing process. Maybe she came to you and told you that other girls at school are starting to wear bras. Is that her way of dropping a hint that she wants a bra, too?
So many questions. Now you've found yourself wondering at what age should you wear a bra.
What Age Should You Wear a Bra?
On average, girls usually start wearing some form of bra when they are about 11. Some girls may need a bra as young as 8 while others may be able to wait until they're closer to 14. There isn't a standard set age when a girl is supposed to wear a bra. It's a personal decision.
The topic of transitioning to a training bra could be uncomfortable for some young ladies. On the other hand, maybe it's something she's been dreaming about doing for a while. If your little lady is approaching the 10-year mark, you may have to consider it's soon going to be time to purchase a bra.
​​The best training bra we recommend is the Calvin Klein Modern Cotton Bralette. ​This training bra lightweight, wire free, and easy to work into. Plus, it is made in the bralette style, making it an easier sell for many girls. ​​​
Sale
​When Should a Girl Start Wearing a Bra?
Age isn't necessarily going to be the first factor at play when it comes to buying your daughter her first bra. There are some key signs you can watch out for to make the decision a little easier.
​Does She Have Breast Buds?
​Breast buds are the first sign of forming breasts. If you look at your daughter and you notice she has small bumps on her chest, or her nipples are starting to protrude through her shirts, then her breasts are starting to form. When you are able to see her breast buds, it may be a good indicator it's time to get her a bra.
​Does She Have Other Signs of Puberty?
​Breast buds are an early sign of puberty in young girls. However, your daughter may start showing other signs of puberty before the breast buds appear.
If your daughter has started to develop pubic hair, has started to gain a little weight, or has started her period, then puberty has begun. It's a good rule of thumb that if your daughter is starting puberty, it may be a good time for her to start wearing a bra!
​Does She Play Sports?
​When breasts first start to form, they can be a little uncomfortable. Playing sports or participating in physical activity could heighten the discomfort.
If your daughter does this, it may be a good idea to purchase her a bra which will help keep her comfortable while she's moving around.
​What if She Asks to Wear a Bra?
​Some girls can be excited about the idea of wearing a bra, even if they don't show any of the physical signs. If your daughter is excited about the prospect of becoming a woman, she may have asked you if she can start wearing a bra.
Even though you may not notice any of the tell-tale signs of puberty, it may not be a bad thing to let her get a ​​great small breasted push-up bra. Some girls struggle with body image and letting them wear a bra may help alleviate some of that stress.
If your daughter has asked to wear a bra, it's very possible that other girls are wearing them, and she wants to fit in. Allowing a girl who has asked to wear a bra to do so may help alleviate some of her worries about her body.
​What if She's Embarrassed?
It's definitely not uncommon for young ladies to feel a little embarrassed or shy about the thought of wearing a bra, let alone a highly rated push up bra with underwire. The bra subject can be great practice before the fun subjects like the birds and the bees start to surface. When the time comes for you to have the "bra talk," there are few tips that might make it a little easier.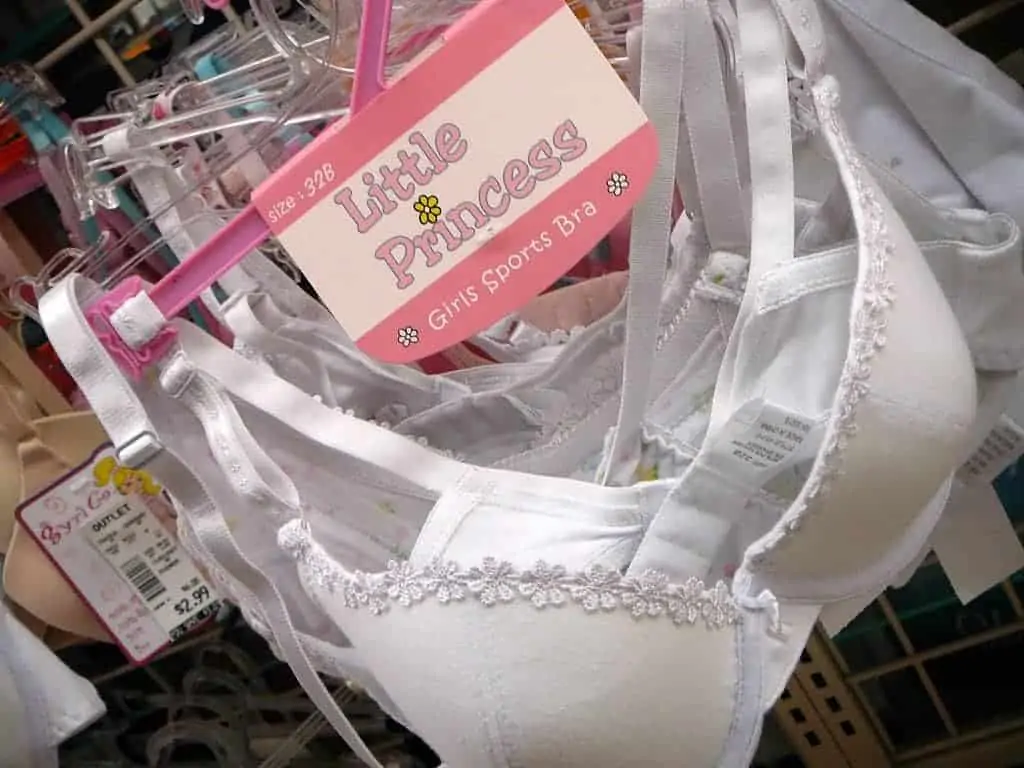 ​Try to be Delicate
​The thought of wearing a bra could be a very delicate subject for your daughter, even if she's usually comfortable talking to you about anything. You may have heard her embarrassed plea to stop talking, if you bring up anything she's not comfortable with talking about.
If your daughter is shy or you feel she may be embarrassed about talking about bras, proceed with delicacy.
​Try not to Embarrass
​Yelling, "Girl, you need a bra," in front of a room of family or friends may not be the best way to approach the bra conversation. Even though humor may be your style in dealing with sensitive subjects, it may cause unwanted embarrassment for your daughter.
If your daughter is uncomfortable or embarrassed, you need to address the conversation in private.
​What if She Refuses?
​You've had "the talk" and she's giving you some resistance about having to wear a bra. Some girls, even after hearing the reasons why, may still be uncomfortable with the idea of wearing a bra. Not all girls are going to be magically comfortable with going bra shopping, even if you think they need to wear one.
You don't have to force your daughter into doing something she may be uncomfortable with. Even if she is forming breast buds, your daughter isn't going to be affected if she decides she wants to wait a while.
It's a myth that your daughter will end up with saggy breasts if she doesn't wear a bra the minute her breasts start to form. If your daughter is adamant about not wanting to wear a bra, give her some time and try the discussion again a little later down the road.
​When Should I Take Her Shopping?
​If your daughter is comfortable with the decision to purchase her first bra, then it's time to take her shopping. Even though she may accept she needs the bra, you might not want to make a huge deal about buying one. There are a few ways to make the training bra shopping experience a little more enjoyable.
​Girls' Day
​There's no reason to make the first bra buying experience a big ordeal. It may not be a good idea for a shy or embarrassed young lady. Incorporating the bra buying into a "Girls' Day Out" may be a way to make the experience more enjoyable.
Take your daughter clothes shopping and add the bra to the list. It might be a good idea to buy yourself something, to make her feel like you're doing it together. Maybe add a manicure or haircut to the outing, if it's something you both enjoy doing.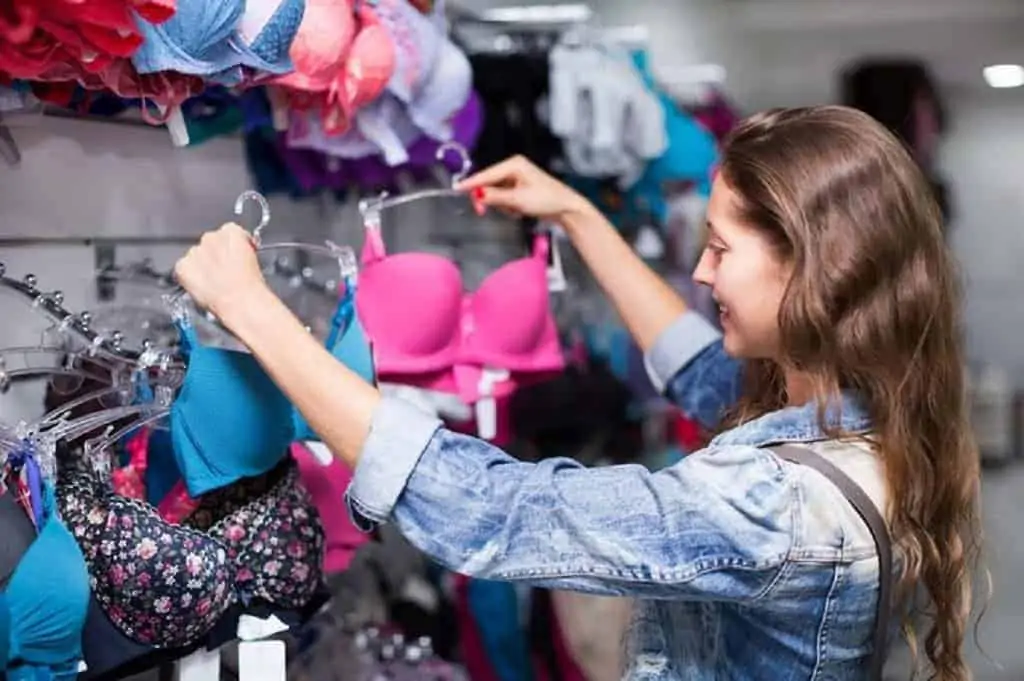 ​Back-to-School Shopping
​If you take your kids shopping each year for new back to school items, it may be a great time to add a bra to the list. Back-to-school shopping has the great potential for making the bra buying very nonchalant. The oncoming of back-to-school shopping can be a great time to bring up the subject and make it a part of moving into the next grade.
​Professional Fitting
​There are some department stores out there that offer professional bra sizing. While this may not be the best approach for the shy girls, your daughter might get excited about having a personal sizing done for her new bra. Explain the process to your daughter. Make sure she's aware that someone is going to be touching her for the process. This will also be a great time for you to find out if your daughter needs a regular bra, a strapless one or even a bandeau.
This might be a great opportunity for you to also get a personal sizing done so your daughter feels more comfortable! And, you might even be surprised to find out you were wearing the wrong sized bra!
W​hat Type of Bra Should I Buy Her?
​Walking into a bra department of a store can be extremely overwhelming, even if you've been wearing bras for years. There are so many different styles to pick from, all for the same purpose, just to wear under your clothes. To make the shopping easier, it may help to think about some benefits you want from your daughter's first bra.
Fo​cus on Comfort
​Comfort is usually what most women look for in a bra. There's nothing worse than wearing a bra that's uncomfortable! When it comes to comfort for young ladies, though, what the bra is made of is something that should be considered.
A bra made of cotton, or a breathable material, such as a bralette may be a good option for a first bra. This helps decrease any irritation or discomfort that may come from forming breast buds, and the overall new feeling of wearing a bra.
Size
​While you may automatically assume your daughter is going to need an A cup bra, you still want to make sure you're getting a bra that fits right.
Have your daughter try a few different bras on and determine how well they fit. It's also a good idea to have your daughter move around some with the bra on, to see if it stays where it needs to.
​Padding
​You may not have thought about buying a bra that includes padding for your little girl. Some bras offer padding as a way to boost the breasts, while some bras have padding as a way to hide any nipple protrusion.
While padding isn't a necessity in a bra for your child, you may decide on some thin padding if your daughter's nipples have begun to protrude through her shirt.
​Should I Start with a Training Bra?
​Years ago, it was considered normal practice for girls to start out wearing a training bra so that they could get accustomed to wearing a bra. Nowadays, there are more options when it comes to buying a first bra.
​Training Bras
​Training bras are comfortable, lightweight, and don't necessarily look like a traditional bra. They are great for girls that want to wear a bra but may not be at the point where they need a bra. Training bra ages are best viewed as the earlier side of needing a bra. Training bras have straps similar to a camisole or a shelf bra, and usually have a light elastic around the band.
​Recommended: Calvin Klein Modern Cotton Bralette
​Sports Bras
​If your daughter is pretty active, a sports bra might be a good choice. Sports bras resemble training bras but have sturdier straps and thicker elastic around the band. These factors come in handy when your daughter needs some support of her newly developing breasts.
​Recommended: Amazon Essentials Girl's 2-Pack Active Sports Bra
Amazon Essentials Girl's 2-Pack Active Sports Bra,...
This pack of two active sports bras provide light support with a seam-free construction, knit-in...
Soft, stretchy fabric moves with you
Sport made better: we listen to customer feedback and fine-tune every detail to ensure quality, fit,...
​Tank Tops with Built-in Bras
​Sometimes is easier to not have to alter the clothing style to incorporate a bra. This is where there built-in bra option that a lot of teen tanktops have is perfect. You'll typically opt for a tank top with a shelf bra and padding already added in. These are also sometimes referred to as a camisole, or cami.
​Recommended: Hanes Little Girls' 3 Pack Cami with Shelf Bra
Soft Cup Bras
Soft cup bras look a little more like traditional bras. They offer more support than training bras, but not as much restraint as sports bras. This is good for girls whose breasts are a little further developed. Soft cup bras have a thin layer of padding in the cups to help with additional support and comfort.
​T-Shirt Bras
​T-Shirt bras are great for a young girl who's looking for something that looks like a bra, but doesn't feel like a bra. They are made of cotton and are often made to look like t-shirt fabric. Some t-shirt bras offer light padding, similar to the soft cup bras.
​Conclusion
Wouldn't it be great if your kids came with an instructional manual that told you the exact times you'll have to handle these types of situations? Unfortunately, there's no instruction manual. When your daughter should wear a bra is a personal choice both of you can make together!