As an Amazon Associate we earn from qualifying purchases.
The bandeau bra is a strapless bra option similar to a tube top that is essential for any woman's wardrobe, as it allows you to wear cute summer tops and dresses without worrying about your bra straps making an appearance. In my article below, I discuss exactly what a bandeau bra is and why you need one.
​What Is a Bandeau Bra?
​Bandeaus are strapless, stretchy pieces of fabric with a thick band on the top and bottom. The elastic is meant to hold everything in place, and the soft stretchy fabric allows for comfortable all-day wear.
Unique Features
Unlike a typical bra with a clasp in the back, the bandeau is fully connected all the way around, making it an easy slip-on bra. Most bandeau bras also have removable pads to keep your nipples from showing through.
​My​​​ ​favorite bandeau bra​ is the DD Demoiselle Bandeau Bra Top. It's made of a premium, ultra-soft ​fabric that's ​both comfortable ​and breathable.
DD DEMOISELLE Women's Tube Top Bra Bandeau...
TUBE TOP BRA DESIGN & PROVIDE SUPPORT - This Bandeau Bra is designed to provide with all support and...
ULTRA SOFT & ALL-SEASON ITEM - This stretchy and form fitting bandeau feels like an extension part...
BENEFICIAL TO YOUR BODY SHAPE - If a wire bra represents bondage, then a wireless bra represents...
​The bra's structure ​​provides decent support and coverage​ for your bust. A great plus to this product is that it is quite affordable, and you can purchase it in sets of two or three! ​​
No Straps
Bandeau bras are strapless, though some styles come with removable straps if you're looking for a little more support.
Elastic Material
Bandeau bras are made with flexible elastic fabrics that mold to your body, with thick elastic bands and the top and bottom edges of the band that help keep it in place.
No Back Hooks or Fastenings
The bandeau bra has no clasps or closures, and is super comfortable. It is easy to slip on and off.
History
Bandeau bras date back to the era of ancient Greece, during which they were called "apodesmos", and can be seen in the murals and frescoes depicting Ancient Greek life. Bandeaus were originally soft fabrics that were wrapped around a woman's torso to shape their chest. For a time, they were used to flatten and compress instead of support.
Ideal Body Type for Bandeau Bras
​Bandeau bras usually work best for medium cup sizes and smaller. The flexible fabric of the bandeau offers enough support to keep A cups and B cups in place.
There are some bandeau bras that provide a clear division between the cups for more support and better breast definition. ​Like bralettes, which offer light to medium support,​​ ​bandeaus ​come in specific bra sizes and they typically range from extra-small to extra-large.
What is a Bandeau Bra Used For?
Women's Strapless Bralette Seamless Bandeau...
What you will receive: the package includes 3 pieces of the strapless bralette in 3 different solid...
Safe material: the strapless bralette is made of nylon and spandex, which is comfortable, no damage...
Strapless and non padded design: the strapless style provides cover like normal bra without the...
Bandeau bras can be perfect for the minimalist who wants a chameleon-like piece within their wardrobe. The bandeau could also work for the backpacker looking to save room in their pack, or be part of comfortable loungewear for a busy college student. The bandeau bra is versatile, and can be used for many situations.
Advantages
​Now that I covered what a bandeau is, let's talk about why you would want to wear one! I could go on and on about the perks of bandeau bras, but my three main focuses are:
​Large collections of colors and patterns

​Comfortable all-day wear

​Versatility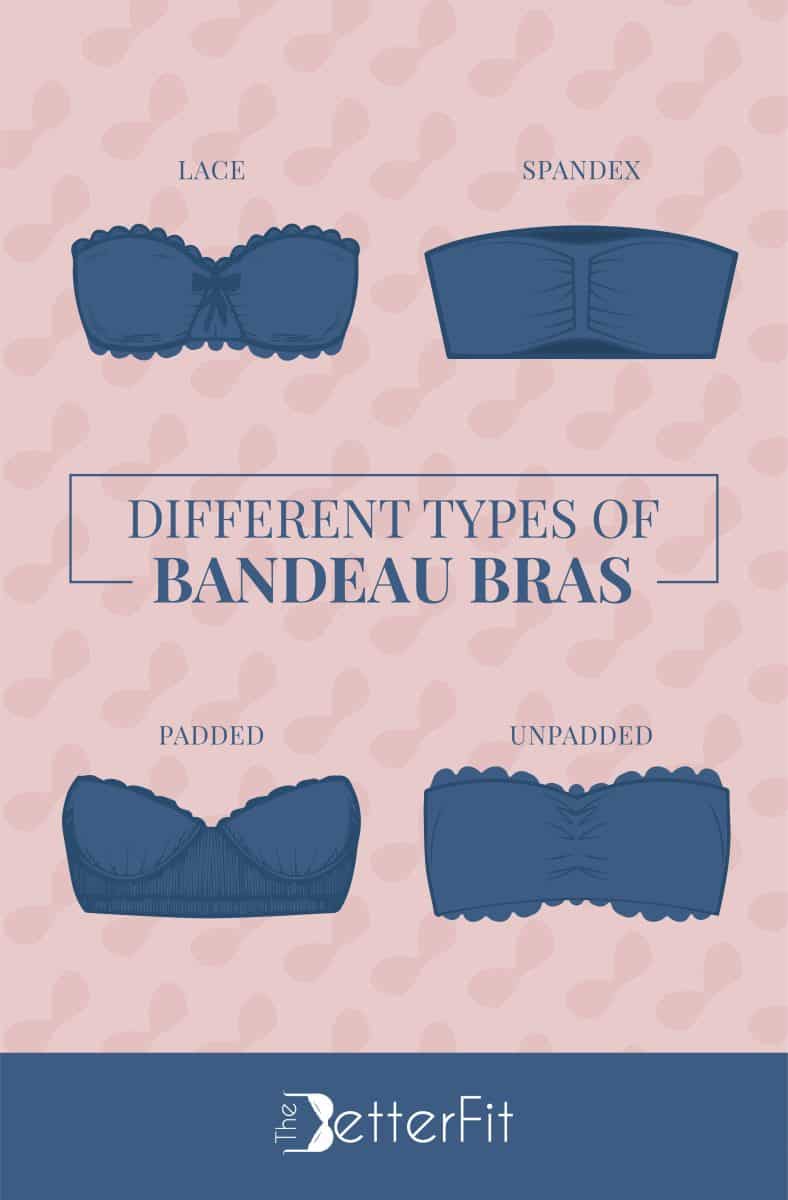 ​Several Colors and Patterns
​The amount of colors and patterns that bandeau bras come in is extraordinary. Bra colors range from the more neutral skin colors to the brightest orange to pale pinks. Patterns include almost every animal in existence, floral, dots, spots, and most everything in between.
​Comfortable All-Day Wear
The wire free and strapless design of the bandeau bra, coupled with its soft flexible fabric makes it super comfortable. Choose a bandeau that is made with cotton or moisture wicking fabric for the summer months, and you will never want to go back to your traditional bra.
​Versatile Design Structure
​When you get down to the bare bones of what a bandeau bra is, it's just an infinity loop of fabric with elastic on the top and bottom. Most bandeau bras have removable padding, which allows the wearer to choose what works best for them. You can also find bandeau bras with detachable, invisible straps if you feel you need the reinforcement.
Need even more support? Look for a bandeau bra that provides a structure through an underwire, or even boning. This might take away from the comfort of the bra a bit, but it will help with keeping everything in place!
No products found.
How to Wear a Bandeau Bra?
If you've decided to give bandeau bras a go, your next thought might be, "What do I wear this with? The options are nearly endless!
Deciding what fabric to go with for your bandeau bra can be most important. Think about the season or event you plan to wear it at. For an all-season garment, cotton is best due to its ability to keep you warm in the cold and cooler when it's hot.
When planning for a girl's night out, mix it up by looking for a bandeau bra with a leather or denim appearance.
​Overview
Formalwear

Casual wear

​Lone top

As a swimsui

t
Below are a few ways to wear your favorite bandeau bras. Don't hesitate to think outside the box and create some outfit ideas of your own!
Formalwear
Bandeau bras have the same versatile quality as bralettes in that they can transform based on an outfit or transform an outfit in itself. When paired with formal garments, bandeau bras act as the base or foundation of the outfit.
On the other hand, a decorative bandeau can transform a fairly simple outfit into something that can be appropriate for intimate dinners and even formal events.
Casual Wear
Bandeau bras are a favorite among many to wear for their everyday bra, due to its comfort and versatility. It's easily a go-to on hot, sunny days, no questions asked. Below are five of the many situations in which bandeau bras can be worn.
With Plunging Lines
Trying to find a bra that doesn't show under your favorite black dress with the plunging neckline? This is the perfect time for a bandeau!
Depending on the occasion, this bra can help to dress up your outfit or give it a pop of color, adding to your entire look. Bandeaus are also great for tanks and tees with plunging armholes on the sides.
Rather than exposing your normal bra to the world or wearing a full camisole tank underneath, the bandeau is an ideal option!
Underneath Sheer Shirts
Bandeau bras can be that needed coverage when you have a sheer shirt that provides just the right amount of sex appeal, but you don't want to give away all the secrets.
Matched with Tops
When there is a multitude of colors on the sheer shirt, try picking a bandeau bra that matches one of the primary colors for a bit of oomph. Or, if you prefer the muted approach, black and neutral colored bandeaus usually pair well with anything.
Paired with Shorts
Although most commonly seen at festivals and beaches, bandeau bra wearers everywhere are taking a stand. The ability to easily pair this bra with shorts, skirts, high-waisted bottoms, and fitness leggings may leave you with one question: Who needs a shirt?
Complete with Accessories
If you want to add a little more to your outfit, find a statement necklace that complements your bandeau bra to accessorize with. You can also pair this undergarment with a cute jacket or kimono to add a little additional coverage.
Lone Top
A bandeau bra can even be worn as an actual top on it's own, if you are comfortable doing so. This bra pairs well with shorts, skirts, pants, leggings, and is great to wear out to the club, or beach.
As a Swimsuit
From tankinis to bikinis, bandeau swim pieces are on the rise. You can find this swimwear adorned with designs like fabric flowers, knotted lines on the side that connects the front to back, or a sleek and simple look.
Bralette vs Bandeau Bra
A bandeau is basically a tube top that wraps around the bust without cups, straps, or hooks. Most bralettes have straps, and do not have the elastic bands on the top or bottom of the bra band like a bandeau.
Components
The bandeau uses the whole bra band to stay in place, while a bralette's support can come from the straps, clasps, and band. Bralettes may also come lightly padded or lined, whereas bandeau bras don't usually include underwires or padding.
Support and Coverage
While a bandeau bra can fully cover the breasts, it has less support than a strappy bralette. Some bralettes may include molded cups for additional support and coverage.
Contour
Bralettes can add more shape to the breast, much like a push-up bra, because of the straps and band. Bandeaus don't really contour your bustline, they merely contain it.
| Style | Structure | Purpose | Wear |
| --- | --- | --- | --- |
| Bandeau bra | Strapless and cupless | Support and coverage | Formal, casual, swimwear |
| Bralette | Can be wireless, wired, or unpadded | Support and coverage | Casual, everyday, swimwear |
| Regular bra | With straps, cups, hooks, and wired bands | Support, lift, coverage, and shape | Formal, casual, everyday |
Comparing Bandeau Bras to Other Bras
Can Busty Women Wear ​a Bandeau?
There are a couple of options for women with larger chests when it comes to sporting a bandeau. You can wear your bandeau bra over the top of a well-fitted strapless bra, which gives your larger bust the extra support that it needs, while still giving you the versatility of the bandeau bra.
If you prefer to ditch the strapless bra and just wear a bandeau, look for a bandeau with additional support. If you can, find one with boning and underwire or removable straps which will help the bra from sliding down.
Tips​​:
Since you're relying on elasticity to keep the bandeau up, I recommend finding ones that are a bit tighter, especially for larger boobs. Over time the elastic bands can become looser, so starting with a more sung fit will help maximize the lifespan of this bra!
Related Questions
Do You Wear Another Bra Under a Bandeau Bra?
There's usually no need to wear a different bra under a bandeau. However, some bandeau designs include pockets where you can put pad inserts.
Do Bandeau Bras Slip?
Bandeau bras that are well-fitted and of high quality won't slip because they are designed to be figure-hugging clothing. Additionally, some come with additional hooks and fasteners for better holding power.
Why Does My Bandeau Bra Keep Falling?
Your bandeau will continue falling if the band is too worn out, losing elasticity to hold onto your bust. Another likely reason is that you have small breasts, which means there's not much breast tissue to hold them.
What Is a Bandeau Bra? (And Why You NEED To Rock This Fashion Piece)
Conclusion
​Bandeau bras are all about comfort and variety, with a wide assortment of designs and styles that work for numerous occasions.
Bandeaus provide you with endless options to wear it as a top, a splash of color, underneath a strapless item, with or without padding, and with or without invisible straps.
All in all, the decision is all yours. Go crazy, and experiment until you find that signature style!