As an Amazon Associate we earn from qualifying purchases.
What's more annoying than wearing a bra? ​Being out all day and having to deal with the effects of when bra straps fall down. What should a lady do when her bra straps appear unexpectedly just around her elbow?
Here are 16 reasons your straps might be falling down, and a few solutions to the challenge.
​16 Reasons My Bra Strap Falls Down
Causes and Solutions for Falling Bra Straps
| Cause | Solution |
| --- | --- |
| Loose fit | Retighten the fit |
| Long straps | Shorten the straps |
| Short torso | Try a different bra size |
| Petite body frame | Choose a different band size |
| Disproportionate body parts | Try sister sizing or adjust the straps |
| Hunched posture | Wear a posture corrector or change posture |
| Scoliosis | Seek medical intervention |
| Narrow shoulders | Use J-hooks on straps |
| Downward-sloping shoulders | Choose a bra with close-set tight straps |
| Big bra cups | Use demi cups |
| Bra extenders | Use the original bra clasps |
| High band at the back | Adjust the bra clasps |
| Loose band | Size down |
| Wrong bra style | Consider a different style or convert to multiway |
| Loose elastic | Change material |
| Old bra | Buy a new one |
​1. Loose Straps
​For such an obvious reason, it can often be overlooked! When you first get a bra, you likely adjust the straps to properly fit. After this initial time though, how often do you actually resize the straps?
Wearing your bra, along with it going through the wash, can naturally loosen the straps over time.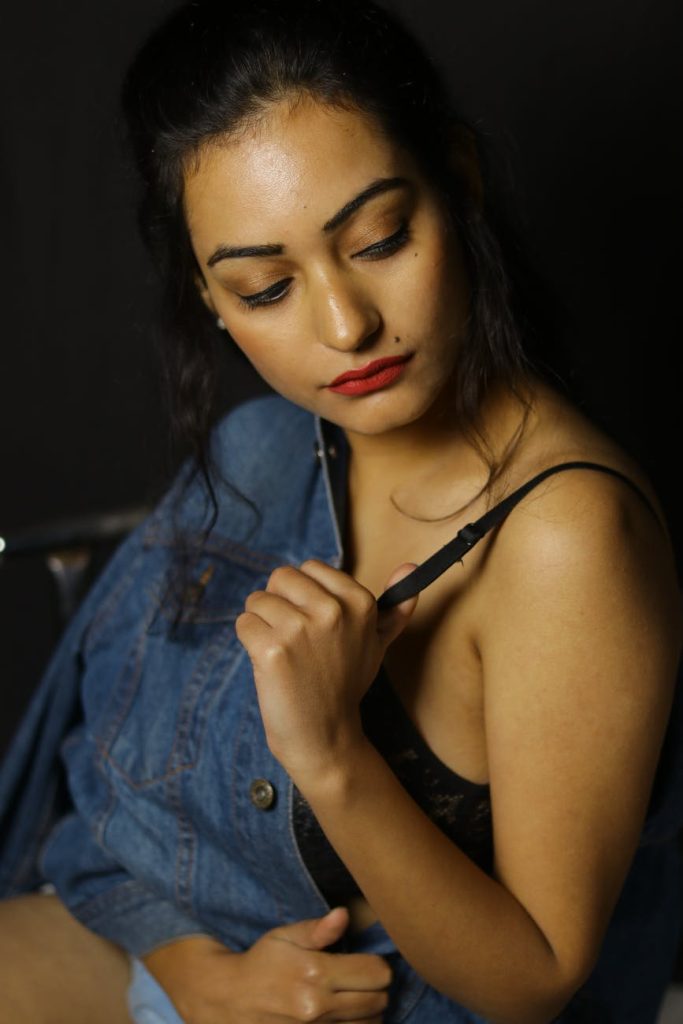 When checking to see if your straps are the proper length, they should adhere to a two-strap tension rule. This means you can still insert two fingers between the straps and your shoulder without much resistance.
​2. Straps are Too Long
​Some bras might not offer much leeway for the strap adjuster to move. If you're a bralette lover and enjoy styling outfits with bralettes, you might even find there's no flexibility on the strap length at all!
Even when the straps are in their shortest length, they could still be too long to be kept in place.
​3. Short Torso
There's no winning here when you've got a short torso. The length between your breasts and shoulder might not be enough to fill the length of the strap. Try a different bra size, because you might need a smaller one to fit you better!
​4. Petite Body Frame
​If you're petite, you'll have to exert extra effort to find brands that offer petite sizes. They're not as common. If you take the extra steps in finding them, your bra straps are less likely to fall off.
​5. Disproportionate Body Parts
​You've heard about one boob being bigger than the other, right? It's natural. So one leg or one arm is shorter than the other, causing your stance to be disproportionate as well. This may be why your bra falls.
It could also be why the issue is always just that same strap, all the time.
​6. Hunched Posture
​As the day goes on, the tightness of your bra may make you subconsciously hunch over it. This can make the straps loosen up in front and fall off. If you catch yourself hunching over, make an effort to stand up straight.
​7. Scoliosis
For those who suffer from scoliosis, bra straps can be your worst nightmare. The condition sometimes makes your shoulders uneven so the lower one might see that your bra strap falls off your shoulder.
​8. Narrow Shoulders
​​Some women have wider shoulders than others. Other women have narrower shoulders than average. Most bras have a wide range of options when it comes to the size of the cup and band, but rarely the straps.
It's hard to find a bra with a sufficient cup but closer straps. Try looking for a bra with a j-hook. Most convertible bras have this, and it can help keep your straps up and hidden.
W-Plus Bra Strap Clips, Bra Extender 3 Hooks, Bra...
Boost Your Bust - Instantly increase cup size to give you a fuller and sexy cleavage, and look...
Eliminate the Hassle of Falling Bra Straps - Easily adjusts to fit any height, and the clips will...
Ergonomic design - Discretely transform any bra easily and comfortably. The ergonomic design...
​9. Downward-sloping Shoulders
​In a similar way, women whose shoulders are sloped downwards will have a harder time keeping their straps in place. On your non-dominant side especially, there's a bigger tendency that the bra strap slips off one shoulder.
​10. Big Bra Cups
​Sagging is a real issue. As you age, the breasts eventually surrender to the force of gravity. They lose the ability to perk up on their own. This creates a gap on top of your cups, which may be why bra straps fall off your shoulders.
When this happens, it's good to find a supportive bra, like one from my recommended underwire push up bras guide. The more coverage a cup has on your boob, the less likely that your straps will slip.
This is because the strap will sit closer to your neck, thus making it harder to slip off. If you don't want to deal with your straps falling off of your shoulders all day, try wearing a shelf bra for ease and comfort.
​11. Bra Extenders
Wingslove Womens Bra Extender Band Size Extension...
Made of soft velvet, leave no tracks, no pinch, no scratchy on your delicate skin.
Package: 3pcs adjustable bra extenders with White, Black and Beige Color which multi three different...
The bra extender is used to add more rooms to your bra while the bra band is too tight. It can...
​From the name itself, you can already see where the problem might stem from. Bra extenders are used to lengthen the band of your bra if you need additional inches.
The issue with this is that it sets your straps farther apart, thus increasing the chances of them falling off.
​12. High Band at the Back
You'll know you're wearing your bra right when the band at the back wraps straight around underneath the shoulders. If your bra sits too high on your back, you're at risk for strap slippage.
​13. Loose Band
​Do you think a bra fits right just because it stays in place when you snap it together at the back? Sometimes even when the band seemingly fits, you still need to size down. It's not about just fitting.
The band needs to be snug around your body, so the straps will also stay in place, much like a bandeau.
​14. Wrong Bra Style
Just as there's a right style of clothes for your body shape, there are also bra styles for every body type. If your straps are slipping and sliding, consider trying a different style of bra.
If your straps are really bothering you could try converting your bra into a strapless one!
​15. Loose Elastic
The elastic in your bra is not made to last forever. As you wear a bra over and over, the elastic on the straps is bound to stretch out. As much as you love that 8-year-old bra, it's probably time to trade it in for a tighter model.
​16. Old Bra
​Speaking of 8-year-old bras, when your bra is too old, there's nothing much you can do. The band rides up, the cups can't hold up your breasts, and the bra straps basically live by your elbow.
How to Keep Your Bra Straps From Falling Down
I'm not going to leave you hanging by only sharing reasons that your straps constantly slip off your shoulders. Once you identify why your straps are falling down, here are 4 ways how to keep them up and secure!
1. Adjust the Straps and Band Properly
For most of the problems above, the bra is probably not adjusted properly. The straps should be snug against your skin, and the band should be level all the way around you.
You should still be able to insert one finger underneath the straps. This positioning secures the straps in place.
2. Get the Right Bra Style
If you have broad, squared shoulders, finding a bra with wide-set straps will be a great option for you. This allows the straps to sit comfortably in the center of your shoulders, where your shoulders naturally create a slight curve.
For women with narrow shoulders, avoid bras that are specifically designed with wide-set straps, because these will easily slip down and show through your clothing.
Instead, look for bras with standard straps. A crossed-back bra or convertible straps that you can switch to form an X at the back will also make your straps lean inwards instead of falling to the outer sides.
If all else fails, a racerback bra with a front closure is least likely to make your straps fall down.
3. Get Bras with Sturdy Straps
Typically, padded straps are designed for women with larger breasts, because they provide additional comfort and can alleviate some of the pressure on your shoulders.
DoHope Shoulder Bra Straps Replacement 12mm 15mm...
Floral Prints Bra Strap with two width (15mm & 18mm for choose), the larger width helps to share the...
Matching Metal Hooks with high quality Plastic Coat - durable and hypoallergenic.
Package include: 3 Pairs Bra Straps (One each Black, White, Beige). Use on any Bra with Removable...
Padded straps have the added benefit of reducing slippage. If you can't find a bra with straps that are padded, try to find ones made from sturdy material like polyester or spandex blends.
Make sure the right materials are all secured with seams for a better grip on the shoulders. Avoid lace straps if possible! Though they are cute, they tend to slip easier.
4. Consider Quick Strap Solutions
A bra clip, also called a j-hook, transforms your back straps into crossed-back straps. Similar in function, an elastic strap holder is an additional horizontal strap at the back that pulls your original straps inward, preventing slippage.
These are two bra accessories you could get for a quick solution to your strap problems. If both feel uncomfortable at the back, a silicone cushion holder could be placed beneath the straps on your shoulders to make them stay in place.
If you're looking for an immediate fix, be resourceful and make use of things in your junk drawers like double-sided tape or a safety pin to stick the straps to your skin or clothing!
Related Questions
What Accessories Can Keep Straps From Falling Down?
You can use bra accessories like a racerback converter or a silicone strap holder to prevent straps from falling down. These accessories can reinforce some of the tips mentioned above.
Does a Thick Strap Stay in Place Better?
Straps that are thick and wide will stay in place better if the bra is the proper size. The broader strap size improves the weight distribution of the breast tissue.
Why Are My Bra Straps Twisting?
Bra straps will twist when the cups are too small. You may overtighten the straps to compensate for the small cup space, causing the straps to adjust and twist.
Bra Size Measurement & Cup Size | A, B, C, D, DD Bra Sizes AND Extra Large Breasts
​Conclusion
​​Knowing the reasons will keep you from questioning over and over why bra straps fall off your shoulders. It's a common thing that can happen to anybody, but it's not without resolutions. Knowing these reasons, you won't find yourself in a curious situation the next time it happens.