As an Amazon Associate we earn from qualifying purchases.
Raise of hands here, ladies. Who isn't into stuffing? No, not the kind associated with turkey, cranberry sauce, and heaps of deliciously whipped potatoes.
While that kind of stuffing is an absolute must for Thanksgiving, let's instead focus on the more important kind of stuffing that is way more interesting to talk about; how to stuff a bra!
Contrary to popular misbelief, stuffing your bra isn't something long ago left in your pubescent, feeling-super-awkward-because-you-have-bug-bites-for-boobs cringe-worthy teenage memories.
In fact, stuffing your bra is as en vogue as current trends and fads in today's fashion/celebrity world.
​How to Stuff a Bra
There is no exact science, per se, as to how to realistically stuff a bra. But, there are a plethora of foolproof methods to easily and, more importantly, non-surgically enhance your chest to get the desired effect of va-va-voom curves a la Jessica Rabbit style.
The secret sauce is all in the techniques and materials used to get the most realistic look.
Whether you are a 32A or 38DDD, any and all of these methods can work for you – bra stuffing is for everyone (heck, even models and actresses are known to stuff their bras for red carpet events!).
Just be open to experimenting to see which method is most comfortable and intuitive to you, as a great alternative to finding the top push up bras to increase breast size.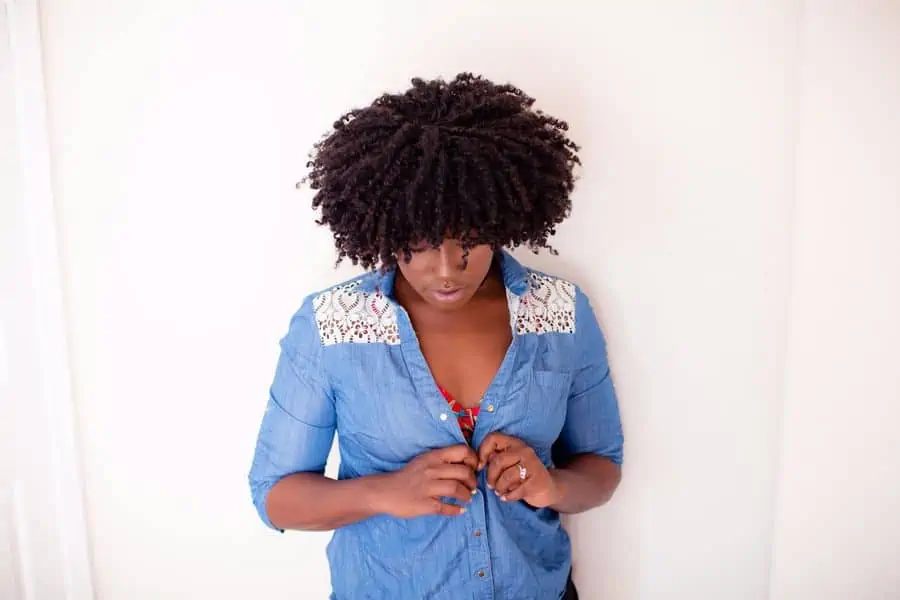 Just remember, bra stuffing is simple and easy to do. You can incorporate any number of these methods; combining two methods or just mastering one.
There is no right or wrong way to approach how to stuff your bra as your end goal is to get the most natural-looking "oomph" added to your bust line!
​Ways to Stuff a Bra
| Technique | Action |
| --- | --- |
| Technique 1 | Put socks in the bra cups |
| Technique 2 | Place falsies or chicken cutlet pads |
| Technique 3 | Stuff the cups with tissue |
| Technique 4 | Layer with another bra |
| Technique 5 | Sew your own inserts |
​Getting Started
To start, you will want to use a bra that has a cup size a tad bigger than your form-fitting everyday bras. This allows room to add "stuffing" and create a more realistically enhanced boob size.
The only exception to this is if you are going with the double bra method, where you will be layering two bras to get the desired enhanced effect – but more on that in a second.
Once you have the desired bra in hand, you can choose one of the following foolproof methods for getting your desired enhanced look.
Sock Method
Silicone Insert Method
Tissue Method
Double Bra Method
DIY Insert Method
Let's get into each method, how they work, and tips for nailing each!
​The Sock Method
This is probably the most commonly known and used method by women of all ages and boob sizes. The biggest benefits of stuffing a bra with socks are it's very customizable, easy to achieve at the last minute as an outfit (or mood) warrants, and gives a very realistic look.
Steps for how to stuff a bra with socks are pretty straightforward and simple:
Locate socks, any type of sock will do. The thicker the sock, the bigger an insert you will have. Best to start with a modest size first and then re-adjust later on.
Fold socks in half. They should be about the size of your hand and/or the width of your breast when laid across horizontally.
Place folded socks inside the bra cup. Socks should sit slightly underneath your breasts and at a slight angle to prop your natural breast up and inward, creating killer cleavage.
As needed, adjust socks so they are hidden under your bra cup. Add more padding or switch to a thicker sock, if needed.
Do a final check in the mirror with your top on to make sure there are no odd lumps, bumps, or potential wardrobe malfunctions in the making (Super Bowl Janet Jackson, anyone?)
Bonus Pro Tip: To further enhance the look of your chest, you can also use makeup! Contour your decolletage with bronzer in a Y shape, creating the illusion of a deeper cleavage (wink, you are welcome!).
The Sock Method Recap
Level of difficulty: Medium. Takes a little adjusting to get the socks to fit correctly.
​Enhancement Factor: Totally customizable!
The Inserts or Falsies Method
This method is maybe the easiest and most widely agreed upon method to stuffing a bra and making it look natural.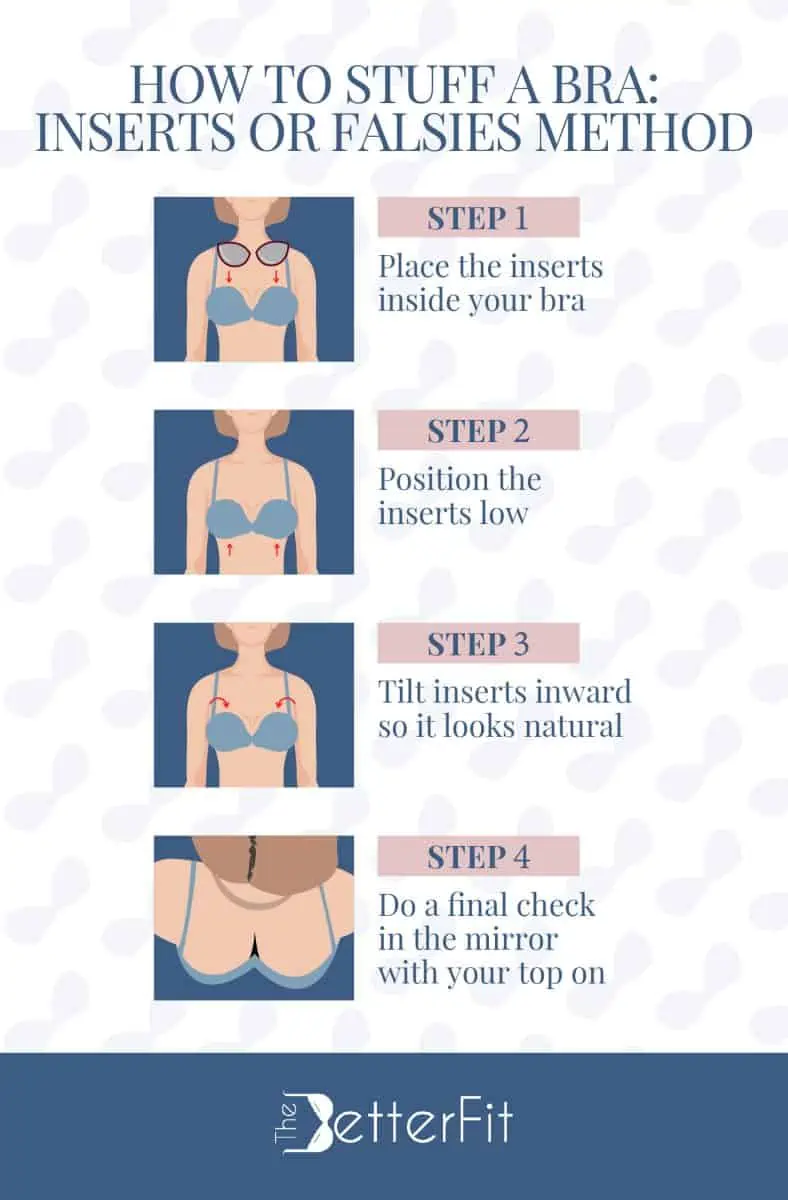 Inserts, sometimes referred to as "falsies" or "chicken cutlets" (yep, you guessed it – they look like little boneless chicken breasts!) are typically made of silicone and are shaped like little half-moon boobs.
FEMAGIQUE Silicone Bra Inserts – Breast...
INCREASE YOUR CUP SIZE: Wear your décolleté dresses with confidence - our abalone shape...
PUSH-UP EFFECT: Create an amazing cleavage and get that push up effect for your breast that you...
INVISIBLE FIT: Nobody will realize your little secret! Our invisible clear breast inserts are...
Other types of inserts can be made of plastic, rubber, foam or even water filled pads.
If you do opt for the silicone, plastic or rubber inserts, they will have a bit more weight to them as they are made to mimic a real boob. Therefore, they could risk falling out underneath the cup if the bra is too loose in the band.
Make sure you are wearing the correct size band that does not create back bulges, otherwise, you can opt for underwire bras instead.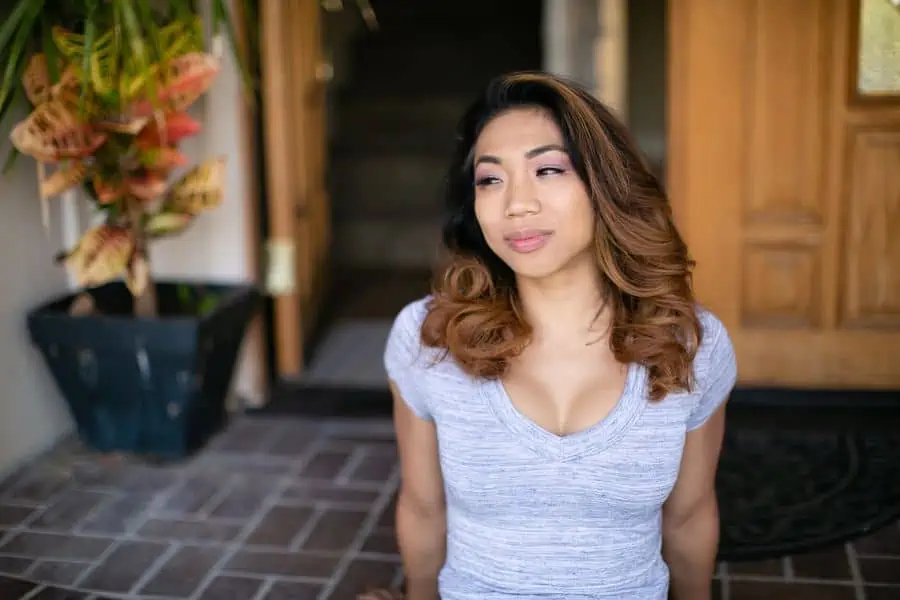 The application for the insert method is the same as the sock method. Place the insert inside your bra, positioned low, and tilted inward.
Some silicone options will have little molded nipples and can act as a guideline of where the insert should sit on your boob. Re-adjust the insert as necessary to achieve a smooth and natural curve.
Lastly, do one final test in the mirror with your top on before heading out the door!
The Insert or Falsies Method Recap
​Level of difficulty: Easy. Just insert and GO!
​Enhancement Factor: Totally customizable based on size desired.
Bonus: What Is a Chicken Cutlet Bra?
A chicken cutlet bra is a bra style that uses silicone cups instead of foam, making them look like cuts of boneless chicken or chicken fillet. This reusable bra uses silicone and a front-clasp design to stick to the breast, providing lift and support.
It is virtually invisible underneath clothes since it doesn't have straps, padding, and band. Its thin cups ensure a seamless and flawless silhouette even as you wear tight-fitting outfits.
The Tissue Method
Who isn't having flashbacks to high school when thinking about how to stuff a bra with tissues? While the tissue method isn't the best method, this IS a genius method in a pinch if the above methods are not available or you are looking for a small enhancement.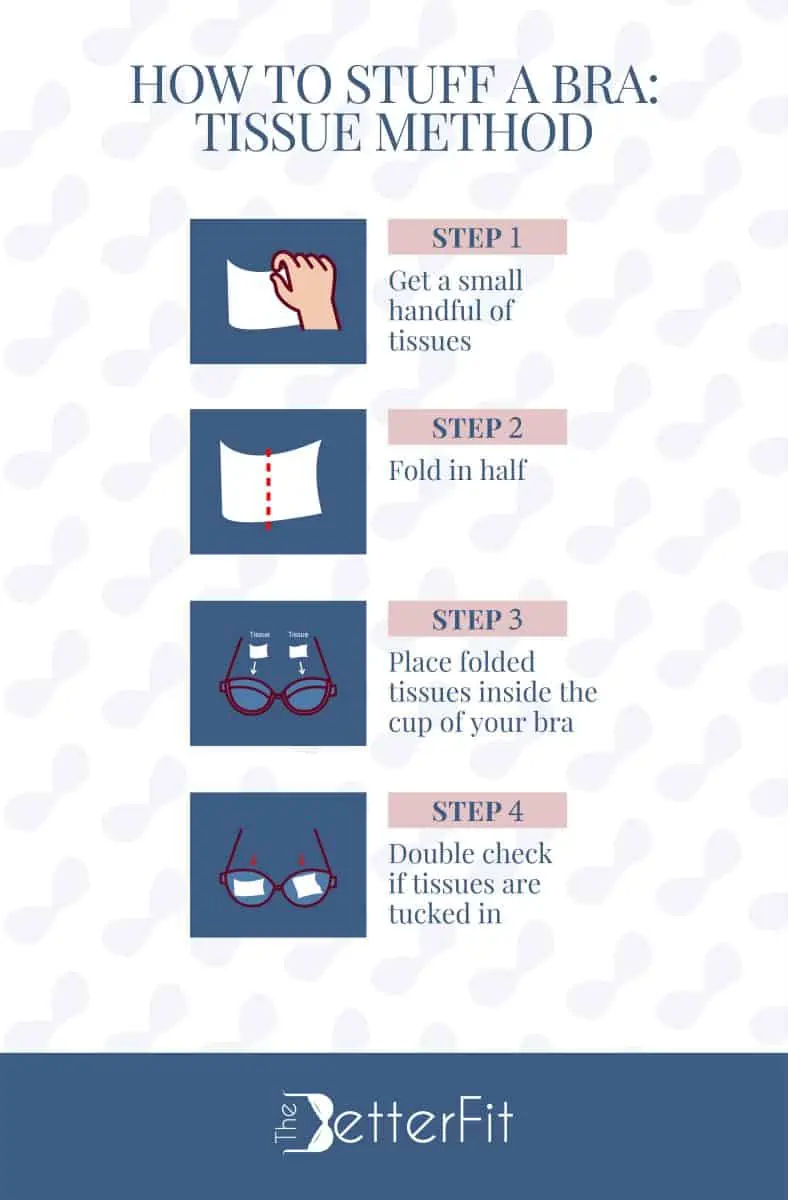 The tissue stuffing method is similar to the sock stuffing method. Start with a small handful of tissues, folding in half or wadding up into loose balls and placing them inside the cup of your bra.
Continue stuffing until the desired fullness, smoothness, and natural boobilicious shape are achieved. If you have a bra that has a little insert pocket in the cup, you can also utilize this in the same way you would a pocket, placing the tissues in the insert to keep them "tucked away" nicely.
As you will notice, there are a few downsides to this method. Primarily, if you are looking for a large size increase, tissues simply don't have the density to hold a large shape.
Secondly, moisture and sweat also can cause pilling, and scrunching or the tissues will simply fall apart. Do proceed with caution with this method and keep an eye on your stuffing throughout the day/night.
Tip: If you are going to use this method, rest assured you can always easily re-stuff as needed no matter where your night/day takes you. Toilet paper or tissues can conveniently be found everywhere.
Just make sure to double-check you are all "tucked-in" before heading out of the loo!
The Tissue Method Recap
​Level of difficulty: Medium to hard depending on how many tissues are used and achieving the correct overall luscious boob shape.
Pretty nice bonus: Easy access to face blotting materials.
​Enhancement Factor: Minimal
The Double Bra Method
The key to this method is in the selection of bras used to layer. It is best to stick with only using two bras and look for bras that have built-in or foam-insert padding.
Push-up bras paired with strapless bras work best for this method! The goal is to add volume in your cup size with the least amount of thickness around your ribcage.
Start layering with strapless bra first and put it on as you normally would. Then add the padded push-up bra on top of the strapless bra.
Reposition the bra cups so they match, and finish by smoothing the bands on top of one another so there aren't any uncomfortable bunching or pinching around your ribcage or back.
For maximum cleavage results, bring straps into an "x" on your back, using convertible and adjustable straps, a safety pin, paperclip, or bra clips.
If you are looking for ways to properly stuff a D bra, this is a great method as it is very secure and easy to customize the size and shape of your enhancement.
The layering of two bras offers additional support for larger chests, and you can always add other methods such as socks or silicone inserts for even greater enhancement if desired!
The Double Bra Method Recap
​Level of difficulty​: ​​​Easy peasy! ​
​Enhancement Factor: Minimal to va-va-voom!
The DIY Insert Method
If you are a bit crafty in your sewing skills and want a customizable, reusable method without expenditure, then this might be for you! For this method, you will be creating your own bra inserts from items you should already have lying around the house.
Here are some easy to follow steps:
Gather the following materials: sewing kit, stuffing material (foam, old sock, cotton balls, etc.), and material to make an insert pocket (like a sock or old flannel shirt; anything soft as this will sit against your breast inside your bra).
Measure one breast both horizontally (x line) and vertically (y line) to get insert size measurements.
Transfer these measurements to insert the pocket material by drawing a cross with the horizontal X line equaling your X measurement and the vertical Y line your Y measurement minus 0.5 inches
Draw an evenly shaped oval around the X and Y lines and then cut this out (this is your pattern for the bra insert). Repeat until you have 4 pieces of cloth cut out (aka: If you measured 2.5 inches, your drawn Y line will be 2 inches).
With fabric inside out, sew 2 pieces of cloth together around the perimeter leaving a small opening on one side. Repeat for other two pieces of cloth.
Turn material inside out and begin stuffing using your selected stuffing material.
Customize how thick or thin you would like padding to be by adding or subtracting how much stuffing you use.
Sew up the hole and you're done!
Viola! A new DIY insert you can use with any of your bras!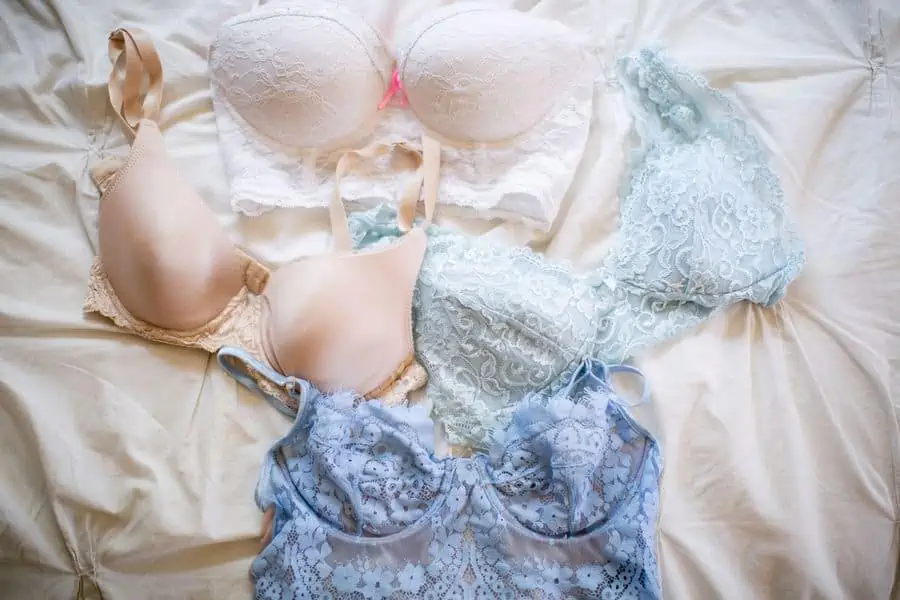 ​The DIY Insert Method Recap:
Level of difficulty: Medium to hard, depending on your sewing skills.
​Enhancement Factor: Minimal to va-va-voom!
Related Questions
Can You Add Padding to a Bra?
You can add padding to a bra with or without pad pockets. Choose paddings that fit the cup's contour, whether full- or half-size.
How Do You Turn a Normal Bra Into a Push-Up?
You can transform a normal bra into a push-up by stuffing the bottom of the cups. The tissue, socks, or pad inserts should direct the breast tissue up and center.
How Can I Further Make My Breasts Look Bigger?
You can design your clothes to accentuate the bust in addition to stuffing bra cups. For example, wear tops with V-neck or sweetheart necklines, ruffles, or horizontal lines to visually increase breast size.
Bra Size Measurement & Cup Size | A, B, C, D, DD Bra Sizes AND Extra Large Breasts
Conclusion
Now that you have learned some of the best foolproof methods for stuffing a bra, you can see that variety and options in sizes are endless and completely natural looking.
Be it a night out on the town, stuffing a bra for that special guy, or for that certain outfit that just needs a bit more, bra stuffing is really easy!
Finally, the application of these tricks can be used by all-natural boob sizes and skill levels.
Whether you are a size AA, DDD, have been stuffing your bra for years, or this is your first time purchasing falsies, there are tips and tricks for everyone and all skill levels!
With just a few clever tricks and minutes in front of a mirror, anyone can be a bra stuffing expert. But, shhh… I won't tell anyone!