As an Amazon Associate we earn from qualifying purchases.
You've got the booty and the confidence, yet your chest looks too small. In a frenzy, you scramble around your apartment to find the perfect solution for your too-small ta-tas. I go through 24 ways how to make small breasts look bigger.
How to Make Small Breasts Look Bigger
Use well-fitted yet cleavage-enhancing bras, bra inserts, or boob tape to make your small breasts appear bigger. Underwired, soft-seamed, and racerback bras are also good options. You may also consider contouring the cleavage, dressing up to accentuate the boobs, and doing workouts that enhance your bust's appearance.
I've compiled a list of tips on making your small boobs look more prominent. Whether you want to defy gravity or enjoy a little boost, seriously, I've got you covered. Making your boobs look bigger is easier than you might think.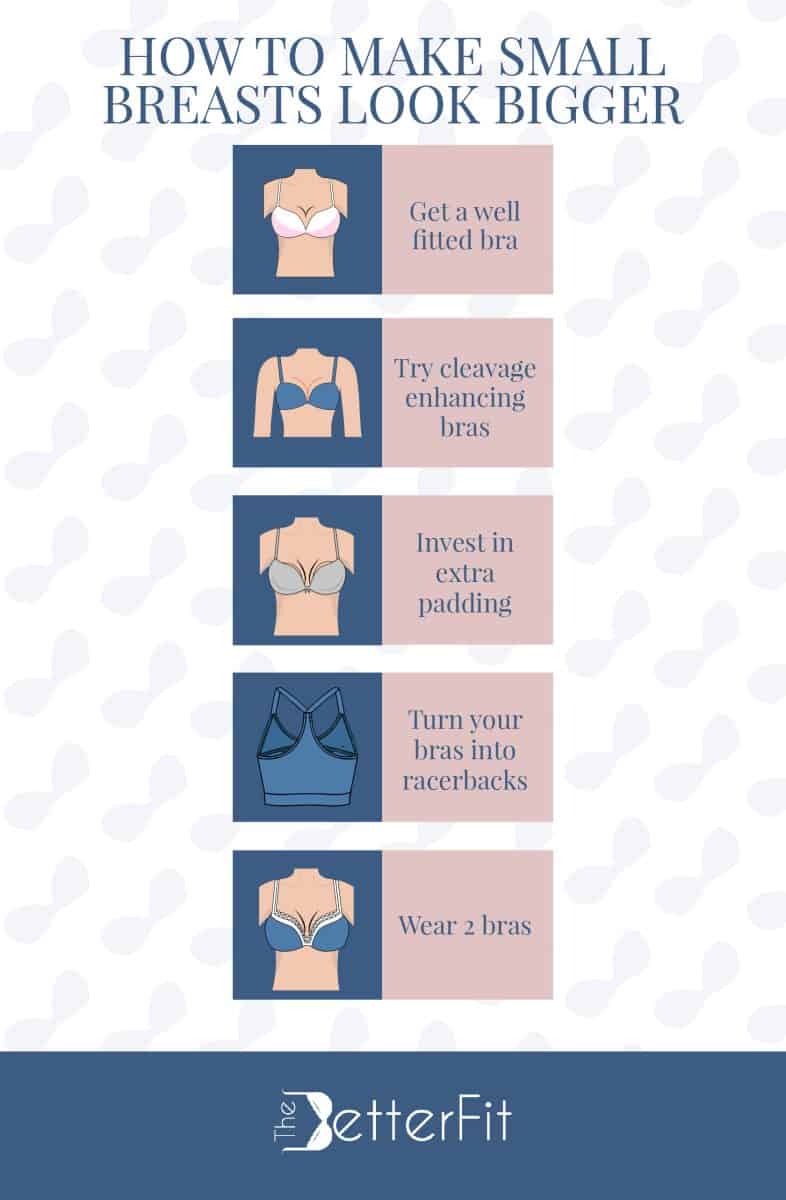 Here is how to get cleavage when you're flat: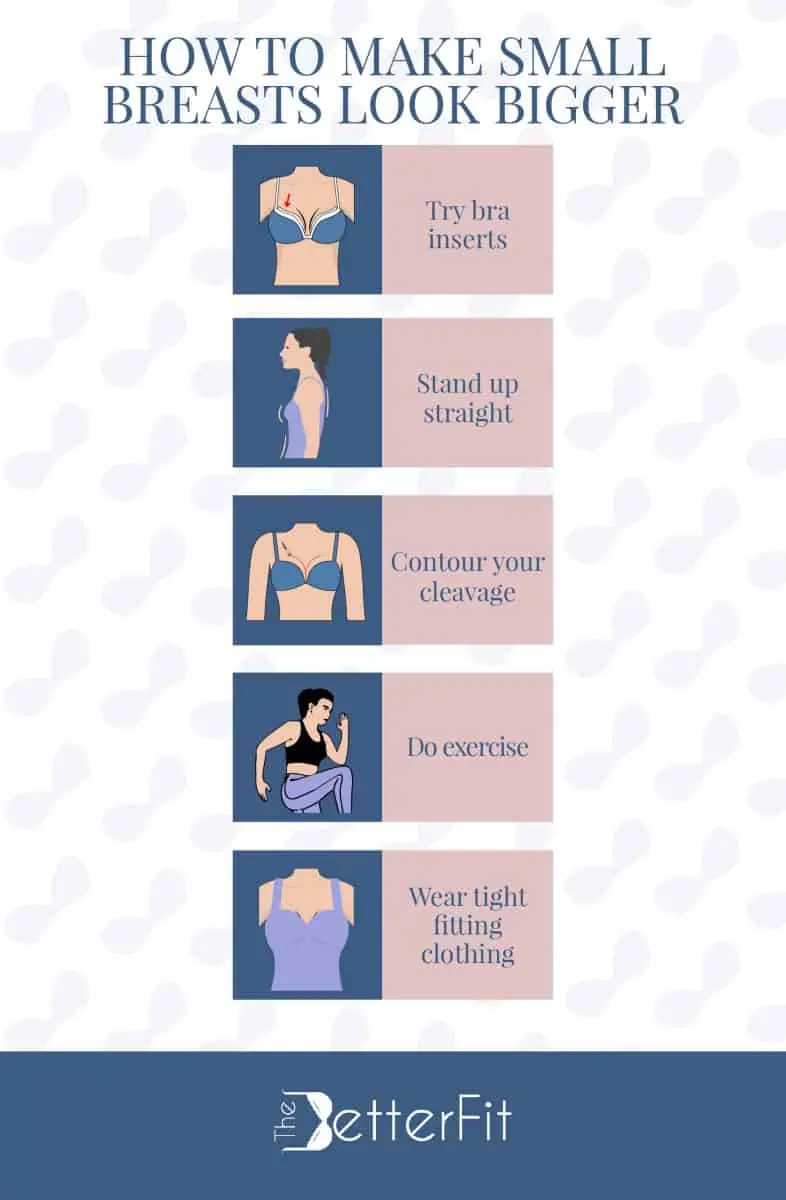 Ways to Make Small Breasts Look Bigger
| Technique | Action |
| --- | --- |
| Technique 1 | Wear a well-fitted bra |
| Technique 2 | Use cleavage-enhancing bra styles |
| Technique 3 | Try extra padding |
| Technique 4 | Convert to racerbacks |
| Technique 5 | Wear two bras |
| Technique 6 | Use bra inserts |
| Technique 7 | Improve your posture |
| Technique 8 | Apply makeup to contour cleavage |
| Technique 9 | Do exercises that target bust muscles |
| Technique 10 | Wear clothes that accentuate the breasts |
| Technique 11 | Accessorize to highlight the chest |
| Technique 12 | Sculpt your waist |
| Technique 13 | Eat protein-rich foods |
| Technique 14 | Be confident |
| Technique 15 | Don't use flattening bras |
| Technique 16 | Wear an underwire bra |
| Technique 17 | Use bras with soft seams |
| Technique 18 | Apply makeup to contour the chest |
| Technique 19 | Sleep on your back |
| Technique 20 | Wear a sleep bra |
| Technique 21 | Tape your boobs |
| Technique 22 | Take collagen supplements |
| Technique 23 | Avoid smoking |
| Technique 24 | Consider breast enlargement surgery |
​1. Get a Well-Fitted Bra
Millions of women across the United States shop for a new bra every single day. Yet, many leave the store with a bra that is totally NOT their size. This is because sizing is not always an exact science.
The quickest way to make your breast look bigger is to use a well-fitting bra that provides a little push and padding. Make sure that your bra also prevents shoulder pain.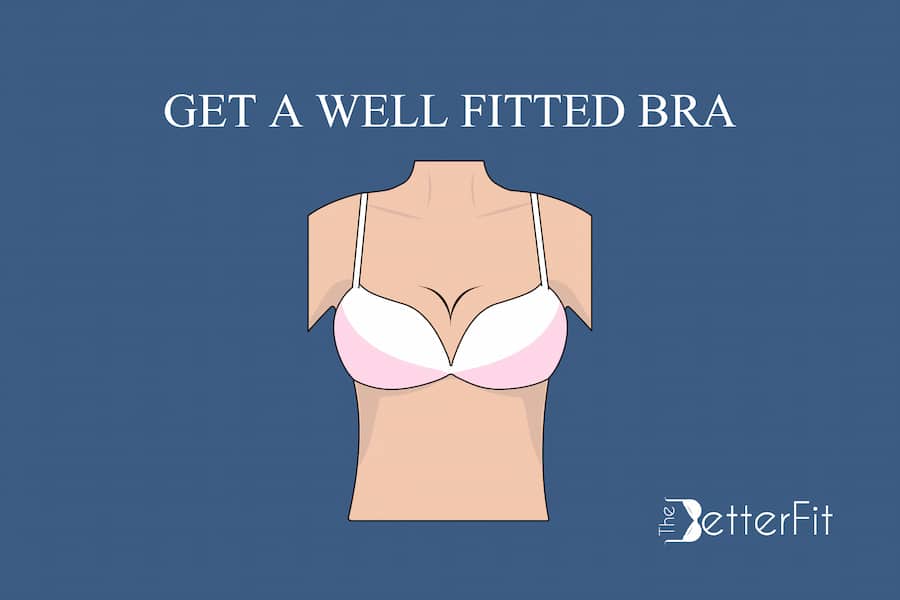 If you need help finding the perfect bra, you can check out my recommendations for A and B cup push-up bras. Your cups should be smooth, your band shouldn't ride up, and there should not be any uncomfortable pinching or digging in.
​2. Try Cleavage Enhancing Bras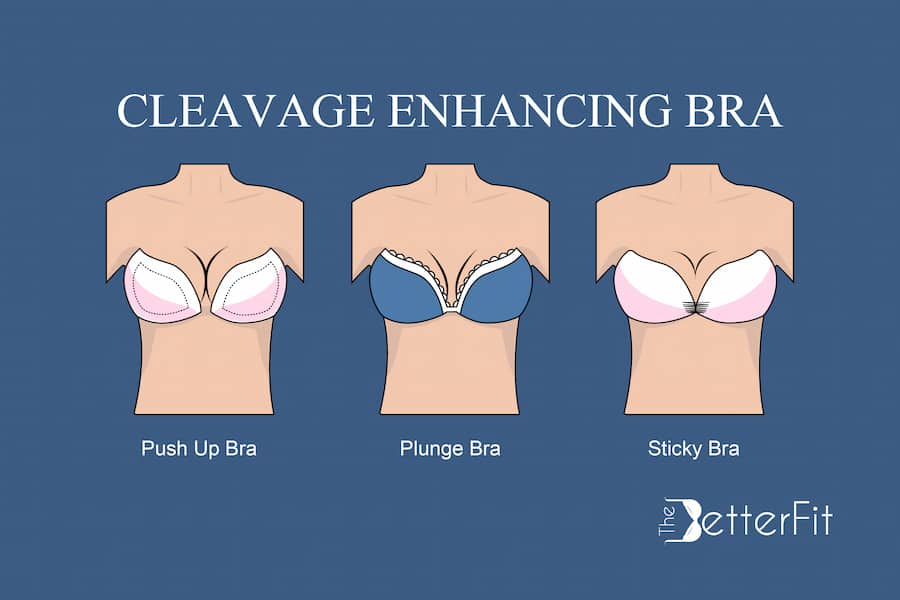 There are so many different types and styles that it can be hard to know which kind will look best on your body. It can be overwhelming to browse the lingerie section in search of a perfect bra that makes breasts look bigger. These bras are a great way to make your boobs look bigger.
Push-up bras: These are generally the most popular and effective ways to make your boobs look bigger. Not only do they provide support, but they also provide padding in the cup that pushes your breasts up and together. Some push-up bras make your boobs do the impossible – grow 2 cup sizes instantly!
Plunge bras: These bras are similar to push-up bras, as they typically have a bit of padding. The plunge bra is lower cut than a typical bra, and it gently pushes your boobs together, giving the appearance of more cleavage.
Sticky bras: Like a plunge bra, sticky bras can also push boobs inward when you put the adhesive bras to your chest correctly. Wear an adhesive bra with built-in padding to give your chest an extra bump.
Multi-way bras: Find a bra that has cross-over straps. Not only can you wear it with your favorite racerback tank, but it also gives your boobs an extra lift. Consider going for a posture bra.
While bra shopping for smaller cup sizes can sometimes be difficult, finding a well-fitted push-up or padded bra will do wonders for your boobs. Some top-rated push-up bras for small boobs come in various styles, from strapless bras to plunge bras.
3. ​Invest in Extra Padding
While bra shopping for smaller cup sizes can sometimes be difficult, finding a well fitted, push up or padded bra will do wonders for your boobs. Some of the top rated push up bras for small boobs come in a variety of styles, from strapless bras to plunge bras.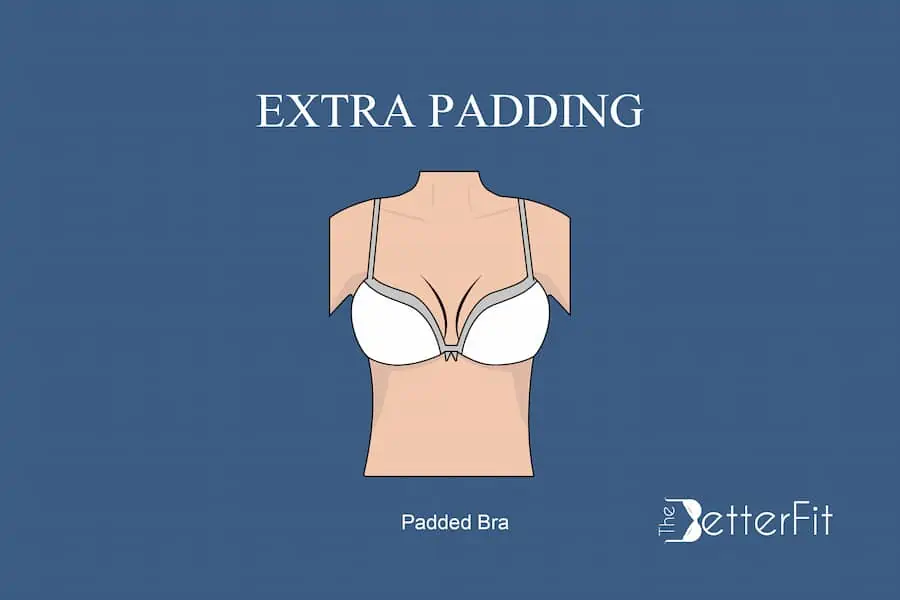 With all the different styles, you can wear your push up bra with any of your favorite outfits for an additional boost of confidence. These bras are a great way to make your boobs look bigger.
Avoid any bras that leave a gap between your chest and the bra cup, because that might mean you still have to stuff them later on. Make sure the straps are adjustable.
Girls Guide Pro Tip: find a bra that has cross over straps. Not only can you wear it with your favorite racerback tank, but it also gives your boobs an extra lift. Consider going for a posture bra.
Sometimes, slouching makes ​your breasts look like they sag a bit, so a great way to make them look extra perky is by correcting your posture.
​4. Turn Your Bras into Racerbacks
Once you have your bra(s) on, you might still feel like your cleavage needs a boost. To give your boobs the extra "va-va-voom," try crossing the straps in the back to turn the bra(s) into racerbacks.
This can be done if the straps are convertible or by using a safety pin to fasten them together.
You can also use a bra clip to hold your straps together easily.
The racerback helps move your boobs up and together, creating well-defined cleavage that will leave you in awe. The best part is this hack is essentially free and takes approximately one minute.
5. Wear 2 Bras
The old saying "Two is Better Than One" rings true when trying to create cleavage. If your breasts are still not looking big enough from one bra, put another bra on top of your first bra.
The first bra will shape the breasts and the second bra will give you double the amount of cleavage. ​Make sure both bras have molded cups and padding​​​ to give you the biggest cleavage possible. Sure, this might feel weird at first, but it's effective!
​6. Try Bra Inserts
The idea of stuffing your bra might give you flashbacks of trying to impress your crush in 7th grade with a toilet-paper-stuffed bra. I've got good news though. The bra insert industry has evolved greatly since those dark days!
There are so many inserts specifically made to enhance your cleavage that it's nearly impossible not to find one you like. They come in various materials like gel, silicone, and fabric.
You're bound to find one that suits you best. They're super easy to use too. Just slip an insert into your bra and *boom* instant cleavage!
​7. Perfect Your Posture
Standing up straight and having good posture helps make your chest look larger! ​Growing up, your mom probably constantly nagged you to stand up straight. At the time, it seemed unnecessary.
Sometimes, slouching makes ​your breasts look like they sag a bit, so correcting your posture is a great way to make them look extra perky. Standing with your spine elongated forces your chest out a little, making your breasts more noticeable and appear larger and perkier.
Improved posture helps prevent back pain, joint pain, and muscle strain. If you need extra help, check out padded posture bras.
​8. Contour Your Cleavage
​To really bring your cleavage over the edge, give contouring a try. You might contour your face to achieve chiseled cheekbones, so try doing the same for your chest! It's surprisingly easy to provide the illusion of a larger chest with makeup.
The best way to contour your boobs is to create shadows by using a two-shade-darker foundation to outline the breasts and collarbones.
Then, highlight the tops of your breasts with a light contour cream and blend it all out.
Once everything is blended, set the makeup with some setting powder.
Go back into contour again using powder products instead of cream products.
9. Do the Right Workouts
Get your blood pumping to perk up your boobs. Exercise is a great and natural way to increase your breast size. Many exercises that target the pectoral region help strengthen the muscle around the boob.
Incorporate exercises that benefit your breasts into your daily routine. Push-ups, dumbbell bench presses, and the fly lift are three simple exercises that target muscles around the boob.
This 30-Day Challenge is a great exercise routine to start working towards firmer and perkier breasts. When lifting weights as a part of an exercise routine, don't worry about starting at the weight of an experienced bodybuilder.
To build your endurance, keep exercising with lower weight (around 5-7 lbs) and high repetition. Over time, you can start lifting heavier weights as you feel more comfortable.
Be careful when doing these exercises, though. You don't want to end up focusing on your lower pecs. This will end up making your chest look smaller!
10. Dress to ​Accentuate
​Most people need to realize the clothing they wear can directly impact how visible their chest is. There are certain necklines or types of tops that can make your bust look visually bigger.
Use tight-fitting clothes: Baggy clothes, especially with unflattering necklines or cuts, can hide your bust. Wearing tight garments helps to accentuate the chest, which makes your boobs stand out in your clothing.
Try shirts with designs on the chest area: You can also try drawing attention to your chest with long necklaces and shirts with a graphic or logo over the chest. These draw attention to your breasts and make them a focal point of your outfit, making them appear larger than they are.
Wear tops with horizontal stripes: It's typically said to avoid horizontal stripes because they make you look bigger. However, horizontal lines create the illusion of a larger chest by making the chest seem wider, which then makes the breasts look more prominent.
​11. Accessorize
Accessorizing your outfit with suitable necklaces can help give the appearance of bigger assets.
Pair a low-cut top with a long chained necklace to highlight your chest.
If you prefer to wear tops that provide more coverage, try adding a shorter statement necklace that sits right above your boobs.
12. Make Your Waist Look Smaller
Rather than focusing on how to make your assets larger, turn your attention to your waist! By making your waist appear smaller, your boobs can naturally look bigger.
Nebility Women Butt Lifter Shapewear Hi-Waist...
BUTT LIFTER SHAPEWEAR:this control panty can help tighten your bottom and lift your buttock,give you...
TUMMY CONTROL PANTY:our body shaper shorts is high waist designed to flatten tummy with moderate...
360°FIRM CONTROL MIDSECTION & FITS ALL:the waist trainer briefs abdomen part is double layers...
13. Eat Right
Wouldn't it be nice if that ice cream you had as a midnight snack went right to your boobs rather than your hips? While that ever-so-satisfying dessert might not be your answer to a bustier chest, a healthy diet might be!
Look for foods rich in protein and estrogen, such as chicken, eggs, or superfoods like blueberries, to naturally enhance your chest.
14. Be Confident
​Regardless of the size of your breasts, the most important thing you need to pull off any outfit is confidence. Even if you don't follow the above tips, you can still look flawless in any attire you choose by confidently wearing it.
​15. ​Avoid Flattening Bras
If your goal is to wear bras that make your breasts look bigger, you're going to want to avoid these bras.
​Unlined bras and minimizer bras: These don't provide the necessary padding to give you a cleavage boost. They make your breasts appear smaller than they are. These bras lie flat against the breast, offering support, not volume.
Sports bras: While sports bras offer support, they are specially made to compress the chest and hold your breasts down. It's best to steer away from sports bras if you want to enhance your cleavage. However, the sports bra is ideal if you want to do a bunch of burpees.
16. Put On Underwire Bras
An underwire's purpose is to lift and contour the breast tissue, especially those that fall heavily at the bottom of the breasts. Thus, investing in a comfortable underwire bra can provide a subtle lift to increase your bust size visually.
17. Try Soft-Seamed Bras
While wired bras can make small breasts appear more prominent, they may not be the best option for ladies with flared breasts. If you have a high ribcage, you need to avoid bra parts that can poke and apply pressure to the ribs.
In such a case, opt for a soft-seamed bra. Most soft-seamed bras also have thick yet comfortable fabric, which can easily mold the breasts to make them look bigger.
18. Contour the Chest Using Makeup
If you don't want to use padded bras or chicken cutlets, and you're pretty good with makeup, you can also contour the chest for a bigger and more rounded silhouette.
Use a medium-sized flat brush so you'll have more control over the shaping.
Opt for a matte bronzer or a contouring stick one or two shades darker than your skin tone to make the contour appear more natural.
Draw a half-moon outline at the top of each of the breasts.
Apply the bronzer to the chest in a V-shape.
Brush the highlighter around the outline to create a fuller look.
19. Sleep on Your Back
Sleeping on your back is another way to make your small boobs appear bigger.
While having enough sleep can help keep your skin healthy and firm, chest wrinkles can appear when you usually sleep on your stomach. Thus, it's best to sleep on your back to prevent unwanted wrinkles that prevent your boobs from looking perky.
20. Use a Sleep Bra
While you may wonder whether it's better to sleep with a bra, wearing a sleep bra can prevent your boobs from sagging.
A sleep bra gathers the breast tissue in one place, stopping gravity from weighing down your chest, even if you sleep on your sides. Consequently, this can contribute to making your small breasts appear bigger and more contoured.
21. Tape the Breasts
Taping the breasts can also make your chest look bigger. The best boob tape and double-stick adhesives can help you style bodycon dresses, deep-V dresses, or sleeveless tops while showing enhanced cleavage.
Place one piece of boob tape on the bottom of your left boob.
Pull the tape as tight as possible to keep the left breast close to the right boob.
Pull your breast toward each other and tighter using another tape.
22. Take Collagen Supplements for Skin Elasticity
Some collagen supplements may contain phytoestrogens, which mimic the function of estrogen. Supplements can help tighten the skin surrounding the breasts, giving the appearance of a firmer, perkier bust, even though they can't wholly increase breast size.
23. Avoid Smoking
Smoking can narrow the blood vessels, reducing oxygen and nutrients necessary for skin health. Moreover, smoking can damage collagen and elastin, which help breast skin look plumper. Skin elasticity loss might cause your breasts to sag and appear smaller.
24. Consider Surgical Breast Augmentation
Consider breast enlargement surgery if you've exhausted the tips mentioned above and are still unsatisfied. Make sure to wear the right bra for post-breast augmentation and transition to sports bras for breast implants to improve recovery.
Breast lift: A breast lift won't directly increase bust size, although correcting saggy breasts can create the illusion of bigger boobs. Repositioning the nipple and removing excess skin can make the breasts achieve a perkier form.
Breast fat transfer: A breast fat transfer can provide more natural-looking results. This procedure harvests excess fat from your other body parts, using the back and abdomen to inject into the breasts to make them bigger.
However, these procedures can be costly, so combine natural methods first.
Best Bra to Make Breasts Look Bigger: Maidenform Women's Love The Lift Push Up
Maidenform Underwire Demi Bra, Best Push-Up Bra...
MAXIMUM LIFT - Our most uplifting style that pushes both up and in for head-turning cleavage.
UNDERWIRE SUPPORT - Push-up technology is engineered to make the most of every curve.
TWO WAYS TO WEAR IT - Adjustable, convertible straps can be worn traditional or crisscross.
The Maidenform Women's Love The Lift Push Up Bra balances support and comfort by ensuring a clever fit that pushes the breasts forward to make them appear larger.
If your slightly sagging breasts need correction, the seamless underwire, padded cups, and adjustable straps help mold the bra to lift your breasts.
The problem with some push-up bras is that thick padding often produces a bulky appearance without the necessary lift. For this bra, the cups incorporate a polyester and nylon lining for smoother padding while providing a boost for a natural cleavage look.
Pros
Unlike other bras that only use a thick band to hold the cups together, this bra's center gore utilizes crisscross straps to ensure the cups remain comfortably firm against your breasts.
Even with a slightly plunging neckline, the well-fitted cups and convertible straps stop the breasts from spilling out of the bra. The lace panels on the side also help the cups maintain grip, preventing the bra from shifting as you move.
Related Questions
What Colors Can Make Your Small Breasts Look Bigger?
Light yet solid colors can make your small breasts look more prominent, which include pink, yellow, pink, red, or electric blue. Try to avoid darker hues like brown, black, or navy blue.
How Can I Make My Small Boobs Get Bigger Naturally?
Eating foods high in estrogen and protein can naturally increase the size of your breasts. Exercises that target the bust muscles might also be beneficial.
How Can I Make My Breasts Look Rounder and Fuller?
Wearing quarter or demi cups that lift the breast tissue is the best approach to accentuating the size and shape of your breasts.  Using padding and chicken inserts can also help.
How to Convert Your Bra to a Racerback | Clovia
​Conclusion
Remember, your body is beautiful the way it is. If you ever feel like you need a little boost, try out a few of these tips on how to make small breasts look bigger. Now get out there and show off your cleavage for the world to see!