As an Amazon Associate we earn from qualifying purchases.
When looking for a bra, the most common question is whether to go for a push-up bra vs a padded bra, as not every woman is graced with a huge breast. The main goal of both is to boost the appearance of your boobs. Let's take a look at what distinguishes the two.
Push-Up Bra vs Padded Bra Overview
Have you ever been in a lingerie store and been confused by the broader selection of bras? What is the difference between a padded bra and a push-up bra? Understanding the differences between both types of bras through my push-up bra vs padded bra comparison may help you make a shopping decision.
Push up Bra Overview
The push-up bra is one of the most popular bras among women. It has additional cushioning to provide the cups with bulk and lift when needed. Push up bras push boobs up and closer together, which increases cleavage.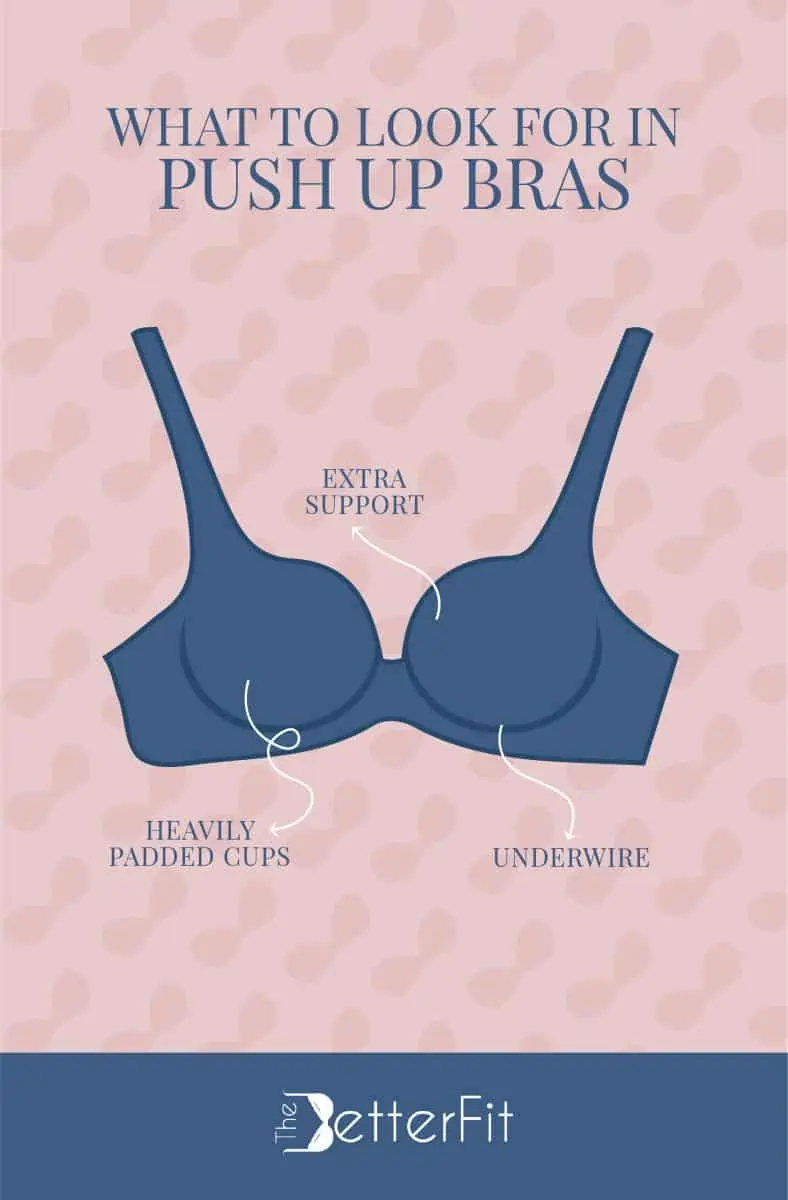 The cups create a subtle (or dramatic) lift upward towards the center of the chest, shaping and rounding the cleavage. This type of bra is appropriate for ladies of all breast sizes. It adds cup size and increases cleavage for women with smaller breasts.
Women with medium and big breast sizes choose to wear this type of bra because it gives them a more contoured breast shape and enhances the silhouette of their clothing. Larger breasts tend to get saggy, and larger chested women benefit from a push up bra because it helps lift and shape their breasts.
The padding on this type of bra is its most notable feature. The padding comes in a variety of textures, sizes, and ranges. These bras contain soft foam beneath the cups and sides for extra comfort. Because of its low cut, this bra is also suitable for formal wear.
Padded Bra Overview
Padded bras help shape breasts. They also appear more natural and create an appealing appearance. These bras improve the look of your breasts. It has great features to draw attention to your best features.
A padded bra gives some much needed lift to drooping breasts. Another crucial feature of this bra is that it keeps your boobs in place. It helps to avoid breast movement, especially during workouts.
Often times, these feature detachable padding, which allows you to change the thickness with extra inserts.
The cushions on this bra give additional support and enhancement to your breasts. This bra is also great for women who have little boobs since it adds volume and shows off your cleavage. This bra's padding is constructed of a variety of materials.
Foam is the most prevalent. This bra may also contain water, gel, or synthetic material. It is entirely up to you to choose which is more comfortable. Because the pads are typically thick fabric for a more accentuated effect, you won't see any nipples through your clothing.
Comparing Push-up Bras vs Padded Bras
The contrast between these two styles of bras may be confusing to some. The similarities and differences between these two types of bras are discussed here.
Similarities
Here are some of the similarities between push-up bras and padded bras to help you distinguish between them:
Both of these bras have padding!
Both types of bras are available in a wide range of fabrics and designs and may be coupled with any clothing while keeping the silhouette in mind.
Everyone can wear both of these styles of bras. These bras are highly advised if you have an uneven breast shape and want to seem even and elevated.
Both bras give incredible breast support and augmentation. Both bras can provide good support and soft plushness for enhanced comfort, depending on the type.
Both types of bras are available in several styles. These can influence how much support and lift you receive.
Differences
There are significant differences between these two sorts of bras. Some of the distinctions are as follows:
All push-up bras are padded bras, but not all padded bras are push up bras.
While padded bras are perfect for wearing beneath fitted ensembles, push-up bras can be worn with a gorgeous plunging neckline dress.
A push-up bra contains foam padding at the bottom of the cups to produce a push, whereas a padded bra has pads between the cups to provide fullness and a smooth appearance.
The primary function of a push-up bra is to provide lift, whereas a padded bra prioritizes increasing volume. Padding can be found in push-up bras, and other bra types may also feature variable thickness padding.
Padded bras provide a great lift and are either lined with additional fabric or have a sling with a detachable cookie insert to alter the degree of padding. Push-ups produce a lot of cleavages and can rapidly increase one or two cup sizes.
Major Distinguishing Factor
As I said earlier, all push-up bras are padded bras, but not all padded bras are push up bras.
The thickness is what distinguishes a padded bra from a push-up bra. Padded bras have padding lined in between the cups, whereas push-up bras have padding at the bottom of the inside of the cups.
Padded bras, on the other hand, shape your breasts, elevating your overall appearance and enhancing your silhouette. Push-up bras are padded bras designed to create significant cleavage and instantly give the illusion of an additional cup size.
When to Wear a Push-up Bra
Push-up bras are an excellent choice for anybody seeking a little more lift. Whether you are skinny and small and want to raise your cup size or endowed and enjoy an extra boost, you should have this type of bra in your closet.
They are also perfect for any outfit with low-cut and plunge necklines. They come with a low center front, so it will not be shown through your beautiful outfit. Women should wear these types of bras with wide-set breasts.
The cups of this bra are designed to tilt slightly inwards, spilling the breast inwards and upwards, making them ideal for those with sagging breasts.
When can you wear this type of bra?
Dresses or shirts with low necklines
Shirts or tops that are form-fitting
An outfit in which you want to emphasize your chest's volume and curve
Date night or a special occasion that requires you to dress up
When to Use Padded Bra
A padded bra can be worn beneath low-cut shirts or with form-fitting clothing. Women of different shapes and sizes can wear this bra design; however, there are several reasons why this bra style is recommended. Wear this bra if you want the following advantages:
Better contour: these bras assist in improving your shape and silhouette. They provide ladies with drooping breasts or breasts that are too wide apart a lift and an equal form.
Coverage: the cushion keeps your nipple covered. No matter how chilly it gets, the cushioning keeps us from having awkward situations.
Density: some clothing, such as fitted shirts and dresses, benefit from extra volume. These bras might come in handy in this circumstance.
Bust contour: the padding will help make your breast shape more even and uniform. If you have asymmetrical or conical breasts, the padding will make a big difference.
What Is a Push-Up Bra? (Yes, You Should Try One)
Final Verdict
Padded bras, whether push up or not, help give your boobs more volume, while also evening out the shape and making them rounder. They are a great addition to any woman's wardrobe, and you can wear this type of bra with a whole host of outfits.
Push up bras are great for women looking to add lift to their cleavage, especially for smaller chested ladies. Either way, push up bras will also help the shape of your breasts, but you get the added help of more cleavage!