As an Amazon Associate we earn from qualifying purchases.
You may have noticed that your bra size fluctuates when you buy bras from different brands. The reason behind this change is your breast shape, which also influences your breast size. This article is about the conical breasts, their appearance, and common perceptions about this shape. So, let's dive in!
What Are Conical Breasts?
Conical-shaped breasts are shaped like cones instead of being round. The top of the breasts tapers sharply towards the nipples, which point outwards. These types of breasts are often smaller in size and have an unusually wide space in between them.
If you have cone-shaped breasts, you should consult a healthcare provider to rule out the condition called tubular breasts, especially if your boobs are asymmetric as well. While tubular breasts do not pose a threat to your health, they can cause self-esteem issues in women.
Cultural Perceptions of Conical Breasts
Some breasts do not grow round and even during the developing stage, instead, they become conical in shape. While the shape itself is not an issue, it can have an underlying cause called tubularity. Breast tubularity is not rare in women, yet many of them are not comfortable talking about it.
The reason behind the hesitation is the societal pressure of having the perfect figure, which consists of a slim waist, curvy hips, and firm, round breasts. Hence, only a small percentage of women with tubular breasts come forward and seek medical advice.
Tubular breasts are identified by a lack of breast tissue and usually have a gap of over 1.5 inches between them. The only way to correct these types of breasts is to get breast augmentation surgery. However, it is entirely up to you if you want to undergo the invasive procedure, and not a necessity.
Best Clothing for Conical Breasts
A keen dressing sense can do wonders for your frame. From making you look taller and leaner to adding some well-placed curves to your silhouette, everything is possible when you dress according to your body type. Hence, the following types of clothes are ideal for cone-shaped breasts and bound to make you feel attractive.
Backless Dress
If you have conical boobs, opt for a halter-neck, backless style that draws attention away from your bust and towards your back. Moreover, since this bust shape is usually small and does not require support, you can easily wear an adhesive bra that sticks to your chest and brings your breasts closer together.
Moreover, a stylish backless number is a must-have for every closet. It can be partially backless exposing a small portion of your back or entirely backless, ending just above your hip bone. Go for the style that you feel most comfortable wearing.
Straight Neck T-Shirt
If you are looking for something more casual and everyday wear, pick a straight-neck t-shirt. The elegant neckline places emphasis on your collarbones and shoulders, instead of highlighting your breast shape and size.
Another advantage of this neckline is that it is not deep. Since it can be a challenge to create a cleavage with breasts that are set so wide apart, it is best to avoid styles that demand a cleavage, such as deep V-necks and plunging necklines.
Bustier Top
There are many styles of tops that have padding or boning around the chest area, called the bustier top. These kinds of tops mold your conical breasts into a more rounded shape and create an illusion of slight fuller breasts.
The structured top also eliminates the need for a bra, since these cone-shaped breasts do not require a lot of support. All you need is some coverage to hide your pointy nipples, which is offered by the shapely top in abundance.
Best Bras for Conical Breasts
A lot of time and consideration goes into bra shopping and it can be frustrating to buy a bra that is not the correct size or does nothing to accentuate your bust. If you have cone-shaped breasts, check out the bras perfect for you to make your next bra shopping experience a little less overwhelming.
Padded Bra
The most perfect bra for conical boobs is the padded bra. This bra has molded cups with foam padding across the entire length of the cup. The solid, structured cups give you a more rounded, natural looking bust, while the close-set cups bring the wide-set boobs closer to each other.
In addition, the foam lining adds volume to create a fuller look under a dress or a top. You can achieve the desired bust volume by opting for a thick or a thin lining.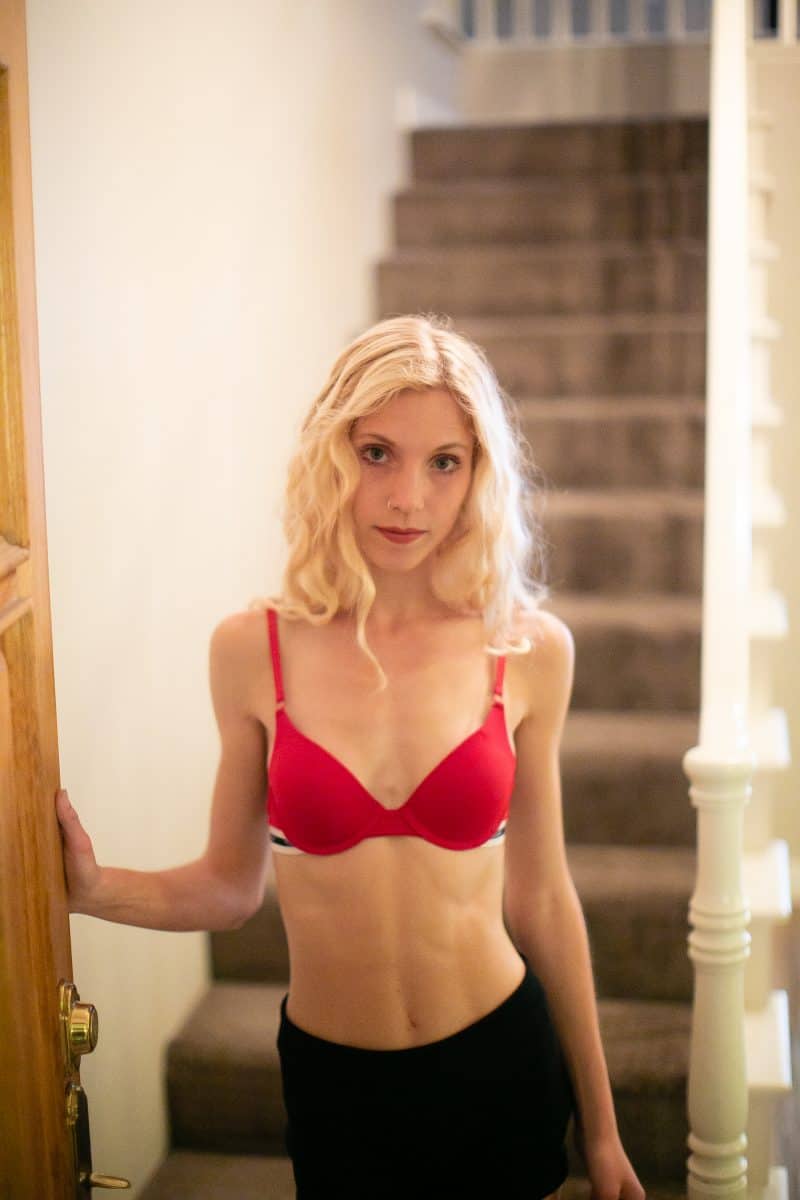 Push-Up Bra
A push-up bra is a versatile undergarment that suits most women. However, it offers more benefits to certain bust shapes, such as the conical shape.
Firstly, the bra is a type of padded bra with foam padding at the base of the cup. The strategic position of the padding helps in lifting your breast tissues for a fuller look. Then, the cups are also molded similar to the padded bra for a rounded bust appearance.
Finally, it has underwires that contour the shape of your breasts and work to bring them towards the center.
Demi Bra
The demi bra shares a lot of its attributes with the push-up bra, making it ideal for conical boobs. These include:
Solid cups to make the boobs look rounder
Padding at the base to create a lifting effect
Underwires for support
The only difference is that the cups are low-cut, covering your breasts until just above the nipples.
T-Shirt Bra
A t-shirt bra is a great option for cone-shaped breasts. It has structured, seamless cups that conceal the pointiness of the bust shape and create a smooth, rounded frame under your clothes. The bra works under the thinnest of tops and offers unparalleled coverage.
Bra Size Measurement & Cup Size | A, B, C, D, DD Bra Sizes AND Extra Large Breasts
Conclusion
Conical boobs have a cone-like appearance, when viewed from the sides, pointy nipples, and smaller sizes, usually up to C cup size. Occasionally, cone-shaped breasts can be caused by the underdevelopment of breast tissues. However, they can be corrected with cosmetic surgery. Full coverage, molded bras are perfect for this kind of breast.