As an Amazon Associate we earn from qualifying purchases.
There are a lot of push-up bras that promise to do lifting wonders without discomfort. This Victoria's Secret Pink Wear Everywhere Push-Up Bra Review will reveal if this bra is one of those that do great lifting without stressing the girls.
Victoria's Secret Pink Wear Everywhere Push-Up Bra Review
Victoria's Secret is famous for stylish bra creations in different personalities. One popular choice for ladies when it comes to perky breasts is the Pink Wear Everywhere Bra.
While this is available in wired and non-wired versions, the push-up design gets the spotlight in this review.
Pros
Lots of designs to choose from including plain and printed designs
Convertible straps allow you to wear it conventional or cross back
No-show cup design hides the bra well under clothes
Cons
Heavily padded cups may create overspilling especially on bigger cup sizes
Slim back strap does not conceal bulges
What To Expect
Victoria's Secret Pink Wear Everywhere Push-Up Bra creates a nice, defined cleavage. Ladies with big cup sizes may not appreciate its thick pads, though. However, it does a good job of giving the right amount of lift and support. It is comfortable despite the heavy pads and underwire.
The straps are completely adjustable so that you can get the right fit and support that you need without the hassle. The fabric designs allow you to choose between printed or plain to compliment even the sheerest outfits.
Victoria's Secret Pink Wear Everywhere Push-Up Bra Features
| Features | Benefits |
| --- | --- |
| Thick padded demi cups | Enhance breast volume |
| Polyamide and elastane blend | Smooth fabric |
| Convertible straps | Reconfigure the straps to improve the fit |
| Wired band | Breast lift and shaping |
Style, Design, and Fabric
This chic, demi bra is comfortable to wear with its nylon and spandex material. You have a lot of choices when it comes to fabric design, including abstract and florals. Some designs are even accentuated with lace material which adds sexiness to the style.
Straps are thin yet you can count on them to give the right support, unlike the PrimaDonna Madison Full Cup Bra. They are completely adjustable and versatile with their convertible design.
While you may find the cups heavily padded, you will appreciate the neat edges of the cups that leave no trace under your clothes, unlike the Playtex 18-Hour Ultimate Lift and Support Bra.
Fit and Comfort
You can expect this Pink Wear Everywhere Bra to be comfortable to wear even for long periods. While the thickly padded cups may not qualify it as a good everyday bra, it is a great choice if you want an option for those days that need some good lifting.
Cups
The overstuffed cups may be the only major downside of this Victoria's Secret creation. While everyone has their preferences when it comes to padding, honestly, not even everyone in the smaller cup sizes category will appreciate this feature.
If you are big-chested, then you might not like the thick pads of this bra. It would be like adding a couple of sizes more. The effect will emphasize your cleavage even more and could also cause a muffin top. Given the case, this can ruin any tight-fitting outfit.
As for the ladies with smaller cups who do not mind wearing thick pads, this option should not be a problem. The no-show cup design would create smooth silhouettes which means you can wear it under fitted T-shirts or clothes with a low neckline anytime.
Shoulder and Back Straps
Both shoulder straps are completely adjustable giving you the freedom to choose the tightness. While the straps are sewn in front, you can always convert them to a cross-back style to suit an outfit. While the wings may be wide, they narrow through the closure.
They stretch well and feel light around the ribcage yet are snug to hold the cups in place. On the other hand, do not expect this bra to hide those bulges on your back, especially if you are full-figured or curvy.
Additionally, because the straps are adjustable, this gives you the advantage of still being able to wear it snugly in the next few years.
Underwire
With the underwire doing its job well, wearing this bra will make your girls look fuller without any stabbing. This gives you the advantage of being able to use the bra all day and not feel bothered by frequent adjustments because of discomfort.
With the underwires being spread wide at the bottom of the cups, your breasts get even support and lift. You are familiar with the feeling of relief when you take off a push-up bra at the end of the day. That is not likely to happen with the Pink Wear Everywhere bra.
Related: See before and after pictures from our Victoria's Secret Bombshell bra review!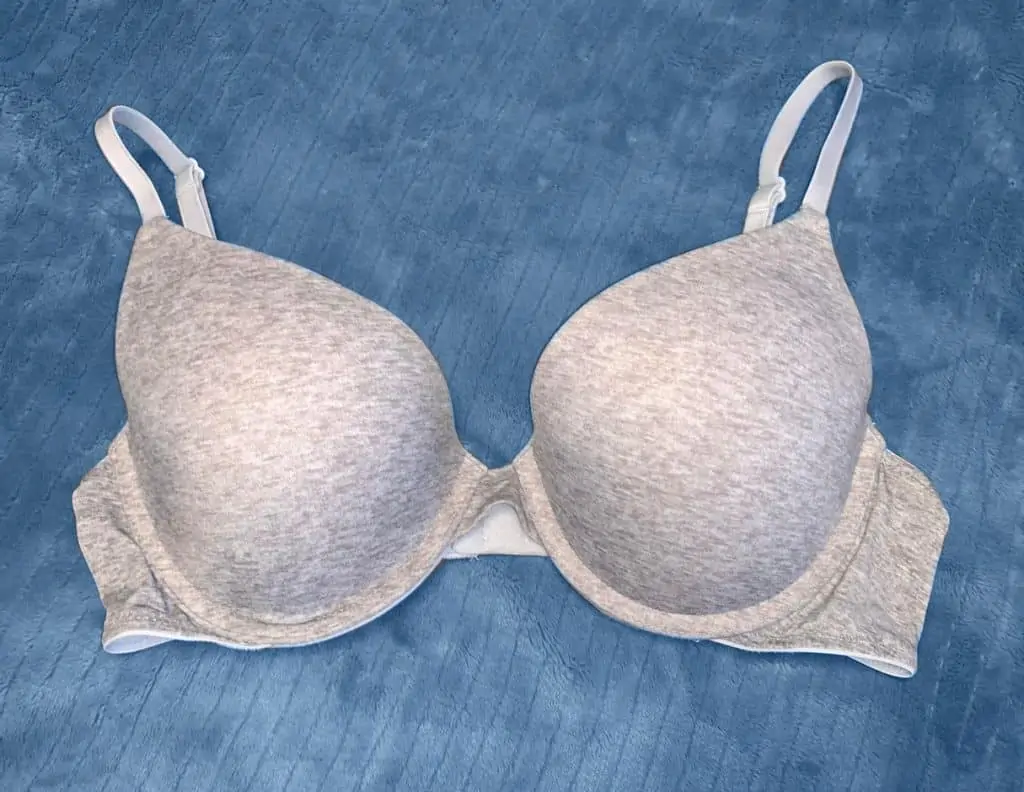 Closure
The area where the hook-and-eye sits is padded, which will prevent you from feeling any discomfort when you lay your back against a surface. You can adjust the bra in 3 sizes which gives you the freedom to use the right fit.
This way you avoid the itchy marks around your ribcage when you take the bra off.
Lift and Cleavage
Unlike some push-up bras that depend only on the underwires or pads, Victoria's Secret Pink Wear Everywhere Push-Up Bra uses a combination of pads and underwire for lift and cleavage, just like the Lily of France Extreme Ego Boost Push Up Bra. The result is you get perkier boobs with a cleavage that stands out.
While this creation would be more flattering on smaller breasts, this is a good choice if you want to redefine the shape of your girls to match an open neckline outfit. If you have saggy breasts due to weight loss or breastfeeding, you will also benefit a lot from this bra.
Durability
The materials including the underwire may be delicate so always remember to just hand wash and do not tumble dry this bra. It could last for a long time given the seams and the other components are finely sewn.
Related: Read our review of the VS sports bra from Victoria's Secret.
What Is a Push-Up Bra? (Yes, You Should Try One)
Related Questions
Who Should Wear the Victoria's Secret Pink Wear Everywhere Bra?
Ladies with small to medium-sized breasts should wear the Victoria's Secret Pink Everywhere Bra. Its padded demi cups can improve breast size discreetly.
When Should I Use the Victoria's Secret Pink Wear Everywhere Push-Up Bra?
You can use the Victoria's Secret Pink Everywhere Bra in most outfits, including casual, formal, and work attire. Its no-show cup design is perfect for tight-fitting clothes like a bodycon.
Are Victoria's Secret Bras True to Size?
Yes, Victoria's Secret bras run true to size. The Victoria's Secret Pink Everywhere Bra is available from 32B to 38DD, so make sure to check the corresponding sizes based on your cup and band measurements.
Conclusion
The Victoria's Secret Pink Wear Everywhere Push-Up Bra makes it easy to achieve fuller-looking breasts with its overall design. While the thickly padded cups may be the issue, especially for big-chested girls, the rest of its components are designed to give you the right support and comfort.