As an Amazon Associate we earn from qualifying purchases.
Wondering whether there are any differences between a C cup and D cup? If you are a C cup, can you wear a D cup or vice-versa? Let's look at the similarities and differences between a C cup and D cup.
A C cup and D cup are not interchangeable. A C cup is an inch smaller than a D cup in measurement.
C Cup
Many consider a C cup to be the average bra size, but that is not the case in the USA. Most notably, C cups are a little below average in terms of size.
C cups are one of the most common sizes in the US. In a survey conducted by Dr. Ed with 2000 people in the UK and the US, men and women alike are very satisfied with a C cup. The C cup was the most desired size in the study.
Depending on your frame size, a C cup can appear larger or smaller.
A C Cup bra size is when your bust size measures 3 inches larger than the band size.
D Cup
When you hear about a D cup, you might think to yourself that its a large cup size. However, a survey in the USA found that the D cup is actually the average size for women.
A D cup is an inch larger than a C cup. A D cup is still considered to be a little above average. How a D cup appears depends on your frame size, just like a C cup.
A D Cup bra size is when your bust size measures 4 inches larger than the band size.
Similarities and Differences
C cups and D cups differ in circumference by an inch. A C cup has a 3-inch difference between the bust and band size while a D cup has a 4-inch difference. C cups will weigh a few pounds less than D cups.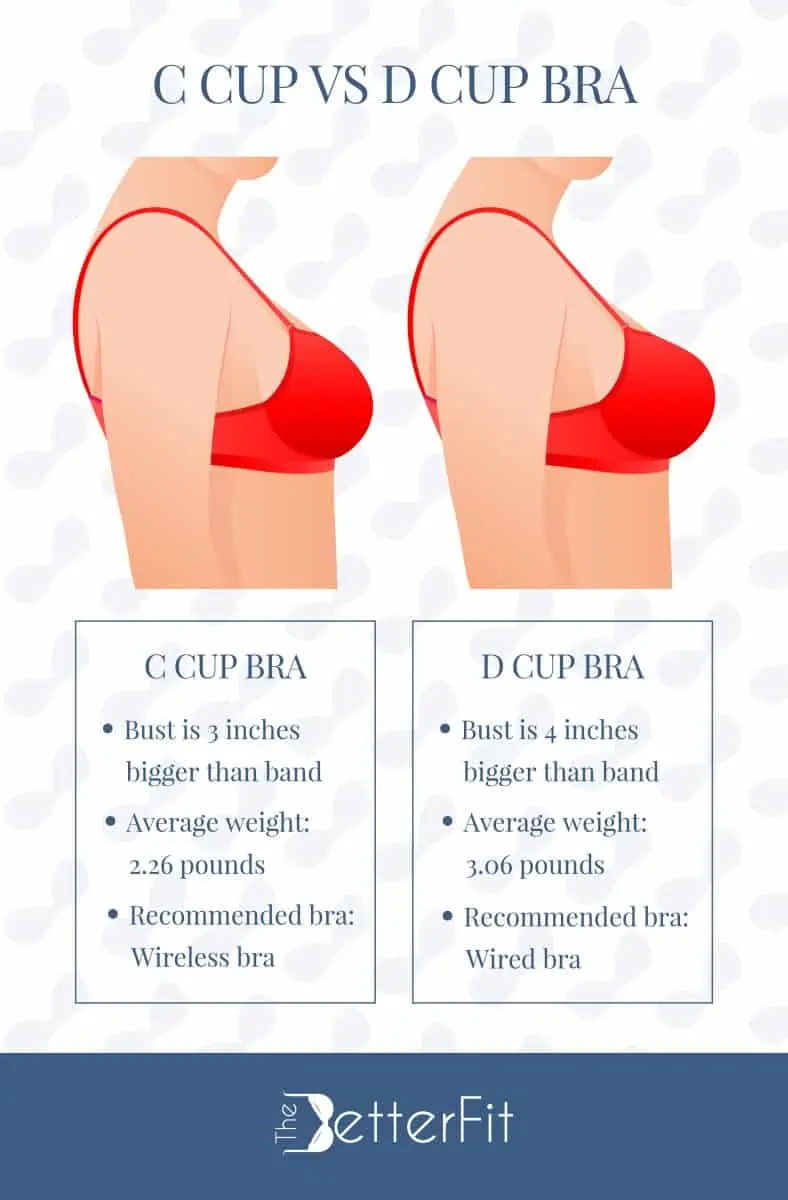 Both of these cup sizes can look bigger on a petite woman and smaller on a full-figured woman. Depending on the band size, these cup sizes can be considered average.
Comparing C Cup and D Cup Bra Sizes
| Cup Size | Bust / Band Difference | Average Weight | Best Bra Styles |
| --- | --- | --- | --- |
| C Cup | 3 inches | 2.26 pounds | T-shirt, Push-up |
| D Cup | 4 inches | 3.06 pounds | Full Support, Racerback |
Am I a C Cup or a D Cup?
If you measure your breasts, you will be able to determine whether you are a C cup or a D cup. If the fullest part of your breasts measure 3 inches larger than your torso measurement, you are a C cup. If your breasts measure 4 inches larger than your torso, you are a D cup.
How to Know if My Bra Fits Perfectly

?
If your bra fits your bust properly, it will lift and support your breasts while giving them a nicely rounded shape. The shoulder straps won't slip, the band won't roll up, and all of your boobs will be contained by the cups.
Remember the following while looking for your next bra:
The Band and Straps
The band is the most important support system of the bra. Almost 80 to 90% of support comes from the band. The band should not be too tight around your torso, but should be snug. To know if the band is tight enough, you should be able to slip two fingers in between your skin and your bra.The band should stay in place and not move around, especially when raising your arms.
The rest of the support comes from the shoulder straps. These straps are there to help lift your breasts and make them even. The straps should not be digging into your shoulders, yet should be tight enough to support your breasts.
The Cup
No matter your cup size, your breasts need to fit inside your bra. The proper cup for your breasts should not cause any spillage on the sides or top. The cups should fit well without gaping, or wrinkles in the fabric of the cup.
The gore of the bra should be flat against your sternum. If the gore is lifted away from your breastbone, the bra is too small and you need to size up. If you are wearing a bra with underwires, the wires should not be poking you anywhere.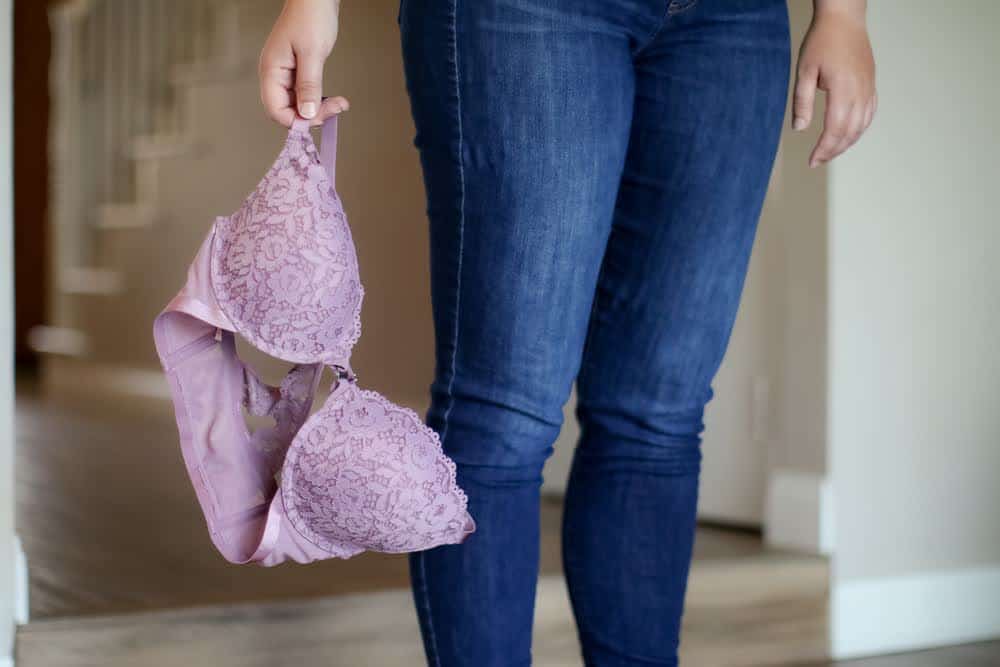 Related Questions
Is C Cup Bigger Than an A Cup?
The C cup is two cup sizes bigger than the A cup. The bust measurements of C cups are two inches bigger than A cups.
What Is the Sister Size of the C Cup?
Every bra cup has two sister sizes, and the sister sizes of C cups are B and D cups. To find your sister size, go up or down a band size and one letter smaller or larger than your current cup, simultaneously.
What Is the Sister Size of a D Cup?
The sister sizes of a D cup are C and DD cups. Every bra size has two sister sizes to pair with it. To find your sister size, measure down one band size and up one cup size, and then measure up one band size and down one cup size.
Bra Size Measurement & Cup Size | A, B, C, D, DD Bra Sizes AND Extra Large Breasts
Which Cup Size Is Better?
There is no "best" or "better" cup size. The best size that you can wear will always depend on the needs of your breasts. A well-fitted bra will look great on you whether it is a C cup or a D cup. The best bra size will give your breasts support and security. C cup and D cup are both comfortable and common sizes to have.