As an Amazon Associate we earn from qualifying purchases.
Bigger breasts have always been appreciated and celebrated. However, there is no perfect or imperfect breast size, as every woman is different and unique. Some women are comfortable in their slender frames and embrace their smaller chests proudly. Others are happy to have curvier bodies and bigger bosoms.
This guide will discuss the smaller than average size B cup size bra, how it can look on different bodies, and famous celebrities with the B cup size. I also explain the right way to measure your bust, as well as the perfect bras for the small cup size.
What Do B Cup Breasts Look Like?
B cup size is just a few sizes bigger than the smallest cup size. It imparts slightly distinguishable curves to your silhouette and can look very appealing when styled correctly.
Since it is quite common, you can easily find your B cup size in different types of bras, something which is a challenge for women with bigger busts.
A survey asked American and European women about their most preferred bra size. According to the results, size B is the second-best with close to 26% of respondents deeming it as the ideal size. The most coveted size is the size C, while D came third with 14.4%.
The reason for its popularity is that breasts that fit into B cups are quite manageable. You can easily sport halter blouses, strapless dresses, and bandeau tops without worrying about hiding your bra straps since you can go braless!
However, wearing the right bra is not just important for large-chested women, everyone should wear a bra that fits. To find the bra that is the perfect size, you need to measure your band size and your bust size to determine the number and the alphabet that makes up the bra size:
Take a tape measure that is soft and pliable.
Wrap it around your torso exactly where your bra band usually sits. Make sure that it is not too tight or too loose. Note the readings in inches.
To find your cup size, you should know your bust size. Wrap the tape measure across the fullest part of your breasts and across your back. Note the bust size readings in inches.
Subtract the band size from the bust size to find out your cup size. For a B cup size, the difference between the two is around 2 inches.
It is important to note that not all B cup sizes look the same. Breasts that fit into a B cup will appear more prominent on a girl with a toned stomach and thin frame.
Contrarily, a woman with a wider ribcage will appear more linear, with boobs that are not too distinguishable.
B Cup Size Details
| B Cup Size | Bust Size | Band Size | Weight |
| --- | --- | --- | --- |
| 30B | 31-32 inches | 29-30 inches | Around 1 pound |
| 32B | 33-34 inches | 31-32 inches | Around 1.72 pounds |
| 34B | 35-36 inches | 33-34 inches | Around 2.26 pounds |
| 36B | 37-38 inches | 35-36 inches | Around 3.06 pounds |
| 38B | 39-40 inches | 37-38 inches | Around 4.3 pounds |
| 40B | 41-42 inches | 39-40 inches | Around 5.14 pounds |
B Cup Size Examples
To help you understand how the same cup size can look vastly different, I have compiled images of women all with the B cup size. However, all of them have varying band size, making their bust size appear different.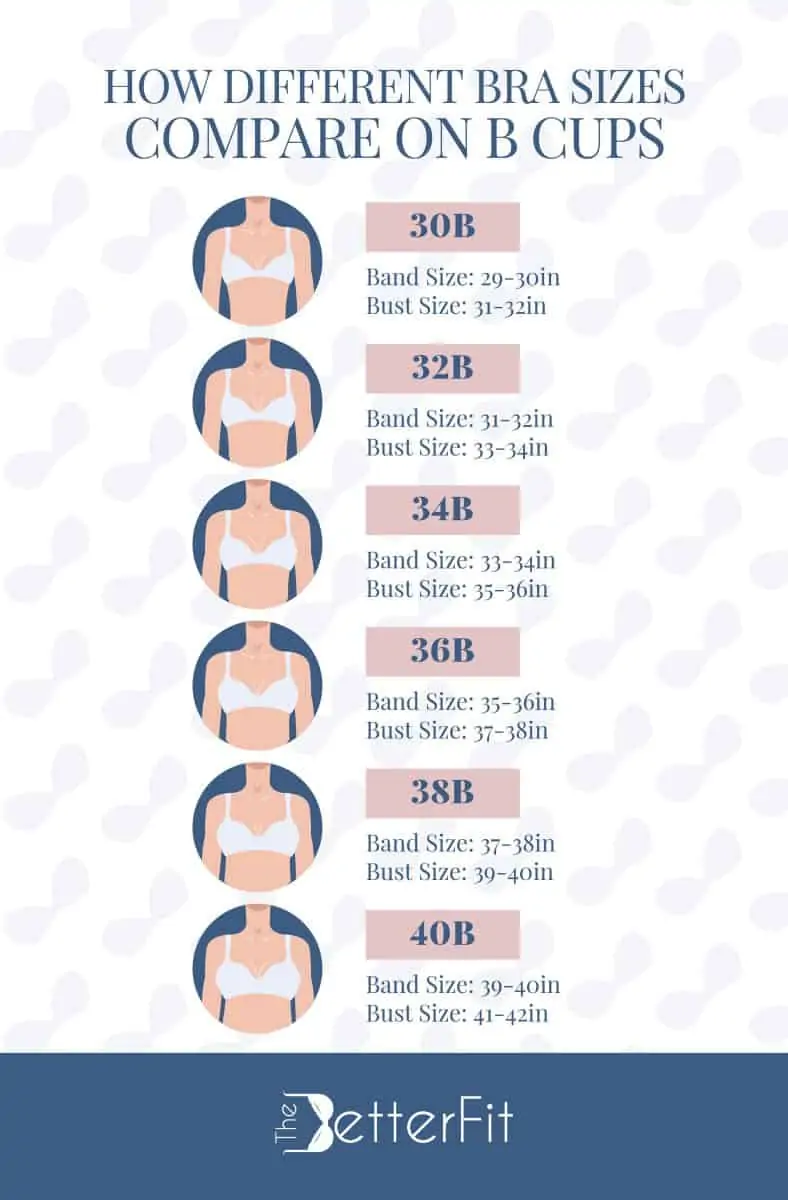 30B
When a woman has an extremely slim frame and a B cup size, it makes her bust appear proportional to her small, lean body.
The band size 30 is also amongst the smallest band sizes available in the market. The type of bra can also impact the apparent fullness of the breasts.
32B
There is not much noticeable difference between busts of girls with a 30 and a 32 band size, since the difference is mere inches.
However, the breast volume increases with each subsequent increase in band size. The bra type and overall posture also influence the boobs' appearance.
34B
Women with 34B bra size experience a bit more voluptuousness in the figure and a slight hint of cleavage.
The bra size 34B is quite common amongst top models, as you will notice in the section below discussing celebrities with the B cup. Moreover, most of the bra models are also this size.
36B
Women with the 36B size have a slightly wider rib cage, but their B cup boobs can still look great if they wear a perfectly-fitted bra.
Thus, even if you have small breasts, the right bra can make all the difference and make your boobs appear more curvaceous.
38B
Compared to all the other cup sizes above, the breasts look the smallest in this size.
The woman with a 38 band size has a wide torso and a relatively bigger body, making her B cup size seem comparatively smaller.
Famous Celebrities With B Cups
The notorious B cup size is often deemed too small. Yet, there are so many models, actresses, and singers with the B cup, who look amazing and are extremely comfortable in their bodies. In fact, 34B is the most common bra size amongst the mainstream celebrities.
Selena Gomez, 34B
Selena Gomez is a beautiful actor/singer and a role model for many young individuals. She is a strong proponent of body positivity and leads a healthy lifestyle. Consequently, she has a petite frame, with an effortless style and a proportional bust size.
Miranda Kerr, 32B
Miranda Kerr is a stunning model turned entrepreneur. She has one of the most coveted bodies in the industry and stands tall at 5 feet 9 inches. The combination of her towering height, toned abs, and athletic frame makes her B cup look quite voluptuous.
Emma Stone, 32B
Emma Stone quickly rose to fame due to her incredible acting skills and naturally confident disposition. She always manages to make her appearance on the red carpet worthwhile with an impeccable dressing sense, which highlights her petite B cups.
Cara Delevinge, 32B
Cara Delevinge is another model on the list who is extremely confident in her body. She has a bold fashion sense and has no qualms about flaunting her remarkably toned silhouette. Consequently, she is a beloved muse for many top designers.
Lady Gaga, 34B
Lady Gaga rose to fame as a singer with her deep, husky voice. Her transition into the film industry has also been equally successful. Her fashion sense is daring and unconventional, making most of her stunning physique and B cup breasts.
Top Bras for B Cups
Wearing the right bra can make a world of difference for any woman regardless of their body type. While full coverage bras can provide ample support for big busted girls, padded bras can create an attractive cleavage for ladies with tiny boobs.
Below I discuss the best bras to make the most of your B cups.
Push Up Bras
Push up bras are lingerie essentials for women with small breasts. They are designed to maximize your cup size, without making your boobs look unnatural. The best push up bra for smaller boobs delivers the much-needed cleavage for a plunging top, yet feels incredibly comfortable. It grants you a perkier silhouette, without pinching your sideboobs or underbust.
Most push up bras have a half or a demi cup, so it remains hidden even under low necklines. The combination of the extra padding, close-set cups, and flexible underwires makes the bra lift your breast for enhanced cleavage.
When shopping for a push up bra, prioritize your comfort, followed by choosing the right size. If your push up bra is too tight, the underwires can dig into your breast tissues causing pain. On the other hand, a loose push up bra will fail to deliver its core purpose.
Padded Bras
Padded bras are another great option for you who have a B cup size. As the name suggests, these bras have soft padding on the inside of the cups that makes your bust appear bigger.
They also impart a rounded shape to your bosom, which looks very appealing under fitted tops and dresses.
Quality padded bras are durable, comfortable, and soft. Moreover, they do not lose their shape or become lumpy after multiple washes. Nowadays, you can find bras with padding made of water or gel, as they mimic the natural movement of breast tissues.
Depending on your preference, you can decide on the thickness of the padding. For everyday wear, bras with a slight amount of padding work best. Whereas, certain dresses and blouses look better with thicker padded bras.
Adhesive Bras
Adhesive bras are a game-changer in the fashion industry. Adhesive bras are perfect for small-chested women, who do not need the additional support from the straps and bands. These bras provide sufficient coverage and shape to your bosom.
The best adhesive bras are made with soft silicone that fits seamlessly to your curves. They are lined with reusable sticky tape that is good enough to use more than a dozen times before losing its adhesiveness. They come with a clasp between the two cups that brings your breasts together for a hint of cleavage.
However, if you want some control over your cleavage, look for adhesive bras that come with a strap interlaced between the two cups. With an adhesive bra, you no longer have to worry about your straps showing from under the halter blouses, strapless tops, or one-shoulder dresses.
Related Questions
How Many Inches Is a B Cup?
A B cup equates to a two-inch difference between the overbust and underbust. The two-inch difference makes the B cup one of the smallest bra cup sizes.
How Much Does a B Cup Weigh?
What Are the Sister Sizes of B Cup Size?
| Current Bra Size | Sister Size Down | Sister Size Up |
| --- | --- | --- |
| 30B | 28C | 32A |
| 32B | 30C | 34A |
| 34B | 32C | 36A |
| 36B | 34C | 38A |
| 38B | 36C | 40A |
| 40B | 38C | 42A |
Bra Size Measurement & Cup Size | A, B, C, D, DD Bra Sizes AND Extra Large Breasts
Conclusion
The B cup size is the most common bra size for runway fashion models as it imparts some curves to the physique without being overly voluptuous. Moreover, having a B cup opens up endless styling and dressing opportunities for you, as it is one of the most catered-to sizes.
To conclude, it is important to remember that everyone has a unique body type. If you feel your breasts are small, invest in the right bra that fits you flawlessly and can make your boobs appear more prominent.