As an Amazon Associate we earn from qualifying purchases.
As a lady, going to shop for your bra size for the first time is always a challenge. First, you don't know your bra size and the ones you are comfortable in. Knowing your bra size saves you time when shopping for a new bra. Let us get to know how big is 34B.
How Big Is 34B?
A bra size that's 34B has an underbust size between 30-31 inches and a bust size between 35-36 inches. A 'B' cup is likely to be seen as small since it's only an inch larger than an A cup. For teenagers, a B cup is an average size, and when it comes to adults, it is a smaller size.
In a poll done by the bra company Triumph in the UK in 2013, a 34B was found to be the most common bra size from the women surveyed. Most women were found to prefer a 34D breast size, which is actually a sister size of 36C bra cups and 34B cup sizes.
Seeing you are a B cup, your bust size is 2 inches more than your band size. Having a 34B breast size means that your sister sizes are 36A and 32C. It is essential to know that sister sizes vary from one person to another since not all breasts are equal.
What Do 34B Breasts Look Like?
Even though a 34B is small, a B-cup size breast appears average in some countries worldwide. If you wear a 34B bra, your breasts will likely protrude slightly more from the torso than a cup 34A would.
While wearing a 34B bra size, you should ensure that you have worn the right size that fits you. A wrong size bra can change your body posture and bring some permanent changes to your body, such as deep grooves caused by pressure from bra shoulder straps. For these cases, wearing wireless bras or bralettes can help ease the tension.
It can also trigger several health problems like:
Shoulder and neck pains
Back pains
Rubbing and chafing, which can lead to skin abrasions
What Is a 34B Bra Size Equivalent To?
A 34B bra size is equivalent to 32C and 36A. Suppose you need bigger cups to support the breasts or the breast tissue is spilling out of the cups. In this case, you can bump one cup size to C while having the same band size.
Meanwhile, you can choose a longer band and a smaller cup, much like 36A, if you notice gaps in the cups of a 34B bra. In effect, the bra can rest smoothly on the chest for a flawless silhouette.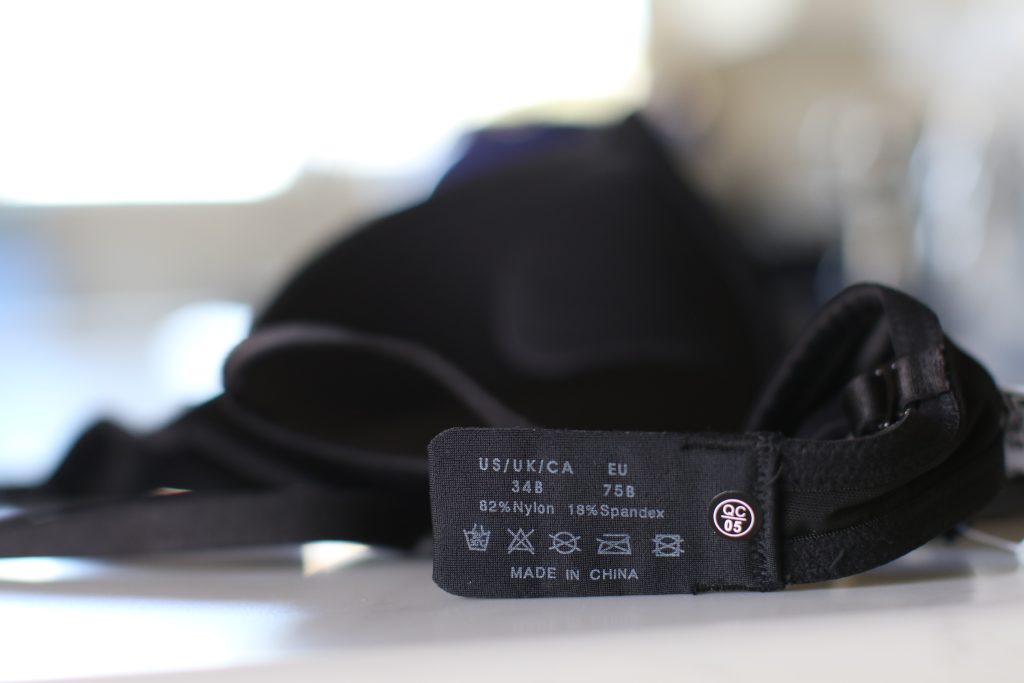 What Is the Right Body Figure For 34B?
34B breasts tend to be noticeably larger compared to B cups of smaller band sizes. At times 34B breasts can appear perky and can be confused for smaller-looking breasts. The following factors are likely to determine the appearance of your breasts:
Body shape
Genetics
lifestyle
Ladies without flat tummies, apple body figures, and 34B breasts have their breasts overshadowed by their abdomen and broader hips. This type of ladies means that their breasts will appear visibly smaller. For women with flat tummies and slender figures, 34B breasts tend to be noticeable and bigger.
Women with 34B natural breasts are pretty lucky since they can wear a bra or stay without. As time goes by, breasts tend to sag naturally, however with slightly smaller breasts like 34B, and the sagging is minimal.
What Clothes Are Best for a 34B?
If you are a 34B you should look for round-necked dresses since they look more flattering, especially the neckline.
Conclusion
A 34B bra size is small, however, that doesn't mean you can't make your breasts bigger and look confident. With a push-up bra, the magic of having bigger boobs will happen, and you will be able to walk confidently. Ensure you always wear a fitting bra to avoid any health issues.