As an Amazon Associate we earn from qualifying purchases.
In order for a bra to support and lift your bustline, the bra you choose needs to be the correct size and style for your breasts. Well-made bras can be expensive so make sure you know your bra size before you go to purchase a new bra. Think you might be a 34DD? In the article below, we discuss exactly how big a 34DD bra size really is.
How Big Is a 34DD?
If your bra size is 34DD, your under bust size is 33-34 inches and your bust size is 39 inches. A DD cup-size bra means that your breasts stick out 5 inches from your torso. The sister sizes for a 34DD bra size are 32DDD, and 36D.
Sister sizes refer to alternate sizes for your current bra size. To find your sister size, go up or down a band size and one letter smaller or larger than your current cup, simultaneously.
34DD Bra Size Details
| 34DD Bra Size | Details |
| --- | --- |
| Underbust | 30-31 inches |
| Overbust | 38-39 inches |
| Size down | 32DDD(F) |
| Size up | 36D |
Best Bra for 34DD Breast Size
Several bra types work best for DD breast sizes. A good bra for a DD size cup offers support without sacrificing comfort.
There are many options on the market for DD bras. They come in many different designs and styles, from balconette to wire-free bras. The most popular types of bra for DD are as follows:
For women with smaller sized frames with large breasts, like a 34DD, you need everyday support. My favorite? The Elomi Banded Underwire Stretch Lace Bra. It has really supportive bands and a nice, three section cup.
Difference Between 34D and 34DD Cup Sizes
The main difference between 34D and 34DD bra sizes is that with 34DD bra size your breasts are an inch larger than a 34D bra size. DD's will project 5 inches from your chest, while D's only go out 4 inches.
Breasts that are D cups can weigh about 3.06 pounds, meaning each breast may weigh 1.53 pounds. DD cups can weigh around 4.3 pounds or 2.15 pounds per breast.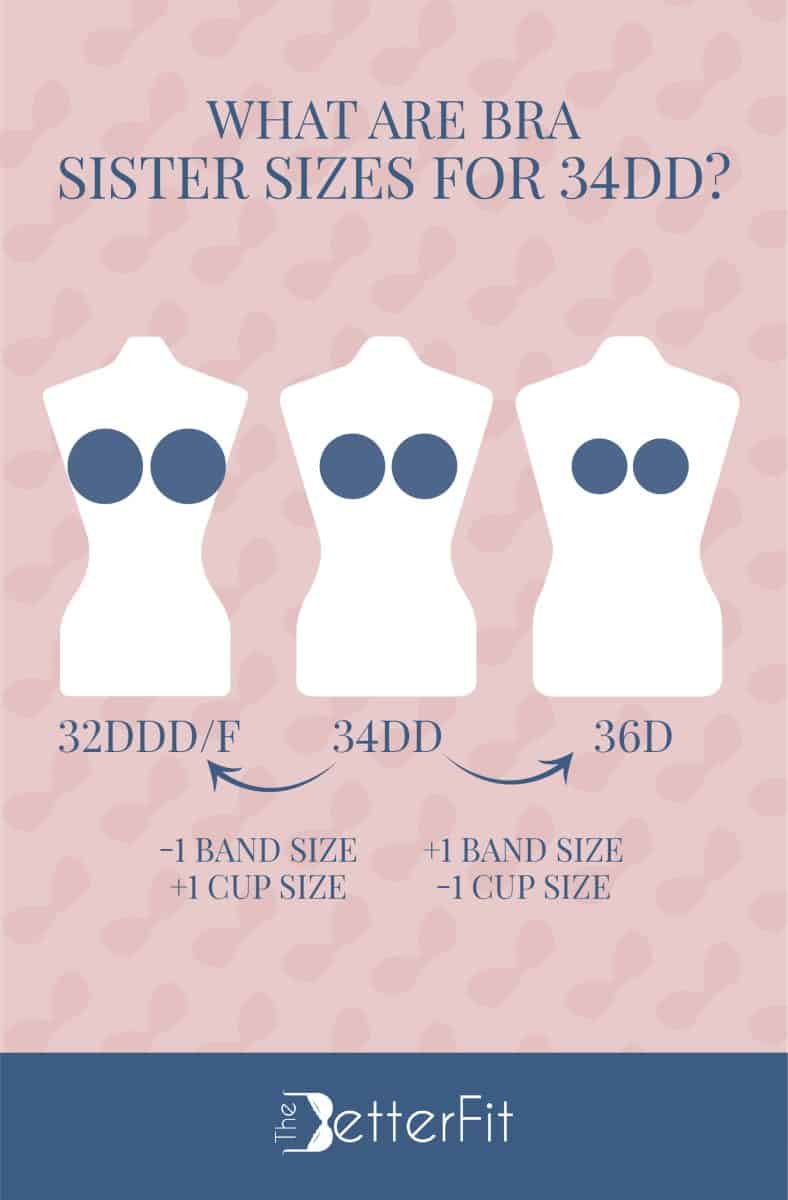 DD breasts need more support than D's since they are larger and heavier. Most bras for women who have larger breasts have the following features to help keep their breasts well-supported:
Side panels with boning
Wider bra bands
Seamed cups
Wider padded shoulder straps to provide additional support and comfort
Related Questions
Is 34DD Medium or Large?
A 34DD bra is considered large among the standard sizes. It has a five-inch size difference between the bust and band.
Who Are Famous Personalities With a 34DD Bra Size?
Is DD Bigger Than D?
A DD cup is bigger than a D cup. You can try a DD cup if your breast tissue is spilling out of D cups.
Bra Size Measurement & Cup Size | A, B, C, D, DD Bra Sizes AND Extra Large Breasts
Conclusion
A 34DD is a larger size compared to an A, B, or C. To be comfortable wearing a 34DD bra, measure yourself and calculate your bra size. Confirm you are a 34DD and then find the best bra type for your body. Ensure that the bra cup accommodates all of your breast tissue, while still remaining comfortable.