As an Amazon Associate we earn from qualifying purchases.
With the right bra you can shape and lift your bust, and ensure that you're comfortable while looking your best.  To find the right bra you need to find your size first. With the different sizing systems that are available internationally, plus the sizing discrepancies between different brands, it can be hard to figure out what size you need.
Think you may be a 36 D? Let's find out exactly how big 36 D really is.
How Big Is 36D?
If your bra size is a 36D, your bra band measurements are 35 to 36 inches, while your bust measurements are typically 40 inches. With a D cup, your band measurement is generally four inches less than your bust measurements. Your sister sizes are 34DD and 38C.
If your breasts aren't completely filling out your bra cup with a 36 D, you may need a C cup. C cups will be slightly smaller. Try out a 38 C, and see how that fits.
DD cups are an inch larger than D cups, which will work for you if your breasts are too big for the D cup, and are spilling out the cup. Try out the 34 DD sister size.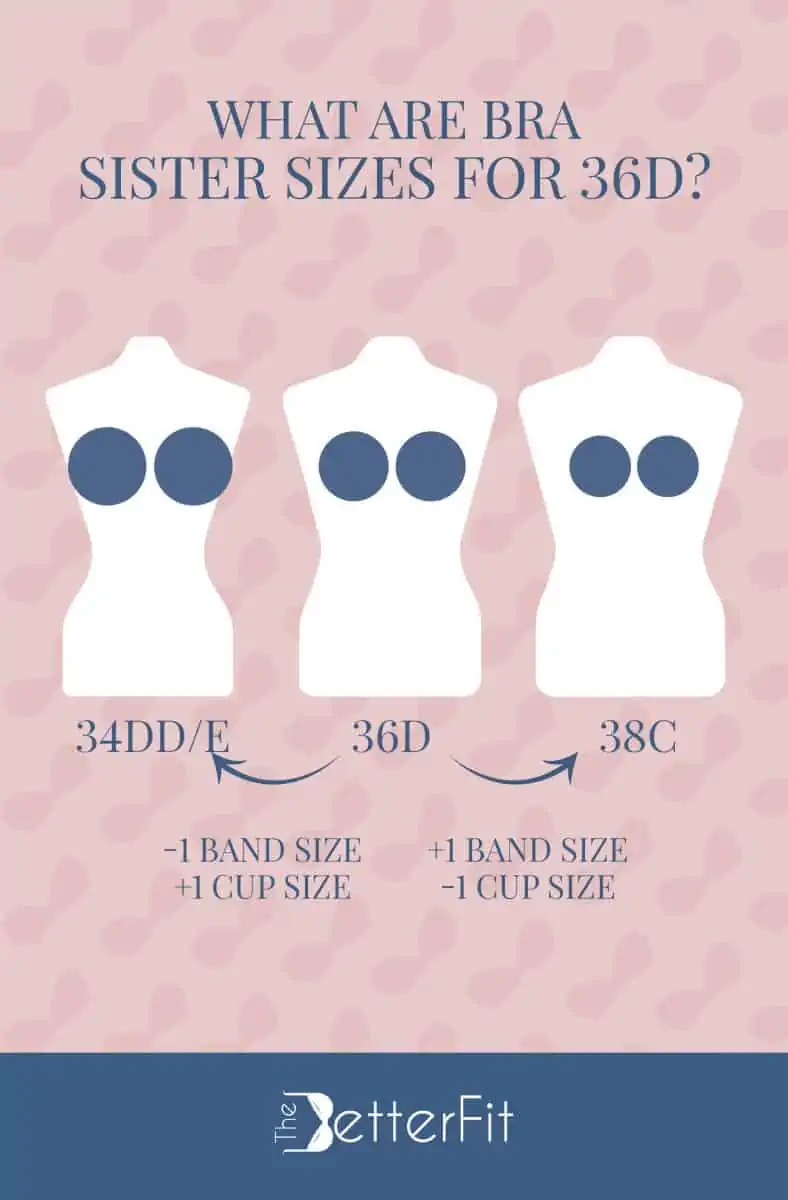 36D Bra Size Details
| 36D Bra Size | Details |
| --- | --- |
| Underbust | 32-33 inches |
| Overbust | 39-40 inches |
| Size down | 34DD(E) |
| Size up | 38C |
Is 36D Small, Medium, or Large?
Overall, a 36D is a larger breast size. Most women are either an A cup, B cup, or C cup, with only 1% of women being larger than a D cup.
The appearance of 36D breasts will vary based on a woman's shape, the bra's design, and the outfit they are wearing. 36D falls on the larger side of the breast size chart and will need more support than smaller breasts.
36 D breasts will appear smaller on a woman with a larger frame, and bigger on a petite woman.
For women with average sized frames with large breasts, like a 36D, you need everyday support. My favorite? The Elomi Banded Underwire Stretch Lace Bra. It has really supportive bands and a nice, three section cup.
Wear a well-fitted full coverage bra to ensure that you get the desired level of support for your 36D breasts. Posture is very important when it also comes to reducing shoulder and back pains from larger breasts.
Related Questions
Who Are Celebrities With a 36D Bra Size?
Actresses Julia Ormond, Lindsay Lohan, Shannon Whirry, Jacqueline Bisset, and Kate Ford have a 36D bra size. Wrestler Trish Stratus and television personality Rhonda Shear also wear 36D bras.
How Can I Make My 36D Breasts Look More Prominent?
You can make your 36D breasts look more prominent using padded bras or chicken cutlet bras. You may also use boob tape or position your breast tissue higher and fuller.
What Does a 36D Bra Size Look Like?
A 36D breast looks reasonably large on a woman's body, especially if your lower half has smaller measurements than the bust. Meanwhile, a body with a bigger half may overshadow the bust a bit.
Bra Size Measurement & Cup Size | A, B, C, D, DD Bra Sizes AND Extra Large Breasts
Conclusion
36D is a very common bra size. 36D is one of the top five most popular sizes available on the market today. 36 D is a larger breast size, so definitely invest in a quality bra that gives you great support while still being comfortable.