As an Amazon Associate we earn from qualifying purchases.
You may come across certain traits that best represent you as you try to determine your body shape. If you have large breasts, you may think, what is considered busty? I'm helping you understand if you are in this category, along with bra and clothing options.
What Is Considered Busty?
A busty physique means having a wider back, fuller arms, large breasts, and a defined waistline. The bra sizes would feature enormous cups and wider band circumferences. It can also imply that your bust is larger than typical for your weight and age range.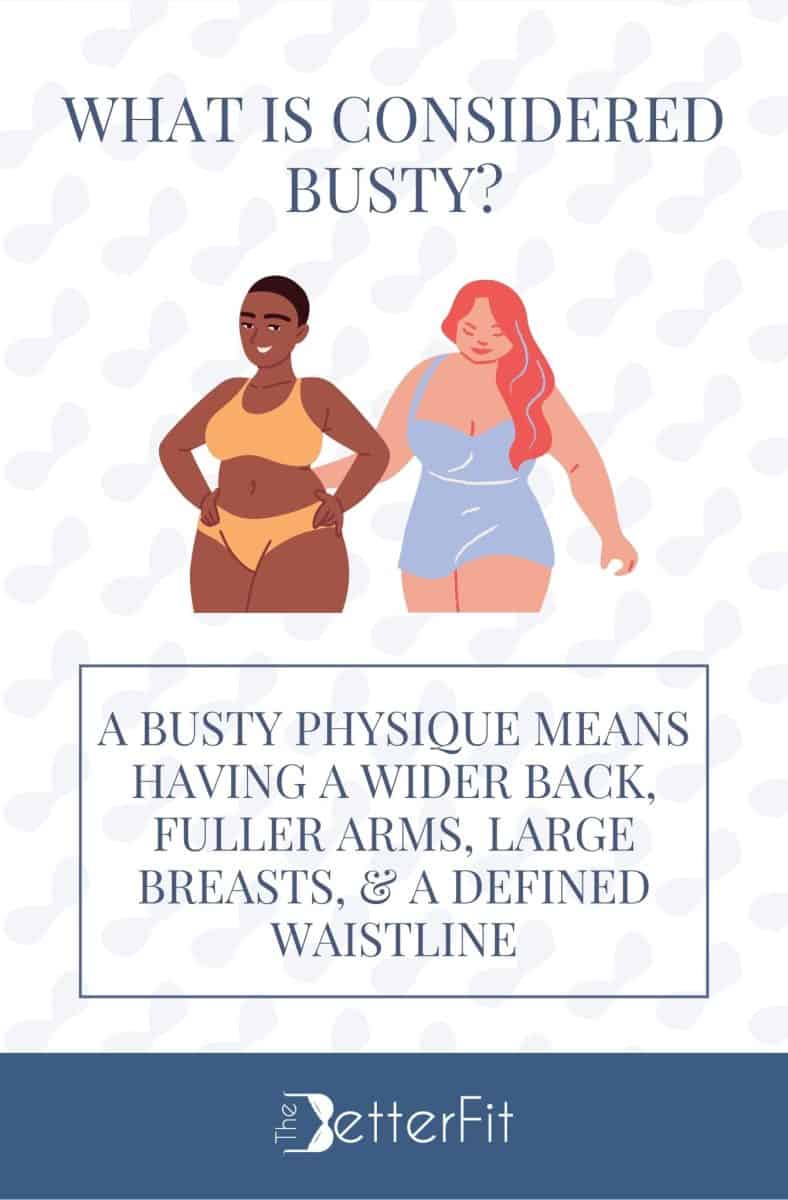 Dressing can be challenging when you're unsure of your body shape. For this guide, you can see if your features are considered busty.
Characteristics of a Busty Body
A busty body shows a large bust exemplified by a broader back, fuller arms, and a narrow waistline. Most women would also have D cups or larger.
Wider back: Your broad back muscles give your bust a V shape. This is also why busty women frequently have an inverted triangle shape with narrow hips.
Full arms: You may either have muscular or fatty arms that add visual volume to the bust.
Defined waistline: You have a defined waistline if your bust measures more prominent than your hips.
Large breasts: Regardless of weight or height, a busty body shape will likely have noticeable, big breasts.
Factors That Influence a Busty Physique
A number of natural and environmental factors contribute to having a broad back, huge breasts, and a more defined waist in busty bodies.
Age: A woman will start with small breasts during puberty. Age-related hormonal changes cause some people to develop noticeable boobs.
Weight: Bust proportion correlates to weight and body mass index. As a result of the fatty and granular tissues, those who are larger often have bustier bodies and fuller arms.
Genetics: Some women, and even men, are inclined to have a wider back and a more defined waistline due to genetics.
Bra Styles for Busty Women
Wearing the right kind of bra can improve the way your busty body shape looks. It can also help with some of the problems you may encounter from having larger breasts, a broader back, and fuller arms.
Full coverage: Being busty means you need excellent lateral support. Thus, you'll need wider back coverage to support large-breasted bodies. Full-coverage cups are necessary to enclose large breasts effectively and prevent top or side spillage.
Molded cups: The struggle with a busty body is that it tends to have pendulous breasts, which can be pear-shaped, teardrop shape, or wide-set. Bras with molded cups can redirect breast tissue up and center to create a firmer appearance.
Minimizer: Minimizer bras are perfect when you have a larger bustline and want a more streamlined silhouette. They keep the breasts pressed down, creating a less pronounced look.
Sports: Having larger breasts makes it harder to perform some activities, and a wider back may not be able to alleviate the pain totally. The best sports bras for large breasts provide the necessary support, lift, and coverage.
Styling Tips for a Busty Body Type
Due to their large breasts and larger torsos, some people may feel anxious about being busty. The secret to maintaining proportion is styling clothes to balance your form.
Choose tops with a V-neck or U-neckline to make the bustline look a little higher.
Keep your other layers, like jackets, shorter than your innerwear.
Dress in skirts with an A-line shape to balance the bust or skirts with a lower waist to lengthen the torso.
Choose wide-leg jeans to draw attention to your waist and even the proportion of your larger torso. Avoid wearing skinny jeans because they can give the bust a more protruding silhouette.
Related Questions
Can Busty Women Be Petite?
Yes, a petite body can still be busty as long as the breasts are larger than normal, usually a D cup or bigger. A small build and short stature might draw attention to the back, neck, and shoulder width. The torso may also have a heavier appearance due to fatty arms.
What Is the Difference Between Busty and a Full-Figured Body?
A busty body can have massive breasts yet a smaller waistline, whereas a full-figured body has more rounded portions, especially huge boobs and hips. A full-figure body may have breasts proportionate to the waist and hips, as opposed to a busty figure where the breast size is bigger than the waist.
Are Curvy Bodies Considered Busty?
A curvy body can be busty if you have broad shoulders, large breasts, and a curvier hip region. You might also be curvy and busty if you have nice overall curves, including the buttocks and legs.
What Is a Minimizer Bra? (And the Features You Need to Look For)
Conclusion
A body is considered busty when there's a broader back, fuller arms, larger breasts, and a more prominent waistline. You can inherit or develop it depending on your lifestyle, age, and health. Regardless, it's crucial that you understand how to take care of your body and how to dress it.