As an Amazon Associate we earn from qualifying purchases.
The majority of women prefer bigger breast sizes since larger breasts and a sculpted body are often deemed as more feminine and mature. Apart from this, the media also plays a vital role in highlighting and emphasizing the beauty of bigger boobs.
In this guide, I will discuss the often misunderstood D cup size and how it can look on different female bodies. I will also tell you the correct way to measure your bra size and the most perfect bras to buy to support your D cup size.
What Do D Cup Breasts Look Like?
For the longest period of time, the D size was considered the biggest bra size. This was because of the outdated system that recognized cup sizes from A to D. However, there was no standardization of what these alphabets exactly measured. It was quite a few years later that other cup sizes were introduced.
Currently, the D cup size is an above-average bra size, but only barely. It is only a size bigger than the ideal cup size C, but there are numerous sizes that go beyond the D-cup. These include sizes that go up to cup size O, which is the biggest cup size available in the U.S.
Of course, heavier boobs have their own set of challenges such as back and neck pain. Thus, D cup size is an ideal compromise for women who want bigger than average boobs and a more voluptuous figure, yet want to avoid the drawbacks of heavier bosoms.
Since D cup size is quite common, you can easily find a bra from numerous name brands in your size. But before you go buying a new bra, you should measure yourself to determine your correct size, especially if your current bra feels uncomfortable.
Contrary to popular belief, wearing a bra should never feel unbearable or awkward.
You should also find out your right bra size if there is a gap between your boobs and cups, or your breasts spill over the bra. All these signs indicate an ill-fitted bra. I cannot emphasize enough the importance of finding your perfect bra size because research revealed that 80% of women wear the wrong bra size.
Here is how you can measure yourself:
Take a soft measuring tape that you can wrap around your body and stand straight in from of a mirror
Place the measuring tape under your boobs, on your ribcage, and wrap it around your torso making sure it's not too tight. Note the measurement of your band size in inches
Then place the tape across your nipples and around your back to measure your bust size. If you feel your boobs are sagging, wear your most comfortable bra before measuring your bust. Note the measurement in inches
Determine your cup size by subtracting the band size from the bust size. The D cup denotes a 4-inch difference
D Cup Size Details
| D Cup Size | Bust Size | Band Size | Weight |
| --- | --- | --- | --- |
| 30D | 33-34 inches | 29-30 inches | Around 2.26 pounds |
| 32D | 35-36 inches | 31-32 inches | Around 3.06 pounds |
| 34D | 37-38 inches | 33-34 inches | Around 4.3 pounds |
| 36D | 39-40 inches | 35-36 inches | Around 5.14 pounds |
| 38D | 41-42 inches | 37-38 inches | Around 5.74 pounds |
| 40D | 43-44 inches | 39-40 inches | Around 6.7 pounds |
D Cup Size Examples
These cup size examples will help you understand how the D cup can appear big on some women while average-sized on others. The only thing in common is that D-cup breasts are definitely more noticeable.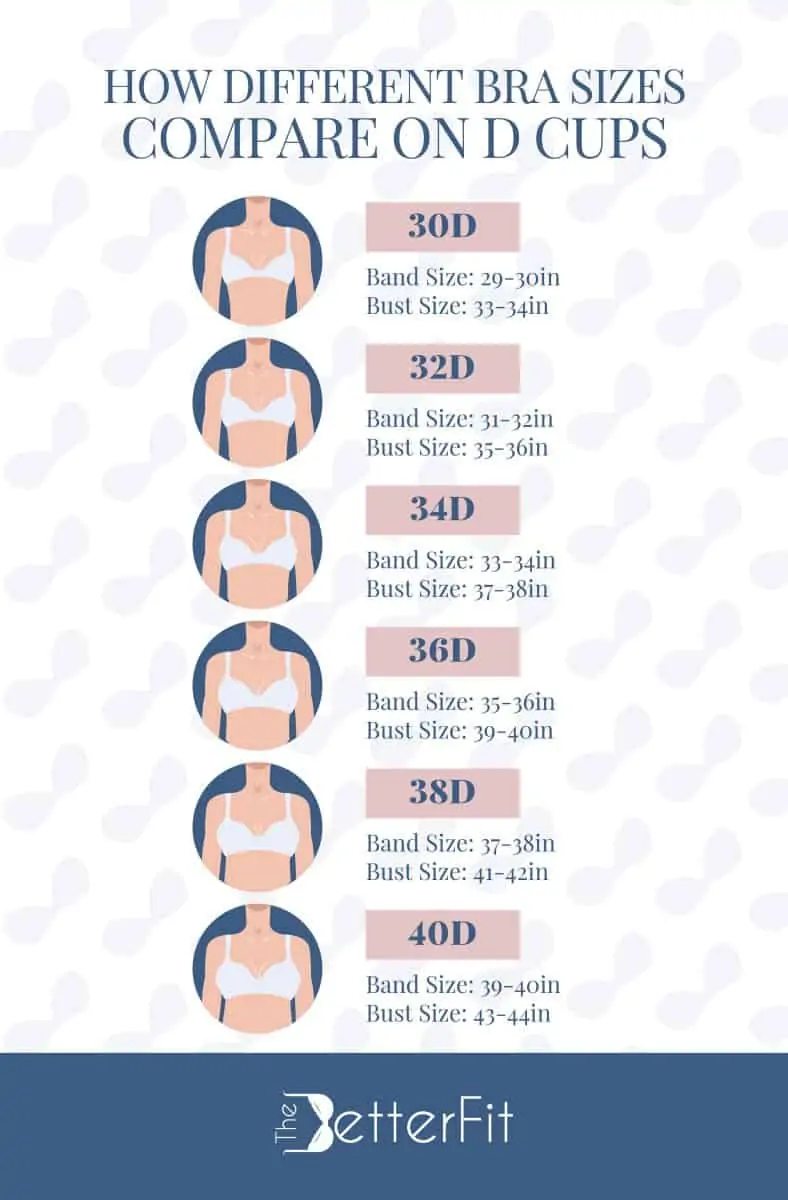 30D
A girl with a 30 band size has an incredibly slender body, which makes her boobs appear curvy. The style of the bra can further enhance the curves by lifting the bust for an alluring look.
However, the small band size indicates that she has the least amount of breast tissues compared to women in the following images.
34D
When the boobs are more widespread, they give an illusion of a bigger bust. The size 34D was revealed to be an ideal bra size for 75% of the women surveyed. The reason could be the manageable bust size paired with a small waist.
36D
Women with 36D bust size can benefit from wearing a full coverage bra that focuses on providing support and coverage. These breasts do not look as prominent as the ones above, partly due to the bigger band size and partly due to the bra style. However, they do protrude out 3 inches from her chest wall.
38D
The D cup boobs appear proportional to the wide waist. You may be able to notice the excessive breast tissues and slight curves. However, the bust does not look extraordinarily big compared to women with a small band size and D cups. Women with a wide band size also need the correct bra to support their heavy breasts
Famous Celebrities With D Cups
Many celebs famously have B cups (such as models) or C cups (such as actresses). But there are plenty of famous personalities that rock the D cup size that can inspire you to make the most of your voluptuous body. Check them out:
Kate Upton, 34D
Kate Upton is an American model and actress that rose to fame due to her curvaceous body, which she works hard to maintain. Her 34D bust size soon became a reason for envy amongst the female population, who deemed it the most ideal breast size.
Katy Perry, 32D
Katy Perry is a famous singer with an amazing voice that has mesmerized the majority of us for years. She has an incredibly lean frame, which makes her bust size exceptionally noticeable. She also has a daring sense of style, routinely making red carpet appearances in the most unconventional outfits to make the most of her curves.
Scarlett Johansson, 32D
Scarlett Johansson had a few notable films under her helm before she appeared as the Black Widow in Marvel's Avengers franchise. Her voluptuous figure is famous around the globe. There are some rumors that she has had breast augmentation surgery. Regardless, she looks amazing.
Lindsay Lohan, 32D
Lindsay Lohan began her career as a child star and has had her career ups and downs. She is famous for the movie Parent Trap and her subsequent roles in rom-com movies.
While Lohan has the same breast size as Kate Upton, the shape of her bust is completely different. Thus, even women with the same cup and band size can look different.
Serena Williams, 36D
Serena Williams is a world-renowned tennis star. Hence, she follows a strict workout regime and maintains a balanced diet to stay fit for the rigorous sport. She is naturally big-boned, hence the big band size which is perfect relative to her D cup size bosom.
Top Bras for D Cups
The D cup size is considered big amongst the other bra sizes. Therefore, to avoid yourself from a world of pain, invest in a bra that will provide ample support for your D cups.
Check out the best bra styles that I recommend to enhance and support the D cup size:
Lift and Side Support Bra
Lift and side support bras are great for accommodating and holding the breasts in place, especially if your boobs are sagging due to weight. They make sure your bust is lifted for an hourglass figure, without revealing any side boobs.
The best lift and side support bra for bigger breasts come with underwires to keep the breasts perfectly aligned yet do not feel uncomfortable. They come in rigid and stretchable cups, but you should opt for the latter since they can smooth your D cup bust into an attractive rounded shape.
Your choice of lift and side support bra is also influenced by the amount of side coverage you want. If you feel your side boobs tend to spill out excessively, go for higher sides for unparalleled support and comfort.
Bralette
Bralette makes the list of must-have lingerie pieces for the D cup size simply because of the level of comfort they offer. However, initially bralettes were reserved for women with small chests. It is only recently that companies started producing these cozy bras in bigger sizes.
When shopping for the best bralette for D cups, make sure it has wide adjustable straps to hold your boobs up for a perky silhouette. Another important feature of a supportive bralette is the band, which should be thick and broad.
Ideally, the cups should be lightly padded or double-lined for some coverage. Finally, look for cups with seams to provide you with some structure and a more defined shape.
Wireless Bra
You must have heard about the importance of underwired bras for bigger bosoms. While it is true, some women just want to wear a softer bra without any wires. If you are one of those, you should consider some key features of a wireless bra, so it can support your D cup breasts.
The perfect wireless bra for D cup should have a contour bra style, a thin lining or padding, and full coverage. The contour adds definition to the bosom for a shapely silhouette, the lining prevents your nipples to show through, and the full coverage provides optimal support.
Moreover, these bras have a wide band to ensure that your breasts are held in place and make up for the lack of wire. Lastly, the strengthened, adjustable straps help you position your bust exactly where you want it to be without digging into your shoulder blades.
Related Questions
How Many Inches Is a D Cup?
How Much Does a D Cup Weigh?
On average, a breast that fits into a D cup size weighs around 1.53 pounds, which is equal to the weight of a guinea pig. A D cup can look different on different women, so they can also have varying weights depending on your breast tissues.
What Are the Sister Sizes of D Cup Size?
| Current Bra Size | Sister Size Up | Sister Size Down |
| --- | --- | --- |
| 30D | 32C | 28E |
| 32D | 34C | 30E |
| 34D | 36C | 32E |
| 36D | 38C | 34E |
| 38D | 40C | 36E |
| 40D | 42C | 38E |
Bra Size Measurement & Cup Size | A, B, C, D, DD Bra Sizes AND Extra Large Breasts
Conclusion
The D cup size rose to fame after Kate Upton started flaunting her 34D size boobs. It is still amongst the most preferred bra sizes, even though it is towards the bigger end of the bra size spectrum.
Moreover, it is important to wear the perfect bra to support your bust as women with D cup breasts have ample amounts of breast tissues.