As an Amazon Associate we earn from qualifying purchases.
For a long time, bra sizes were limited to a small range of cup sizes. Fortunately, in recent times, there has been more awareness about the variety of breast sizes and the uniqueness of different types of busts. What is the biggest size bra?
What Is the Biggest Size Bra?
The biggest breast size known is 102ZZZ, and it belongs to Annie Hawkins-Turner. Her breasts are completely natural and weigh approximately 85 pounds. You can find cup sizes up to H at retailers specializing in plus size figures and sizes up to O at some online stores.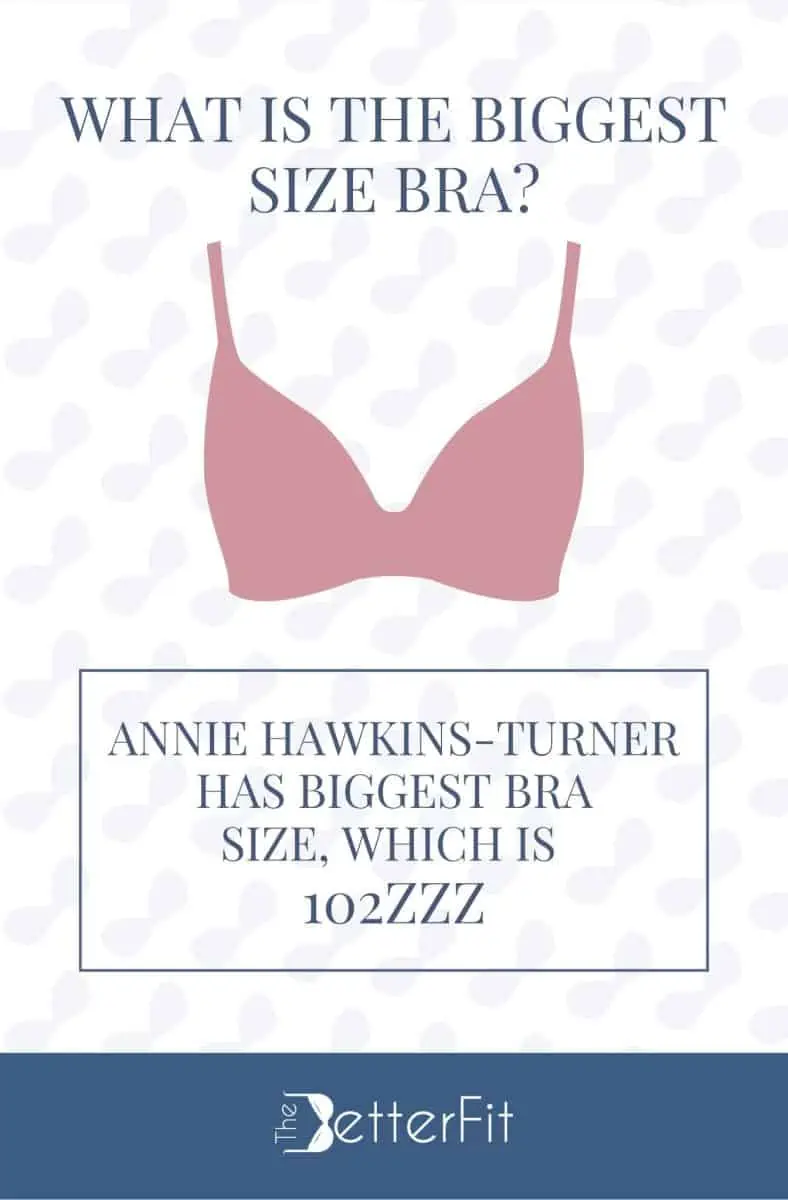 Unfortunately, not many women realize the availability of these sizes. Thus, they end up wearing too small and uncomfortable bras. On the contrary, women with bigger busts need supportive bras to prevent pains and discomfort more than women with smaller breasts.
How to Manage Bigger Breasts
Many women who undergo breast reduction surgery do so to resolve issues such as chronic pain that requires pain meds, restricted activity, and poor self-image. The good news is that a superior quality bra can alleviate or reduce some of these issues.
While wearing the correct bra size is imperative for everyone, it is of utmost importance for women with a fuller chest. A quality bra can provide adequate stability to your breast tissues and keep them well–contained.
However, for the bra to provide the necessary support, it should have the following attributes:
Well-fitted band: The band is responsible for most of the total support offered by the bra. Therefore, it should fit around your torso perfectly without slipping down or digging into your skin
Sturdy cups: The cups provide structure to your breasts. Firm cups keep your boobs contained without giving away under the weight of the breast tissues
Broad straps: The straps allow the bra to lift your breasts into a perky position. Broader straps are better able to lift and hold heavier busts than thinner straps
Underwire: Underwires are another supportive element that must-have for women with fuller breasts. Make sure that the underwires conform to the shape of your breasts for optimum support
Best Bra Types for Bigger Breasts
Among the multiple types of bras available in the market, the following styles are best suited for women with heavier busts. These bras combine all the necessary design features to provide pain relief and remove the pressure from your back and neck muscles.
Minimizer Bra
As the name suggests, a minimizer bra reduces the appearance of your chest. The special design of the bra allows it to achieve a minimizing effect without constraining or squeezing the breast tissues.
They are not appropriate for everyday wear yet work splendidly on special occasions when you want to achieve a slimmer silhouette. However, if your minimizer bra feels uncomfortable, make sure you are wearing the correct size. The best minimizer bras should be comfortable for your large breasts.
Sports Bra
Sports bras are essential for larger breasts while working out as they keep your breasts in place and prevent excessive movement. Moreover, top-heavy women can benefit from quality sports bra even more than others since it has all the features that can support bigger boobs.
It has incredibly robust, full-coverage cups and a higher neckline that envelope the entire breasts. It also has broader bands and straps compared to the average bra.
Racerback Bra
Racerback bras have straps crisscrossing at the back. Consequently, these straps offer enhanced support compared to conventional bra straps. The racerback bra can keep your big breasts appropriately lifted. The unique strap design also means you do not have to worry about slipping bra straps.
The bra is also great for better posture as it pulls back the shoulders in a more upright position.
Since many women with bigger breasts tend to slouch or stoop, they can benefit from wearing the racerback bra.
Related Questions
What Is the Average Bra Size?
What Is the Smallest Bra Size?
Conclusion
Currently, the bigger bra size available in the market is the cup size H. However, you can find specialty online stores with bra sizes as big as the size O. To ensure that the bra is comfortable and stabilizing for your heavier bust, look for one with a correct-sized band, sturdy cups, and broad straps.