As an Amazon Associate we earn from qualifying purchases.
One of the least known cup sizes is the J cup. There is also hardly any information about this cup size on the internet because most of the focus revolves around the most common cup sizes.
The lack of guidance led me to discuss the top in detail. In this article, you will find out the specification of J cup size, what it looks like, and what bras you should buy to help you alleviate the problems of a big bust.
What Do J Cup Breasts Look Like?
Needless to say, women who fit into J cup sizes have uniquely large breasts. Since the size is not very common, you may also have trouble finding a bra that not only accommodates your boobs comfortably but also provides you with support and a lift.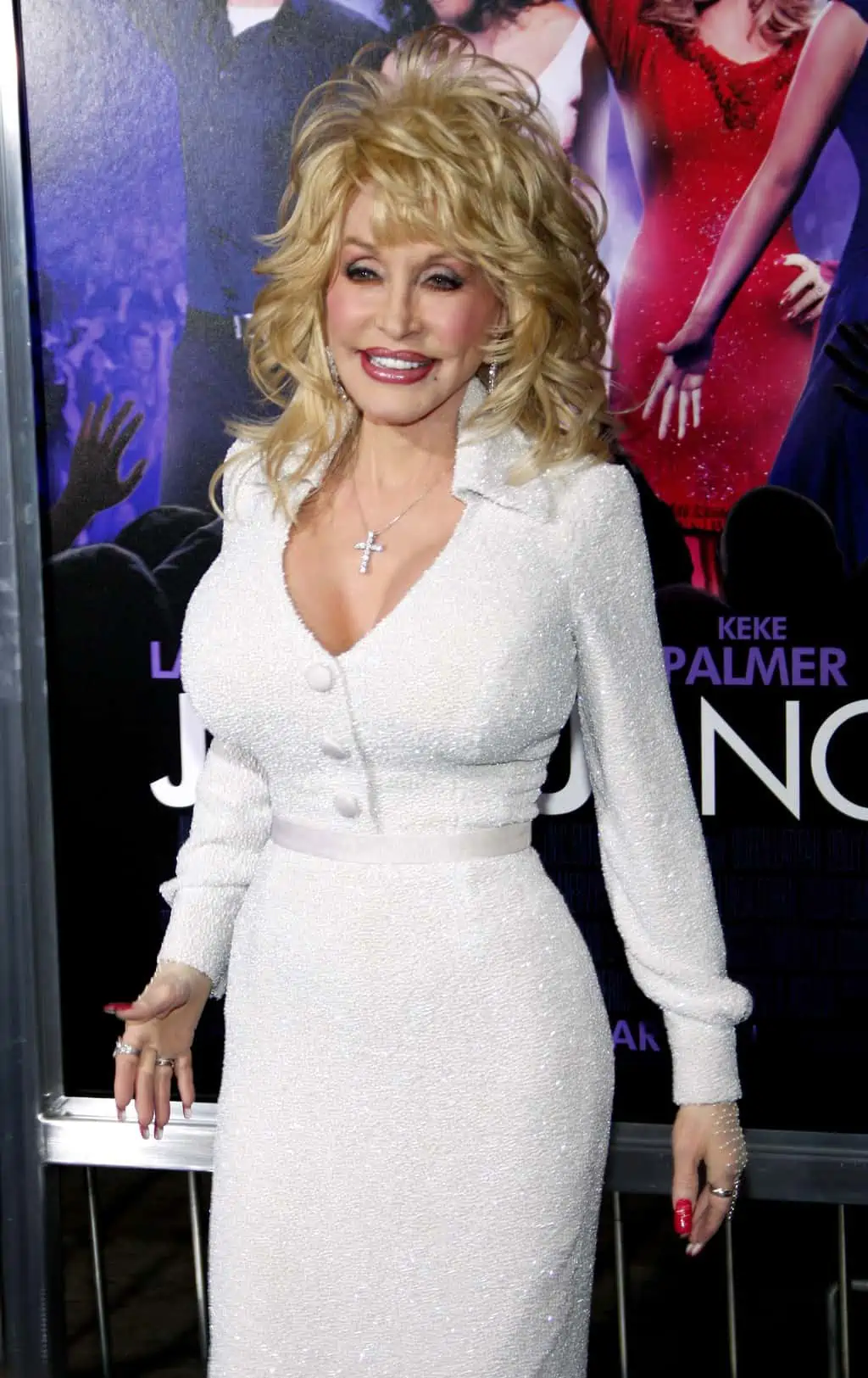 Most prominent brands produce brassiere for smaller cup sizes due to a greater consumer demand leading to better sales. However, in recent years, there has been an increased awareness about bigger sizes, including I, J, and K cup sizes.
Consequently, there are dedicated brands that came into being to cater to women with bigger busts.
The bras produced by these companies have lace detailing, and intricate embroidered, and textured fabrics. This is in sharp contrast to bras previously sold in these sizes, which were drab and boring.
These bras are also designed by keeping in mind the specific requirements of bustier women, who need the most reinforcement.
In addition, J cup boobs can often lead to chronic back and neck pains, and incorrect posture. However, the pain from heavier breasts also often stems from ill-fitted bras. Generally, the correct band size is able to bolster 80% of the breasts' weight.
Contrarily, many women opt for a looser band size since they assume that bigger breasts mean a bigger band size. Therefore, measuring yourself correctly and investing in bras that are made for J cup size can literally take off the weight from your shoulders.
Here is how you can get correct measurements for your bra:
The first step is to determine the band size, which denotes the numerical value of the bra size. To measure your band size, wrap the measuring tape around your waist, where the bra band sits. Note the readings and determine your corresponding band size.
Next, measure your bust size around the fullest part of your chest. Experts recommend wearing a comfortable bra while measuring the bust size, so your boobs are positioned correctly.
To determine the cup size, subtract the band size from the bust size. If you have a J cup size, the difference will be around 10 inches.
J Cup Size Details
The table below will allow you to understand the range of measurements that culminate in a J cup size.
| US Bra Size | Band Size | Bust Size |
| --- | --- | --- |
| 28J | 27-28 inches | 37-38 inches |
| 30J | 29-30 inches | 39-40 inches |
| 32J | 31-32 inches | 41-42 inches |
| 34J | 33-34 inches | 43-44 inches |
| 36J | 35-36 inches | 45-46 inches |
| 38J | 37-38 inches | 47-48 inches |
| 40J | 39-40 inches | 49-50 inches |
| 42J | 41-42 inches | 51-52 inches |
| 44J | 43-44 inches | 53-54 inches |
| 46J | 45-46 inches | 55-56 inches |
Every woman should wear a bra that fits perfectly, which does not dig into the skin, nor has any extra gaps between the fabric and the skin. However, women with bigger bust need to be extra vigilant as they are more prone to develop premature sagging due to the increased volume and the weight of breast tissues.
J Cup Size Examples
The J cup size does not appear similar for every woman. Depending on their overall frame, BMI, posture, and fitting of the bra, a cup size can look very different on women with different band sizes. Below I have compiled a few descriptions and J cup size examples.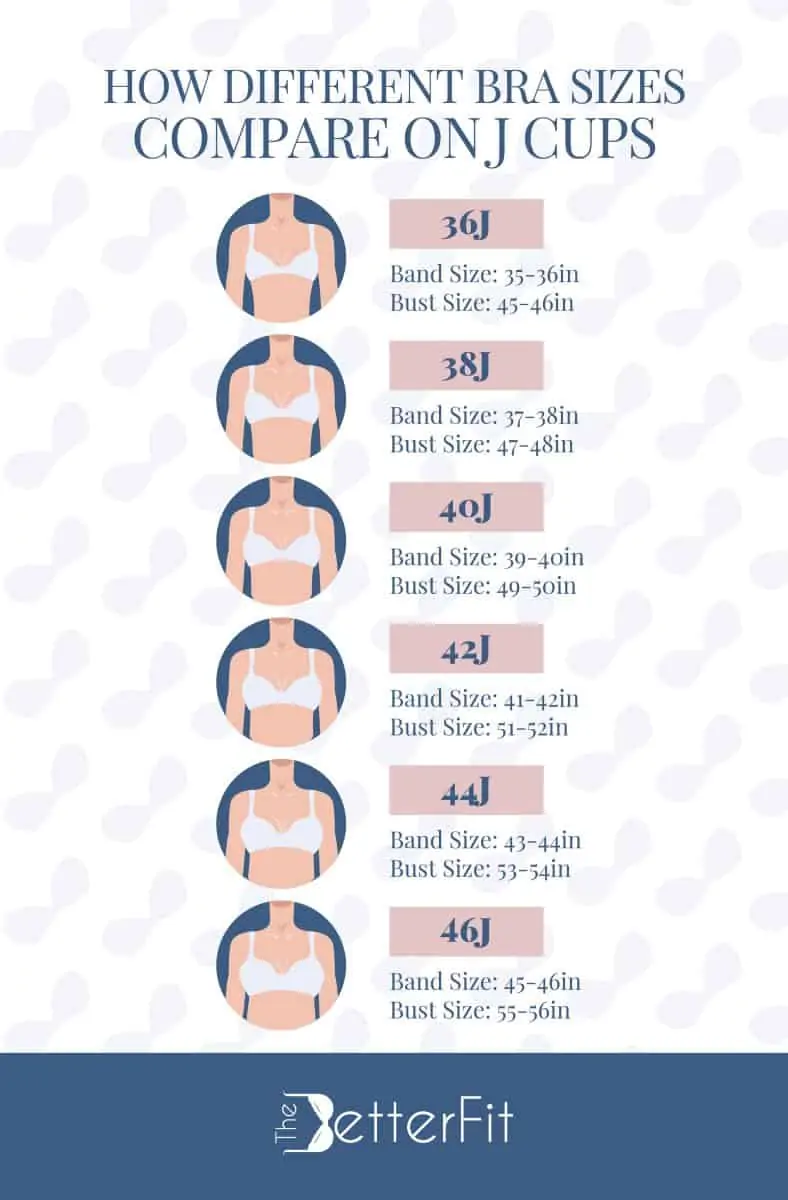 28J
A woman with a small band size will have a slim waist, which makes her J cup size boobs look more prominent. Thus, the bust size will appear in sharp contrast to her toned torso, giving her a curvaceous figure.
The posture also affects the appearance of the J cup breast size. While a slight forward hunch can make her boobs appear less noticeable, she will still have a generous bust size.
40J
Despite sporting a J cup size, the breasts on a 40 band size do not appear too wide since the waist size is also wide and proportional to the bust.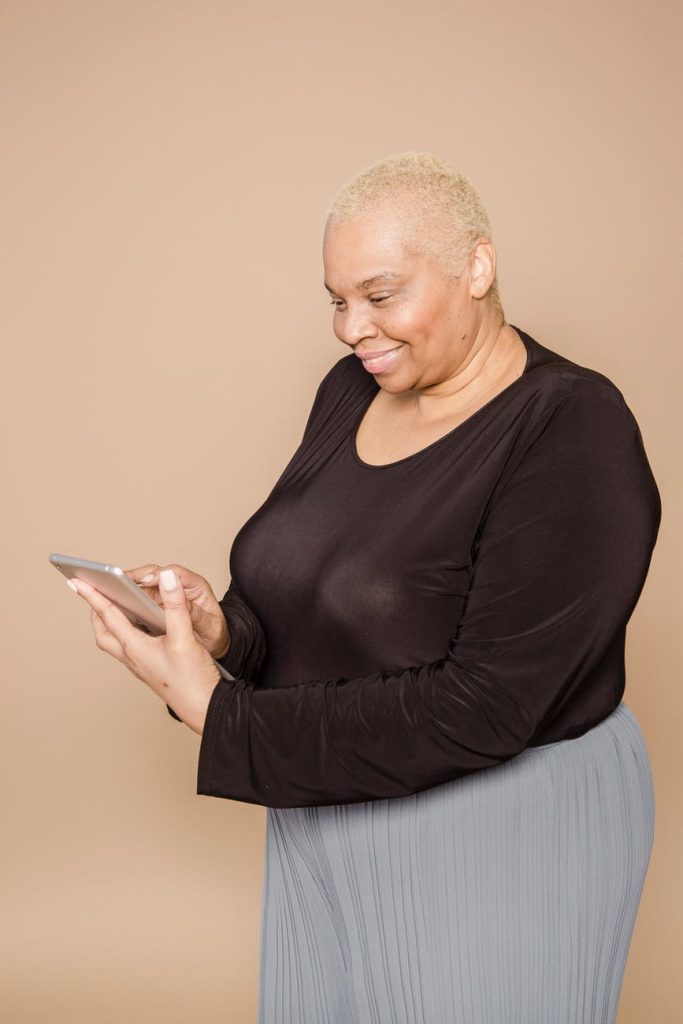 48J
The close-up view of the chest gives us the correct understanding of the J cup size. However, if you compare the waist width to the breast width of a woman with a 48J bra size, both of them appear quite similar.
The apparent size of the bust depends on a lot of factors apart from the cup volume. You can determine and control your bust shape, width, protrusion, and cleavage wearing the perfect bra that fits you flawlessly.
Famous Celebrities With J Cups
There are rarely any mainstream celebrities with the J cup size because of my media's fixation with a certain body type. Moreover, actresses and models who may have a size bigger than a D cup are often slotted into smaller cup sizes. The prime example is Dolly Parton.
Dolly Parton, 30J
Dolly Parton is a well-known and beloved American singer-songwriter. She rocks a voluptuous figure with a tiny waist, and I can safely assume her cup size to be around J.
Top Bras for J Cups
As you may know, heavier busts rely heavily on specific types of bras to provide them with ample support, an attractive shape, and reasonable coverage. Most of the bras produced for bigger boobs come with extra reinforcement to ensure practicality and functionality.
Beyond that, with breasts that large, you need to also pair the correct clothing with your bra.
Below, I have listed a few types of bras that work amazingly well for women with the elusive J cup size:
Full Coverage Bras
One of the best kinds of bras that you can own for your massive bust is the full coverage bra, which is incredibly comfortable for everyday wear. These bras have cups designed to cover the entire or most of the breasts to provide maximum support. Most full-coverage bras have the following features:
A wider band and extra hooks for additional security
Broad straps that sit closer to the neck, instead of slipping down the shoulder
Non-stretchable, sturdy material that can handle the extra weight
Side boning to keep your boobs upright and perky
Underwires for extra reinforcement and lift
High-cut cups to avoid side boobs
Moreover, full coverage bras are a great option for saggy breasts. This is because these bras mold your breast to give your silhouette an attractive shape. Thus, you can easily wear one for special occasions under a fancy dress or an elegant top.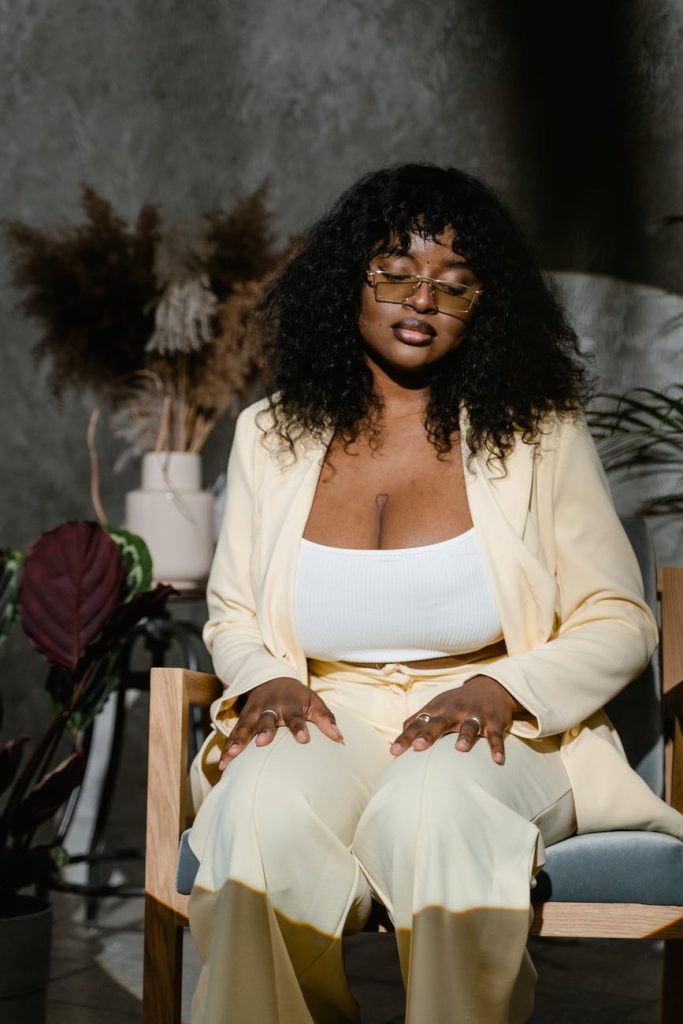 Sports Bra
One of the most challenging aspects of bigger boobs is the pain that can arise with even the simplest physical activity. Thus, if you are not satisfied with your regular bra, try out a sports bra curated to constrict any movement.
For starters, sports bras for large bosoms have a higher neckline to cover most of the breast tissues, so there is no room for the boobs to spill over.
Moreover, the material used for these bras is moisture-wicking and breathable. Generally, sports bras are constructed from polyester or nylon, blended with spandex or elastane.
Consequently, the bra is able to better mold to your body, as you move. However, avoid bras made with fabric that is too stretchable, as it loses its practicality for your size.
Sports bras are either used for encapsulation, compression, or both. Compression bras work to flatten your breast and are usually better for low-impact exercises, while encapsulation helps support each breast separately, so the weight is divided
The best sports bras for large boobs have a combination of compression and encapsulation abilities. Hence, the dual functionality provides unparalleled support and ultimate comfort.
To summarize, if you feel your regular bra is uncomfortable or painful, switch to a sports bra. It is featured-packed to support your large bust size and is a practical option for everyday wear.
Minimizer Bra
A Minimizer bra is a great alternative to a regular bra on certain occasions. The bra works to streamline your shape, makes your breasts appear more attractive under a top or a dress, and gives them a perkier look. It also makes your boobs appear slightly smaller, without squishing, flattening, or constricting your chest.
When buying a minimizer bra, prioritize your comfort because any good minimizer bra will be able to do the job without causing you any pain or discomfort. While it is available in wired and unwired variety, larger boobs are best supported with an underwire.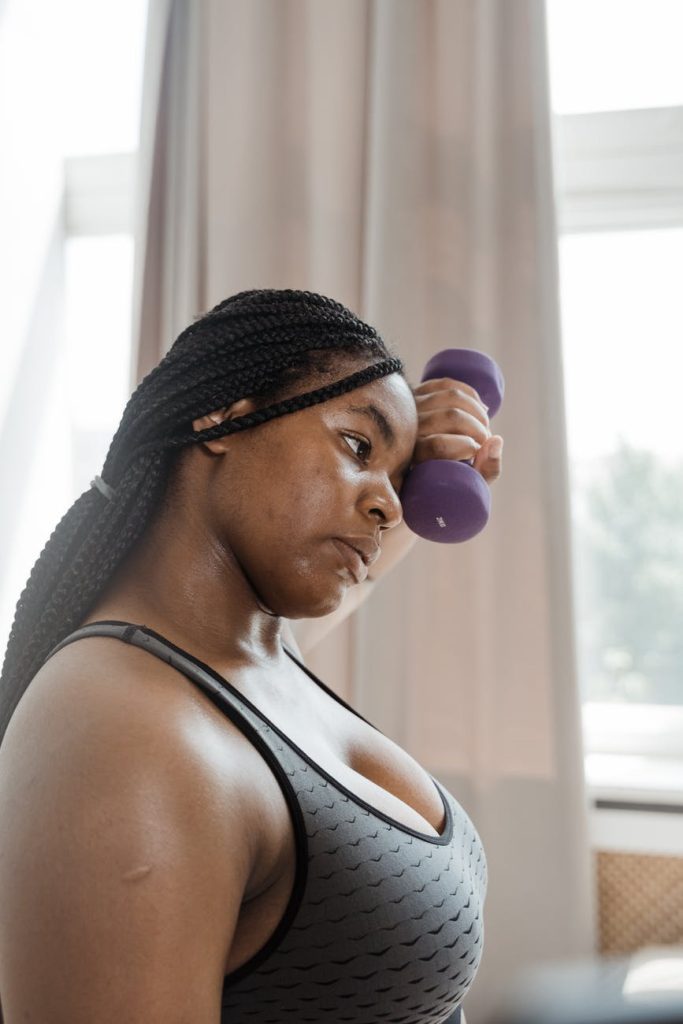 Therefore, if you are looking to achieve a more defined frame, and enhance the overall appearance of your bust, a minimizer bra will work splendidly
Related Questions
How Many Inches Is a J Cup?
A J cup denotes a 10-inch difference between your chest wall and the fullest part of your breast. The bands can range from 27 to 46 inches, while the bust may measure from 37 to 56 inches.
How Much Does a J Cup Weigh?
The average weight of each breast with a J cup is approximately 4.07 pounds. This is like carrying about 8.14 pounds of weight daily, making it imperative to invest in a quality bra after a professional bra fitting.
What Are the Sister Sizes of J Cup Size?
| Current Bra Size | Sister Size Up | Sister Size Down |
| --- | --- | --- |
| 32J | 34I | 30K |
| 34J | 36I | 32K |
| 36J | 38I | 34K |
| 38J | 40I | 36K |
| 40J | 42I | 38K |
| 42J | 44I | 40K |
| 44J | 46I | 42K |
Bra Size Measurement & Cup Size | A, B, C, D, DD Bra Sizes AND Extra Large Breasts
Final Thoughts
I hope I have been able to help you answer some of the questions regarding the J cup size. The main purpose of this comprehensive guide was to help you realize that there are plenty of women with the J cup size and it looks different on each individual.
Moreover, you can also find plenty of options when looking for bras in this size, which are not only ergonomically designed but aesthetically pleasing as well. Hence, next time you feel that you are the only one with a J cup size, think again and check out this article!