As an Amazon Associate we earn from qualifying purchases.
Women with large breasts understand the challenges and hardships that come with a big bust size. Since bigger cup sizes are also not very common, you may be struggling to find the correct information about them.
Usually, it is also a hassle to find a quality bra, in a bigger variety, which fits you seamlessly.
Therefore, the following article is curated to help you understand one of the biggest cup sizes, H, and find the perfect bra that is supportive, comfortable, and durable.
What Do H Cup Breasts Look Like?
Breasts with an H cup size are considered above average and amongst the largest cup sizes. The cup size is also not very common, so you may have encountered some issues when shopping for a bra that fits.
In addition, a lot of women with an H cup size end up wearing bras with D or DD because they do not realize that size H exists. The reason is that a lot of departmental stores do not stock bra sizes bigger than DD. As a result, around 70% of the women end up wearing an ill-fitting bra their entire life.
While I have established that H cup breasts are big, how big they look depends on your overall body shape and height. For a woman with a wider frame, H cup size might look proportional to the hips and limbs. The same size would be far more noticeable on a woman with a petite silhouette.
For women with really large breasts, like an H cup, you'll need an everyday minimizer bra. My vote is the Wacoal Visual Effects Minimizer Bra. I love the seamless underwiring, making this bra actually decently comfortable.
To give you some perspective, a bust with an H cup size will protrude about 8 inches from your body. To determine your cup size, you need to know your band size and bust size.
You can calculate your bra band size by measuring the underbust area. Wrap a measuring tape around your torso and note the reading in inches. Check the band size corresponding to the measurement.
You can calculate your bust size by measuring around the fullest part of your boobs. Wrap the measuring tape across your nipples and around your tape. Note the reading in inches.
To determine your cup size, subtract the band size from the bust size. For an H cup size, the difference between the two would be around 8 inches.
H Cup Size Details
Check out the table below to understand the range of measurements that will result in an H cup size.
| Bra Size (US) | Band Size | Bust Size |
| --- | --- | --- |
| 28H | 24-26 inches | 35-36 inches |
| 30H | 26-28 inches | 37-38 inches |
| 32H | 28-30 inches | 39-40 inches |
| 34H | 30-32 inches | 41-42 inches |
| 36H | 32-34 inches | 43-44 inches |
| 38H | 34-36 inches | 45-46 inches |
| 40H | 36-38 inches | 47-48 inches |
| 42H | 38-40 inches | 49-50 inches |
| 44H | 40-42 inches | 51-52 inches |
| 46H | 42-44 inches | 53-54 inches |
Once you know your band size, you will be one step closer to finding a bra that fits you well, without squeezing your boobs or digging into your sides.
According to research, middle-aged women with bigger cup sizes, such as H, are least likely to be satisfied with their bra size and fit. These women are also more likely to experience upper back pain and dissatisfaction with the size of their boobs.
H Cup Size Examples
To help you gain a better understanding of how H cup size can look on women with varying band sizes, check out the images below:
30H
The woman in the pic wears a soft, wireless bra that covers her breasts perfectly. Despite the absence of wires, the bra is lined with nylon cups and an inner slang to support the H cup size. Even though there is no hint of cleavage, you can see that the boobs appear big against her slim torso.
32H
Next, I have a girl wearing a 32H mesh bra, with underwires that lift the boobs. Consequently, the boobs appear perkier with a hint of cleavage compared to the previous model.
36H
This lady wears the same bra as the one above, only in a bigger band size. Her breasts do not appear too big, in comparison to her underbust size and the previous models. Along with supportive wires, the bra also has wider straps to hold the bra in place.
40H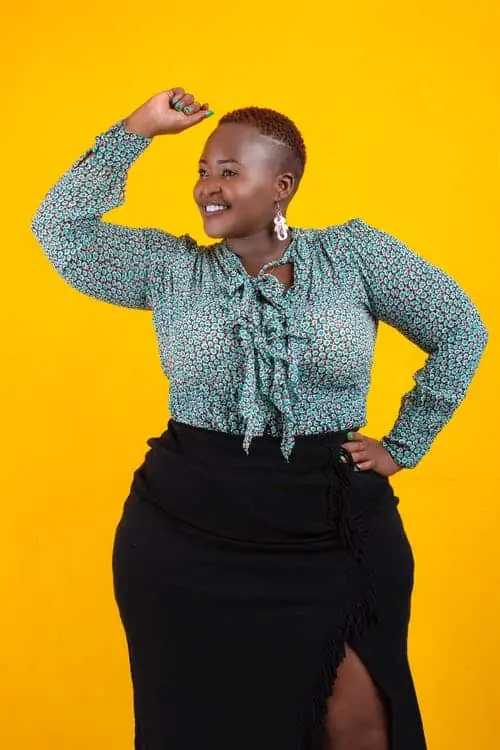 Finally, the woman wearing a 40H bra seems to have the most proportional breasts, compared to her overall body shape. Her boobs also appear smaller than the other girls featured here, despite having the same cup size.
You will also notice that bras with H cup size also have wider bands to provide maximum support.
Thus, not all women with the same cup size appear to have similar boobs. The general look of the bust size is perceived relative to the body frame.
Famous Celebrities With H Cups
Most celebrities, TV personalities, and models have smaller cup sizes, which are considered a more attractive shape. However, women come in all shapes and sizes, which are unique and beautiful. Check out the gorgeous celebrities rocking the H cups proudly.
Kelly Brooke, 34H
Kelly Brook is a model and an actress, appearing in a number of movies and sitcoms. Her curves have always set her apart, as she looks extremely comfortable in her skin.
Amber Rose, 36H
Amber Rose had a bra size of 36H for a long time before she underwent breast reduction surgery to go down to 36DDD. As she neared her 40s, her boobs started causing back pains that affected her everyday life, leading to her decision to undergo surgery.
Emma Glover, 32H
Emma Glover is a social media star and a lingerie model, based in the UK. Her petite frame and toned abs make her H cup size breasts even more noticeable.
Kerry Katona, 40H
Kerry Katona was a part of the once popular girl band, Atomic Kitten. If you share the same bra size as her, here is an inspiration on how to dress well for a flattering figure.
Top Bras for H Cups
Even though H cup size is not very common, there are still thousands of women who have the said cup size. Unfortunately, the majority of them have trouble finding bras with H cup size in large retail stores.
However, there are a few brands that understand that each woman is unique with distinguished bra size. I have compiled a list of bras for bigger busts that will feel like a second skin and support your boobs well enough to relieve some pressure from your back.
Everyday Bra
There are two kinds of bras. One is the fancy kind that you reserve for special occasions or when you want the stylish bra to peek through your clothing. The other is an everyday bra that does the job without being uncomfortable.
The everyday bra for big breasts has wide straps that are soft and comfortable and a wide, stretchable band that stays in place for a while even when you take off the straps. The cups are large enough to hold your boobs without any spillage and often come with an underwire.
Consequently, an everyday bra designed for women with heavy breasts focuses on fitting seamlessly to the contours of the bust. It does not dig into the sides or the back. Moreover, the fabric used in these bras is usually breathable and soft, so you can wear them for a longer duration without any chafing or redness.
Racerback Bra
Racerback bras are another great option for big-chested women, especially the ones with an H cup size. They are incredibly supportive, provide you with a perky shape, and keep the straps out of sight. They are often armed with a front closure, which makes putting on and fastening the bras very convenient.
Another huge advantage of the front closure is that the bra cups join against the sternum, so you can enjoy a snug and supportive fit. However, as racerback bras lack the adjustability that comes with multiple back closures, make sure to buy one that fits you perfectly.
Finally, the closing-fitting property of the racerback bra also allows you to engage in sports and other physical activities without experiencing too much movement around the chest area. Anyone with a massive bust size will appreciate this ability of the bra since it can be quite painful if the boobs bounce too much.
Bandeau Bra
Strapless bras rarely work for women with large cup sizes, since they do not provide ample support, tend to slip down, and are unable to offer an attractive lift. So, if you sport an H cup size and want to don a strapless dress or top, what do you do?
Bandeau bras for large busts can overcome all the challenges and drawbacks of the strapless bra, so you can feel comfortable stepping out in all kinds of strapless, halterneck, or one-shoulder outfits.
Bandeau bras for bigger chests are available with and without padding. If you are looking for extra coverage, in addition to adequate support, go for the padded variety for a smooth silhouette.
These bras also have a thicker, more secure band and multiple hooks and eye closures to keep everything in place without constricting your boobs. Finally, quality bandeau bras have a sturdy elastic silicone lining along the cups' edges to add another layer of security against slipping.
Related Questions
How Many Inches Is an H Cup?
If you wear a bra with an H cup size, this means that your breasts extend out around eight inches from your chest wall. It is important to note that if you are experiencing sagging, the boobs may appear flatter than eight inches.
How Much Does an H Cup Weigh?
An H cup entails that each breast weighs around 3.35 pounds on average. This is a lot of weight to carry around day in and day out. Thus, wearing a high-quality, supportive bra is crucial to diminish the chances of back pain and fatigue.
What Are the Sister Sizes of H Cup Size?
| Current Bra Size | Sister Size Up | Sister Size Down |
| --- | --- | --- |
| 32H | 34G | 30I |
| 34H | 36G | 32I |
| 36H | 38G | 34I |
| 38H | 40G | 36I |
| 40H | 42G | 38I |
Bra Size Measurement & Cup Size | A, B, C, D, DD Bra Sizes AND Extra Large Breasts
Final Thoughts
The purpose of the guide is to help you understand the rare H cup size. The remarkable thing about cup sizes is that they look different on women with different types of frame and body mass.
Consequently, a woman with a 34H bra size appears to have a more curvaceous figure, while 40H bra size provides an almost linear silhouette.
Finally, since H cup size lies towards the largest end of the bra size spectrum, it requires the maximum amount of support from a bra designed specifically for bigger busts.