As an Amazon Associate we earn from qualifying purchases.
If you want to make large breasts smaller, you might find this struggle relatable: you finally find the outfit that fits your style to a T. It's flirty, effortlessly cool, on trend, and you have shoes that match it perfectly. Sounds like a killer outfit, right?
There is one major issue though. Your boobs look wrong and stick out like a sore thumb and you feel uncomfortable with how much your breasts dominate the outfit. So, what can you do to make your boobs look smaller?​
How to Organically Make Your Boobs Look Smaller
In general, there are varying ways that you can do and use to try to make your boobs look smaller. Here are ways to make your breasts smaller without having to take any permanent measures.
Techniques to Make the Boobs Look Smaller
| Technique | Action |
| --- | --- |
| #1 | Accentuate other body parts |
| #2 | Wear properly-fitted bras |
| #3 | Use a minimizer bra |
| #4 | Opt for a bralette |
| #5 | Wear a sports bra |
| #6 | Try a binder bra |
| #7 | Tape your breasts |
| #8 | Avoid clothes that draw attention to the bust |
| #9 | Wear loose-fitting clothes |
| #10 | Try ​V-neck and scoop-neck shirts |
| #11 | Choose darker-colored clothes |
| #12 | Improve your posture |
| #13 | Follow natural methods |
| #14 | Do exercises that target the bust |
| #15 | Do cardio and high-intensity exercises |
| #16 | Do aerobic exercises |
| #17 | Incorporate strength training |
| #18 | Layer clothes |
| #19 | Wear scarves or neck accessories |
| #20 | Wear statement bottoms |
| #21 | Avoid tops or dresses with ruffles |
| #22 | Wear a belt |
| #23 | Go for tops with horizontal patterns |
| #24 | Go for high heels |
1. Accentuate Your Physical Attributes
You love your curves and couldn't imagine altering your body surgically or through supplements. You just want a temporary solution to minimize the look of your breasts in certain outfits.
The way to make the illusion of smaller breasts is to not draw attention to your bust anymore. Meaning that instead of wearing clothing that highlights your breasts, wear things that accentuate your hips instead.
By doing so, you draw other people's eyes to your curves. Up top, focus on clothing like scarves and earrings to draw attention away from your bosom.
​2. Get Properly Fitted
So many women across America are wearing the wrong bra size, simply because of never getting measured or getting incorrect measurements. If your straps are always slipping, your band digs in, or you have the dreaded "double boob," your bra is probably for the wrong breast size.
Your best bet to avoid a double boob is to go to a bra fitting professional in a Victoria's Secert or a local lingerie boutique to get a personalized fitting, especially when it's your first time wearing a bra.
A well-fitted bra will not only be more comfortable and decrease breast pain, but it will make your breasts look smaller as well. Buying the right bra size will give you the support you need, relieving pressure on your shoulders and back.
The right bra size will also help improve your posture, making your breasts look smaller.
3.​ Wear Minimizing Bras
Once you know your correct bra size, you aren't done. The type of bra you wear also impacts breast size. To make your boobs smaller, avoid bras with excessive padding or ones that push your boobs together.
Instead, opt for a minimizer bra that gently suppress your boobs or give you that "barely there" look. Minimizer bras are specially made to make breast size appear smaller.
Bali Women's Satin Tracings Minimizer Underwire...
OUR BESTSELLER FOR A REASON - Minimizes your bustline by as much as 1-3/4 inches.
UNDERWIRE SUPPORT WAS NEVER THIS COMFORTABLE - Cushion-tipped underwires for maximum support with...
WHEN YOU NEED A LITTLE LIFT - Seamed, non-stretch cups provide a little extra lift.
Minimizer bras lift and redistribute breast tissue across your chest. The cup of the minimizer bra reshapes the look of the breast tissue to flatten your chest.
A well designed minimizer bra can be a lifesaver for a larger-chested woman, and if the minimizer bras have underwire, they will help retain your overall breast shape and keep a feminine silhouette.
4. Try a Bralette
If you don't like a minimizer bra, bralettes are another option for reducing the visual appearance of your chest. Unlike a minimizer bra, these are a double-edged sword, though. While they do make breasts look smaller, they don't offer much support and could ultimately lead to back and shoulder pain.
These are best for ladies with medium breast size who want to look smaller, or for short term wear by women with larger breasts. It will be easy to make this transition as not only is the bralette cute and fashion-forward, it's very comfortable too.
5. Add a Sports Bra
Sports bras are less than ideal in terms of fashion. Sports bras get the job done if you want to reduce your bust visually. Sports bras work by compressing your breasts, which is necessary when exercising to reduce movement and provide support.
Full Figure Plus Size No-Bounce Camisole Sports...
CAMISOLE: A breathable mesh camisole design provides upper bust containment and bounce control.
REINFORCED CUPS: Full coverage, non-stretch cups mean you're held up (and in).
EASY ON & OFF: Hook-and-eye closure with 3 columns & 3 rows increases with size.
Beware, sports bras with the wrong bra size can be too tight on the chest and cause pain and discomfort if there is too much compression. Get a proper fitting sports bra and you have a comfortable, supportive, breast reducing, alternative to the traditional bra.
6. Pick Up a Binder Bra
Binder bras are a type of bra that is similar to the look of a bandeau, but in addition, it provides extreme breast compression. They are typically worn by people in the Transgender community to create the appearance of a flat chest.
XUJI FTM Transgender Trans Tomboy Chest Binder...
✪Imported yoga cotton, This material is breathable, Wicking for moisture management, Softness and...
✪Our products have been designed using an extensive and thorough process.Strong wide elastic band...
✪3 rows of adjustable Hook-and-Eye closure, it's able to adjust the tightness. Easy to put on and...
If you decide to wear a binder and it begins to hurt, take it off immediately. It might be too tight and could cause serious damage to your body.
7. Use Boob Tape
The adhesive breast lift tape is a specialized type of tape designed to provide support and lift to the breasts, and is typically made of medical-grade adhesive that is safe for the skin. Although a boob tape does not have the ability to physically reduce the breast size, it redistributes the breast tissue to create a lifted look.
This can create the desired shape and position for the breasts while wearing certain outfits, such as low-cut or backless dresses, making your boobs less prominent.
First off, make sure you pick up some really good boob tape to do the trick. Yes, you can use at home solutions (aka double sided tape) and you can also just use fashion tape in a pinch.
Totally Invisible Boob Tape - Transparent Breast...
Boob Tape is a roll of totally transparent medical grade breast lift tape designed especially for...
Use our Breast Lift Tape to lift, separate, flatten, boost and create all the cleavage, bra-free...
Cut, trim and tape your breasts for any dress or occasion with our generous 5 metre roll of clear...
But none of these options have adhesive designed to be pressed up against your skin for long periods of time.
Next, know when to tape. This isn't the sort of thing to do every day. But, here are some great situations made for taping those large boobs up:
Low-cut dresses: When you want to look cute but don't want to spill out everywhere, tape your breasts into place
High-intensity workouts: When you have a long workout and don't need them flying all over the place
Specific tops: Let's face it, some tops are awesome but just don't quite present your boobs the way you want
I have an entire article helping you put tape on your breasts for low cut dresses.
​8. Use Breast Reducing Fashion
Different types of clothing can play a role in the appearance of breasts. This includes long necklaces, tight-fitting shirts, and crew-neck necklines. You can wear shelf bras or push-up bras to avoid paying additional attention to them. Investing in nipple covers can also help because they will gently press down on your nipples, making you seem like you have smaller breasts.
Nippies Nipple Cover - Sticky Adhesive Silicone...
BREAK FREE FROM BRAS! - Replace uncomfortable bras with our silicone nipple cover. Comfortable and...
STAY ON ALL DAY - Hitting the gym in a sports bra? Or the dance floor of a club in sheer fabric? The...
YOU'LL FORGET YOU'RE WEARING THEM - Made to accommodate small or large cup sizes, the silicone...
Other styles that make your boobs appear bigger are graphic tees with writing across the chest, tops with frills or ruffles, and low-cut shirts that show off cleavage. Save these styles for another day when you want to show off your chest!
​9. Wear Looser Fitted Clothing
Clothing that helps minimize the size of the breast are looser fitting tops, shirts with V necks, crew necks, or scoop necks, and cardigans or jackets. With looser-fitting clothing, the material does not cling to your boobs, which makes it seem like you have smaller breasts.
You don't want the clothes to be too loose though. An excessively baggy tee will make you look boxy and hide your figure.
​10. Look for Scoop Neck Shirts and Cardigans
​V-necks, crew necks, and scoop-necks help to draw attention away from your breasts and divert the attention towards the collarbone. This visually reduces your bra size.
V -necks can also help slim your waist, creating a more tailored look for your outfit.
​11. Opt for Darker Clothing
Dark-colored clothing, such as black or dark navy, tends to have a slimming effect and can make any area of your body, including your breasts, appear smaller.
​Wearing black and other dark colors help to slim down the chest area by hiding any shadows created by your breasts, which makes them appear visually smaller. Additionally, dark tops or dresses can create a contrast between your breasts and the rest of your body, making them appear less prominent.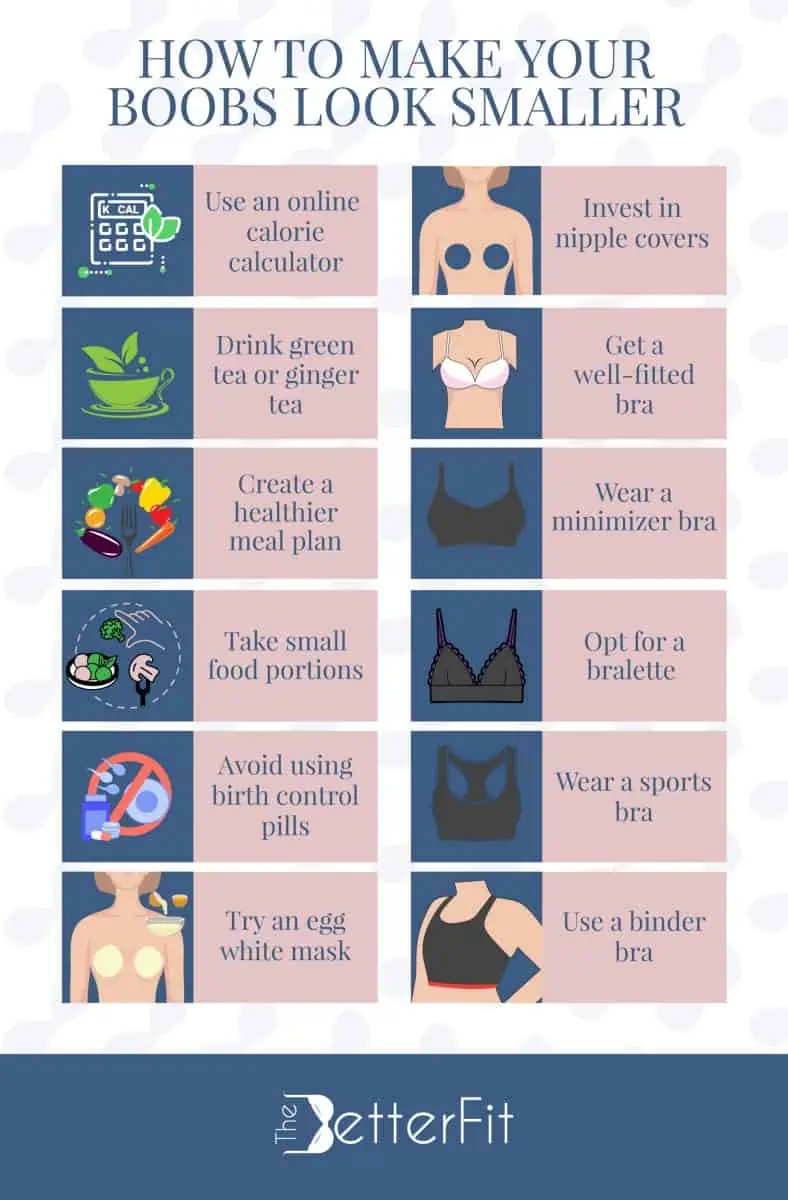 ​12. Improve Posture and Don't Slouch
The best way to do this is by standing up straight and lifting your chest up, not out. You don't need to stick your boobs all the way out to have good posture. You just need to sit or stand up straight.
You can also try wearing posture bras or push up bras to help remind you to stand up straight and not slouch.
Exquisite Form FULLY Cotton Soft Cup Full-Coverage...
FULL-COVERAGE BRA. Enjoy more comfort and control with our wireless cotton posture bra. Built with...
POSTURE SUPPORT. This women's full-figure bra is designed with supportive double-seamed cups and a...
ULTIMATE COMFORT. This posture corrector bra not only helps straighten your back — it's...
13. Embrace Natural Methods
Certain exercises and diet restrictions will make your boobs seem smaller in a certain period of time. Breasts mostly contain fat so doing exercises and diets that reduce overall body fat may work well.
Leonisa Women's Posture Corrector Wireless Back...
MULTIFUNCTIONAL BRA: Our trademark PowerSlim fabric provides firm compression and super support...
CUPS FOR A SUPERB FIT: Double-layered DuraFit. This supportive wireless bra gives you excellent...
COMFORTABLE DESIGN: Padded, 3-level adjustable straps for super support, without digging into your...
​14. Focus on Certain Exercises
Since breasts are composed of mostly fat tissue, as you work out your chest muscles, and work on weight loss, and tone up that area of your body, you will naturally lose some of the fat there.
15. Try Cardio and High-Intensity Exercises
When you engage in cardio exercise, you burn calories and create a calorie deficit. As a result, cardiovascular exercise, such as running, swimming, or cycling, can help with weight loss and body fat reduction.
Since breasts are composed of glandular tissue, fat, and connective tissue, cardiovascular exercises can, therefore, make your breasts become smaller. They also help in increasing your lung capacity, decreasing the risks of heart attacks and other diseases, and toning certain parts of your body as well.
However, it's important to note that the reduction of fat in specific areas of the body is not entirely controllable, and the extent to which your breast size changes will depend on whether your breasts are largely composed of fatty tissue.
16. Incorporate Aerobic Exercises
Adding aerobic exercises into your routine (the elliptical, running, swimming, etc) is a great way to burn calories and your overall body fat. Focusing on certain pectoral moves, such as a wall press (also called a wall push-up) can also target your chest and work on toning and shrinking its size.
17. Focus on Strength Training
Strength training is good, especially if you want to tone a certain body part. It can make your breasts look smaller and tone your chest or change the appearance of your breasts.
18. Layer Clothes
Layering clothes can help create the illusion of smaller breasts by diverting attention away from the bust area and creating a more balanced overall silhouette. It's advisable to go for open front styles that create vertical lines and elongate your torso.
For instance, layering a long cardigan or duster over your outfit can create vertical lines that visually elongate your body and draw attention downward, away from the bust. You should, however, avoid oversized or bulky layers that can add unnecessary volume and make your bust appear larger.
19. Wear Scarves or Neck Accessories
Wearing scarves and neck accessories can help draw attention upward towards your face and neck, which can shift the focus away from your bust.
Also, a scarf or a statement necklace can draw the eye upward and create a vertical line, which helps break up the horizontal line created by the bust. This diversion of attention can make your bust appear less prominent.
20. Wear Statement Bottoms
You can draw attention to your lower half by wearing statement bottoms like patterned or textured skirts, pants, or shorts. This can help shift the focus downward and create a more balanced visual effect.
21. Avoid Tops or Dresses With Ruffles or Embellishments
It's advisable to avoid tops or dresses with ruffles, ruching, or excessive embellishments around the bust area, as they can add volume and draw attention to your breasts.
22. Wear a Belt
Wearing a belt at the waistline can create a clear separation between your bust and your waist, which can help visually minimize the focus on your bust.
A belt can also be a focal point and draw attention to your waistline rather than your bust. This diversion of attention can help shift the focus away from your breasts.
23. Go for Tops With Horizontal Patterns
Generally, horizontal details or patterns across the bust area can create the illusion of width, making your breasts appear smaller. Take advantage of this illusion by going for tops with horizontal stripes or paneling.
24. Go for High Heels
High heels can improve your posture and make your body appear more elongated. By standing taller, you can create a more proportionate and balanced silhouette, which can help draw attention away from your bust.
Related Questions
What Food Can Reduce Breast Size?
Fatty acid-rich foods can help you maintain a healthy weight, which may also help you get smaller breasts. Fish oil, fenugreek seeds, grated ginger, turmeric, spinach, lemon, and green tea are a few examples.
Does Drinking Water Reduce Breast Size?
Water can help you have smaller breasts and reduce breast size since it controls how much fat is stored in the body. You can stop fat from depositing in specific body areas, like the chest, as long as you stay hydrated.
Should I Get a Breast Reduction Surgery to Make My Boobs Look Smaller?
You may consider getting breast reduction surgery to make your bust look smaller if you're struggling with natural methods. However, you should wear the best post-surgery bra to maintain a healthy bust shape.
Bra Size Measurement & Cup Size | A, B, C, D, DD Bra Sizes AND Extra Large Breasts
Conclusion
Anything can look good on you if you wear it confidently and have a feminine silhouette for ideas on how to rock your curves and smaller breasts look to fine ladies like Kim K, Kate Upton, or Sofia Vergara.
They all have large chests and they don't let society dictate how to flaunt them!