As an Amazon Associate we earn from qualifying purchases.
Doesn't it feel liberating when you go home and you can finally unclasp your bra to free the breasts? It feels more comfortable to go braless, especially during the hot seasons or working at home. With that said, I'm giving tips on how to go braless and not draw attention.
How to Go Braless and Not Draw Attention
If you want to go braless without drawing attention, you can use nipple covers, boob tape, or double-sided fashion tape. You can also wear structured tops like corsets, tank tops, bodysuits, camisoles, or bandage tops. Consider the color, pattern, and fabric so you can layer clothes.
While bras have various styles that go well with different clothes, there are times when you might want your chest to take a break. If you don't want to wear a bra without compromising on support or shape, carry on and try these bra-free alternatives.
Ways to Go Braless Without Drawing Attention
| Tips | Action |
| --- | --- |
| Tip 1 | Use nipple covers |
| Tip 2 | Use boob tape |
| Tip 3 | Put double-sided fashion tape |
| Tip 4 | Wear tops that can serve as bras |
| Tip 5 | Practice layering |
| Tip 6 | Choose a lightweight and smooth fabric |
| Tip 7 | Use tops with darker colors and textures |
Invest in Nipple Covers
Using nipple covers is one of the best ways to go braless without drawing attention to your breasts as you wear form-fitting clothes. If the outside temperature is lucratively hot, nipple covers can save you from nip-slips, even when wearing shirts and dresses with plunging necklines.
Sometimes, the hooks and straps can rub against the skin, causing irritation, discomfort, and pain. Nipple covers are exceptionally lightweight, making you feel like you're not wearing anything. They come in various sizes, materials, and color shades. Some are also hypoallergenic and waterproof.
Use a Boob Tape
While nipple covers have excellent concealment, they may lack support for ladies with larger breast sizes. If you're looking for how to go braless with support, you can use boob tape to lift the breasts in place without giving away that you're not wearing a bra.
Imagine your favorite push-up or demi bra going nearly invisible. You can structure the tapes to push the breasts together. In this way, you can get a more pronounced cleavage while providing the necessary support and coverage.
If you're wearing triangle tops, the key is to pull the tape inward to create a lift. For strapless tops, place the tape horizontally from the bottom of the breast, then pull upwards to create a balconette look.
Double-Sided Fashion Tape
Whether for everyday clothing, office, or special occasions, adhesive strips can be a lifesaver in supporting your breasts without wearing a bra. Double-sided tapes are weather-resistant, so you can also wear them with your summer or barely-there clothes.
If you want to go braless while wearing V-cut tops, you can also tape the edges to your skin to keep the top in place. Another way is to tape between the buttons to stop the fabric showing your cleavage.
Plan Your Tops
Some bras can put pressure on the skin. When they press against the pectoral muscles in the chest wall, your bra may disrupt proper blood circulation. This typically happens when you wear a bra with an ill-fitting underwire or band for extended periods.
As a result, the compression on your diaphragm may sometimes cause pain in the chest. If you're still on edge about nipple tapes or covers, it's best to plan your tops properly to go braless without bringing attention to your chest.
Bodysuit: A bodysuit is stretchy yet tight enough to support the bust. Its fabric can contour the chest without compromising comfort and look. Wear one with a higher neckline to avoid spillage if you have large or wide-set breasts.
Scarf tops: A scarf top is an early 2000s top that can free your boobs, especially during the summer. Since it's a square top, you can easily style it into a bandeau, strapless top, or in any way that can cover the breasts to avoid unwanted attention.
Peasant tops: If you want something flowier than scarf tops, peasant tops will keep your chest cool without drawing attention. These usually use cotton and linen, making them more refreshing.
Bandage tops: Suppose you want to go braless yet still need some curve-enhancing. The figure-hugging style of bandage tops will lift your breasts while covering the nipples.
Tank tops: Tank tops can keep the breasts secure in place. Some tank tops include light padding, ensuring your nipples won't protrude or draw attention.
Camisole: Camisoles are great for layering, especially when wearing a denim jacket or cardigan. Most camisoles have a contoured fit to cradle the breasts comfortably.
Corset-style backs: If you want to go bra-free yet need some back support, a top with a corset-style back will spare you unwanted attention. However, you have to cinch the back laces tight to keep your breasts together. This is also suitable if you want a push-up effect.
Zippered clothes: Clothes with zipper closures are often structured with thick fabrics. Once you zip it tight, the garment will give your breasts a more rounded, bell shape while ensuring coverage.
Layer Your Clothes
Layering is among the best ways to avoid wearing a bra, particularly in the workplace. If you're wearing a cotton shirt, you can use a scarf to accessorize and cover your breasts. Cardigans and blazers are also ideal if it gets cold in the office.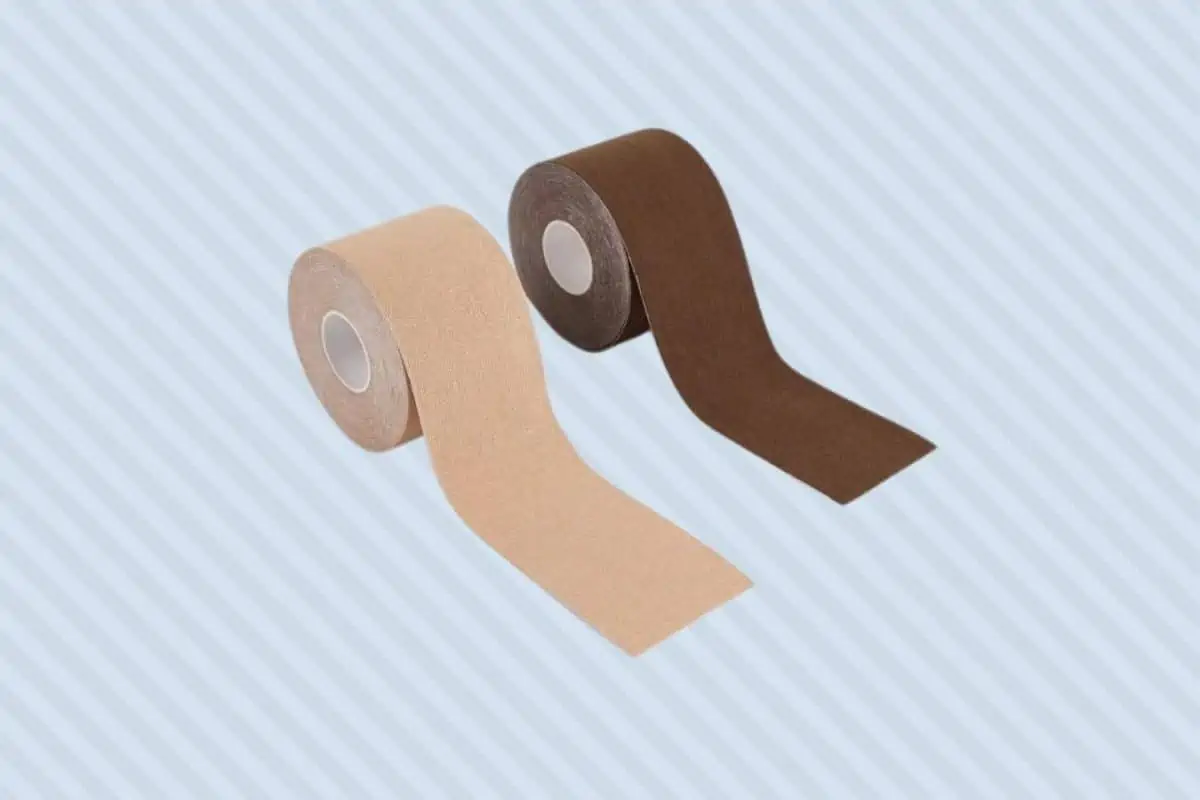 Choose the Right Fabrics
Since the COVID-19 pandemic started, a survey shows that 46% of women ditched their bras at least once a week for comfort. If you're also looking for extra comfort, another way of skipping the bra without drawing attention is to choose the appropriate fabric for your clothes.
For instance, lightweight and smooth fabrics like satin, silk, and rayon won't hide the nipples even if they are in solid colors. As much as possible, go for something thicker to prevent the nipples from showing underneath.
Use Colors and Patterns Wisely
Avoid wearing white-colored clothes if you plan on not wearing a bra. Dark, solid colors would provide better coverage, especially when you get caught in the rain or get sweaty.
Laces, patterns, and embroidery can also help you go braless and not draw attention. The busy prints and extra details would deflect attention away from your chest, even if you have ruffles in the bust area.
How to Ease Into Going Braless
The first step to going braless is having the courage to unclasp the hook and take the bra off. However, it may not be easy for some people, especially when doing something beyond your routine may feel awkward at first.
To help boost your confidence and comfort, here are some tips to ease into going bra-free.
Go braless at home first: Practice not wearing a bra when preparing meals in the kitchen or lounging in your living room. Eventually, you can skip the bra when inviting close friends over at home.
Transition from bralettes to braless: Wearing bralettes can help condition your skin and body to feel comfortable with light clothing, lack of paddings, or no underwires.
Do targeted breast exercises: If you're using a bra for lift, you may feel discouraged at first since your breasts would naturally sag without the support. However, once you let your breast muscles take over for support, the shape of your bust will improve. You can try breast-firming exercises like cobra pose or dumbbell chest press.
Carry a balanced posture: Slouching can draw more attention to the breasts by pushing the breasts out. Thus, part of going braless is maintaining a proper posture. Keep your back straight and shoulders back to lift the bust.
Related Questions
Is It Acceptable to Go Braless?
Going braless is acceptable, especially when it's a personal choice. It's also justifiable not to wear a bra if you don't need much breast support or coverage.
How to Not Wear a Bra If I Have Large Breasts Without Drawing Attention?
Wearing layers, cupped tops, and dresses with built-in linings will allow you to go braless while avoiding drawing attention to your enormous breasts. You can also wear camisoles or chunky sweaters.
How to Style Tops Without Drawing Attention to Braless Busts?
Adding accessories and picking prints that draw attention away from your bust allows you to accessorize tops without getting attention to your bust. You can also wear bandeau tops, cardigans, denim dresses, and clothes with deep V-necklines.
Bra Size Measurement & Cup Size | A, B, C, D, DD Bra Sizes AND Extra Large Breasts
Conclusion
Use nipple covers, double-sided fashion tape, or boob tape to go braless without getting attention. Consider the type of garment, fabric, color, and pattern of your clothes to layer appropriately. With these tips, you can safely and confidently not wear a bra, and your breasts will thank you for the breather.