As an Amazon Associate we earn from qualifying purchases.
Deciding whether or not to wear bras with the worldwide lockdown isn't high on my priority list right now. As the weather grows hotter this summer, one can no longer be bothered with bra straps sinking into the deepest parts of my skin and all the sweat dripping from my chest.
As much as every woman out there wants to go out braless, going out without one still leaves me with stares and judgment by men and women alike.
How to Cover Nipples Without Wearing a Bra?
You can cover your nipples without wearing a bra by wearing bra-alternative garments, tight tank tops, camisoles, bralettes, bodysuits, nipple pasties, and adhesive bras.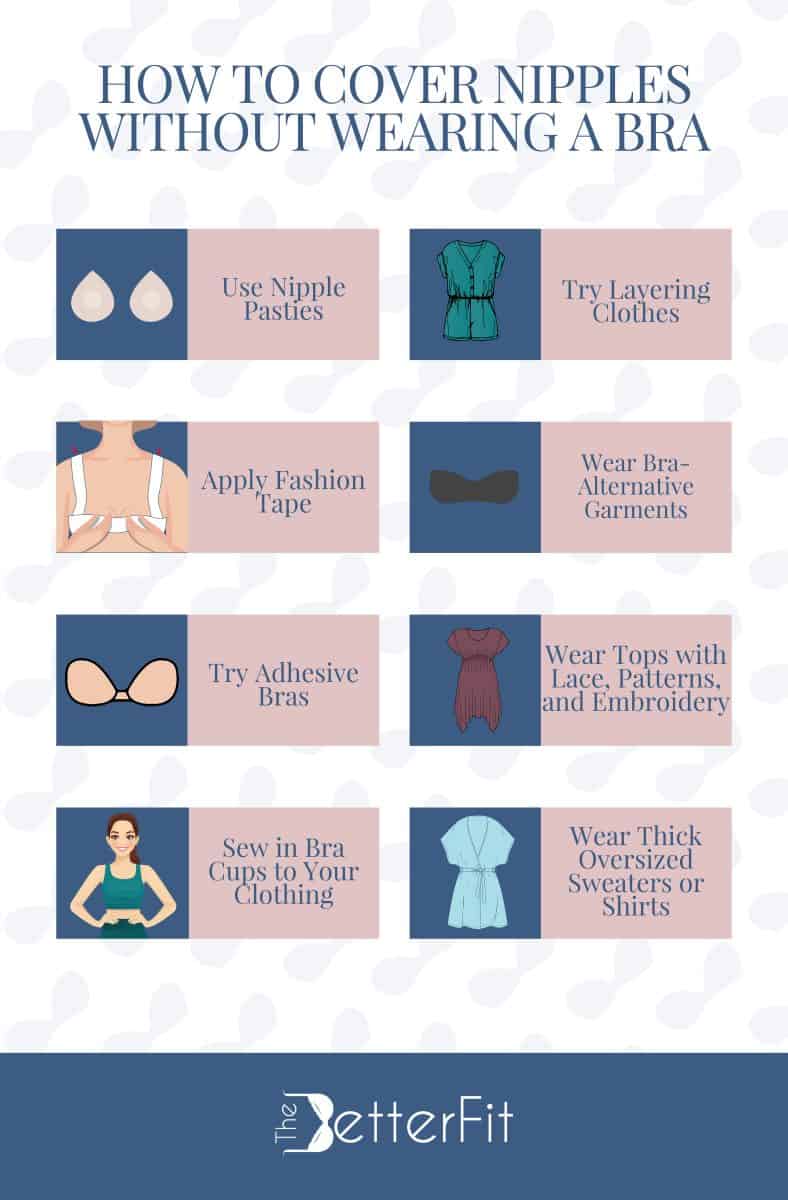 Similarly, you can customize your outfits to get away with not wearing a bra like sewing bra cups to your shirts and dresses, wearing thick oversized dresses and shirts, trying to layer your clothes, and wearing tops with lace patterns and embroidery.
It's time I ditch my bras without getting all the attention of freeing the nipple. I present the following bra alternatives that you could try:
Ways to Cover Nipples Without Using a Bra
| Method | Action |
| --- | --- |
| Method 1 | Wear nipple pasties |
| Method 2 | Use fashion tape |
| Method 3 | Wear an adhesive bra |
| Method 4 | Sew bra cups into your clothes |
| Method 5 | Layer clothing pieces |
| Method 6 | Wear a camisole, bralette, or bodysuit |
| Method 7 | Wear laced, patterned, or embroidered tops |
Use Nipple Pasties
Nipple pasties are one of the most popular choices among ladies nowadays. These stickers conceal your nipples without the added bulk appearance and discomfort of straps. Nipple pasties are seamless, reusable, and offer soft flexible coverage that lasts all day.
Each offers different coverage, some may offer coverage only to the nipples while some have full coverage. They are frequently worn under gowns with thinner and flimsier fabrics, complex designs, and necklines to cover your nipples.
Pasties are available in nude shades or if you're feeling a bit fun, in a wide range of colors, fun designs, and shapes. Although reusable, and more affordable than bras, pasties are disposable and may lose stickiness over time after extended wear.
Apply Fashion Tape
Fashion tapes are double-sided, pre-cut, transparent adhesives that are essential, especially for outfits with low necklines. These skin-friendly adhesives secure fabrics by taping them onto the skin.
Before buying fashion tapes, consider the type of fabric that will likely require mending. Lighter-weight fabrics perform best with fashion tape, and those with a drier texture will adhere best. Some fashion tapes, on the other hand, are strong enough to retain heavier materials. There are also waterproof fashion tapes designed exclusively for fixing the straps of bathing suits.
Try Adhesive Bras
Adhesive bras are ideal if you are bothered with the bands and straps of regular bras. Hence the name, adhesive or stick-on bras made of cloth or gel, adhere to your breasts.
These, coupled with sticky nipple covers, nipple stickers, and adhesive boob tape, can assist you to navigate the most difficult fashion scenarios, such as backless dresses, plunging seams, and strange necklines.
They don't provide much support or coverage, but they keep your boobs in place and keep you from having a nip slip.
Despite being easy to wear and manage, adhesive bras tend to lose their stickiness after a few wears and are considered more disposable than regular bras. Also, because of their nature, you will be unable to test them before purchase, so you will have to determine the size based on their appearance.
Sew in Bra Cups to Your Clothing
If the following alternatives still do not provide the maximum coverage and support, sewn-in cups may be the best option for you. You could buy bra cups or paddings and sew them yourself or have a seamstress do it for you. This way, you still have the advantage of wearing a bra without the annoying straps digging into your shoulders.
The sewn-in cups can have varying levels of padding, ranging from a light layer of cotton to that equivalent to a push-up bra. If your dress has boning in the bodice, sewn-in cups may work best. This gives your breasts a lot of support, which is especially crucial if you have a larger chest.
Try Layering Clothes
Layering is not just a fashion choice but a means of comfort. You could cover your nipples by layering in additional clothing on top of each other such as sweaters, scarves, or jackets.
Jackets
Jackets such as jean jackets are staple clothing materials that could be worn without a bra. These could be worn on top of a plain shirt and buttoned up to cover the nipples. The snug fit of the jean jacket provides enough support to eliminate the need for a bra. Because denim is a thick fabric, no one will notice that you are not wearing a bra.
Scarves
You could also throw in a scarf on top of your clothing. This can cover anything, from your nipples to the hickeys you are hiding. Thick scarves may be worn in winter and thinner or silk scarves may be used in summer on top of your summer attire.
Tank Tops
Tank tops are a summer staple when worn alone, but you can also use them in exchange for bras. It is the simplest and most convenient technique to avoid wearing a bra.
Tank tops come in different styles. Those made of thicker fabrics provide more coverage and support around the breasts. If you want a more seamless look, you could go for seamless tank tops to hide outlines. No matter what material tank tops are made of, the tighter they are, the more support and less sagging there will be.
However, wearing a tank top has the disadvantage of being hot to wear for the summer since it adds an extra layer of cloth to your body. There's also the challenge of tucking in tank tops in low-rise jeans or bottoms.
Wear Bra-Alternative Garments
Camisoles
Camisoles are soft undergarments that provide full torso coverage. Some may have built-in bra cups to help support your breasts. These are quite comfy to wear and may even be good for layering with their stretchy fabric. Simply layer a cardigan over your camisole and leave some buttons free to show off the lacey neckline of your camisole.
Bralettes
Bralettes give the busts proper shape and support without the discomfort provided by underwires and molded cups in bras. These look like regular bras but are wireless, looser, entirely comfortable, and usually offer full coverage to prevent spillage of the breast from the sides and top.
Unlike plain bras, bralettes come in cute fabrics with mesh and lace lining which is the best option for a stylish yet comfy, casual look.
Bralettes are ideal for women who like to wear backless tops but struggle to hide visible straps or have a problem wearing a padded bra.
Bodysuits
Nothing is wrong with a little body fat, but sometimes you may have the need to feel and look sexy, and bodysuits may give you just that. Bodysuits are like one-piece bathing suits made for sculpting bulges and revealing your natural curves.
This not only slims your torso from top to bottom but also streamlines and smooths areas where a bra may otherwise expose bulges. They come with built-in bras, ensuring that support and coverage are never an issue.
Because of their versatility, bodysuits are wonderful to have on hand in your closet. They look great with flowy skirts and may simply be worn on their own.
Wear Tops with Lace, Patterns, and Embroidery
Laces, patterns, and embroidery, basically any clothing detail there is that could deflect attention away from your chest will do! Leave all the attention towards other areas of your top except your boobs and you'll surely be able to go out braless without anyone noticing.
Wear Thick Oversized Sweaters or Shirts
One of the best things about winter is the clothes that go along with it. Aside from being warm and comfy, thick oversized sweaters and coats have the advantage of permitting a bra-free look without the hassle of the nipples showing.
If you're still concerned about the lack of support for your breasts, you could wear a tight tank top or turtleneck below your sweater to keep it in place.
Related Questions
Why Are My Nipples Showing Through My Bra?
It's possible that a bra's thin lining or lack of padding is causing your nipples to show through. Nipples might also appear larger if a bra cup mainly consists of lace or mesh.
Which Bra Covers the Nipples Best?
The ideal bra styles to hide the nipples are those with natural fibers and full coverage cups. T-shirts, push-ups, and sports bras are other fantastic alternatives.
Can I Use Band-Aid to Cover My Nipples?
Yes, you can cover your nipples with a Band-Air, although figure-flattering clothing may make the material visible. Additionally, a Band-Aid is stickier and might be a little uncomfortable to remove after prolonged use.
Bra Size Measurement & Cup Size | A, B, C, D, DD Bra Sizes AND Extra Large Breasts
Conclusion
Your breasts need to breathe from time to time and from this article, I hope that you no longer have to keep them restrained for longer. Nipples are normal parts of my body and it is no crime if it shows through my clothes. What's more important is that I feel comfortable with the clothes and undergarments that I choose to wear.