As an Amazon Associate we earn from qualifying purchases.
Women have dramatically different body shapes, influenced by their genes, lifestyle choices, and hormone levels. Consequently, you cannot expect us to fit into the prevalent core sizing that ranges from 32A to 38D. There are a lot of bigger cup sizes that go up to the size O.
The cup size in focus in this article is the size F. We will elaborate on how the same cup size can look different on women with different frames, the best bras to buy, and the celebrities who flaunt this cup size.
Since you barely find any information on the larger cup sizes, we hope this guide will help you answer some of your most pressing questions.
What Do F Cup Breasts Look Like?
The F bra cup size is considered one of the largest breast sizes, but it is not actually very far off from the range of average sizes on a bra size scale. In fact, the average bra size in the United States is 34DD/E and F is just one size up.
Moreover, the average bra size has increased over the past few years. In 1992, the average bra size was 34B, which is quite small compared to the current average size.
The hike in size is due to a comparatively higher BMI, an increase in the number of breast augmentation surgeries, and more awareness about body shapes.
For decades, women were sold the idea that bra sizes cannot exceed size D. As a result, the majority of the female population wore the wrong sized bras. Unfortunately, larger busts were also not represented enough in the media, which led to the perception that these sizes are very rare.
Luckily, these misconceptions are changing. In recent years, more and more people have started speaking about body positivity and how women of all shapes and sizes are beautiful in their own way. You can also find plus-size models and fashionistas with bigger bust sizes rocking the fashion runways.
Therefore, if you have F cups, you do not need to feel alone. There are thousands of women with this amazing cup size. In addition, there are quite a few specialty lingerie brands that cater exclusively to women with larger boobs. They offer bras in a number of styles and varieties, with extensive detailing.
However, in addition to finding the most alluring bra, you should also buy one that fits you seamlessly. The right kind of bra is a game-changer for women with heavier breasts, as they provide unparalleled support and comfort.
Hence, next time you go bra shopping, find out your current bra size as it can fluctuate with time. You can take help from a professional or measure yourself at home.
All you need is a full-length mirror, a comfortable bra, and a soft measuring tape:
First, you need to find your band size, which is the part of the torso just below the bust. Wrap the tape measure around your underbust, making sure it lies straight across your back. Note the measurements in inches.
Next, you need to determine the bust size, which is the fullest part of your chest. Wrap the tape measure across your nipples and around your back. It helps to wear a comfortable, non-padded bra when taking this measurement, as the bra holds everything in place. Note the readings in inches.
Finally, find your cup size by subtracting the band size from the bust size. If you get the difference of 6 inches, you have an F cup size.
An important thing to remember is that your bra size can also vary depending on the brand. Occasionally, an F cup from one company may feel a little tight or a little loose compared to another manufacturer. Then, you can opt for your sister sizes, discussed below in detail.
F Cup Size Details
| F Cup Size | Bust Size | Band Size |
| --- | --- | --- |
| 30F | 35-36 inches | 26-28 inches |
| 32F | 37-38 inches | 28-30 inches |
| 34F | 39-40 inches | 30-32 inches |
| 36F | 41-42 inches | 32-34 inches |
| 38F | 43-44 inches | 34-36 inches |
| 40F | 45-46 inches | 36-38 inches |
| 42F | 47-48 inches | 38-40 inches |
| 44F | 49-50 inches | 40-42 inches |
F Cup Size Examples
Women who share the same F cup size may not appear similar in shape. This is because the cup size is influenced by the band size. Therefore, the same cup size can look prominent or proportional to the body according to the variation in band size.
Below are some examples of women with F cup sizes but different band sizes:
32F
A band size of 32 indicates a thin frame and a very trim underbust area. This band size is also towards the smaller end of the band size spectrum, with only 28 and 30 being lower in size. Thus, the F cup boobs look quite noticeable on such a slender body. They impart distinguished curves for an hourglass figure.
38F
As the band size increases, the breast volume also increases. However, the appearance of F cup boobs on a woman with a 38 band size will be less distinctive as compared to a smaller band size. The bust looks quite proportional to the overall silhouette and the right bra can impart an attractive body shape.
40F
Women with 40 band size have a broader torso, which entails that their F-cup boobs will appear in line with their silhouette. While a side-view will display the 6-inch projection associated with the F cup size, the front view may not be as curvaceous as of women with smaller band sizes.
44F
Women with 44 band size will have a higher breast tissue mass in comparison to those with the smaller underbust regions. Consequently, they need all the help they can get from a quality bra that can contain their massive bust size. Moreover, women with 44F bra size will have a voluptuous, well-proportioned body.
Famous Celebrities With F Cups
If you are unsure about the correct way to style your F cups or you feel conscious about your bra size, we have you covered. Below is a list of some of the most stunning celebrities who proudly exhibit their F cup boobs, so you can emulate their style and feel represented.
Charlotte Mckinney, 32F
Charlotte Mckinney is a famous American model and actress. She first gained stardom as an Instagram personality, since she was unable to find any agency that would represent her as a model. However, she has now starred in a number of commercials and TV shows and describes herself as "a curvier bombshell with big boobs."
Heidi Montag, 34F
Heidi Montag is an American television personality, singer, and fashion designer. She got her F-cup breasts through breast augmentation surgery. However, the heavier bust took a toll on her body and she decided to downsize to a more modest D cup.
Queen Latifa, 40F
Queen Latifa is a beloved American actress, rapper, and singer. For the most part of her life, she had F cup breasts. However, when she lost a substantial amount of weight through hard work and dedication, she felt her boobs also needed downsizing. Thus, in 2003 she underwent breast reduction surgery.
Top Bras for F Cups
Breasts that fit into F cups require excessive support to take the weight of the back and provide some relief to the shoulders. The right bra also helps you step out with confidence since you know that your assets are well-maintained and well-supported.
Minimizer Bra
As the name suggests, minimizer bras reduce the appearance of a large bust line by around one size. They allow you to achieve a desirable look under particular outfits.
The best minimizer bra prioritizes your comfort along with performing its core purpose. If you feel that your boobs feel squished or your bra is suffocating, you need to invest in a quality bra with the correct size. These bras are not supposed to be uncomfortable or painful.
In addition, you can opt for a wired or wireless bra depending on the type of bra you prefer. Often, women with bigger breasts prefer the additional support offered by the underwires.
Supportive Bra
Supportive bras are a must-have for full-figured women. These are specially designed, keeping in mind the excessive weight of your bust, and incorporated with special features that offer support and comfort.
The best supportive bra has full coverage soft cups that envelope your breast tissues completely. They are also mostly non-padded since you do not need any help exhibiting the coveted cups.
The practicality of adjustable shoulder straps ensures that you can position your bust line where it feels most comfortable.
Finally, most supportive bras come with underwires, which are especially useful for women who are experiencing sagging. The distinguishing feature of a quality bra is that the underwire does not feel uncomfortable or poke your breast tissue.
Side-Support Bra
Side spillage is quite common for women with fuller busts. However, it is still cumbersome to keep readjusting your bra to cover your side boobs. Therefore, opt for a side-support bra, especially if you plan to wear a fitted outfit with large breasts.
The best bras for side spillage have supportive cups with high breast coverage to accommodate your F-cup boobs. They also come with side smoothening wings, which are basically wider side panels. They reach almost up to your armpits to tackle any potential spillage.
The rest of the features of a side-support bra are pretty standard, including adjustable straps, a comfortable bra band, and unlined cups for larger breasts. As long as you wear the correct bra size, the side-support bra does a good job of keeping everything tucked in.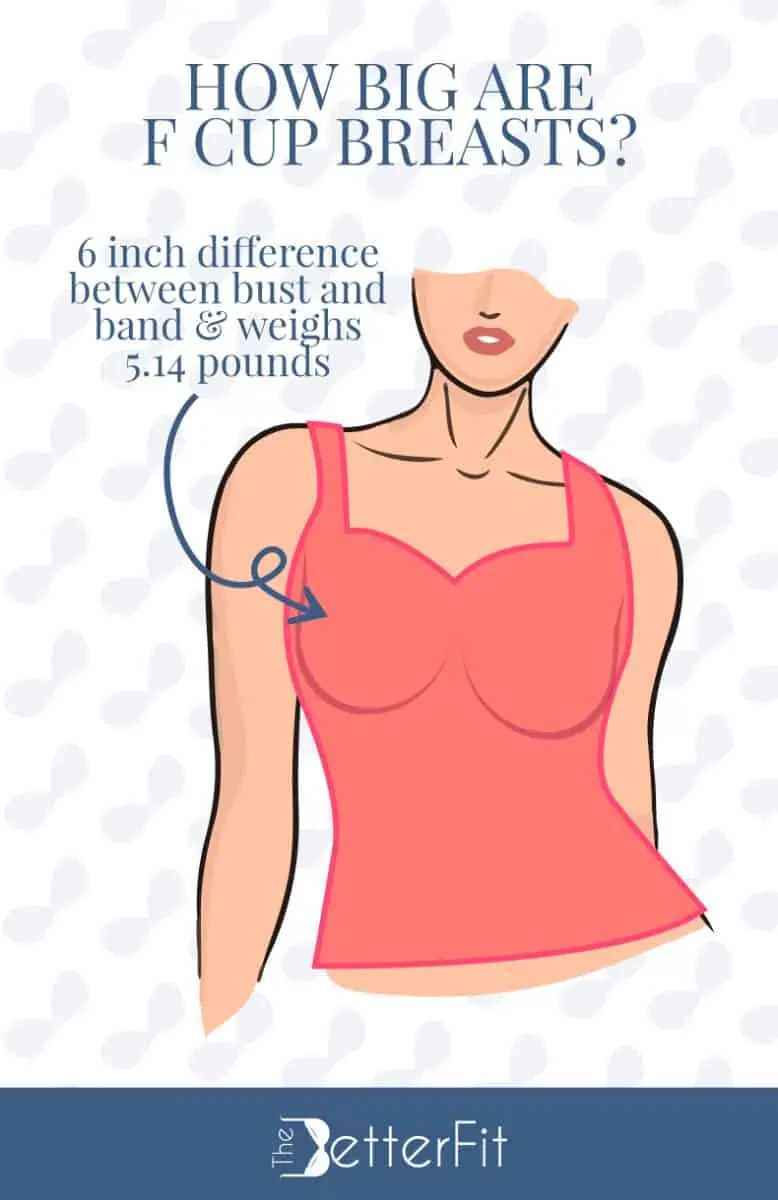 Related Questions
How Many Inches Is an F Cup?
F cups have a difference of 6 inches between the two sizes, which means they extend half a foot from the torso. The cup size is determined by subtracting the band size from the bust size.
How Much Does an F Cup Weigh?
The average weight of each breast that fits into an F cup is approximately 2.57 pounds. The weight of F breasts can vary with fluctuation in the band size and the overall body mass of the woman.
What Are the Sister Sizes of F Cup Size?
| Current Bra Size | Sister Size Up | Sister Size Down |
| --- | --- | --- |
| 32F | 34E | 30G |
| 34F | 36E | 32G |
| 36F | 38E | 34G |
| 38F | 40E | 36G |
| 40F | 42E | 38G |
| 42F | 44E | 40G |
| 44F | 46E | 42G |
Conclusion
F cups are considered very huge but in reality, they are quite close to the average breast size in the United States. However, they are amongst the sizes that require a well-fitting, supportive bra to help you bear the weight.
Finally, F-cup boobs can look incredibly curvy on a petite girl and quite proportionate on a wide-boned woman. As long as you feel completely confident with your bust size, there is no stopping you from channeling your inner diva.
Bra Size Measurement & Cup Size | A, B, C, D, DD Bra Sizes AND Extra Large Breasts