As an Amazon Associate we earn from qualifying purchases.
Most women have a love-hate relationship with bras. Bras provide the support and shape your bustline needs, but they can also be very uncomfortable, especially if you have larger breasts. If you hate your bra, it's possible that you may be wearing the wrong bra size.  In the article below, I discuss how big a 34D really is and how to make sure you find the right bra.
How Big Is 34D?
34D means that your band size is 33 to 34 inches and your bust size is 38 inches. Typically, if you wear a D cup, it means that the distance between the ends of your nipples and your rib cage is about four inches.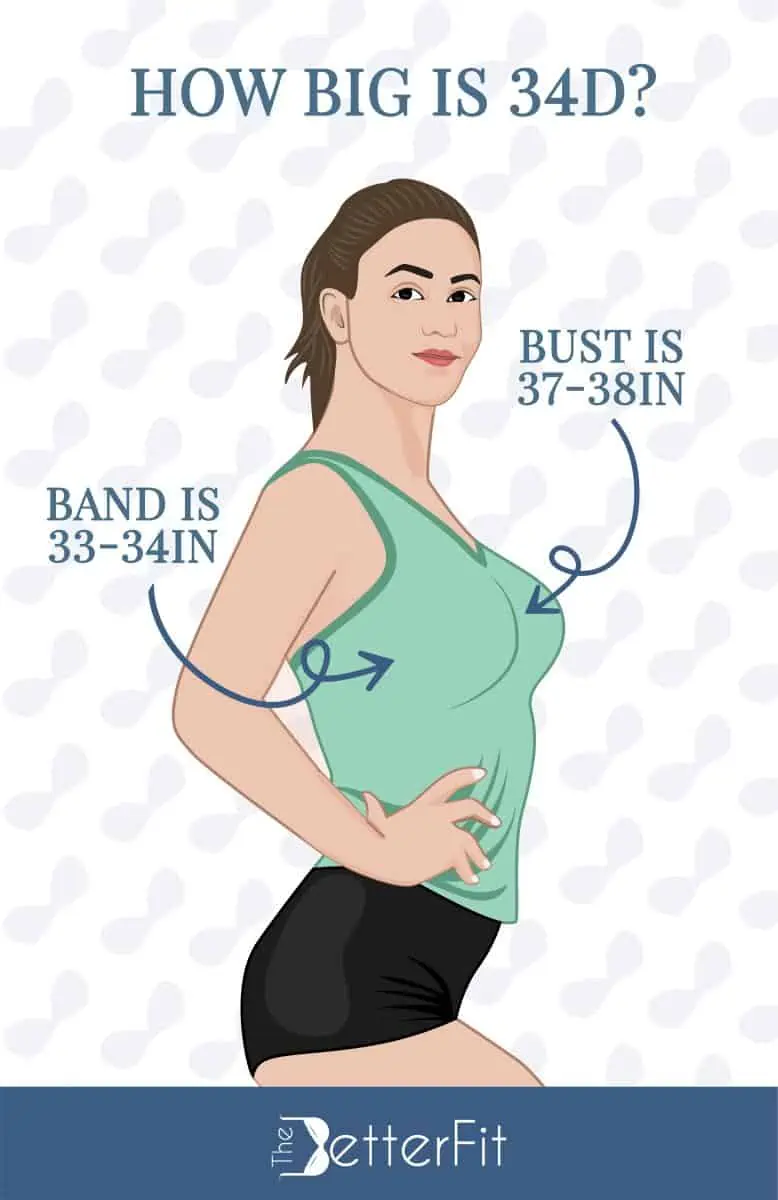 A D cup is considered to be on the larger end of the bra-size spectrum, but not all D-sized boobs look the same. D cup breasts on smaller, thinner women may appear bigger than they would on a larger woman. How 34D breasts look on you depends on the size of your frame.
For women with smaller frames with large breasts, like a 34D, you need everyday support. My favorite? The Elomi Banded Underwire Stretch Lace Bra. It has really supportive bands and a nice, three section cup.
No matter your bra size you should ensure that you are wearing the right bra size. The wrong size of bra can change your body posture and cause deep grooves caused by pressure from bra shoulder straps. It can also trigger several health problems like:
If you have a flat abdomen, the boobs can project from the side, making them Breast pain
Shoulder and neck pain
Back pain
34D Bra Size Details
| 34D Bra Size | Details |
| --- | --- |
| Underbust | 30-31 inches |
| Overbust | 37-38 inches |
| Size down | 32DDD(F) |
| Size up | 36D |
What Are the Sister Sizes of 34D?
Sister sizes refer to alternate sizes for your current bra size. To find your sister size, you go up or down a band size and one letter smaller or larger than your current cup, simultaneously.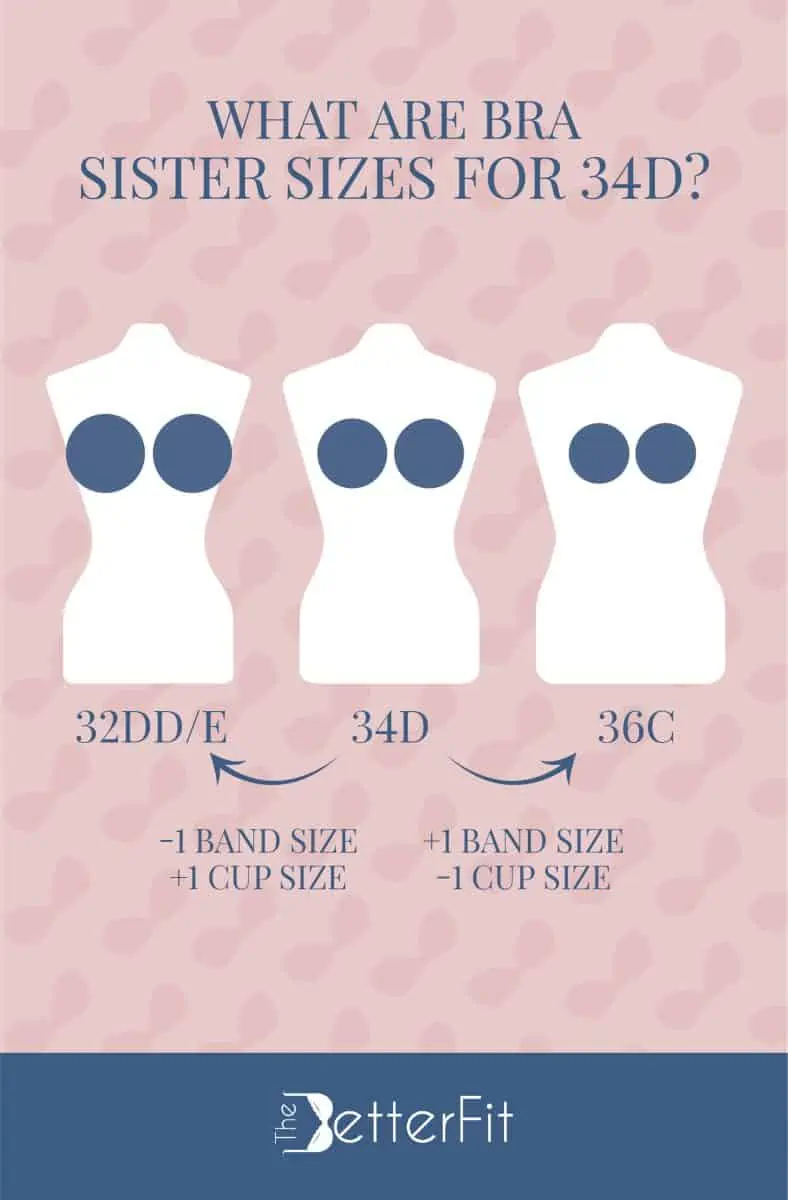 The sister sizes of 34D are 32DD and 36C. You can wear a sister size if the bra cups frame your breasts perfectly without any gaps or spilling.
To determine which sister size would fit you best, see how tight you need to fasten your current bra. If you have to use the tightest hooks, try the size 32DD and if you use the loosest hook, go for the 36C.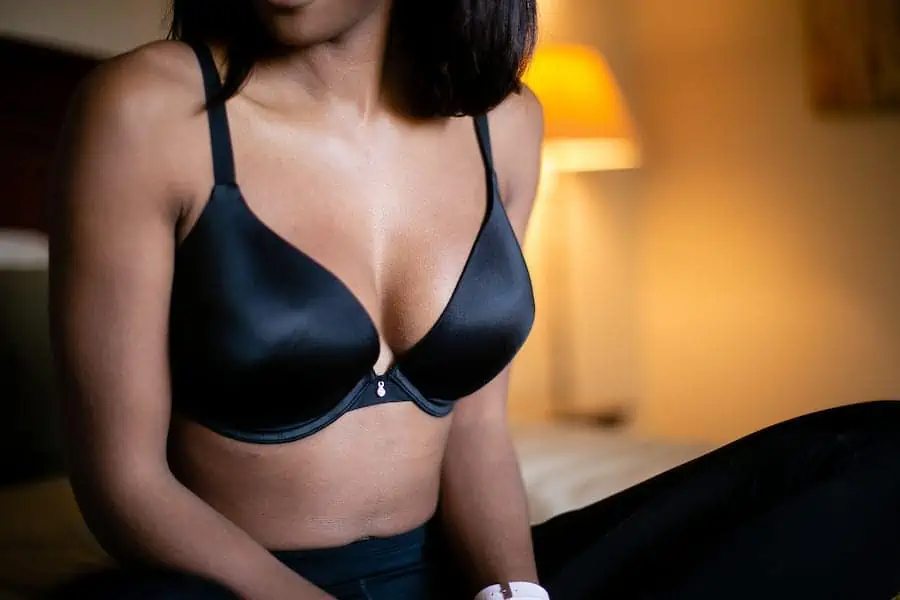 Related Questions
What Is the Appearance of 34D Breasts?
Depending on a woman's body, a 34D breast size may appear either fairly large or comparatively smaller. Your lower half will overpower your 34D breasts if your hips are bigger than your bust. A flatter stomach can make a 34D size more noticeable.
What Are the Best Bra Styles for 34D Breasts?
Minimizer, wired, and sports bras are some of the best styles for 34D because of their shaping and coverage. However, as long as it is the correct size, ladies with 34D breasts can wear a bralette, boob tape, or backless bra.
Who Are Celebrities With a 34D Bra Size?
Some of the celebrities with a 34D bra size include Jennifer Love Hewitt, Kim Kardashian, and Jenny McCarthy. Singers Aubrey O'Day, Erika Girardi, Mariah Carey, and Gloria Reuben also wear 34D bras.
Bra Size Measurement & Cup Size | A, B, C, D, DD Bra Sizes AND Extra Large Breasts
Conclusion
A 34D is one of the most desirable breast sizes, as the breasts are larger, but still manageable. A 34D is one of the most easily available bra sizes, with sister sizes including 32DD and 36C.