As an Amazon Associate we earn from qualifying purchases.
Finding the correct bra size can be challenging. Bra sizes can sometimes be confusing, as the sizes are not standardized and can fit differently depending on the bra's brand. Before you shop, you always want to find your measurements. Pretty sure you are a 38C? We discuss exactly how big a 38C bra size is in the article below.
How Big Is a 38C Bra Size?
If your bra size is 38C, your bra band should be around 34 to 35 inches, and your bust measurements are 40 to 41 inches. For a C cup size, the bust measurement is three inches more than the band measurements.
When you determine your bra size, remember if your measurements fall between two cup sizes that you can go up or down a half-cup! Bra sizes that share a row are called sister sizes, meaning they share the same cup volume (though they have different cup letters). For example, the row with bra sizes 36D, 38C, and 40B all have the same cup volume, but have different band sizes.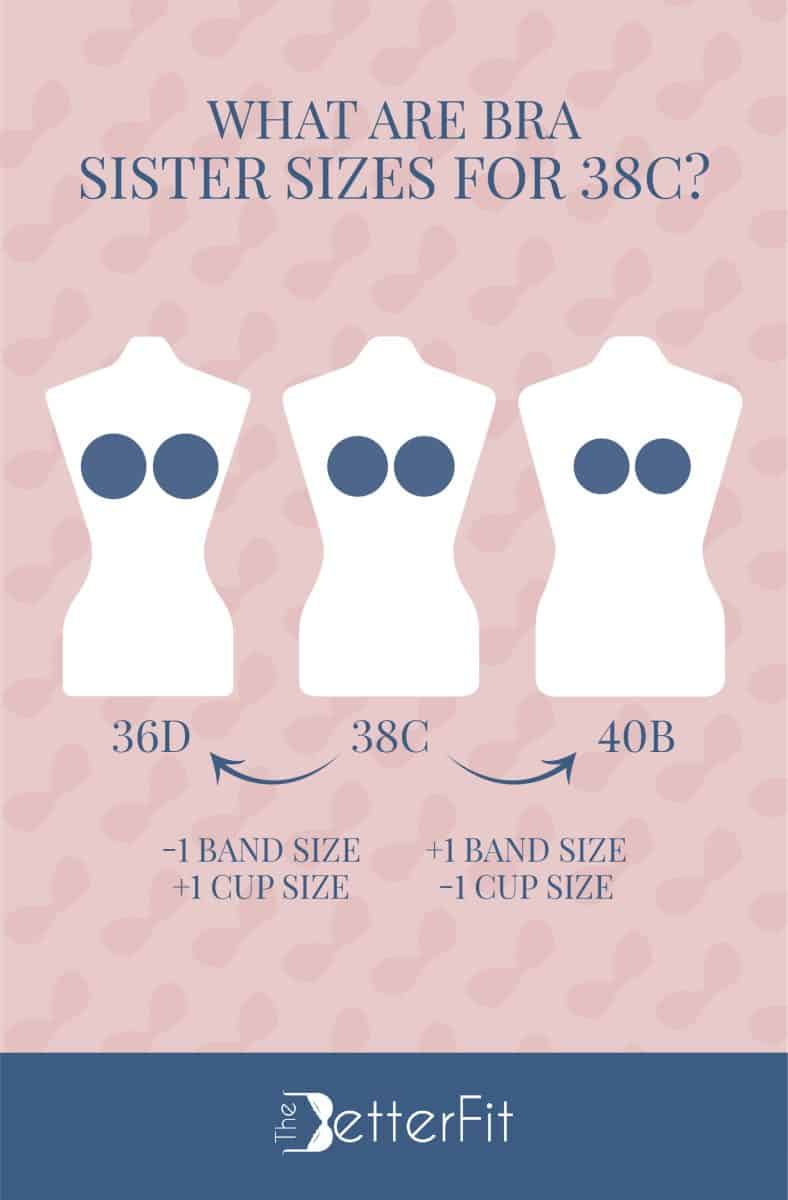 Which is Larger: 38C or 38B?
A 38B will have an inch less in the bust measurement that a 38C will, making 38C breasts larger.
However, there are a few things to bear in mind.
Each lingerie brand has its own sizing scale. A 38C bra from one brand might be smaller than a 38C bra from another.
Cup sizes are RELATIVE to band sizes. For example, the C cups on smaller band sizes such as 30 are smaller than the B cups on larger band sizes such as 42. Cup size is a measure of volume, not breast size.
If you have a larger frame with average sized breasts, like a 38C, having a great, everyday bra is essential. Our #1 recommended t-shirt bra is the Calvin Klein Perfectly Fit T-Shirt Bra. It was voted "Top T-Shirt Bra" by New York Magazine!
38C Bra Size Details
| 38C Bra Size | Details |
| --- | --- |
| Underbust | 34-35 inches |
| Overbust | 40-41 inches |
| Size down | 36D |
| Size up | 40B |
How Do 38C Breasts Appear?
How breasts will look is usually determined by a variety of factors, including:
Body shape
Genetics
Rapid weight loss or weight gain
38C breasts are considered an average size in the U.S. They are large enough to need a good amount of support, but depending on your frame, you may get away with wearing bralettes or going braless occasionally.
How Do You Know if You're Wearing the Right Size Bra?
If your breasts spill out of your cups, or if they are creating a boob-loaf, it's time to go up in cup size. An excellent way to test this is by putting two fingers underneath each breast and lifting them to fill the space in the cups.
If there's still too much room, try going up one more cup size. If your straps dig If there's still too much room, try going up one more cup size. If your straps dig into your shoulders or you find yourself adjusting them throughout the day, it may be time for a different bra style, such as an unlined balconette bra, or demi-cup.
Related Questions
Is 38C Medium or Large?
A 38C bra is considered a medium size because there's only a three-inch difference between the band and bust measurements. The C cup is also among the standard bra sizes, only an inch bigger than the B cups.
What Is a 38C Bra Equivalent To?
A 38C bra is equivalent to 36D and 40B bra sizes. You can sister size to 36D if you need more cup coverage. Meanwhile, you can size up to 40B if the band is too tight.
Who Are Famous People With a 38C Bra Size?
Model Kate Wasley and singer Cher have a 38C bra size. Actresses Meredith Baxter and Alexis Texas also wear 38C bras.
Bra Size Measurement & Cup Size | A, B, C, D, DD Bra Sizes AND Extra Large Breasts
Conclusion
It is important to note that bras are not one size fits all, and different styles work for different people. In addition, several factors can cause your breasts to change in size, and you might end up wearing the incorrect bra size. Weight loss or gain, pregnancy, aging, and hormonal changes can all make your breasts change shape and size. Best practice is to always get your measurements before you go bra shopping.