As an Amazon Associate we earn from qualifying purchases.
Finding your bra size can be a frustrating process. It becomes even more confusing due to the general misconception that the bigger the bra size number, the bigger the boobs. However, that is not the case.
You would be surprised to know that 38B boob size is actually not very large. This leads us to the question, "how big is 38B, really?"
How Big Is 38B?
Your bra size will be 38B bra if your underbust measures around 34 to 35 inches and your bust measures around 40 inches. Breasts with a B cup size extend around 2 inches from your ribcage and this size is considered average.
The number (38) is your band size and the alphabet (B) is your cup size. The cup size is determined by the difference between the bust size and band size.
Despite the comparatively smaller size, you can achieve amazing cleavage with the right kind of bra, such as push up bras and padded bras. 
If you have a larger frame with small breasts, like a 38B, take a look at our #1 recommended push up bra: the Maidenform Demi Push Up Bra. Super comfortable, this specific bra features Wonderbra technology to give you a natural looking lift!
You can find your perfect bra size by measuring your band size and cup size. When you try out the new try, make sure that:
The breasts do not spill over the cups
There is no gap between the boobs and the cups
The band does not feel too tight or too loose around your ribcage
The back of the bra stays flat and in place against your back
Is 38B an Unusual Size?
A 38B is not an uncommon bra size. What makes the bra size unusual is the combination of a wider back and smaller breasts.
If you have a 38B bra size, chances are that you have a bigger bone structure with less body fat. Compared to C cup sizes, consequently, your cup size is small because of the lack of tissues on your body.
However, there are many factors that affect your breast size.
Regardless, it can be a challenge to find a bra this size in every retail store. Even though we recommend wearing a bra made for your dimensions, we understand that it may not always be possible. In that case you can explore the sister sizes of your bra size.
What Are the Sister Sizes of 38B?
Sister sizes refers to sizes that have a similar cup capacity. The rule of thumb with sister sizes is that you go up a band size and down a cup size, or the other way around. In this way, the 38B bra size's sister sizes are 36C and 40A.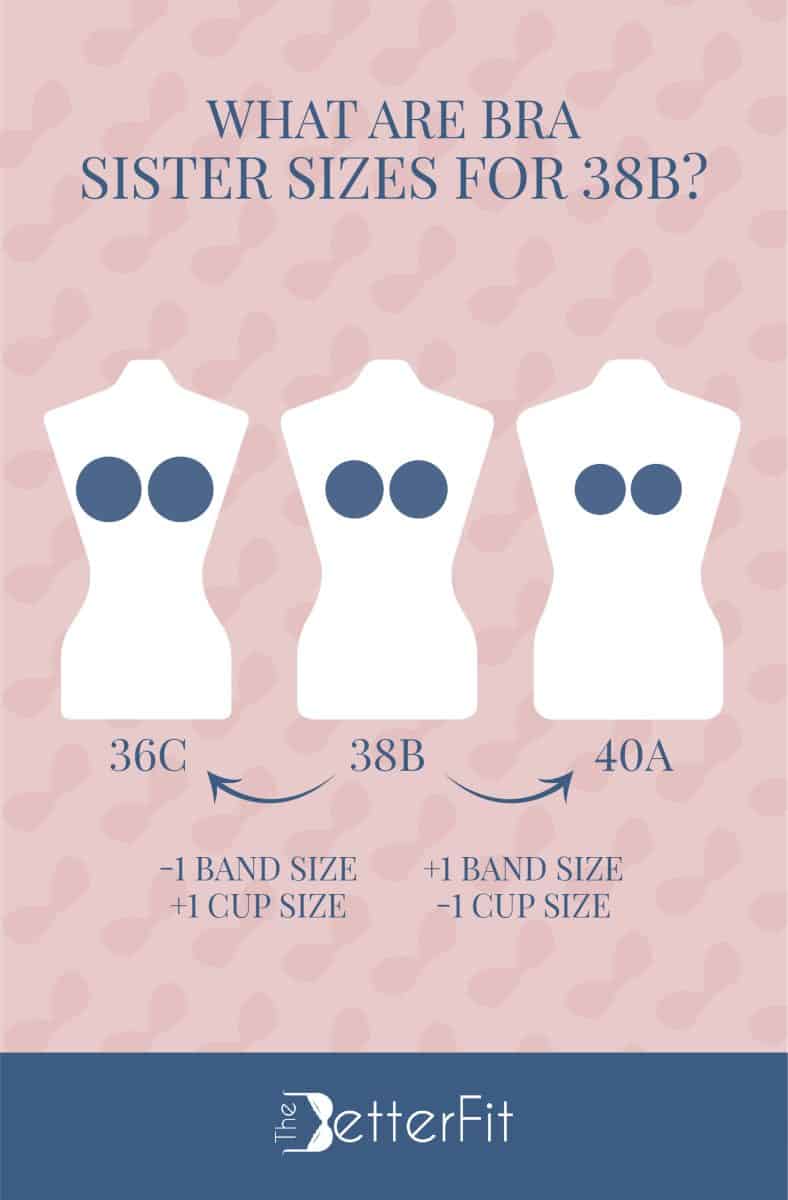 Here is how you can decide which sister size is more appropriate for you:
If you fasten your bra using the last hook or the loosest setting, go for a sister size up i.e. 40A.
If you fasten your bra using the first hook or the tightest setting, go for a sister size down i.e. 36C.
Conclusion
Women with 34-35 inches band size and 40 inches bust size have the bra size 38B. It is amongst the least common sizes since women with broad backs usually have bigger boobs. Nonetheless, if you cannot find a bra in your size, check out the sister sizes (36C and 40A) to see what feels most comfortable.