As an Amazon Associate we earn from qualifying purchases.
Large breasts come with a lot of challenges. They can lead to poor posture, chronic pain in the neck, shoulders, back, and underboob rashes. Moreover, the lack of awareness about the correct bra sizes can further elevate these issues.
This brings me to my topic, "how big is a 36DD bra cup size, and are you wearing the correct bra size?"
How Big Is 36DD?
The size 36DD refers to a band size of 32 to 34 inches and a bust size of 40 inches. The band size is measured just under your boobs, while the bust size is measured across the fullest part of your chest. You can only fit into the right-size bra if you measure your dimension correctly.
It becomes even more imperative for you to invest in a good, well-fitting bra if you have a size 36DD. This is because bras for larger breast sizes are specially designed with additional features to provide better support. These include:
Wide straps to support the substantial bust size
Reinforced seams to maintain the cup shape
Taller cups to accommodate the side boobs
Firmer, sturdier band material to ensure the fabric does not strain and tear under the weight
Additional hooks to divide the load and keep the bra fastened
U-shaped backs or "ballet backs" where the straps curve into the band, distributing the weight over a larger area
For women with average sized frames with large breasts, like a 36DD, you need everyday support. My favorite? The Elomi Banded Underwire Stretch Lace Bra. It has really supportive bands and a nice, three section cup.
36DD Bra Size Details
| 36DD Size | Details |
| --- | --- |
| Band Size | 32 to 34 inches |
| Bust Size | 40 to 41 inches |
| Weight | Around 5.74 pounds |
| Sister Size Up | 38D |
| Sister Size Down | 34DDD(F) |
Is 36DD Very Big?
DD boobs are larger than most, with only 1% of the population having breasts larger than a D cup size. However, they are still smaller than DDD breasts, which are one inch bigger.
While 36DD is towards the heavier side of the bra size spectrum, it is still a relatively common bust size. More and more lingerie and fashion brands are stocking bigger sizes, including E, F, G, H, and J.
Moreover, bras designed for bigger busts are no longer about providing only support. There is an increased demand for more stylish and sexy lingerie. Thus, these bras have the same aesthetical elements, such as lace design and sheer cup, as their smaller counterparts.
However, there are some misgivings about the 36DD being amongst the most common bra sizes. These stem from the research that shows that about 80% of women wear the wrong size bra.
Some of them were too embarrassed to go for a proper fitting while others reached for the size that appeared most suitable. Thus, to save yourself from the discomfort of an ill-fitting bra, consult a fitting expert to get yourself measured correctly.
Can I Fit Into Other Bra Sizes?
Yes, you can go for alternate sizes, called the sister sizes, depending on how well you fit into your current bra. Sister sizes refer to sizes that surround your bra size and have approximately the same cup volume.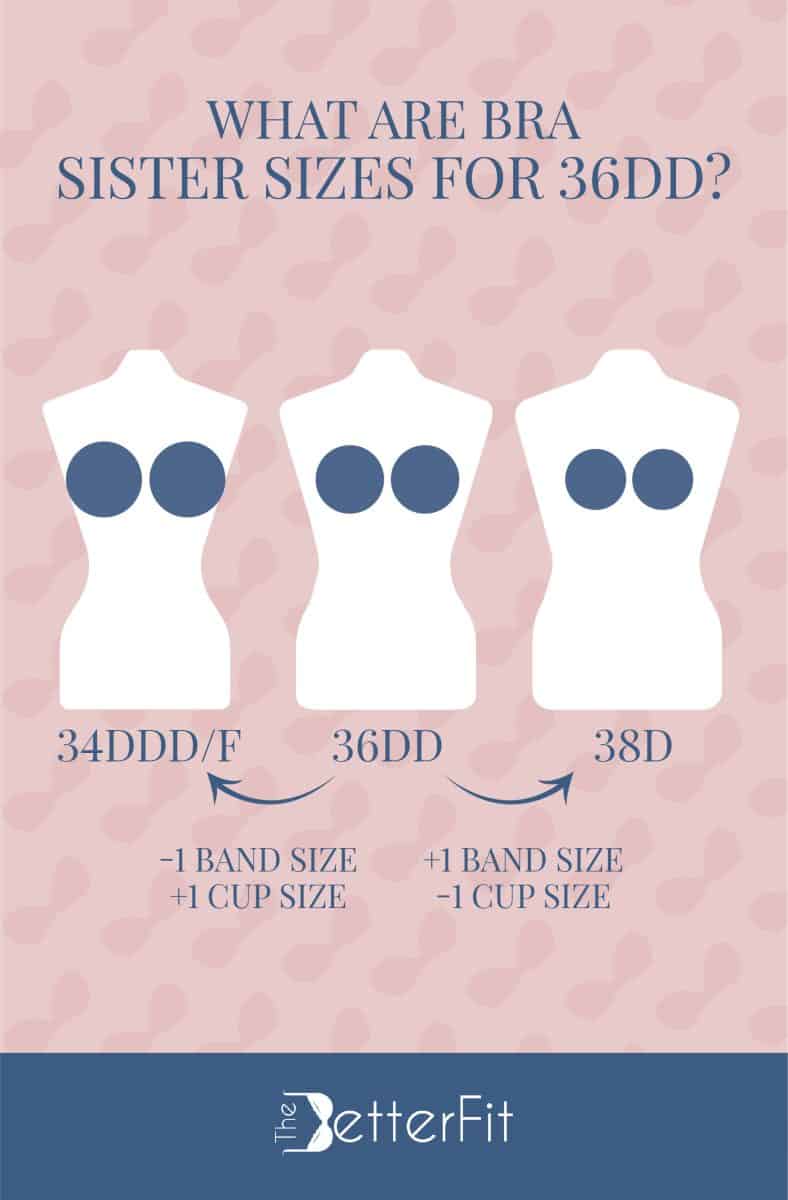 To determine your sister bra size, you can go up a band size and down a cup size, or vice versa.
Sister sizes for 36DD are 34E (sister size down) and 38B (sister size up). Since they have similar cup volumes, they should fit you comfortably around the boobs. However, the band can feel slightly tighter or looser.
Related Questions
How Will I Know if I have a 36DD Bra Size?
You'll know you have a 36DD bra size if you have an overbust measurement of 40 to 41 inches and a band ranging from 32 to 34 inches. You must wear DD cups if the size difference between the band and bust is around 4.5 to six inches.
What Are the Best Bra Styles for a 36DD Size?
The best bra styles for a 36DD must have full-coverage cups, multiway straps, and a highly supportive wired band. You can normally find these features in sports bras, minimizer bras, or t-shirt bras.
How Can I Make My 36DD Size Look Smaller?
You can make your 36DD size look smaller using a binder or minimizer bra. It also helps to find cups and side panels that smoothen out fat bulges.
Bra Size Measurement & Cup Size | A, B, C, D, DD Bra Sizes AND Extra Large Breasts
Conclusion
Found towards the bigger end of the spectrum, size 36DD fits women with 31-33.5 inches band size and a 40 inches bust size. Thus, women wearing 36DD are considered to have big breasts. Finally, if you are looking for sister sizes of 36DD, you can pick up a 34E or 38B.