As an Amazon Associate we earn from qualifying purchases.
Bigger breast sizes are always romanticized and appreciated. However, managing a large bosom is not always easy since it puts a lot of pressure on your back and neck muscles. Moreover, it is also a task to find bras in different styles and designs apart from the common ones.
This guide is all about the relatively large E cup size, how it looks on different women, and which celebrities have E cup breasts. I will also explain the correct way to measure your bra size and the best bras to help support your big bosom, so you never have to wear an uncomfortable ever again!
What Do E Cup Breasts Look Like?
Most people assume that if someone has big breasts, they will have a cup size D. In reality, there is a wide range of cup sizes after D. One of them is the size E which comes immediately after the D cups.
The E cup size is not very common as research shows that less than 1% of women have a size bigger than the D. However, there are always some uncertainties when it comes to research on bra sizes since 80% of the females do not know their correct bra size.
Therefore, it is quite possible that a lot more women have the E cup size than recorded. Nonetheless, the number will still be quite small compared to average cup sizes like the B and C cups.
It is also not surprising that women with E cup size routinely struggle to find bras in a variety of styles. They have to turn to specialty brands that cater specifically to bustier women. These brands focus on creating stylish bras with intricate lace detailing, mesh designs, and embroidery, so women of all sizes can enjoy a trendy bra.
Apart from that, bras for an E cup size also have specific features to provide ample support to larger women. These features include sturdier cups, wider brands, and broader straps. All of these design elements work to ensure that your bra feels comfortable and aptly supportive.
Another factor that contributes to the comfort level is the size of the bra. Women were forced to squeeze themselves into smaller bras for the longest period because of the common misconception that breast sizes do not exceed size D.
Another reason that women wear the wrong bra size is that they do not measure themselves more than once in their lifetime. On the other hand, bra size can change after pregnancy, due to breastfeeding, after weight loss, and because of hormonal imbalance. Therefore, follow these steps to find your correct bra size:
Start by measuring your band size. Wrap a soft, pliable tape measure around your ribcage, right under your breasts where your bra band is usually positioned. Note the measurements in inches
Next you have to measure the bust size. Wrap the same tape measure around your breasts, across the fullest area of your boobs. Note the reading in inches
Finally you have to determine your cup size. This is done by subtracting the band size from the bust size. If your reading is 5 inches, you have an E cup
E Cup Size Details
| E Cup Size | Bust Size | Band Size |
| --- | --- | --- |
| 30E | 34-35 inches | 26-28 inches |
| 32E | 36-37 inches | 28-30 inches |
| 34E | 38-39 inches | 30-32 inches |
| 36E | 40-41 inches | 32-34 inches |
| 38E | 42-43 inches | 34-36 inches |
| 40E | 44-45 inches | 36-38 inches |
| 42E | 46-47 inches | 38-40 inches |
| 44E | 48-49 inches | 40-42 inches |
E Cup Size Examples
Women with an E cup size will have a 5-inch difference between their bust and band sizes. However, not all E size breasts look the same. The appearance of your bosom is largely dependent on your overall frame and your band size.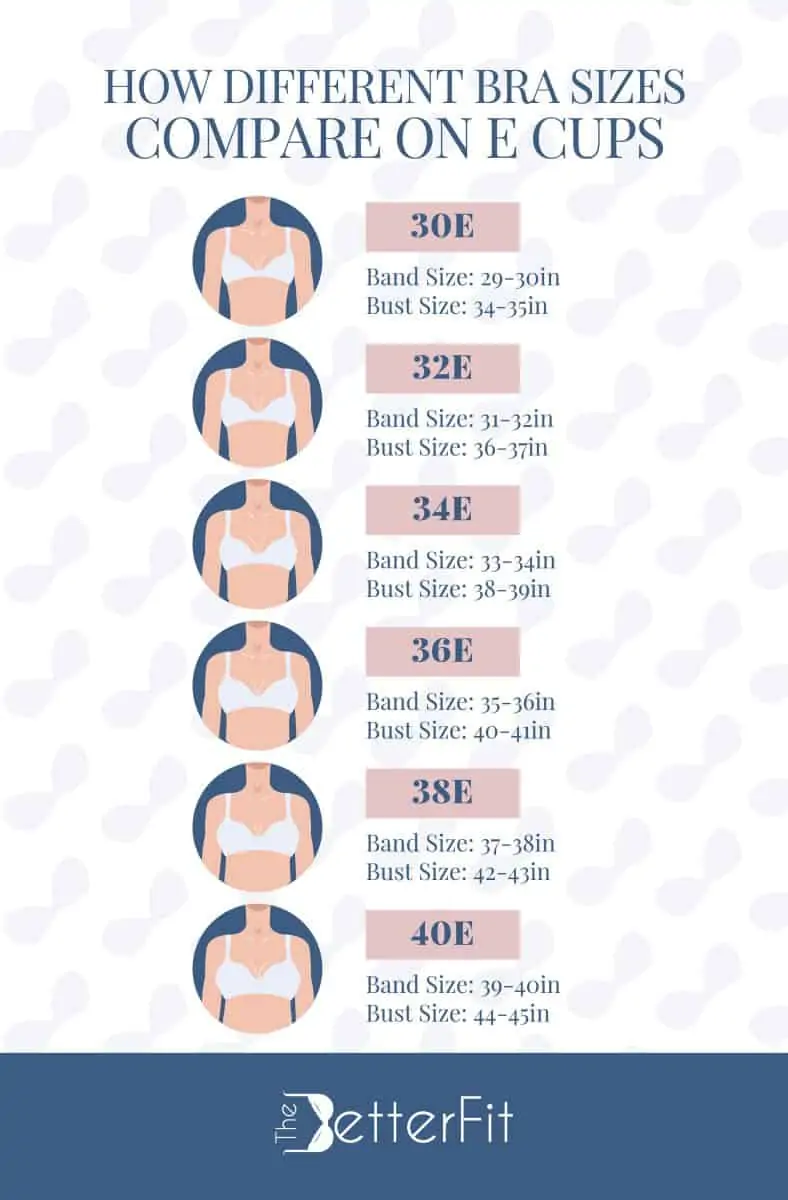 30E
A band size of 30 indicates an extremely thin physique, since it is amongst the smallest band sizes available. The E cups will look quite big on a woman with this band size, giving her an extremely curvy appearance.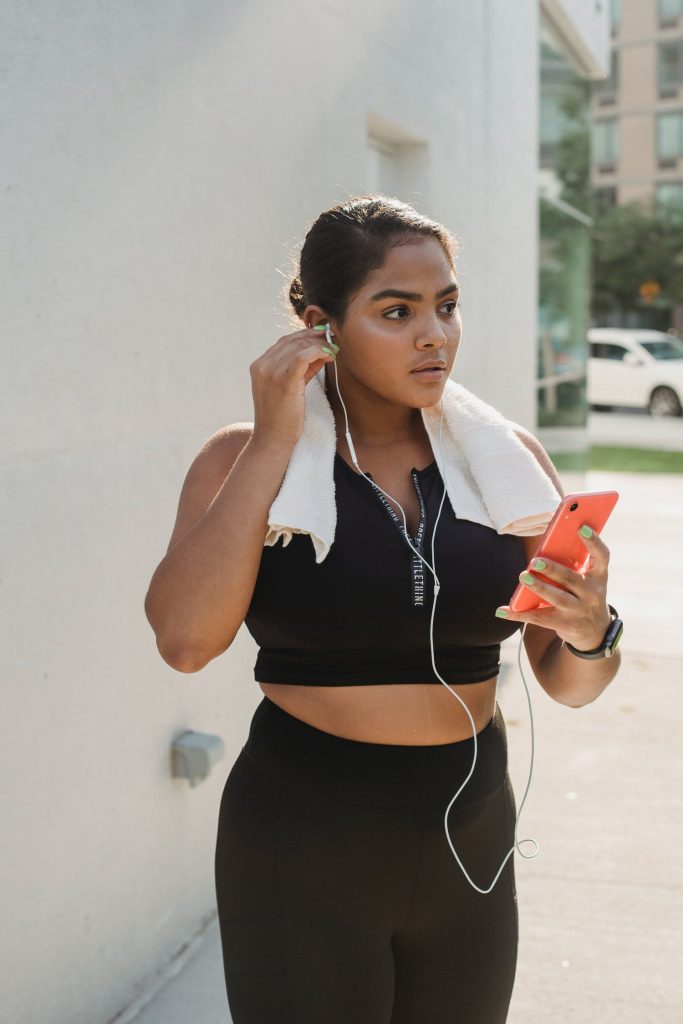 36E
Compared to 30E, a woman with a bra size 36E will not appear as voluptuous since her breasts will be proportionate to her wide torso. However, that does not mean that her boobs will not look big or curvy, just not very prominent.
38E
A woman with size 38E will lack the overtly noticeable curves and have a more linear silhouette. However, since her band size is quite big, she will have the most breast volume. This size can be unmanageable without the right bra.
Famous Celebrities With E Cups
It may feel challenging to find inspiration to dress your E cup size in a flattering way. But there are many famous celebrities who share the same cup size. So next time you feel unsure about your body, check out these celebs who manage to look classy while rocking their beautiful curves.
Halle Berry, 34E
Halle Berry is an A-list celebrity with a successful movie career that spans decades. She has always been petite with an incredibly slender body and attractive curves in all the right places. She has an amazing sense of style and always dresses her curvy frame elegantly.
Christina Aguilera, 34E
Christina Aguilera is an American singer, songwriter, and television personality. She is known for her high-octave voice with many chart-topping hits.
There are rumors that she had breast surgery to get her 34E boobs, but breast size can change with pregnancy and weight. Whether she has gone under the knife or not, she has a very attractive, proportional body shape.
Billie Eilish, 42E
Billie Eilish is a famous singer, songwriter who took the world by storm with her vocal prowess. She is also the youngest person ever to win a Grammy.
She prefers to drape her body in baggy clothes, which has become the go-to style for many teenagers. Her reason being that she does not want to be sexualized, which is quite a change from other celebs of her generation.
Hayley Atwell, 32E
Hayley Atwell is a British and American actress. She is a great actress, famous for playing Peggy Carter in the MCU. However, she has starred in numerous promising projects on both sides of the Atlantic ocean.
She always makes the most impeccable sartorial choices. So, if you have a tiny waist and a prominent rack, you should take style inspos from Atwell's red carpet appearances.
Top Bras for E Cups
I say this time and again; big boobs do not have to be a hassle. As long as you wear the right bra for your bust size, there is no reason for you to ever feel uncomfortable or unsure of your body.
But, beyond the right bra, make sure that you are wearing clothing that flatters larger busts.
Check out the list of the best bras for you E cup size:
Bras for Sagging Breasts
Bigger breasts are more likely to sag than smaller boobs. Therefore, if you are experiencing sagging, you need a bra that can lift your bust to its correct position while maintaining a natural appearance. These bras require special features to be able to achieve their core purpose.
Therefore, the top bras for sagging breasts have sturdy cups made from strong, non-stretchable material so the breast tissues stay in place. The cups are also usually structured into full coverage with seams for extra reinforcement.
The straps of such bras are positioned close to the neck instead of the shoulders, while the band is fitted and wide. Both these features add another layer of support, in addition to the cups. Finally, look for bras with side boning so your breast tissues do not spill over from the sides and appear unflattering.
Push Up Bra
Most of us associate push up bras with small chest sizes. In fact, every woman can use a push up, regardless of their size, to acquire an attractive cleavage or achieve a specific shape under a dress. However, push up bras for larger breasts are slightly different from regular ones.
For starters, the best push up bras for large breasts do not compromise on the quality of the material and design. They also have strong underwires that work to raise the boobs and create the push up effect.
Make sure that the underwires do not pinch or poke your breasts, as this indicates a wrong-sized bra.
This type of bra has supportive bra straps, which should not dig into your shoulders. They are also often adjustable to give you the freedom of adjusting it according to your comfort level. While you do not need the padding with an E cup size, a soft lining in the cups can accentuate your bust naturally.
Bralette
You might be surprised to see a bralette listed as a good wear for a large chest. Initially, they were only reserved for small-chested women but now you can find quality bralettes for large sizes as well.
Bralettes are the ultimate lingerie pieces that are all about comfort and shape. However, the perfect bralette for bigger breasts incorporates some key features to accommodate more breast tissues.
These bralettes, even the lacy ones, come with soft cups with light padding and added seams for support and structure required for bigger boobs. The cups are also full-sized to provide additional coverage.
The band that wraps around the torso is wide and thick, often extending down slightly covering the abdomen. You may find underwires in some of these bralettes but if you prefer a wireless variety, there are plenty of bralettes without wires that will support your large bust adequately.
Related Questions
How Many Inches Is an E Cup?
How Much Does an E Cup Weigh?
An E cup size means that each breast weighs around 2.15 pounds on average. DD cups weigh the same as E cups because they are essentially the same size. E cups weigh much more than average breast sizes.
What Are the Sister Sizes of E Cup Size?
For the E cup, you can find a sister size up in the D cup range and a sister size down in the F cup range. Sister sizes refer to sizes with almost the same cup volume. Check out the table below for a range of E cup sister sizes.
| Current Bra Size | Sister Size Up | Sister Size Down |
| --- | --- | --- |
| 30E | 32D | 28F |
| 32E | 34D | 30F |
| 34E | 36D | 32F |
| 36E | 38D | 34F |
| 38E | 40D | 36F |
| 40E | 42D | 38F |
Bra Size Measurement & Cup Size | A, B, C, D, DD Bra Sizes AND Extra Large Breasts
Conclusion
The purpose of the guide is to help you understand that E cup size is not as big as it is imagined. The remarkable thing about cup sizes is that they look vastly unique on women with different types of frames and overall weight.
Consequently, a woman with a 30E bra size appears to have a more voluptuous figure, while a woman with a 38E bra size exhibits an almost linear silhouette. Regardless of the band size, the E cup size requires some level of support from a quality, correct-fitting bra.