As an Amazon Associate we earn from qualifying purchases.
Wearing the correct bra size is key to supporting your breasts properly. With the right bra you can shape and lift your bust, and ensure that you're comfortable while looking your best. To get the correct bra size, you will want to measure your torso and bust to get your bra band and bra cup size. Think you may be a 32 B? I discuss exactly how big a 32 B bra is in the article below.
How Big Is 32B?
Having a bra size of 32B usually means that your torso measures 31-32 inches around, and your bust measures 33-34 inches around. Being a B cup means that your bust size is two inches more than your band measurements. As a 32B, your sister bra sizes are 30C and 34A.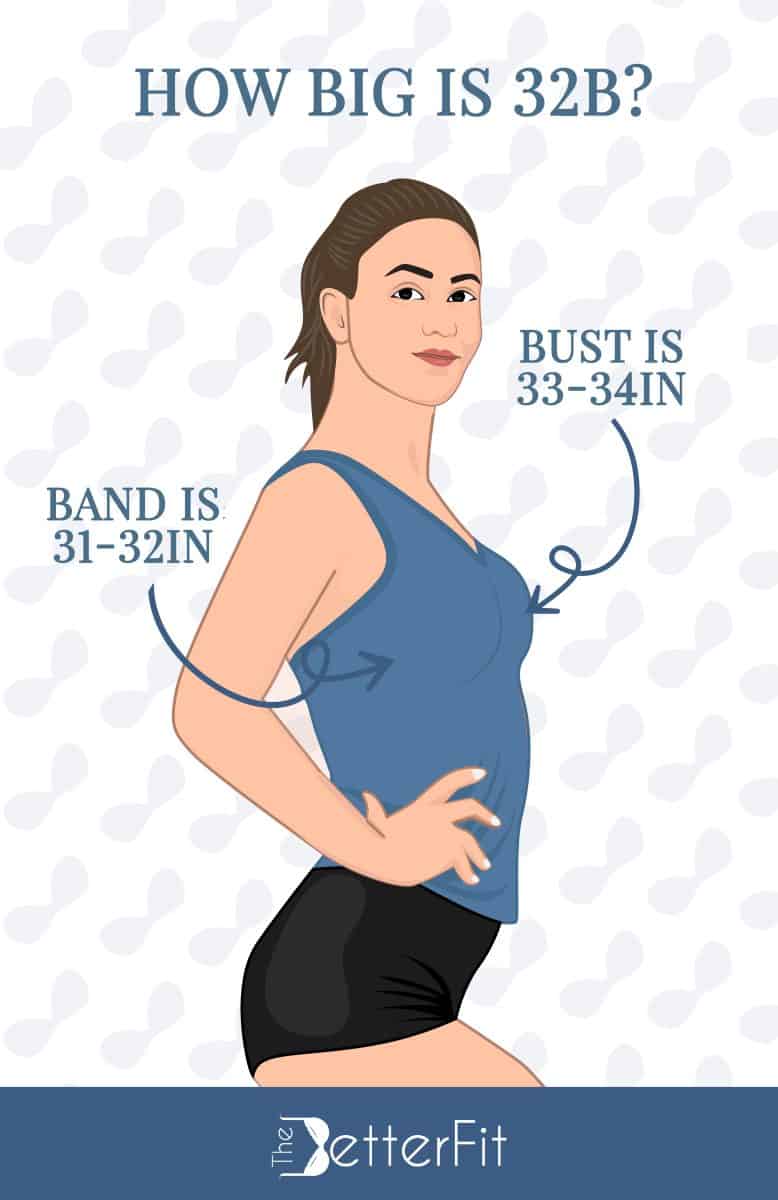 32B Bra Size Details
| 32B Bra Size | Details |
| --- | --- |
| Underbust | 31-32 inches |
| Overbust | 33-34 inches |
| Size down | 30C |
| Size up | 34A |
Is a 32B Bra Size Small or Average?
A person who wears a 32B bra is usually considered to be fairly small when compared to the average American bra size of 34 DD.
Having smaller breasts can definitely be an advantage, as your back, neck and shoulders will not hurt from supporting the weight of your breasts.
You will also be able to find all kinds of bras and clothes that fit your body, unlike women with larger breasts.
For petite women with smaller breasts, like a 32B, take a look at my #1 recommended push up bra: the Maidenform Demi Push Up Bra. Super comfortable, this specific bra features Wonderbra technology to give you a natural looking lift!
What Is a 32B Bra Size Equivalent To?
Your current bra size has a sister size. For instance, a 32B bra is also equivalent to a 30C or a 34A.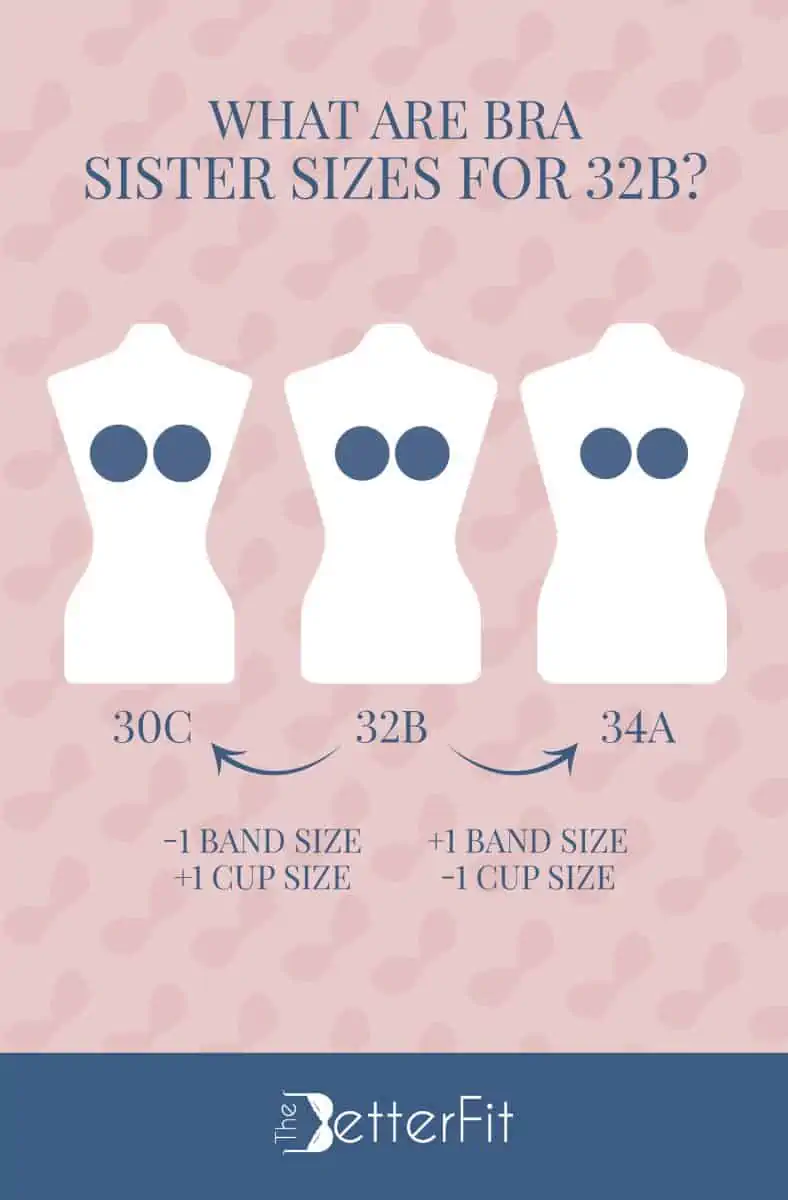 If you cannot find a 32B bra, the 30C bra will offer you the same amount of space even though the band is smaller, the larger cup helps make up the difference.
A 34A bra will also offer enough space for someone with a 32B bra size even though with this size the band is longer and the cup smaller.
Finding the size equivalent to your bra can be helpful when you're in between sizes, during pregnancy or when your weight is fluctuating. Using these sister sizes you can still receive the necessary support without sacrificing fit.
How Do 32B Breasts Look Like?
How 32B breasts appear all depends on the size of your rib cage and how your breasts are spaced on it.
Wideset breasts (also known as east west breasts) will appear smaller, while breasts that are closer together have more cleavage and appear larger. 32B breasts are usually a little perky since they don't weigh a whole lot.
The appearance of 32B breasts will largely depend on different factors like:
Body shape
Genetics
Fat storage patterns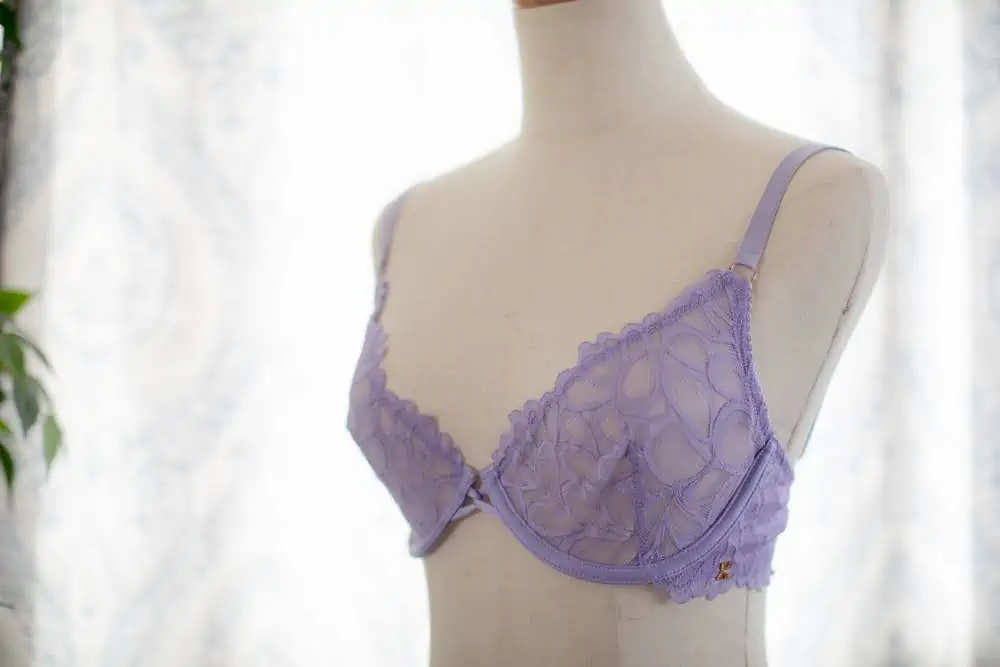 32B breasts look smaller on women with a more prominent lower half compared to the upper part. This is because the hips overshadow the small breasts.
Conversely, 32B breasts will look bigger when viewed on the sides for women with flatter stomachs.
Related Questions
Is 32B or 34B Bigger?
A 34B bra is bigger than a 32B bra. While they are both B cups, a 32-inch band is smaller than a 34-inch band.
Is 32B a Good Breast Size?
A 32B is a good breast size to avoid top spillage, heavy weight, and back pain. Any breast size has advantages and disadvantages, yet you can usually avoid issues by wearing the right bra.
Who Are the Celebrities With 32B Bra Sizes?
Bra Size Measurement & Cup Size | A, B, C, D, DD Bra Sizes AND Extra Large Breasts
Final Thoughts
A 32 B bra size is considered smaller than average, but you can still look like you have a well-developed bust if you have a smaller ribcage. Finding bras and tops that fit you will be pretty easy as a 32 B is a common size. B cup breasts are fairly light, so you may even be able to get away with wearing a supportive camisole, or going braless.