As an Amazon Associate we earn from qualifying purchases.
It can be frustrating to find the right bra size and also find a bra that fits you properly, especially if you are an uncommon bra size. Think you might be a 34A? Pull up a chair, because I discuss exactly how big a 34A is in my article below.
How Big Is 34A Bra Size?
A 34A bra has a band measurement of 33-34 inches and a bust measurement of 35 inches. 34A is on the smaller side of the bra size scale, but is also considered one of the most versatile bra sizes. You can wear any style of bra or even no bra at all!
Types of Bra Styles for 34A
There is a wide range of styles available in 34A bras. Some of the most popular styles include T-shirt bras, demi cup bras, plunge bras, bralettes, multi-part cup bras, and sports bras.
T-shirt bras: This style is a great everyday workhorse bra that gives support without extra padding or push-ups.
Demi cup bras: 34A bras with the best demi-cup design give the same support as full-coverage bras, though they expose more bust area. This style of bra is also good for everyday use and work.
Plunge Bras: These styles push up your breasts to create more cleavage which looks great under your V and boat neck tops.
Bralettes: This style of bra offers light support, and can be lined or unlined. These bras are great for lounging and at-home wear.
Multi-part cup bras: This bra style offers more cup coverage than a demi cup bra, though they are still low cut enough to wear under revealing necklines. This type of bra is best for low necklines, halters, and dresses.
Sport bras: This style of bra is designed to support 34A breasts during physical activity.
For women with average sized frames with with really small breasts, like a 34A, I recommend having an awesome push up bra. Here's one with serious lift – the FallSweet Add Two Cups Bras Brassiere. You'll get some serious cleavage for a night out on the town (no joke).
Is 34A Small, Medium, or Large?
The 34A cup size is small, though it is bigger than 28A, 30A and 32A bra sizes. Many people think that cup sizes tend to be the same, that an A cup is an A cup no matter what. This is not true, as breast sizes do increase as the band size increases.
You might not be sure whether you are a 32A or 34A size bra, which is the same cup size but different band sizes. Lets discuss the differences in these two calculations:
What Is a 34A Bra Size Equivalent To?
A 34A bra size is also equivalent to 32B and 36AA. If the bra you want is not available in a 34A, you can always try out your sister sizes.
When using sister sizing, you will go up a band size and down a cup size (36AA), or down a band size and up a cup size (32B).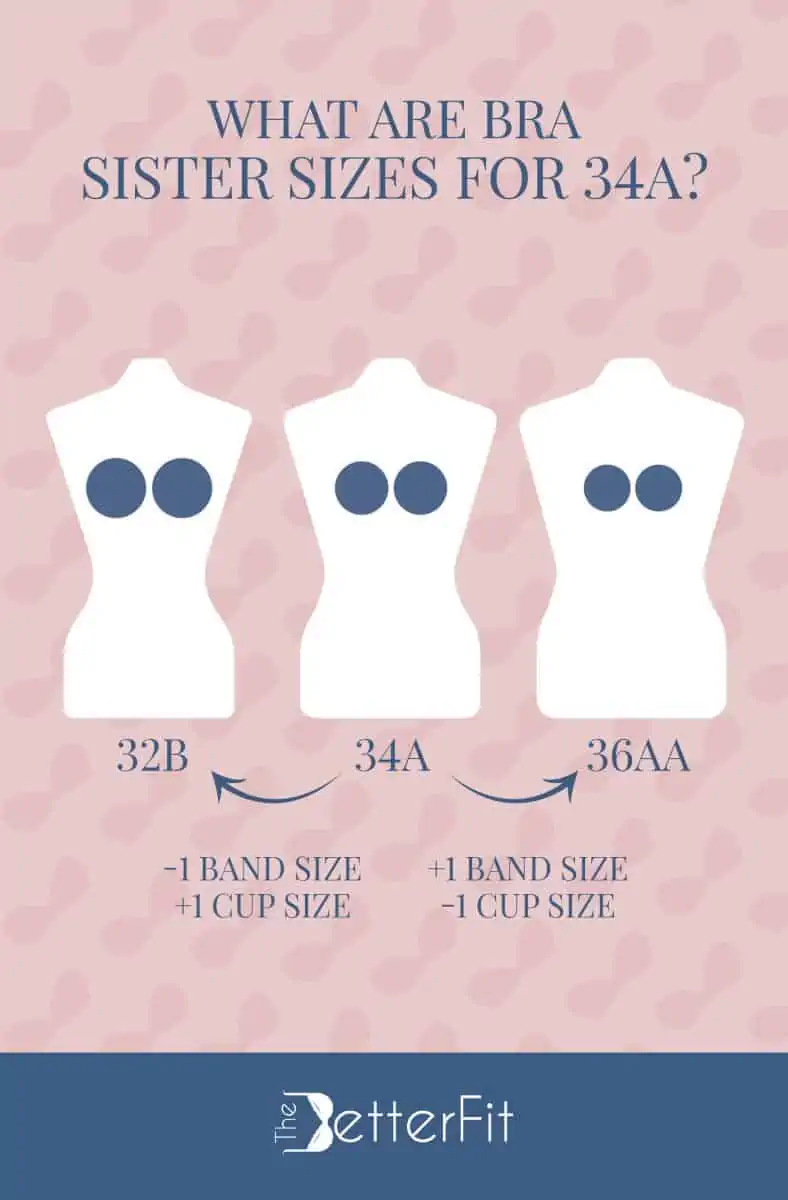 34A Bra Size Details
| 34A Bra Size | Details |
| --- | --- |
| Underbust | 30-31 inches |
| Overbust | 34-35 inches |
| Size down | 32B |
| Size up | 36AA |
Related Questions
How Can I Make My 34A Breasts Look Bigger?
You can stuff your bra or wear padded bras to make your 34A breasts look bigger. The key is to wear thinly-lined bras to help accentuate your breast shape. You may consider bralettes, bandeaus, or triangle bras.
What Does a 34A Bra Size Look Like?
A 34A bra size may only look like a small bump. Your 34A breasts might stand out more if you have a flat stomach or a smaller lower body. However, your 34A breasts may look significantly smaller if you have wider hips or waistline.
Who Are Famous People With a 34A Bra Size?
Actresses Madelyn Cline and Vanessa Hudgens are among the famous people with a 34A bra size. Singer Olivia Rodrigo and wrestler Ronda Rousey also wear 34A bra sizes.
Bra Size Measurement & Cup Size | A, B, C, D, DD Bra Sizes AND Extra Large Breasts
Conclusion
34A bras are one of the most commonly worn bra sizes. Though a 34A cup size is smaller, there are many bra styles available to choose from that will work great for this bra size. The 34A is very versatile.