As an Amazon Associate we earn from qualifying purchases.
Women come in all shapes and fit into bras that have a wide range of sizes. Every woman is unique in her own way and has individual needs from a well-fitting bra. In this article, I talk about small bust sizes, what is the smallest bra size, and the perfect lingerie for this size.
What Is the Smallest Bra Size?
The smallest bra size available is 28AAA. That means the band size is around 28 inches, perfect for ultra-slim ladies. And when I say "AAA," we're talking about a cup size where the breasts extend less than an inch from the rib cage.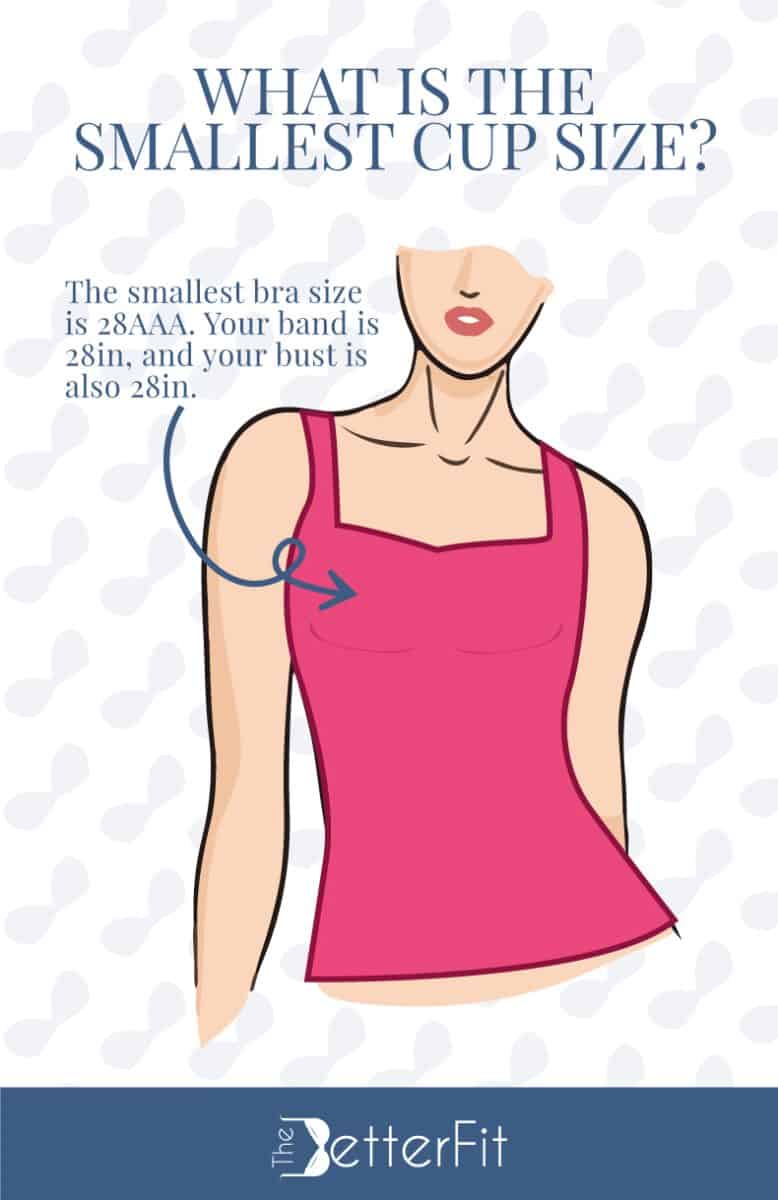 Is A Cup the Smallest Bra Cup Size?
No, an A cup is the smallest family of cup sizes, but it isn't the smallest bra size. AAA is the smallest size, followed by AA, followed by the A cup size.
Don't worry, its totally normal to be confused, as sizing works the opposite when you get to larger cup sizes (example: DD cup is bigger than a D cup).
Here is a breakdown, small to large:
| | |
| --- | --- |
| Bra Size | Overall Size |
| AAA | Smallest |
| AA | Very Small |
| A | Small |
What is the Smallest Cup Size?
AAA is the smallest cup size, but it isn't really that simple. Cup size is only one half of the equation, with the band size being the other component.
So, as an example, a 28AAA is the smallest cup size. But a 32AAA is not technically the same cup size – it is a bit larger because the band size is larger.
What is the Average Bra Size?
The average bra size in the United State is 34DD, while the average bra size in the United Kingdom is 36DD.
Surprised? Yeah, me too. I personally don't feel like I know a ton of women in those sizes. But, using that as a data point can be deceiving.
There are a couple factors at play here. For starters, most women are wearing the wrong bra size, so make sure to accurately calculate your size – you might be surprised!
Next, keep in mind that styles and brands are always evolving… and thus so is sizing.
Other Small Bra Sizes Defined
When it comes to determining the smallest bra size, there are two factors to consider:
Cup Size: The AAA cup is the smallest, followed by the AA cup, and then the A cup. This can be confusing, because it works the other way when you get to D cups (DD is bigger than D).
Band Size: 28 is the smallest band size, with 30 being a bit larger, and 32 being even larger and more common.
Other small bust sizes include:
28A bra cup: Reserved for a very petite lady with small breasts.
30A bra cup: A slightly larger torso with the same breast size as 28A, this size is a little more common.
As evident from the measurements, breasts that fit into any of these bra sizes will be small.
While you may feel that you do not need a bra, the truth is that even a petite bust can benefit from a quality bra. It can provide support, create some curves, and give you a cleavage.
Features of a Bra for Smaller Breasts
When buying a new bra, you have to ensure that it is the correct size. Contrary to popular belief, even a small bust needs supportive, fitted bras as the breast tissues are prone to sagging regardless of size. Moreover, the following bra features can be helpful for small breasts:
Padded cups: Depending on your preference, you can choose whether you want light or thick padding. Ideally, a small bust benefits from light padding for a natural look.
Underwire: Underwire can lift the breast tissues and bring their weight closer to the center, giving them a desirable rounder shape.
Spaced-out cups: Small breasts are often set wider apart, so it makes sense to look for bras with spaced-out cups. Usually, a one-inch gap between the cups is perfect for tiny boobs.
Half cups: While coverage is important, it is not a priority for smaller boobs. Hence, look for the best demi cup bras or push up balconette bras that can provide you with a perkier shape that looks fuller on the top.
Comparing Small Bra Sizes
| Bra Size | Bust Size | Band Size | Weight | Best Bra Style |
| --- | --- | --- | --- | --- |
| 28AAA | 28 inches | 28 inches | Less than a pound | Bralette, adhesive, bandeau |
| 28A | 28-29 inches | 24-26 inches | Less than a pound | Push-up, strapless, balconette |
| 30A | 30-31 inches | 26-28 inches | Around 1 pound | Padded, wired, demi |
Best Bras for Smaller Bust Size
Wearing the correct bra makes all the difference in the world, regardless of your bust size. Moreover, with the lingerie industry becoming more inclusive, it has become easier to find the perfect bra that targets your individual needs. Below, I have outlined the must-have bras for smaller breasts.
Padded Bras
Bra cups are primarily responsible for providing coverage to prevent your nipples from peeking through the attire. Everything from the cups' shape, dimensions, and spacing matters when choosing a bra. For smaller busts, the most important factor is the padding in the cups.
A padded bra for small breasts has a thin foam between the fabrics of each cup, which can alter your silhouette and enhance your bust line. It can help make your boobs look fuller and firmer. Therefore, if you feel conscious about your breast size, you can check out the range of bras that come with different padding.
Bralettes
A bralette is designed to provide comfort along with support. It lacks the structure of a proper bra, yet retains enough features to make it a viable option for a small bust. It has soft and simple cups, a prominent band, and thin straps. It looks more like a crop top than a bra.
Push Up Bras
The next on the list is the classic push-up bra. This bra also has padded cups. However, the padding is situated towards the bottom of the cups at an angle that lifts the breast tissues. When the boobs are pushed upwards and inwards, you get a hint of cleavage.
Most of the best push-up bras for A cups come with an underwire that stabilizes the bust and adds to the lifting effect. They also have half- or demi-cups that work splendidly under low necklines. Therefore, if your dress or top calls for a striking cleavage, go for a comfortable, perfectly sized push bra.
Related Questions
Which Bra Size Is Smaller, A or AA?
The size AA is smaller than size A. A cup size denotes a one-inch difference between the bust and band sizes. Contrarily, size D is smaller than size DD, which can cause some confusion when people compare sizes A and AA.
What Is a Normal Breast Size?
There's no exact normal breast size because every size is normal. However, the average breast size among women around the world falls under A and B cups.
How Will I Know if I have a Small Bra Size?
You will know you have a small bra size if your band and bust measurements fall under A to B sizes. However, a person can have a broad band size yet a small cup size.
Bra Size Measurement & Cup Size | A, B, C, D, DD Bra Sizes AND Extra Large Breasts
Conclusion
The smallest bra size is the combination of the smallest band size, 28, and the smallest cup size, AAA. This size is most common in teenagers or girls with developing bodies. However, I would like to conclude by saying that small or big, women with all kinds of breast sizes are unique and beautiful.