As an Amazon Associate we earn from qualifying purchases.
Statistics show that a woman will try on at least five bras before she finds one that fits correctly. On average, a woman has around nine different bra sizes in her underwear drawer. With the right bra you can shape and lift your bust, and ensure that you're comfortable while looking your best.
To find the right bra you need to find your size first. Think you might be a 36B? I discuss exactly how big a 36B bra really is in the article below.
How Big Is 36B?
A 36B bra size means that your torso measurement is 32 to 33 inches and your bust measurement is 37 to 38 inches. With a B cup, your bust size is two inches bigger than your band size.
The size of a bra is based on two measurements: the band (under-bust) size and bust size. The under-bust measurement determines how high the band will go and where it will sit, while the bust measurement determines how horizontal or wide-set your cups are.
36B Bra Size Details
| 36B Bra Size | Details |
| --- | --- |
| Underbust | 32-33 inches |
| Overbust | 37-38 inches |
| Size down | 34C |
| Size up | 38A |
How 36B Breasts Appear
A 36B bra size usually contains average-sized breasts. It is one of the more common breast sizes.
The breasts also tend to have a somewhat broad base and a narrow top with wide-set nipples. The bottom of the breast is often slightly wider than the top, though not by much.
The good news about that is that it is pretty easy to find a wide range of bras in this size.
For women with average sized frames with small breasts, like a 36B, take a look at my #1 recommended push up bra: the Maidenform Demi Push Up Bra. Super comfortable, this specific bra features Wonderbra technology to give you a natural looking lift!
Best Bra Styles for 36B
36B Sister Sizes
As a 36B, your sister sizes are 34C and 38A.
You would want to try out a 34C if the band on your 36B is a little loose. Conversely, you would want to try a 38A if the band on your 36B is a little tight.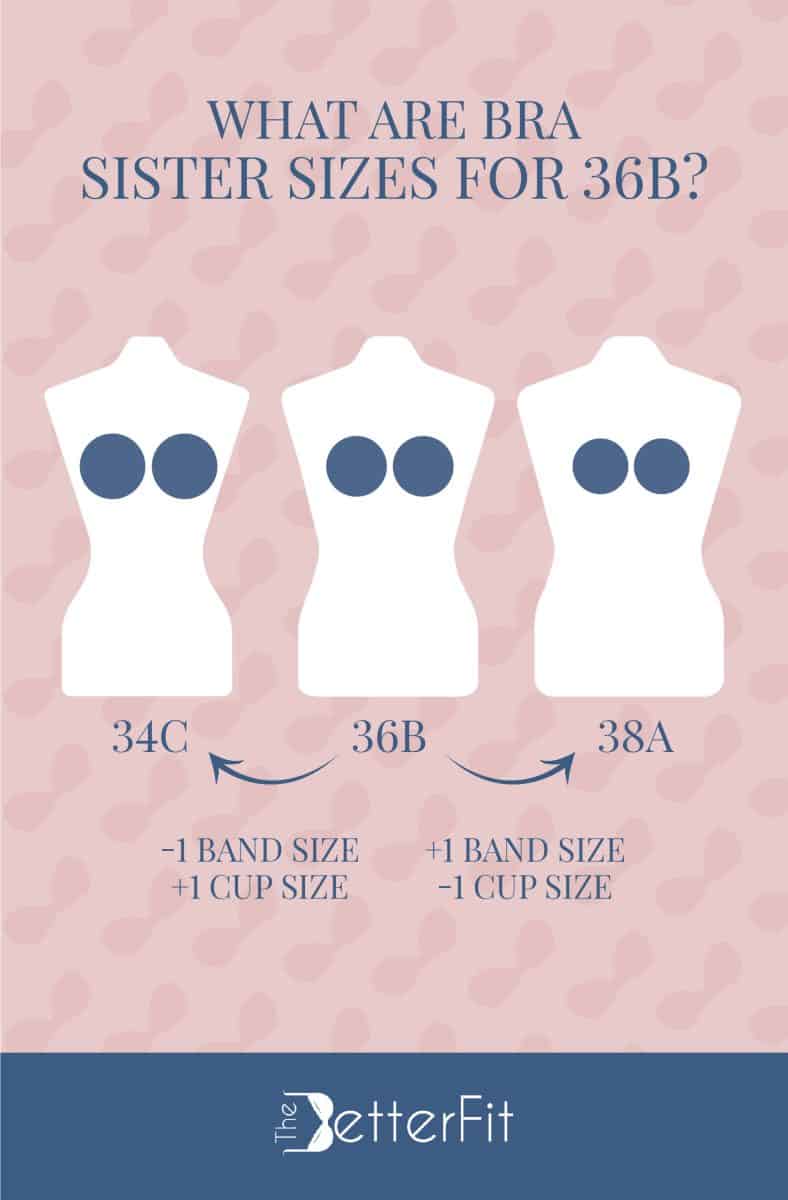 Related Questions
Is 36B a Small Size?
Yes, a 36B bra is small because B cups are among the smallest among the standard bra sizes. There is often little breast tissue, which can give the bust a flat appearance.
Is 36B Bigger Than 36A?
A 36B bra is larger than a 36A size. While they both have a band that measures 36 inches long, a B cup is one-inch larger than an A cup.
How Often Should a 36B Bra Size Be Measured?
As a general rule, aim for an in-store bra fitting or measure your bust at home every six months. You can do this more frequently if you've lost or gained weight or your bras have become uncomfortable.
Bra Size Measurement & Cup Size | A, B, C, D, DD Bra Sizes AND Extra Large Breasts
Conclusion
A 36B bra size is perfect for a push-up bra, or a balconette bra. These bras not only support your breasts, they add to your cleavage and give your breasts a nicely rounded shape. B cup breasts are considered on the smaller size, but are still fairly common.