As an Amazon Associate we earn from qualifying purchases.
Bra cup size can vary, depending on your genetics, weight gain or loss, or whether or not you are pregnant. Bra cup sizes even vary among different bra brands. This makes knowing your bra size extremely important. You always want to get your bra measurements before you shop to help streamline the process. Think you are measuring in at a 38 DD? I discuss how big a 38DD bra size really is in the article below.
How Big Is 38DD?
When your bra size is a 38DD, your bust measures at around 42 to 43 inches and your bra band measurements are typically 34 to 35 inches. Since you are a DD cup, your bust measurement is 5 inches more than your band size. Your sister sizes are 36DDD and 40D.
38DD Bra Size Details
| 38DD Bra Size | Details |
| --- | --- |
| Underbust | 34-35 inches |
| Overbust | 42-32 inches |
| Size down | 36DDD(F) |
| Size up | 40D |
Is 38DD Small, Medium, or Large?
38DD is a larger breast size. Most women are either an A cup, B cup, or C cup, with only 1% of women being larger than a D cup.
With a bust that measures 5 inches more than your band size, you will have a lot of breast tissue as a 38DD. This can make finding bras and clothing challenging since there are fewer options for larger cup sizes.
A DD bra is not as big as a DDD cup size, or an F Cup. 38DD breasts can look very different across different body types.
What Do 38DD Breasts Look Like?
Like 38D cup sizes, the appearance of 38DD boobs will broadly vary based on the woman's shape, the bra's design, and the outfit being worn. This size falls on the larger side of the breast size chart and will need more support when compared to smaller boobs.
This means the type of support needed will be different, and the bras you wear should reflect that. When you have a larger frame with fuller hips, 38DD breasts will appear less prominent. In women with a smaller frame, 38DD breasts will appear much larger.
What to Look For When You Buy 38DD Bras
When buying bras for your 38DD bust, you should go for bras with wide padded shoulder straps that are adjustable. These straps should provide the necessary support for your larger chest without slipping off your shoulders or digging into your skin.
Find a bra style that you prefer and ensure that it has padding and lightly lined cups to help hold and shape your breasts. To help you decide, you can check reviews for the best plus-size DD bras.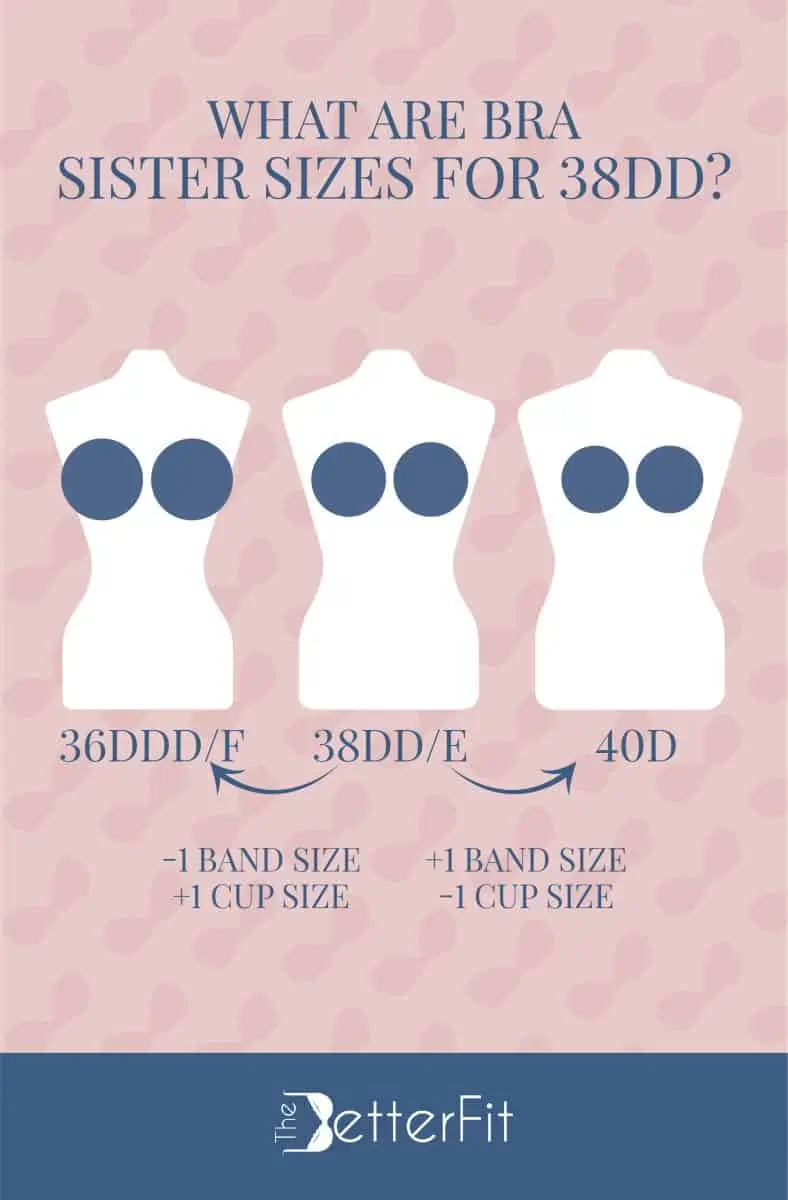 Your 38DD bra should also have a sturdy underwire with a wide bra band, and side boning under the arms to provide the additional breast support and stability that is needed for larger breasts.
Make sure that your bra offers you great support, but is still comfortable. If you wish to wear wireless bras, there are many great options available to choose from.
If you are looking for strapless bra options, these can be hard to find. Strapless bras for DD cups should have an underwire to help support your breasts.
If you have a larger frame with large breasts, like a 38DD, you need everyday support. My favorite? The Elomi Banded Underwire Stretch Lace Bra. It has really supportive bands and a nice, three section cup.
Related Questions
What Is 38DD Equivalent To?
A 38DD bra size is equivalent to 36DDD(F) or 40D. Size down to 36DDD(F) if you need more cup coverage. Meanwhile, size up to 40D if you need a longer band.
How Can I Make My 38DD Breasts Look Smaller?
Avoiding heavy padding, wearing a minimizer bra, and using thinly-lined shirts can help make your breasts look smaller. You can also use binder or sports bras for extra compression on your large breasts.
Who Are Famous People With a 38DD Bra Size?
Actresses Debora Caprioglio, Jenny McCarthy, and Mimi Rogers are among the famous people with a 38DD bra size. Glamour model Coco Austin, radio personality Lisa Ann, and singer Jill Scott also wear 38DD bras.
Bra Size Measurement & Cup Size | A, B, C, D, DD Bra Sizes AND Extra Large Breasts
Conclusion
The 38DD bra size falls on the larger side of breast sizes and can make finding bras and clothing challenging. A 38 DD will need additional support, so choose your bra wisely. Purchase a quality full coverage cup with wide adjustable shoulder straps and a wide bra band for the best support and comfort.