As an Amazon Associate we earn from qualifying purchases.
Do you think you're wearing the correct bra? The correct bra will raise and contour your breasts and support your bust. Finding the correct bra size is also essential for a comfortable, flattering fit. Do you believe you might be a 40D bra size? This post will cover all you need about the 40D bra size.
How Big Is a 40D Bra?
How big is a 40D bra size? A 40D bra size implies a band size of approximately 34 to 36 inches, and your bust measurement is about 42 to 43 inches. If you wear a 40D cup size, your bust measurement is 4 inches bigger than your band measurement.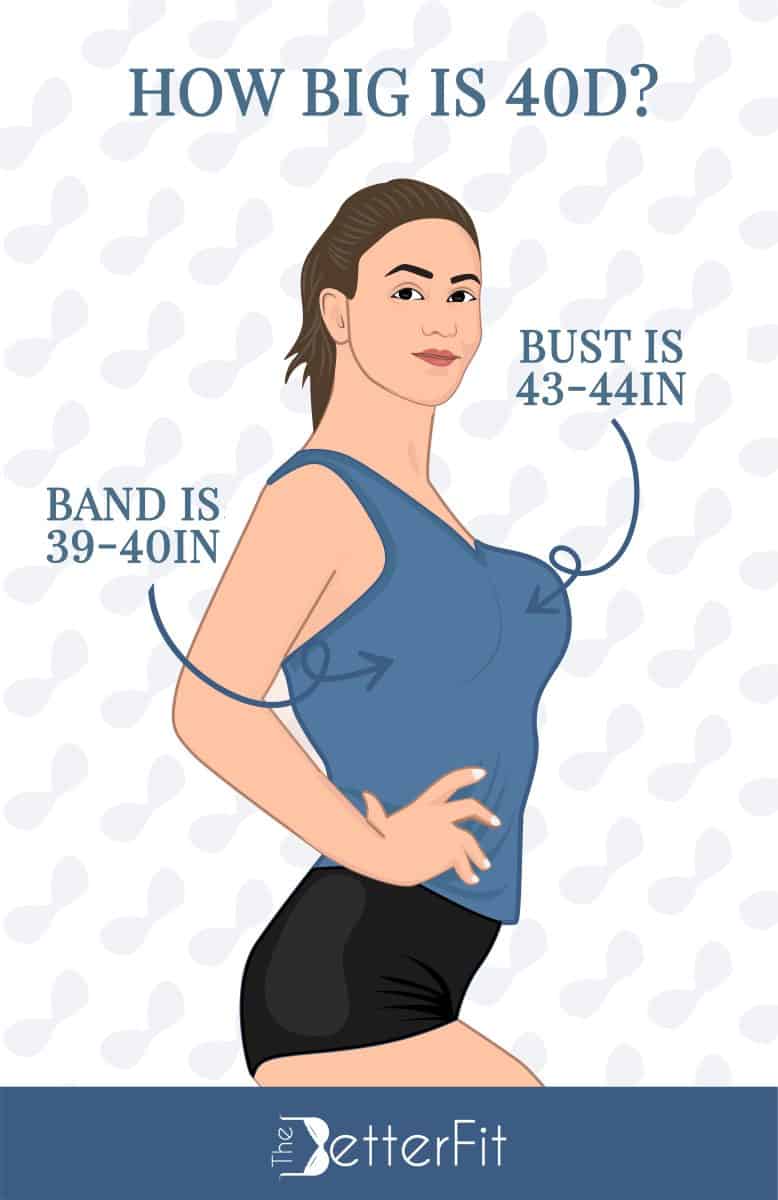 What Are the Sister Sizes of 40D?
38DD(E) and 42C are the sister sizes of 40D. On those occasions where your usual cup size is no longer available, your current bra does not feel perfectly fit, or your body type requires a slight change in the band size, understanding how sister sizes operate may be helpful.
Sister sizing refers to selecting a bra with a cup and band size close to the one you currently wear. Sister sizes are achieved through a simultaneous band size increase or decrease and cup size drop or increase. If the bra cups fit properly without gaps or spillage, you may easily size down to a sister bra.
To decide what sister size is appropriate for you, assess how tightly you have to tighten your existing bra. How can you determine your sister size?
Sizing down: sizing down means going one size smaller in the band and one letter (A, B, C, D) bigger in the cup. For example, if you wear a 40D, your sister will wear a 38DD (E).
Sizing up: this means going one size bigger than your current band size and one letter (A, B, C, D) lower than your current cup size. For example, if you wear a 40D, your sister will wear a 42C.
How Do 40D Breasts Appear?
Breasts of size 40D can look relatively large or small, depending on your body shape. 40D breasts are bigger than A, B, and C cups. The following factors can determine the appearance of your breasts:
Genetics – the most important factor in the shape and size of your boobs is your genes. Your genes also influence the number of hormones in your body, which impacts your breasts. Your genes also affect how dense your breasts are and how your skin looks, which impacts your boobs' appearance.
Age – since your body change over time, your breasts may look different over time than they do presently. As you get closer to menopause, your breast shape and size may change because of changes in your hormones.
Weight – fat contributes significantly to breast tissue and density, so weight matters. Your weight influences the form and size of your breasts. If you have a higher concentration of fatty tissue in your breasts, you may notice a change in bust size when you either gain or lose weight.
What Are the Best Bras for 40D Breasts?
Choosing the right bra is difficult, particularly if you have a bigger breast. To feel comfortable, it is important to choose the correct size and also the correct kind of bra. Some bras that you may wear if you are a 40D are as follows:
If you have a larger frame with large breasts, like a 40D, you need everyday support. My favorite? The Elomi Banded Underwire Stretch Lace Bra. It has really supportive bands and a nice, three section cup.
Related Questions
How Do I Figure Out if My Breasts Are a D Cup Size?
The difference between your bust and band measurement dimensions must be at least four inches if you want to be categorized as a D cup size. Measure around the largest area of your bust and torso.
What Is the Difference Between Bra Sizes D and DD?
In comparison to a D cup, a DD cup is one size bigger. Using the same band size, the distinction between a D and a DD is 1 inch, just like the distinction between an A and a B cup and a C and a D cup.
Bra Size Measurement & Cup Size | A, B, C, D, DD Bra Sizes AND Extra Large Breasts
Conclusion
The 40D cup size indicates that your breasts are bigger than average and need a more substantial bra to keep them in place. If you wear a bra, make sure it fits you well. Always know your bra size before shopping, and try on the bra to ensure a good fit; this will provide more comfort and less sagging.