As an Amazon Associate we earn from qualifying purchases.
Women with an F cup may feel that having large breasts is both a benefit and a burden, particularly when shopping for bras. This article is about cup size F. The F cup is explained in detail below, along with how big F cups are, how they vary from other cups, their sister boob sizes, and the type of bra you can wear if you have F cup breasts.
How Big Are F Cups?
The F bra cup size is considered one of the largest boob sizes. Your bust size is six inches larger than your band size if you have F-cup boobs. F cups, like other cup sizes, are available in various sizes.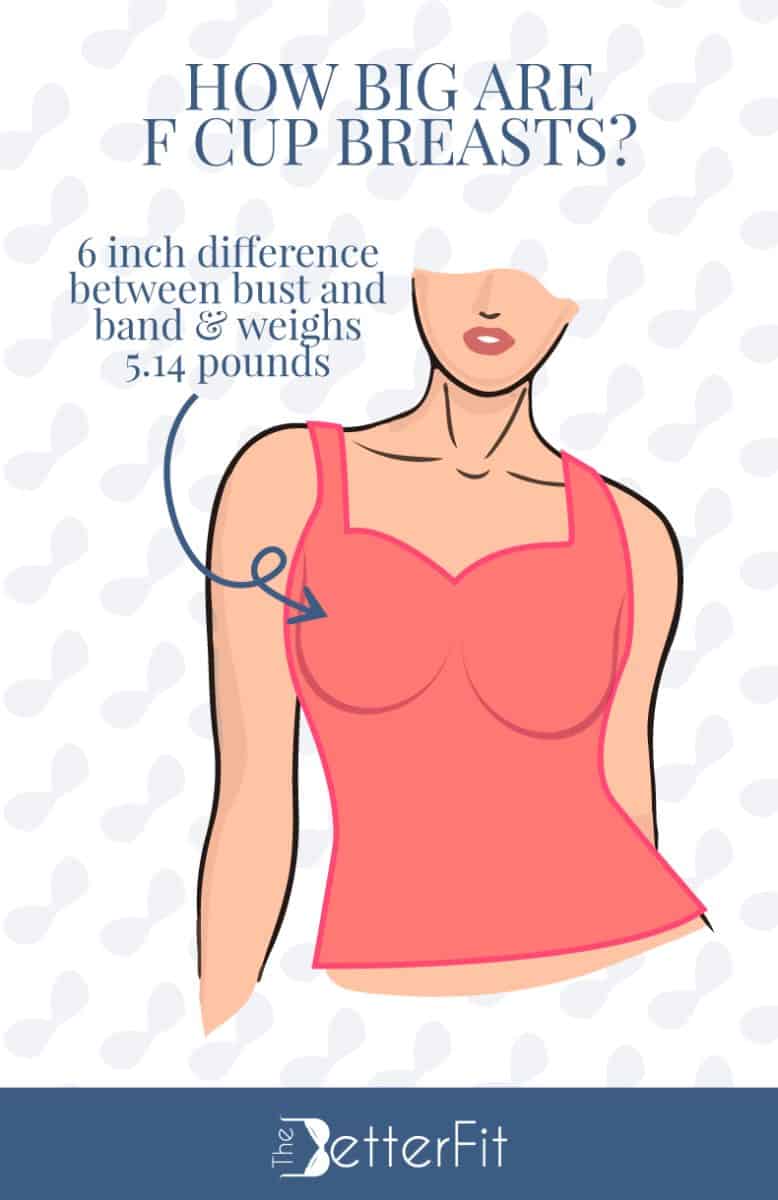 To determine your breast cup size, subtract your breast size measurement from your bust size measurement. If the difference is one inch, you are an A cup, two inches is a B cup, three inches is a C cup, four inches is a D cup, five inches is a DD cup, and six inches is an F cup.
What Are the F Cup Sister Bra Sizes?
Sister sizes are a subgroup of bras with the same cup volume. However, they differ in band and cup size. As a result, if your band is unpleasant or ill-fitting, you can check the sister sizes of your current bra size.
If you would like to recognize your exact sister size, measure yourself with a tape measure. Then, for your sister's cup sizes, go down one band size and up one band size. Sister sizes for an F cup woman are E and G cup bra sizes. Check the table below to help you understand the concept better:
| | | |
| --- | --- | --- |
| Current Bra Size | Sister Size Up | Sister Size Down |
| 32F | 34E | 30G |
| 34F | 36E | 32G |
| 36F | 38E | 34G |
| 38F | 40E | 36G |
| 40F | 42E | 38G |
| 42F | 44E | 40G |
| 44D | 46E | 42G |
What Bras Should You Wear as an F Cup?
If you are an F cup and have difficulty finding the right bra for your boobs, here are some suggestions to assist you in selecting the best bra for displaying your exceptional beauty while remaining comfortable.
Demi bra – this is a half-coverage bra that covers the bottom half of the torso while also concealing the upper half. It provides excellent breast support and attractive cleavage. A demi bra can also be alluring, stylish, or even more conservative for everyday wear.
Underwire bra – most women prefer underwire bras because they are suitable for a wide range of breast and body types. It offers complete breast and body support. It's ideal for ladies with F and larger cup sizes.
Seamless bra – this bra has no seams going through the cups. It supports and smoothes your body while being comfortable enough for regular use. I strongly advise wearing this bra style without underwires if you are an F cup.
Minimizer bra – minimizer bras reduce the size of a large breast line by one size. This allows you to achieve an appealing look when wearing specific clothing. Minimizer bras are comfortable while also performing their primary function.
Molded bra – this bra is quite stiff and can accommodate huge busts. Apart from being comfy, this bra is also available in various trendy styles.
Strapless bra – these bras are most likely the most popular alternative for attire that exposes your shoulders. They usually work the same way as a traditional bra, wrapping around your bust, however, without the added support of shoulder straps.
Side-Support Bra – for ladies with larger busts, side spillage is exceptionally prevalent. Choose a side-support bra if you want to wear fitted clothing with big breasts.
Related Questions
Is the F Cup Larger Than the E Cup?
An E cup size is a 5-inch difference between a woman's bust size and band size. As a result, an F cup is a one-inch size larger than that of an E cup. The  F cups are also called DDD cups, whereas the E cups are called DD cups.
Is the F Cup Larger Than the G Cup?
The F cup is not larger than the G cup. The F cup is one inch smaller than a G cup and has a 7-inch disparity between band and bust sizes. Bra cup sizes for huge breasts women are larger than D.
Is a Ddd Cup Equivalent to an F Cup?
It may appear confusing. The DDD cup size is the same as an F-cup size although they are sometimes labeled differently depending on the brand. After size D, you can go up to bra size DD, which is equivalent to size E, bra size DDD, which is equivalent to size F, and bra size DDDD, which is equivalent to size G.
Bra Size Measurement & Cup Size | A, B, C, D, DD Bra Sizes AND Extra Large Breasts
Conclusion
Having bigger breasts might make it challenging to select a bra. Make sure you're wearing a bra that fits appropriately. This increases your comfort and also minimizes the sagging of your breasts. The appropriate bra may also have a significant impact on how I appear and feel.