As an Amazon Associate we earn from qualifying purchases.
Do you ever feel overwhelmed with all the differing bra choices there are and what the actual comparisons are between each of them?
Let's dive into the differences and similarities between these types of bras so you will know best when to wear each type of bra.
I also have worked with four different women to get their specific thoughts on a push up bra compared to a regular bra, including side by side pictures.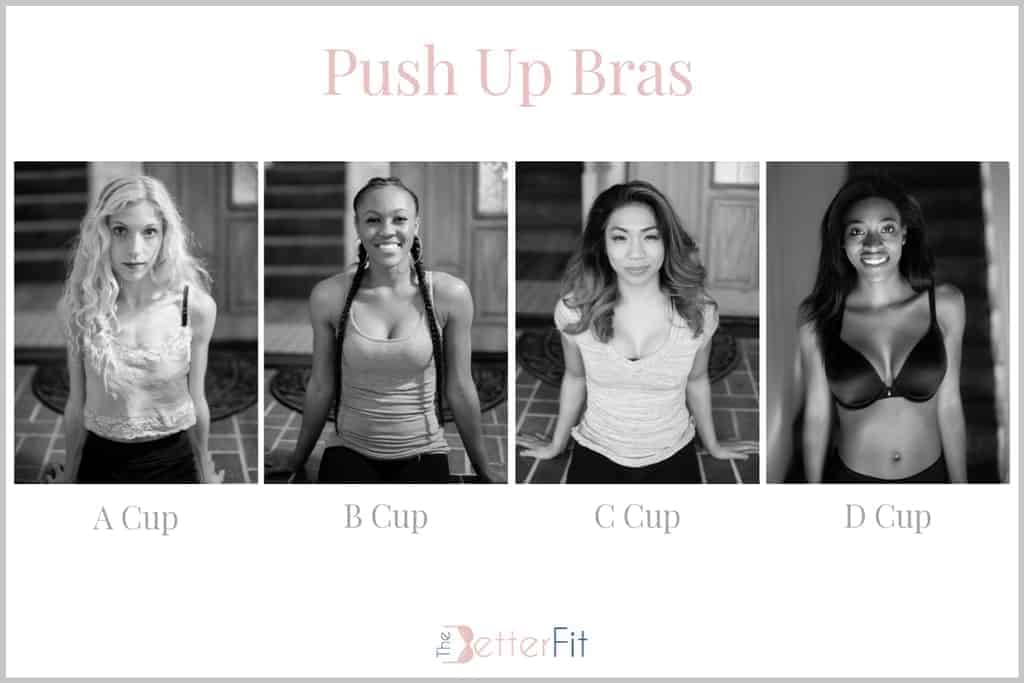 Push Up Bra or Normal Bra
Push up bras add more volume and increase the appearance of your breast size. By differentiation, regular (or normal) bras are great for everyday use.
They can offer some similar features as a push up bra, such as underwire or padding, but are not as pronounced.
Just like your outfits, push up bras do require careful consideration when choosing the appropriate one.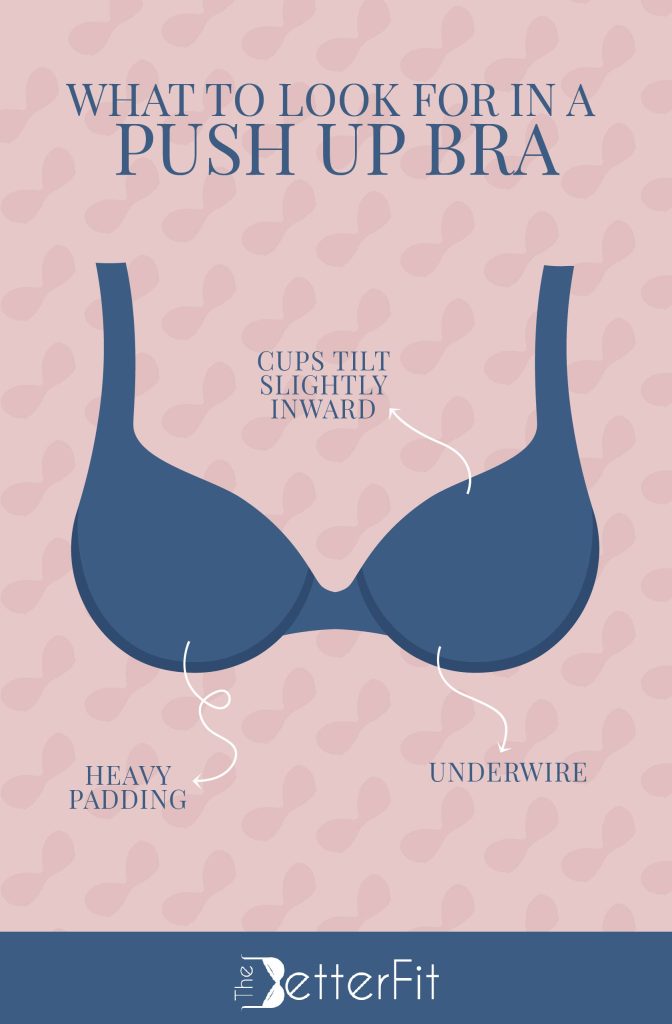 What Should a Push Up Bra be Used for?
When looking to increase the appearance of your chest, women of all breast sizes can benefit from a push up bra.
That being said, women with A and B cups looking for push up bras to increase their overall chest size will typically find more padded bra options than larger sized busts.
Lastly, push up bras should be used for those of you that have wide set-breasts. Push up bra's cups are designed to tilt slightly inwards, spilling the breast inwards and upwards, great for those with sagging breasts!
When to Wear a Push Up Bra
Form-fitting shirts or tops
An outfit where you want to add more volume and curve to your chest (especially for a night out)
Date night or an occasion when you're dressing up
Is a Push Up Bra also a Normal Bra?
​If the push up bra you have includes minimal push up (which can be common in popular push up bras for D cup women), underwire, and demi cups, this would also be considered a normal bra.
In contrast, if your push up bra pushes your bust size by 1-2 full cups, creates visible cleavage, and includes half cups, it would not be considered a regular bra.
The biggest differentiation of a push up bra from a normal bra is in its function for creating an enhanced bustline with the intent to show visible cleavage.
​​Whereas a minimizer bra would compress your chest area for a slimmer physique, a ​push up bra would also create the effect of larger bust size,​​​
What Should a Normal Bra be Used for?
​A normal bra, due to its versatile design should be used as an everyday bra. It is the best ​​bra choice for the ordinary, everyday moments, where comfort and versatility of design will go with almost all of the outfits in your closet. It's your best no-fuss bra!
When to Wear a Normal Bra?
A regular bra will likely be your default, go-to undergarment that you pick out for almost all occasions. Here are a few more times you should pick a normal bra:
Everyday wear with casual or business attire – keep it classy!
Outfits with buttons running along your centerline or restrictive material that doesn't allow stretch in the chest area
Outfits or moments that call for a more natural or conservative look
Occasions where comfort is your top priority – some days, it's just a lazy, t-shirt and yoga pants kinda day!
Comparing a Push Up Bra to a Normal Bra
If you haven't started formulating an idea already, then read on for the head-to-head comparisons.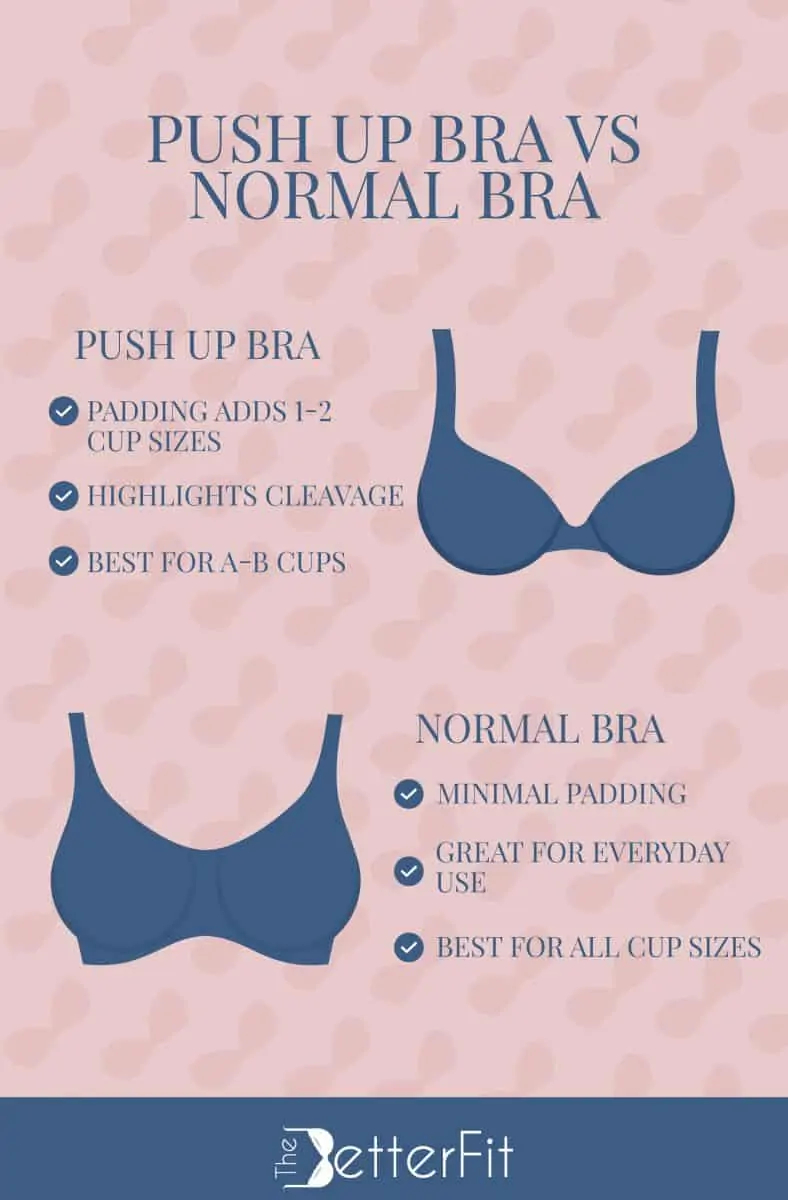 Push Up Bras and Normal Models Similarities
​Normal and push up bras can feature padding
​Push up bras and normal options can have underwire
​​Normal and push up bras will support breasts and breast tissue
​Push up bras and normal choices will feature non-adjustable or adjustable straps and full bands running around your mid-back
Normal and push up bras come in very comfortable styles
​Push up bras and normal models are worn by both large and smaller chest women (yes, it's true!)
Normal and Push Up Bras Differences
| Bra | Padding? | Purpose | When to Wear | Best For |
| --- | --- | --- | --- | --- |
| Push Up | Yes | Enhance cleavage | Outings, date nights | A-B cups |
| Normal | Minimal | Support | Every day | All cups |
​A push up bra's cups will tilt slightly inward towards the centerline of the body; normal models will not have this feature
A push up bra pushes to add fullness to the breast and increase cleavage. A regular bra's main function is for the support of your natural boobs as they are; no enhancements here!
A regular bra is for everyday wear, whereas a push up bra is more for specific occasions or outfits
You will likely have a much larger selection of normal bras in your collection than push up bras due to the frequency of use
Finding the right push up bra for your particular shape and size might take a bit longer than finding normal choices
Smaller chested women will have a larger selection of padded bra options based on desired enhancements size
Larger chested women will likely want to stick with more minimal padding options, so as to not go overboard in sizing up too much!
Your cup size in a push up bras might be different than cup size of your normal bra
Major Distinguishing Factor
As shared earlier, a push up bra's main focus is to enhance your breast via padding as well as guiding the breast tissue towards the centerline of your body.
Therefore when shopping, you know you are looking at a push up bra if the cups are padded and tilted inward (giving a "v" or half moon like appearance from the front.)
A normal bra, by contrast, will likely come in a much wider range of shapes and sizes and will not feature the distinct cup tilt in the front.
Related Questions
Is It OK to Wear a Push-Up Bra Every Day?
Yes, you can use a push-up bra like a regular bra and use it every day. There can be times or outfits, though, where you don't need the extra push.
What's the Difference Between a Push-Up and a Padded Bra?
A push-up bra's main purpose is to create lift, whereas a padded bra prioritizes adding volume. A push-up bra can have padding, while other styles of bras may also include padding with varying levels of thickness.
Should I Pick a Smaller Size for a Push-Up Bra?
There's no need to pick a smaller size for a push-up bra. When wearing any type of bra, you can use your actual measurements to make sure the band and cups are the right fit for you.
What Is a Push-Up Bra? (Yes, You Should Try One)
The Final Verdict
The push up bra is your go-to bra when you are wanting a more dramatic bust appearance and are best suited for that special moment to show off your assets!
A normal bra, by contrast, is your go-to bra for the everyday look and are well suited for a wider variety of occasions; the office, around the house or a casual night out.