As an Amazon Associate we earn from qualifying purchases.
Finding the perfect fitting bra can seem like an impossible task with all the different styles, sizes, and lingo out there.
This bra dictionary of terms below breaks down all the key words and phrases you need to know when shopping for your girls. I wanted to create an easy-to-understand guide to demystify bra terminology once and for all.
Bra shopping should be fun – you deserve to feel comfortable, confident and sexy! So grab your tape measure and get ready to find your new favorite bra with the help of this complete A to Z lingerie terminology.
Bra Terminology and Definitions
Band Size: The measurement around the ribcage directly under the bust. This number, usually even, is crucial as about 80% of a bra's support should come from the band, not the straps.
Cup Size: Represents the volume of the bust. The size moves from AA, A, B, C, and onward. The difference between the band measurement and the bust measurement determines the cup size.
Underwire: A semi-circular wire that sits under the bust. Its purpose is to contour the natural shape of the breast and provide uplift.
Wire-free (or Soft cup): Provides comfort without the structure of an underwire. Perfect for those who find underwires uncomfortable.
Center Gore: The center piece connecting the two cups. Its fit against the sternum is crucial: a well-fitted gore will sit flat against the chest.
Hook and Eye Closure: This is the bra's closure mechanism. Bras often have multiple sets of these for adjustability as the elastic band stretches over time.
Adjustable Straps: Bra straps should offer adjustability to ensure a custom fit. They should rest comfortably on the shoulders without digging in or sliding off.
Strapless Bra: Designed without straps and often comes with side boning to prevent rolling. They may also have silicone edging for grip.
Plunge Bra: Has a lowered center gore and angled cups to accommodate deep V-necklines without showing.
Push-up Bra: Designed with additional padding or pockets for inserts at the bottom or sides of the cups. These lift and push the breasts closer together for enhanced cleavage.
Balconette (or Balcony) Bra: A style offering less coverage and a horizontal neckline. It lifts the breasts to enhance their shape and appearance.
Demi-cup Bra: Covers about half of the breast, creating cleavage and a more rounded look.
Full-cup Bra: Provides complete coverage, encasing all of the breast tissue. Often chosen for comfort or modesty.
Racerback Bra: Straps converge in a Y or V shape, providing added support and ensuring straps remain hidden under certain tops.
Convertible Bra: Comes with detachable straps that can be rearranged to fit various outfits, from halter neck to cross-back.
T-shirt Bra: Features seamless and often padded cups, designed to be invisible under tight-fitting shirts.
Bralette: A fashionable, often lacy choice. Wire-free and usually without molded cups, they're perfect for relaxed support.
Sports Bra: Designed to minimize movement during physical activities. They can be compression (flattening against the body) or encapsulation (cups that surround and support each breast individually).
Molded Cup: Cups that have been machine-molded to maintain a specific shape. They provide a smooth silhouette even when braless.
Minimizer Bra: Compresses the bust for a smoother look, often reducing the apparent size by a cup or more.
Maternity Bra: Designed with stretch fabric to accommodate growing breasts during pregnancy, offering support and relief from aches.
Nursing Bra: Facilitates breastfeeding with flaps or panels that can be easily moved aside.
Adhesive Bra: Made of silicone, polyurethane, or similar material, they stick directly to the skin, ideal for backless dresses or tops.
Bustier: Resembling a short corset, it extends down to the waist or hips, offering shaping and support.
Sister Sizes: If a bra is out of stock in one size, a sister size might fit. It's based on the principle that as the band size goes down, the cup size goes up, maintaining the same volume.
Band Riding Up: Indicates a large band size or worn-out elastic. A snug-fitting band should remain parallel to the ground all around the body.
Spillage: If breast tissue is bulging out of the bra, the cups are too small or the style is not right for your breast shape.
Quad-boob: The appearance of a second set of breasts due to a tight bra cup. This indicates a need for a larger cup size.
Gapping: When there's unwanted space in the cup. This could mean the cups are too large or the style isn't suitable for your breast shape.
Seamed Cups: Cups that have seams, which can offer more structure and support than seamless designs.
Band Extender: An accessory that adds extra rows of hook and eye closures to the bra's band, allowing for an extended fit.
Longline Bra: Extends down to the waist or hips, offering additional support and sometimes shaping for the midriff.
Peek-a-Boo or Open-Cup Bra: Designed more for play than support, these have strategically placed openings.
Contour Bra: Has shaped cups, which are always padded or lined, to mirror the breast's natural shape.
Balding: This refers to the wear and tear of the bra cup fabric. Balding happens when the material becomes thin or worn out due to excessive friction or rubbing in one particular area. It's a sign the bra might need replacement.
Comfort Straps: These are extra wide straps specifically designed to evenly distribute the weight of the breasts, providing optimal comfort and reducing strain on the shoulders, especially beneficial for women with larger busts.
Contour: A type of molded cup bra that seamlessly shapes and defines the breast. Unlike other molded bras, contour bras have a thin layer of foam or padding to help maintain their shape, ensuring a smooth silhouette.
Cookie Padding: These are removable padding inserts that can be added to a bra for additional lift or to even out asymmetry. They offer flexibility in adjusting the bra's fit or appearance.
Encapsulation: A design feature in which each breast is individually supported in its own separate cup, primarily seen in sports bras. This style reduces movement and provides superior support compared to compression styles.
Foam Cups: Bra cups that are lined with foam. These add structure, shape, and modesty by preventing nipple show-through and giving a smooth appearance under clothing.
French Cut: Refers to the design of panties with a high cut along the top of the leg opening, offering a leg-lengthening appearance and often more freedom of movement.
Front Close: A bra that features a front closure mechanism, usually hooks, as opposed to the traditional back closure. They can be easier to put on and might feature a decorative back.
Full Figure/Full Bust: Bras designed for women with larger bust sizes, typically DDD/F and above. These bras provide additional support features tailored for fuller breasts.
Graduated Straps: Straps designed with variable width, being wider at the back and tapering as they approach the front. This design provides increased comfort and support.
J-Hook: A small hook feature on the back of adjustable bra straps allowing them to be converted into a racerback style for versatility and additional support.
Mastectomy Bra: Specially designed for women who've undergone a mastectomy or breast surgery. They usually have pockets to hold breast prosthetics securely.
Microfiber: An ultra-fine, synthetic fiber used in lingerie due to its softness, breathability, and ability to wick moisture. It offers a silky feel and a smooth appearance under clothing.
Multiway Bra: A versatile bra featuring adjustable and removable straps, allowing for various configurations like strapless, halter, one-shoulder, or crisscross.
Padded Straps: Straps designed with a layer of cushioning for enhanced comfort. They help to alleviate shoulder pressure, especially for larger busts.
Posture Back: A U-shaped design at the back of certain bras to improve posture by pulling the shoulders back and providing added support.
Powernet: A strong, elastic mesh fabric often used in shapewear and the wings of bras. It offers control and shaping benefits due to its snug fit.
Racerback Conversion: Allows a regular bra to be transformed into a racerback style using clips or hooks. This is handy for certain outfits or for added support.
Seamless Cups: Cups designed without any visible seams, ensuring a smooth appearance under tight or sheer clothing.
Shelf Bra: A simple wire-free design that offers basic support using an elastic underband. Often built into tank tops or other garments for light support.
Side Boning: Rigid vertical supports placed on the sides of bras or corsets. These help maintain the structure of the garment and provide additional side support.
Sling: A design feature in bras where a piece of fabric or panel is used to redistribute breast tissue, providing uplift and forward projection.
T-Back: A type of racerback where the straps converge in a T-shape at the back, offering a unique design and enhanced support.
Bra Slip: An outer layer, similar to a slip, that's worn over a bra to provide added modesty, especially under sheer or see-through dresses.
Camisole Bra: Combines a shelf bra with a camisole. Useful for layering or for those who prefer a two-in-one garment for light support.
Cookie: Another term for removable bra padding. These can be inserted into designated pockets in bras to enhance volume or correct breast asymmetry.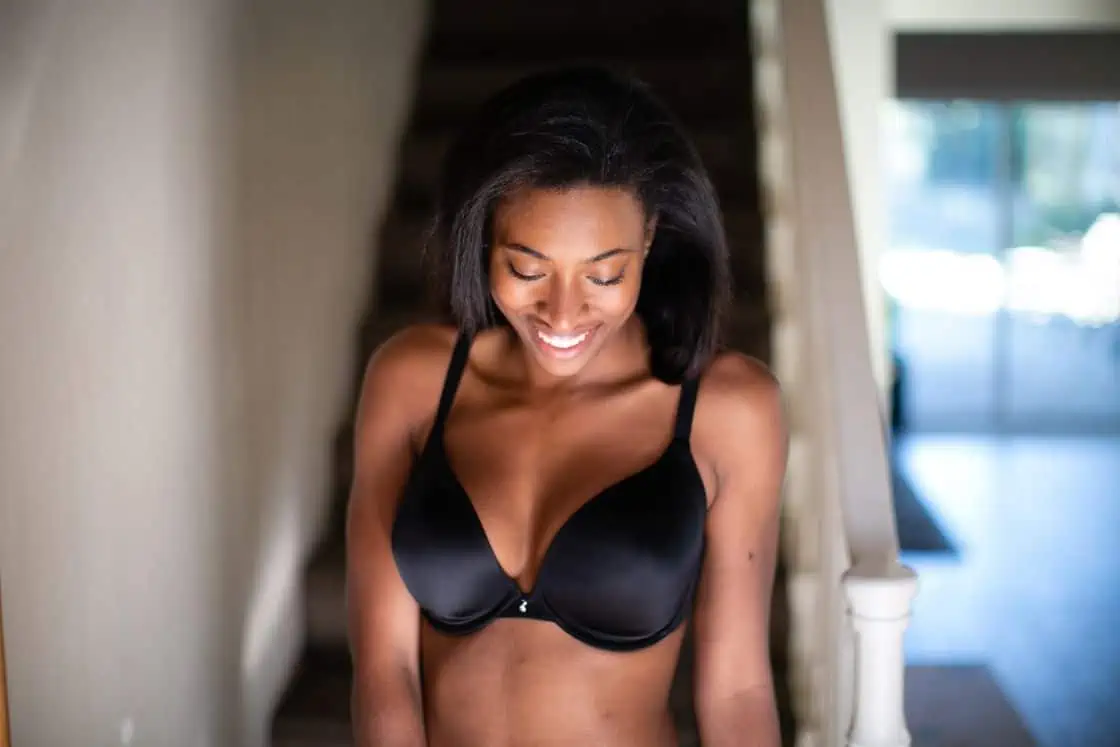 Conclusion
Navigating the world of bras and lingerie terminology is made simpler by understanding its diverse lingo From specialized designs like mastectomy bras to features like padded straps, every term speaks to the unique needs and preferences of women. As you shop, knowing these definitions can help you find the perfect fit to match your body and style. Armed with this glossary, you're better equipped to make informed and confident lingerie choices.