As an Amazon Associate we earn from qualifying purchases.
The type of bra you wear can have a dramatic effect on the look of your bust and your overall silhouette. A quality bra can support, provide structure, and enhance your breasts. Therefore, it is imperative to choose the correct one between the demi vs full coverage bra for the perfect look.
Demi vs Full Coverage Bra Overview
In more ways than one, demi and full coverage bras couldn't be more opposite. While both provide coverage and support to your breasts, the way they do it is very different: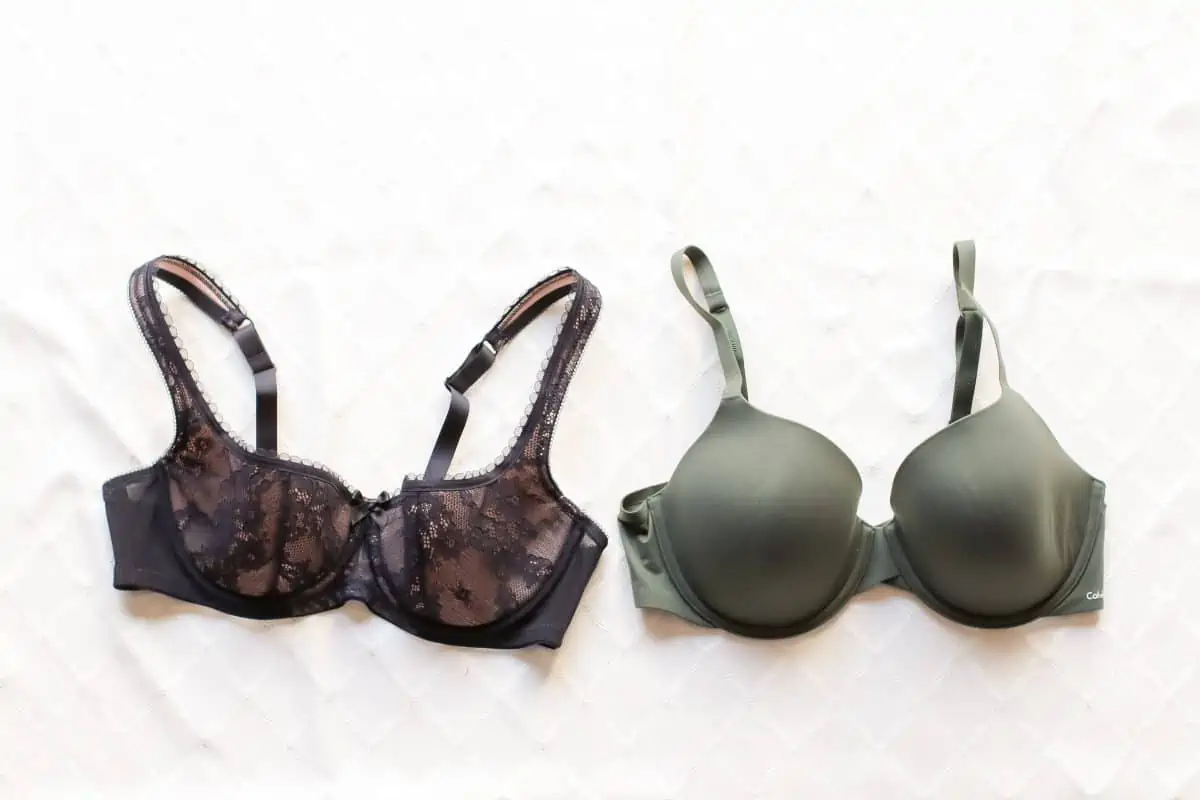 Demi Bra
A demi or half coverage bra refers to the partial coverage provided by the cups of this bra. It is a popular style to create stunning, deep cleavage, perfect for attires with a low-cut neckline.
The bra design achieves this by lifting your breasts and directing them towards the center of the chest. Most demi bras provide a modest and subtle increase.
Since the cups reach about an inch above your nipples, they do not cover your breast tissues completely. The cups are best suited for smaller busts, as bigger busts can spill over the edge. The best demi bras are available in various designs, fabrics, and padding levels to suit every need.
Many demi bras have a slinky and sexy nature to them, with low amounts of fabric. It's not uncommon to see some styles of this bra listed as lingerie.
What Is a Demi Bra? (Hint - its a LOT more than Lingerie)
Full Coverage Bra
A full coverage bra has cups that completely engulf your breast tissues. This bra is all about practicality, support, and unparalleled comfort.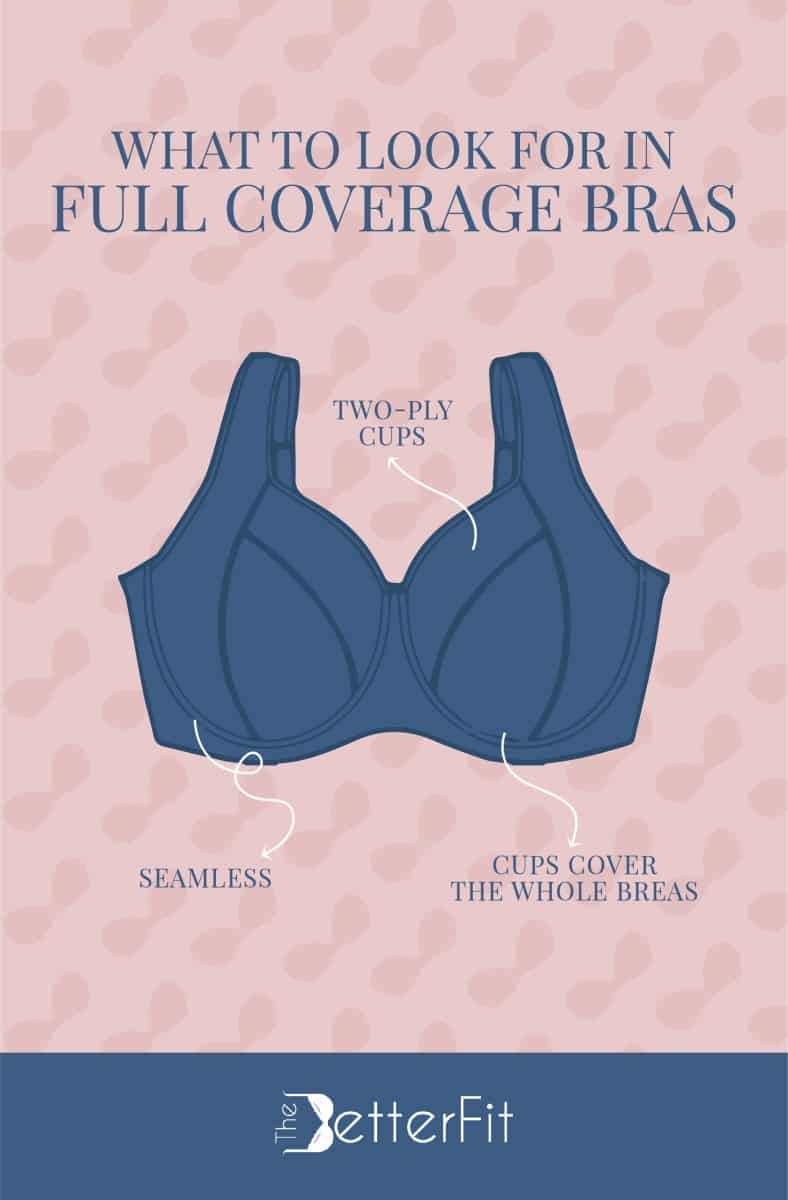 The shape of the cups ensures that you always have a smooth silhouette, preventing any unflattering side boobs.
Full coverage bras cater to women of all shapes and sizes: You can find this bra in the padded and non-padded variety, so you can choose one that works well for your breast size.
Finally, full coverage defines various bra types, including sports bras and t-shirt bras.
What Is a Full Coverage Bra? (Don't Buy Your Grandma's Bra!)
Comparing Demi vs Full Coverage Bras
Below we elaborate further on the similarities and differences between full coverage and demi bras for a better understanding of the two.
Similarities
The two bras' similarities are few, making it relatively easy to distinguish one from the other. The similarities include:
Differences
There are many glaring differences between the two bra types ranging from the shape and cut of the cups to the position of the straps.
Cups
The term "demi" means half in french. A demi bra has cups that cover half to three-quarters of your breast tissues. This bra dips in the front due to the sloping shape of the cups. Hence, this bra is often recommended for wearing under clothing with plunging necklines.
The cups of a full coverage bra have the conventional triangular shape that envelopes the entire breasts. This bra is practical and comfortable for everyday wear. However, you cannot wear it with low-cut outfits.
Straps
Straps of a demi cup bra are set wide apart, positioned just on the edge of your shoulder. The strategic placement of the straps allows the bra to lift your breasts for a fuller appearance. Though there are concerns about the straps slipping off your shoulders, the right bra fit prevents that.
The full coverage bra has each strap between the chest's center and shoulder blades. This allows the bra to provide the ultimate support to heavier breasts. However, there are more chances of your straps peeking through your neckline.
Support
Demi bras can provide the necessary support to keep your breasts stable. They do not offer as much stability as a full-coverage bra.
Therefore, if you have a heavier bust or are a nursing mom, and your main purpose of wearing a bra is to support your fuller breasts, you need full coverage bras.
Bust Appearance
Demi bras provide a perky silhouette and make you appear fuller on the top. The cups also tilt your breasts inwards to give you a voluptuous look and a prominent cleavage. However, ensure the bra fits you well otherwise, a tighter bra can make your breasts over from the top.
Whereas full coverage bras give you a more rounded, smoother look under your clothes. You can wear them under fitted tees and dresses for a seamless appearance. Occasionally, you can also create subtle cleavage with this bra.
Major Distinguishing Factor
The major distinguishing factor that immediately sets the two bras apart is the shape of the cups and the placement of the straps.
Demi bras have smaller cups and wide-set straps. On the other hand, full coverage bras have triangular cups that cover your breasts from top to bottom. The straps are attached at the top of the triangle for maximum support.
When to Wear a Demi Bra
Multiple scenarios and body frames call for the sultriness of the demi bra. These include:
When to Wear a Full Coverage Bra
A full coverage bra is a versatile bra that can be worn under most outfits and on many occasions. These include:
Final Verdict
A demi bra is better if your outfit has a low-cut neck and a more significant portion of your breast is exposed, while a full coverage bra is ideal for everyday wear for optimum support and coverage.
Moreover, a demi bra is more suitable for women with slimmer chest sizes, whereas bigger-busted women benefit from the construction of the total coverage.
It is essential for every woman to have a variety of bras in her wardrobe to suit her body type and activities. Whether your outfit calls for a demi or a full coverage bra, it should be of the right size to deliver on its potential.