As an Amazon Associate we earn from qualifying purchases.
Have you ever been curious about how to use a nursing bra? A nursing bra is a type of brassiere that provides extra support to lactating women and allows for comfortable breastfeeding without the need to remove the bra. It has bra cups and flaps that open with one hand to expose the nipple for nursing.
How to Use a Nursing Bra
For nursing moms, a nursing bra is a supportive undergarment. Additionally, they give your breasts the perfect comfort you need for nursing. Given the wide variety of nursing bras available, you might be unsure how to use and utilize one. The following are some of the tips on how to use one:
Drop Cup Nursing Bra
Step 1: The flaps on the drop-down nursing bra are fastened to the cup on either side using a clasp. Choose the side you will be feeding. Release the clasp and bring the cup downward.
Step 2: At this point, you can feed your infant and then fasten it once more after you're done.
To loosen the clasp;
Place your right thumb under the clasp.
Place your left hand just above the clasp on the suitable bra strap. Depending on how quickly your clasp detaches, you might not require both hands.
Your right thumb should be used to lift the clasp up from the bottom.
Pulling up and away from your body, raise the clasp.
Draw the cup downward.
Secure the clasp again when you are done breastfeeding.
Strapless Nursing Bra
Step 1: Ideally, position the cups on your breasts.
Step 2: Now secure your bras to the last hook or the one that feels most secure to you.
When selecting a nursing bra, choose a size that is slightly smaller than your typical bra size to ensure that it fits your breasts correctly. You will see a cloth extending to the cup's bottom so the strap stays in place when the cup is dropped to breastfeed.
Types of Nursing Bras
There are many different styles of these bras available in the market, making it difficult for you to choose the best one. Below are some of the types: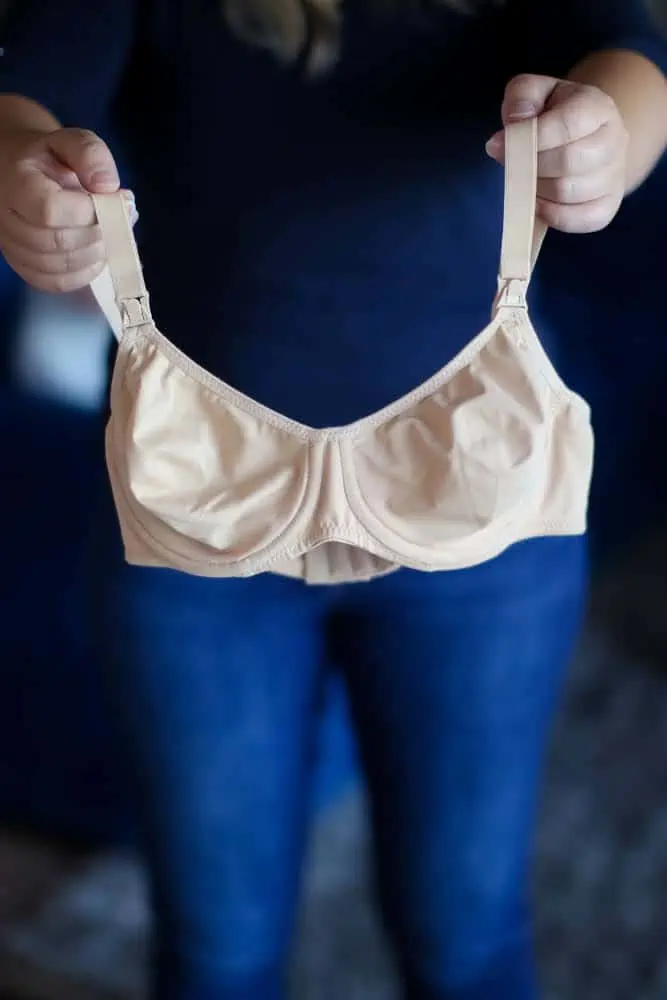 Wirefree bra: This type of wire-free bra is very cozy and practical. It just rests on your breasts and it's lightweight.
Drop cup bra: This type offers the best comfort and support for your breasts. Simple hookable and unhookable flaps made of cotton cover the cups of drop cup nursing bras. If you need to breastfeed, unhook the cup while the other breast is still covered.
Lightly padded bra: If you're unsure of what kind of bra to wear while pregnant, you should choose this minimally padded nursing bra. It is beneficial for breastfeeding and during pregnancy since it offers tremendous assistance.
Lace neckline bra: This bra allows you to carry yourself stylishly while breastfeeding. It looks excellent with fashionable clothes and supports nursing mothers effectively.
Nursing sports bra: If exercising while pregnant is your addiction, a nursing sports bra is perfect for you. It provides you with the extra protection and supports you need.
Strapless bra: This type of bra is the solution if you love off-the-shoulder or backless blouses. It is comparable to the typical strapless bra. It offers nursing mothers an extra benefit.
The Benefits of Using Nursing Bras
They Facilitate Breastfeeding
You might not be able to bring your baby to the breast without removing your clothes or bra because most regular bras have a reasonably structured design. In this type of bra, the cups may be quickly and often one-handedly accessed by clipping, folding, or pulling them apart. You can feed your child covertly wherever you go with the proper top.
They Feel Very Comfortable
For new mothers, the materials used in conventional bras could be unpleasant. The elastic used to make the band may leave itchy, red markings; lace or fabric made entirely of nylon may aggravate already painful nipples. The support offered by narrow straps might not be sufficient, and the underwire can irritate your swelling breasts.
Bamboo and cotton, two standard fabrics in maternity bras, allow your skin to breathe. These bras frequently include broad straps to provide more comfortable support and lessen or eliminate back, neck, and shoulder pain.
They Adjust to Your Body
You'll undoubtedly notice as a breastfeeding mother that your breast size changes daily. Your breasts may increase or decrease by one to four cup sizes during pregnancy. When you nurse, they could expand even more, especially if you engorge or have an excess.
Breathable materials are combined with just the perfect amount of flexibility in high-quality nursing bras to accommodate the natural fluctuations experienced by nursing mothers.
Factors to Consider When Selecting Nursing Bras
The following are some points to consider when selecting this type of bra:
Enhanced support: Throughout pregnancy, breasts naturally expand as well as remain larger. Look for bras that offer full support.
Price: These types of bras may range from low-cost to high-end. How much you're willing to spend is determined by how long you want to breastfeed and which attributes are most important to you.
Accessibility: A challenging bra could make it tough to breastfeed. because you'll be holding your kid with one arm and attempting to unhook your bra with the other. Select drop-down cups to avoid all of these difficulties because they offer effective accessibility.
Adjustable straps: Bras made of stretchier materials may eventually sag. Bras with elastic straps last longer as a consequence.
Durability: Choose a bra that won't tear after cleaning and one that will last longer.
Conclusion
Nursing your infant may be a wonderful bonding experience, but it's not always easy. It may be painful, stressful, and exhausting, so having the correct equipment and understanding how to use it can make life simpler for both you and your baby.