As an Amazon Associate we earn from qualifying purchases.
Are you getting dolled up with your new bodycon dress, only to see your buttocks divided into four unsightly parts because of underwear lines? To guarantee a sleek silhouette that can flaunt your curves, I'm giving tips on how to avoid panty lines in bodycon dresses.
How to Avoid Panty Lines in Bodycon Dresses
To hide panty lines in bodycon dresses, you must wear proper-fitting underwear with a seamless structure and thin fabric. Unless you want to go commando, you may also use shapewear or tights to conceal underwear lines. Another way is to opt for thicker fabrics and bold prints on your dresses.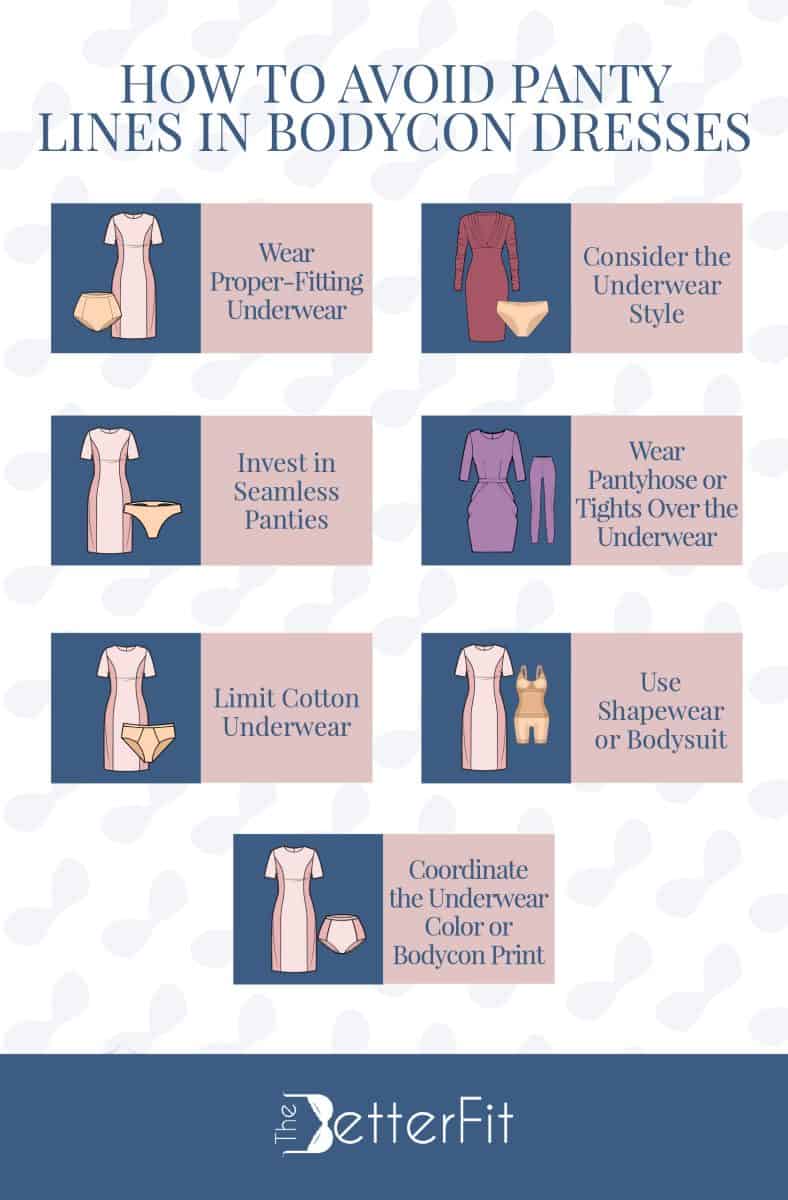 Awkward lines and creases can ruin your otherwise perfect outfit. These are foolproof ways to prevent underwear lines so you can confidently step out in your bodycon dresses.
Wear Proper-Fitting Underwear
The first step to avoiding panty lines is getting the right size and fit. Even if you have seamless boy shorts or the thinnest g-string, they won't be able to serve their purpose if you're wearing a larger or smaller size.
Too tight underwear can cause the waistband and leg holes to squeeze in, leaving lines and creases. On the other hand, very loose underwear can bunch up and cause wrinkles.
Invest in Seamless Panties
Another way to prevent underwear lines in a bodycon is to choose seamless panties. It's a structure with no visible stitching on the outer areas, especially in the band and leg holes. There are particular styles with laser-cut edges or no stitching, allowing the panties to press flat against the skin.
Seamless panties typically consist of spandex, nylon, silk, or satin. These fabrics are much gentler on the skin while also being highly stretchable.
Limit Cotton Underwear
Cotton fiber is highly absorbent because it has polymer molecules that create pure cellulose, which gives cotton its hydrophilic nature to attract water molecules. This is why cotton is a popular material for underwear because it can eliminate heat buildup from the vagina to prevent odor and yeast infections.
Despite its benefits, cotton can also make panties have thick, bulky seams. Wear panties from a thinner material.
Consider the Underwear Style
Certain styles of underwear go well with bodycon dresses. The right type can support and cover your private parts while avoiding lines from bulging through your form-fitting bodycon.
G-string: The absence of rear coverage in a G-string reduces panty lines, particularly in the buttocks. It only uses a thin string around the waist and between the buttocks. Aside from not offering any sort of butt lift, it may feel unpleasant when worn for an extended period. If you want to avoid VPL (visible panty lines), a G-string is the safest panty to do it with.
Thongs: Thongs have less fabric in the back compared to regular underwear. It has a broader band than a g-string, although it can still eliminate tummy bumps and creases for a bodycon. This is an ideal choice if you need more coverage than a g-string.
Boy shorts: Boy shorts are good alternatives if you don't want to deal with lines cutting across your bottoms. This underwear style covers more of the hips and butt, with seams ending above the thighs. The fabric will pass over the curve of the butt cheeks, providing full coverage while minimizing panty lines.
Wear Pantyhose or Tights Over the Underwear
Wearing pantyhose or tights over underwear can help smoothen the bumps and lines. This is also a great way to style your bodycon dresses during winter, as fleece-lined tights can provide extra warmth. Meanwhile, pantyhose is a perfect disguise for styling a bodycon for formal wear.
Use Shapewear or Bodysuit
Shapewear is a type of undergarment that contours the body to give you a sleek silhouette. Its seamless design can also aid in the concealment of panty lines.
Open-bust bodysuit: The bodysuit removes the need for a waistband. Additionally, this style lets you choose a seamless bra to pair with the shapewear.
Body briefer: A body briefer looks like it combines a bra and shapewear. The one-piece structure also eliminates the waistband.
Mid-thigh shorts: You can use mid-thigh shorts if you need more support for your midsection. It has a silhouette comparable to boy shorts, so there won't be any lines digging into your buttocks.
Coordinate the Underwear Color or Bodycon Print
The bodycon's material and print, as well as the color of your underwear, can also make a difference in whether there are obvious panty lines or a seamless silhouette.
Choose an underwear color that matches your skin tone, particularly when wearing a light-colored bodycon. Underwear that doesn't complement your skin tone would easily show through mesh or thinly-lined dresses.
Wear dresses with thick fabrics to conceal underwear lines if you don't have a seamless panty or shapewear.
Look for bold prints or busy patterns like animal prints, polka dots, or stripes to disguise underwear lines. The pattern's size and placement can either draw attention to your assets or conceal things you wouldn't want other people to see.
This is a great way to hide your visible panty line if you don't have any other underwear alternatives.
Related Questions
What Causes Panty Lines in Bodycon Dresses?
Poor-fitting underwear combined with lightweight clothes can cause panty lines in a bodycon. Heavy seams on underwear can create ridges and dig into the backside, causing an unattractive indentation near the thighs and buttocks.
What Bra Should I Wear Under a Bodycon Dress?
It's best to wear the right adhesive bra, a clean finish, or a seamless bra under a bodycon dress. Make sure to choose a bra that can avoid bra spillage and side bulges. Similar to underwear, opt for thin yet stretchable fabrics to prevent lumps.
Can I Go Commando in a Bodycon?
Yes, you may also consider going commando or not using underwear for a bodycon. However, you risk exposure if you wear a sheer or thinly-lined dress, especially if you're wearing a bodycon dress for work. Wear underwear with a crotch gusset for modesty and support as much as possible.
HONEST review of the Neezeelee Black Slim Fit Dress Pants
Conclusion
Wearing seamless and thinly-lined underwear can help you hide panty lines. You can also consider using shapewear for bodycon dresses, going commando, or opting for thicker bodycon dresses. With these tips, you can rock your tight-fitting bodycon dress without fear of visible underwear lines.