As an Amazon Associate we earn from qualifying purchases.
Belly fats are among the most stubborn fat deposits that refuse to budge easily. Therefore, you need some help in looking trim and toned under an outfit. In this guide, I tell you all about how to hide belly fat in jeans, so you can always step out with confidence and style.
How to Hide Belly Fat in Jeans
Jeans are often snug around the waist, which causes the lower belly pooch to become more prominent. However, there are many ways to ensure that you showcase a flawless frame, without any bulges whenever you wear your favorite jeans. Here is what you can do: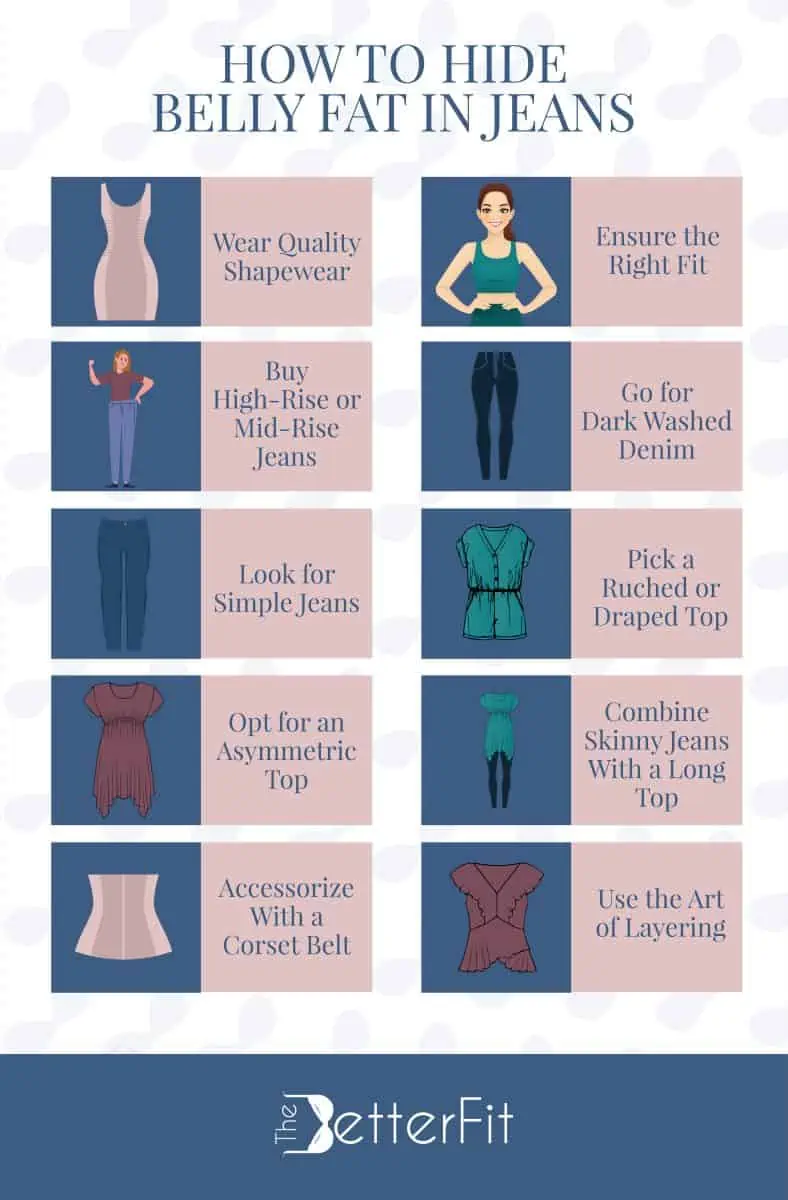 Ways to Hide Belly Fat in Jeans
| Techniques | Action |
| --- | --- |
| Technique 1 | Use shapewear |
| Technique 2 | Get proper-fitting pants |
| Technique 3 | Opt for mid-rise or high-rise jeans |
| Technique 4 | Wear dark-colored denim |
| Technique 5 | Avoid studs or embellishments in pants |
| Technique 6 | Pair jeans with a ruched or draped top |
| Technique 7 | Consider asymmetrical tops or dresses |
| Technique 8 | Wear a bodysuit |
| Technique 9 | Pair skinny jeans with a long top |
| Technique 10 | Use a corset belt |
| Technique 11 | Layer clothes |
Wear Quality Shapewear
Shapewear is a game-changing undergarment that has a compressive nature. Consequently, it sculpts your figure and draws attention to your natural curves. It acts as a foundation for all your outfits and gives you a boost of confidence to wear whatever you like.
Therefore, you can layer it under your jeans to tuck in your stomach. Shapewear for lower stomach pooch is either available as:
Corset, also known as the waist trainer, works hard to make the tummy look toned.
High-rise underwear holds in your lower belly and gives you a more defined midsection.
However, before you splurge on shapewear, make sure that it feels comfortable. Go for the correct size, as a smaller size will not make you look thinner. Instead, it will feel constraining and fail to provide you with a smooth silhouette. In fact, it can create unattractive bulges that negate the purpose of the shapewear.
Ensure the Right Fit
There are a few pieces of clothing that you should always buy in the correct size. One of them is your quintessential jeans. The type and shape of the jeans can drastically change the look of your legs, some are even designed specifically for apple-shaped bodies and pear-shaped bodies.
Moreover, the fitting around the waist can affect the appearance of your stomach:
If your jeans are too tight, the waistband will dig into your skin and make your belly fat more prominent.
If your jeans are too loose, you will have to wear a belt to hold on to a loose fit that will make the waistline look bulky and highlight your stomach.
Thus, opt for jeans that fit you seamlessly, while accentuating your pins. We also recommend wearing slim jeans, ending just at the ankle. These will help you look leaner, taller, and more streamlined.
Buy High-Rise or Mid-Rise Jeans
If you feel that shapewear is not your jam, wear high-rise jeans. The high-waisted pants are designed to cover your lower tummy and sit above your belly button.
Some of these jeans come with an in-built waist shaping mechanism, these are especially great for postpartum bodies. Hence, they are a great option to hide your belly fat without wearing anything else.
The next best option is the mid-rise jeans. While it does not cover as much stomach as the high-rise variety, it is still effective in tucking in the lower stomach. However, avoid low-rise jeans at all cost since it pushes up the tummy fat to create an unflattering muffin top.
Go for Dark Washed Denim
Dark colors are very forgiving as they create a slimming effect. Darker, deeper hues tend to absorb the light instead of reflecting them. Thus, they appear uniform and do not draw attention. These colors are also very good at camouflaging any variations.
Therefore, if you feel conscious about your waistline, a dark wash is a great option as it will not accentuate your tummy fat. You can also wear dark navy, deep grey, and black pants, which are all better than light-wash or white jeans. These will make your belly bulge more noticeable.
Look for Simple Jeans
There are endless varieties and designs of classic jeans that have us spoilt for choices. Just as not everyone wants to wear jeans that can lift their bum and make it look bigger, not every type of jeans works for everyone. This is especially true for you if your goal is to keep your belly fat out of the public eye.
Hence, when buying jeans, pay close attention to the detailing around the waistband. Ideally, you do not want anything, such as studs or embellishments near the top of your jeans that will make your waist look bulkier.
Similarly, jeans that close with a single button and zip fly are better than one with a row of buttons. Also, the pockets should be simple with a seamed design, and sans any add-ons.
Pick a Ruched or Draped Top
In addition to choosing the perfect kind of jeans, it also helps to pair them with a top that allows you to conceal your belly. Thus, look for tops with a lot of fabric gathered over your stomach. The strategic design works naturally to hide any unwanted fat and looks amazing.
Moreover, the perfect ruches or drapes are the kind that is smaller in size, concentrated at the waist height, and vertically oriented. Finally, the top should be made from a fabric that is flowy and sits comfortably over your body.
However, the draped top should not be skin-fitted, as the flimsy material is very unforgiving and will highlight all your lumps and bumps, wherever it clings to your body. Consequently, even if you are successful in concealing the front pooch, the bulges on the side will still be evident in a tight top.
Opt for an Asymmetric Top
Another top design that will work in your favor is the asymmetric kind. The lack of symmetry diverts the attention of the viewer from the extra weight around the midsection. Moreover, these stylish and chic blouses can make you feel phenomenal, so you can focus on having a good time.
Hence, look for tops, tunics, and shirts with asymmetric prints such as flamboyant abstracts or stunning animal patterns. You can also wear a blouse with an asymmetric hem, one-shoulder, or extra detailing on one side. All of these look great while taking the focus away from certain areas.
Put on a Bodysuit
Another alternative to shapewear is the on-trend bodysuit. These pieces of clothing have been all the rage with endless styling options. You can also use them to cover up your lower belly. While a bodysuit is not as compressive as shapewear, it can still work to tone your waistline.
The key is to look for a superior quality bodysuit so it can conceal your tummy bulge effectively. In addition, make sure that it is made with a sturdy material that is not too stretchable. Then, put on your bodysuit along with the jeans, before completing the look with a shirt.
Combine Skinny Jeans With a Long Top
Skinny jeans are endlessly enhancing, elongating, and slimming. Moreover, it is the perfect companion to a long top as it creates a visually pleasing contrast. Thus, wear a shirt that ends between your hips and upper thighs. This length is ideal for hiding the midsection bulge.
A shorter length that ends at the hips will draw attention to your tummy, while a longer length will appear bulky and look like a shirt dress, instead of a top.
Therefore, in addition to reaching out for asymmetric, ruched, or draped blouses, opt for the perfect length. These slim the entire figure, are comfortable to wear, and pair well with the jeans.
Accessorize With a Corset Belt
A corset belt is a welcome evolution of the restrictive, medieval corsets that looked more like a torturing device. The belt is stylish, fashionable, and versatile. It is perfect to create an illusion of curves if your dress or top is too loose, and also amazing to conceal the excess fat on your waist.
Therefore, next time you are not sure about a top and jeans combo, add a broad corset belt over your plain shirt. It works overtime to channel your sublime fashion sense while keeping your secret belly pooch under wraps. We recommend opting for a dark brown or black belt to have the maximum advantage on your side.
Use the Art of Layering
You can literally keep your stomach under wraps by dressing in layers. Occasionally, you will come across a top that you love, which may not have an appropriate design or length recommended to conceal the tummy fat. In that case, you can add a layer to disguise the belly.
Some great layering options include front open mid-season coats, long cardigans for the autumn months, and long blazers in breathable material for summers. All of them generate a slimming effect that makes you look tall and lean.
Moreover, opt for vertical lines and well-fitted layers to further tone your entire look. Horizontal stripes can make you look broader, while a loose fit will make everything appear bulkier. Finally, add a scarf if you still feel conscious.
Related Questions
What Should I Wear if My Stomach Is Bloated??
If you have a bloated stomach, you can wear jeans with an elastic waistband or loose silhouette. This ensemble can add definition to your body while keeping the stomach comfortable.
How to Choose the Right Jeans for Belly Fat?
When choosing the right jeans for belly fat, you must consider what waist level and leg length are suitable for your body shape. For example, the best jeans for a pear-shaped body can have a high waistband and length that ends at the ankles.
What Is the Right Bra if I Have Belly Fat?
You can wear bustier bras and longline bralettes if you have belly fat. These bra styles have extended bands that help sculpt the stomach.
HONEST review of the Navy Blue Leggings Depot High Waist Workout Leggings
Conclusion
It is not so difficult to hide your belly fat in jeans. Invest in quality jeans in dark colors, simple designs, and a high waist. Dress in flattering draped blouses, asymmetric tunics, and long tops. Add layers or a corset belt to round off the look and look glamorous at the same time.