As an Amazon Associate we earn from qualifying purchases.
​For larger busted women, keeping the girls comfortably in place for a day at the beach or pool is no simple feat. As a matter of fact, it can be nearly impossible, and really can impede what would otherwise be an enjoyable day.
Many women in this situation consider wearing a bra under their swimsuit, but I'm here to tell you that using a bra is not a good idea. However, you don't have to ditch the idea of looking sexy in your swimwear.
I'll walk through the reason why you don't want to wear a bra under swimsuits, and give you several options to utilize instead.
Can You Wear a Bra Under a Swimsuit?
​Never wear a regular bra under your swimsuit – it will ruin it.
Find a better support option for your boobs and swimsuit than opting for a bra. Either pick a bathing suit with ample support or opt for a specific swim bra.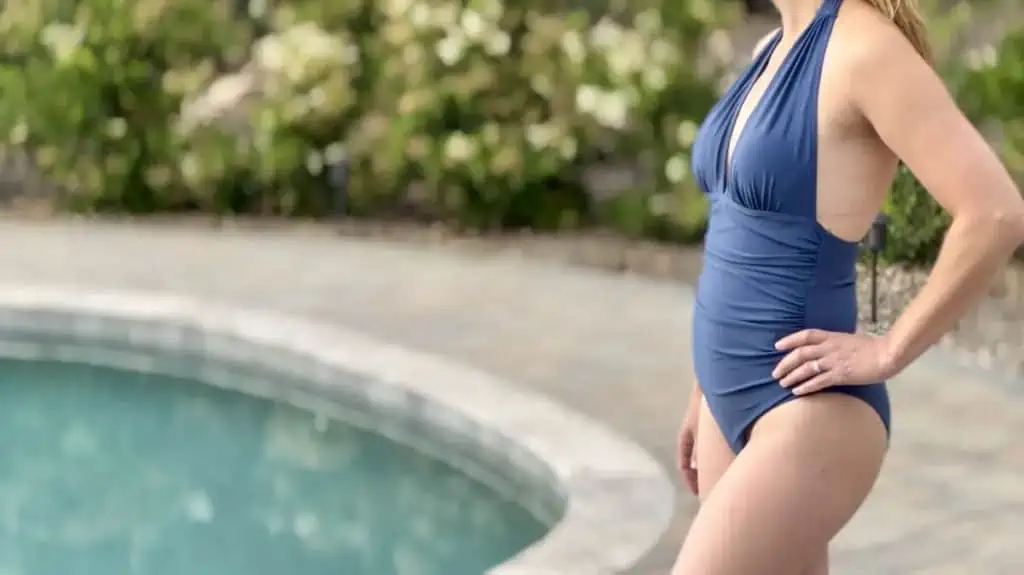 Here are the reasons you should not wear a regular bra with your swimsuit:
​There isn't room: Bathing suits and bikinis are form-fitting and designed to be worn tight against your skin. A bra will cause bulges and odd-looking bumps. This will put a damper on your margarita sipping summer times.
​Your bra will show: No matter how hard you try, your bra will end up showing at some point throughout the day. Whether it's the straps or the cup, it's only a matter of time.
Wrong material: Bathing suits consist of fast-drying, synthetic material that is designed to wick water and dry quickly. Bras, on the other hand, are typically made from thick cotton and padding. They do not dry quickly, and will actually stay wet the entire time you have your suit on. (Even silicone bras don't dry the same way as your suit, sometimes leaving you with "wet boobs".
​Chlorine and Salt Water: Bathing suits and swimwear is made with material that can handle the damaging chlorine and salt water that a pool or ocean will throw at people. Your bra, on the other hand, will break down and wear away quickly from salt and chlorine.
​Uncomfortable: At the end of the day, you'll just be uncomfortable. Bras are not designed to be worn under a bathing suit, and there are a variety of reasons that it will just be flat-out

uncomfortable. Whether sand or movement, you'll regret trying to make it work.
Best Swimsuits With Built-In Bras Reviews
If you feel the need to have a swim bra for under your swimsuit, I recommend the Silicone Lift Bra from Fashion Forms. It has fantastic adhesion and stick, and comes in sizes B-H.
Another option to consider is to buy a bathing suit that already takes care of your problem. I prefer this to wearing a swim bra under my swimsuit.
Rather than try to find a bra to wear under your suit, you can opt for a bathing suit that has one in it, like a built-in bra. Here are my favorite selections.
| Swimsuit Style | Bra Feature | Best For |
| --- | --- | --- |
| Two-piece | Removable padded bra | Adequate support for small to mid-sized breasts |
| Sporty one-piece | Built-in bra | High-active water activities |
| Tankini | Built-in bra with light padding | More coverage for the torso |
| Cute one-piece | Lightly padded cups | Optimum support for plus size women |
| Halter top | Padded or unpadded triangle cups | Slimming the body |
| Bandeau bathing suit | Double lining | Showing more skin without sacrificing support |
| Longline | Push-up cups | Shaping the stomach |
| Multiway bikini top | Molded cups | Experimenting with various styles |
Two-Piece
If you've been stuck searching for a bikini that has adequate support for your breasts but still looks super cute, this is my choice.
First off, let's talk about the support. This ATTRACO Girls 2 Piece Bikini has a removable padded bra that can give ample support while being comfortable to wear.
The one is made from a combination of polyester and spandex and incorporates elastic to hold you in place.
There are several different versions of this suit, so you can style it according to your preferences.
I find this to be a great option for larger busted women who want to look cute in a two-piece but need a modest yet attractive top.
Sporty One Piece
This stylish and sporty one-piece, the Speedo Endurance+ is great if you're looking for a swimsuit you can be active in similar to a sports bra, while still having built-in support for your breasts.
Speedo Women's Swimsuit One Piece Endurance+...
Block the Burn: UPF 50+ protection blocks up to 98% of the sun's harmful rays
BioEndurance: Long-lasting with 21% bio-based material
HydroBra: High Support Bra with Powerful Mesh, Removable Cups and Plush Elastic
Specifically, Speedo incorporates their Hydro Bra into the suit, and it does wonders to keep everything in place.
The soft cups are removable, allowing you to customize the support you get, depending on the situation you're in.
This swimsuit does not come with any underwiring if that's a concern for you. The bra is completely mesh and elastic.
With Core Compression by Speedo, you'll get the benefit of strategically placed mesh that helps slim and trim you out as well.
Tankini
This BIKINX Tankini Swimsuit is high on style, while still providing excellent support for your boobs.
BIKINX Striped Tankini Swimsuits for Women Plus...
Material Composition:The fabric of this two piece printing tankini swimsuit are made of 82%...
Adjustable spaghetti strap and tummy control high waistline shirred design make this swimsuit a sand...
Moderate coverage for bottom elegantly contours your curves.It will make you feel good and charming...
The scoop neck top and triangle bottoms are the perfect combination of cute but modest.
A non-removable attached bra is built into this tankini swimsuit, with light padding to help give you additional support and form.
I love that BIKINX, the maker of this swimsuit, provides a helpful guide to ensure you buy the right sized suit for your figure and bust.
Cute One Piece
This super cute Upopby Vintage Lace Up One Piece comes in a variety of sizes and colors and is highly rated and reviewed.
Perfect for plus size and larger busted women, this one piece suit was made to look cute while taking care of your breasts.
With adjustable straps, this is a lightly padded monokini with wireless support.
If you're ultra concerned about your boobs flying around, or you're really active in your swimwear, you might do better with one of the other options below.
But, if you're looking for a stylish one-piece swimsuit option that is built to accentuate your curves, flatter your tummy, suitable for plus size, and provide some support at the same time, then this one is the right option for you.
Halter Top
When you choose a halter top, the strap goes around the neck. It normally provides triangle cups and thicker straps for more coverage.
Even if you are a big-busted girl, you can enjoy both padded and non-padded versions.
Furthermore, a halter swimsuit aims to slim your body and hug your curves, unlike other swimsuit tops. It makes use of center-pull straps to lift the bust, which is a good alternative if you don't like wearing bras with underwire.
The push-up design flatters a lady's figure while still offering flawless bikini style.
For instance, the SHEKINI Women's Halter Bandage Bikini takes advantage of a crisscross front detail, adjustable spaghetti strap, and tie at the neck and back to hold the breasts.
SHEKINI Womens Bathing Suits Push Up Halter...
82%polyamide, 18%elastane, Lining: 93% Polyester +7% Spandex.
Push up bikini top features crisscross front details, adjustable spaghetti strap, tie kont at neck...
Halter bikini top with unremovable padding,provide extra shape and support.
It also provides padded cups for good comfort. Since everything is adjustable, you can control the degree of tightness and comfort.
Bandeau Bathing Suit
Show more skin without sacrificing support with the help of bandeau bikinis! A bandeau refers to a garment that wraps around a lady's breasts. With this style, you can enjoy several features such as wire-free, stretchable, removable straps, tie-on styling, and front knot tie.
A great option is the ZAFUL Women's Lace-up Bandeau Bikini, which is a strapless bandeau that offers the classic crop look.
The one has an adjustable back-strap design, which means you get to adjust the tightness to feel more comfortable in the chest. Even if you have a small bust, you can adjust the top strings to make the bandeau tighter.
Since this bandeau bikini has a double-lined stretchable material, you can ensure you'll find the right size for you.
While there isn't any padding, the material itself is pretty thick. Form flattering and super comfortable; you won't even feel weird that there are no shoulder straps.
Longline
A longline is a bikini top that extends down to the hips or waist. However, this means you need to check how the bikini fits the waist.
A longline bra should feel snug and firm to let you know if it's capable of doing its job of supporting properly.
If you need to get an extra-wide band to provide more support, you'll find longline bikinis more suitable for your bust. Some have underwires that guarantee optimal bust support.
Depending on your needs, you may look for a longline bikini with a firm control in the stomach for shaping.
For example, the LALAGEN Women's High Waist Bikini flaunts a wide band that provides more coverage and support. With the addition of an adjustable buckle and detachable shoulder strap, you can adjust the straps to the suitable length you need.
LALAGEN Women's Strappy Hollow Out Floral Swimwear...
Printed stretch swim fabric. Versatile swimsuit collocation--- bikini set come with the top and...
Tulle skirt and beach kimono provides more protection from the sun. Perfect for use at a tanning...
Swimsuit with underwire cups for added support, breathable and provide enviable shape.
What's more, there are breathable underwire cups for more support while helping your body retain an enviable shape.
Multiway Bikini Top
When you're investing in swimwear, you'll want to consider flexibility and versatility. With multiway bikini swim tops, you can create several designs while using a single bra. Strap configuration may depend on your bust size, preference, or presence of hooks.
Also known as convertible bikini swim tops, a multiway bra is a must-have, especially since you can adjust the straps to form a halter neck, crossover back, strapless, low back, narrow front, and one-shoulder.
Try a multiway bra if you want the freedom to experiment with different styles while still getting the right amount of support of a bra.
An excellent product choice is the Freya Women's Deco Underwire Molded Multiway Bandeau, which is a bandeau with straps that can crisscross in the front and tied around the neck.
This multiway bra offers a ton of support as a bra and coverage thanks to the foam underwire cups. Even when you get a strapless style, this supportive multiway bra will still hold the bust well.
​Why Wear a Swim Bra Under a Swimsuit?
First, let's question the main reasons why someone might want to put a sturdy, supportive bra on under their bikini or swimsuit.
1. Not Having Good Support
Yes, it's true… many to most new bathing suits don't offer a good deal of support like a bra.
Whether it be as a result of flimsy material, thin straps, or small cups, bathing suits are notorious for putting looks ahead of support.
And why would they?
Let's be honest – summer should be chock full of long days in the sun with family and friends, enjoying the beautiful weather as you please and showing off what you have to offer with enough support.
Fashion styles these days are full of free-flowing bralettes, seemingly made for ladies that don't need a healthy dose of support for their boobs.
However, a bathing suit with no support is no day in the sun and can be really uncomfortable. Luckily, there are lots of bathing suit support options for large busts.
​2. Nipples Show Through Bathing Suit
It's not just you – there are a whole host of reasons that nipples show through in a bathing suit, even when this typically isn't a problem for you in your everyday bra.
For starters, your body is typically going through a lot more temperature fluctuation as you go in and out of the water.
Needless to say, this can cause nipples to get a little harder… and a lot more noticeable.
Some of the trendier bathing suit options these days opt for the material that covers your skin nicely but can leave a little bit to be desired when it comes to nipple coverage.
Sometimes it isn't that the nipple is prominent, but just that you can see the bump that exists in the region.
No matter what the reason, it's not abnormal for this to be a situation you deal with. You can opt to wear waterproof nipple covers designed for under swimsuits, but this is both annoying and not always foolproof.
This is also a problem experienced by ladies looking for support in a good swimsuit for smaller breasts. Big or small, nipples can easily show through a suit, unlike a bra.
Picking bathing suit tops that have padding will help this problem a lot.
There are also a lot of DIY solutions, just in case you want to wear that ultra-cute suit that you know leaves you showing a bit without a bra.
How to Avoid Needing a Bra Under a Bathing Suit
Ok, let's talk about what to look for in a bathing suit that does not need a bra underneath it!
Typically I'm talking to the bigger girls out there, and so you're going to be looking for more support and shape to help your pair.
Padding: Plenty of bathing suits are made with padding for support, designed to help pad your breasts in a suit. This can come in a variety of forms, from silicone and foam padding as a part of the suit, or removable pads that you can add-in. Ironically enough, you can also look at pushup bikinis for more shape and support.
Sturdy bands: This can be a little tougher, as sturdy bands are often synonymous with a swimsuit that lacks sex appeal. Don't be dismayed though, you can find great options with sturdy bands for support. One tip is to look for a bikini that is more of the tankini style, rather than opting for larger straps to hold up your breasts.
Underwire: Yes, bathing suits come with underwire, should you want them. While the debate between underwire and no underwire will also live on, they can be a huge asset in a swimsuit. And that little bit of wire might be all the support you need.
Cup Material: Soft cups made of thick fabric can help give your boobs shape, while also giving you extra support and protecting your nipple from showing. Sometimes referred to as foam cups, shaper bra cups, and molded bra cups, these are a must for bigger-busted women.
If You Have To Wear a Bra Under Swimsuits
If you opt to go the route of a swimming bra, here are some considerations:
​​Opt for a sticky bra: ​You'll need to opt for a backless bra if you're wearing one in a swimsuit. Because of that, your only real option is to turn to something with adhesive.
Opt for a silicone bra: ​Getting a bra wet is a tricky business. Obviously, anything with cotton or padding won't work, plus, you're going to need to wash your bra well afterwards. ​So what bra material will? Silicone is pretty much the only option when it comes to wearing a bra under a bathing suit in salt and chlorinated water.
​Don't go cheap: ​Cheaper sticky bras lack the staying power that a nicer bra has. The last thing you want is the adhesive to come "un-stuck" halfway through the day or, even worse, while you're out frolicking in the waves.
​​Come up with a long-term solution: ​Over the years, it's probably better if you have several options for swimsuits. Perhaps you want to hang out in that super cute bikini and wear a silicone bra with it. But, you will also want a bathing suit that requires a little less work sometimes.
Related Questions
How Do You Support the Breasts in a Swimsuit?
The best way to support the breasts in a swimsuit is to find a well-fitting bra. It helps to have cups, straps, and bands that keep your breasts in place while you swim or dive.
Can I Wear a Regular Bra as a Swimsuit?
You can technically wear a regular bra as a swimsuit, although it's not advisable. Regular bras typically use absorbent material, such as cotton, which won't repel water. They may also feel heavy and thick on the skin.
What Are Good Swimming Bras?
Good swimming bras must have quick-dry fabric, supportive cups, and high-grade straps to ensure proper coverage. You must also consider your body type and breast shape to find flattering bra styles.
HONEST review of the Cupshe V-Neck Ruched Bathing Suit
Last Words
In the end, it's best not to wear a bra underneath your bikini or one piece.
Instead, opt for the variety of swimwear options that are available to take care of the support problem, and enjoy your days at the beach.