As an Amazon Associate we earn from qualifying purchases.
When I talk sports bras, it's typically the t-shirt style you pull over your head that automatically comes to mind. Those are not always easy to slide into though.
Top 3 Sports Bras with Back Hooks
​There's no promise that sports bras with back hooks are going to solve every problem, especially for women with large breasts. They just promise to be easier to put on, which is good enough in my book.
These 3 sports bras with back hooks are some of the best, based on their popularity and good reviews. WingsLove's non-padded sports bra offers comfort beyond the cups.
Lunaire's Coolmax bra takes sweat management seriously and delivers a good job at keeping it from making you uncomfortable. Champion's sports bra takes advantage of its encapsulating and compressing qualities to offer a unique kind of support.
My Top Recommendation
If you want my final vote (without all the reading), the ​Champion Women's Spot Comfort Full Support Sport Bra wins for Overall Best ​Sports Bra with Hooks in the Back.
Champion Spot Comfort Sports Bra, Best Sportsbra...
SUPPORT LEVEL – High-impact sports bra made for running and high-intensity workouts.
THE FEEL – Tight compression fabric for a stay-put fit.
THE SHAPE – Wire-free sports bra with lightly molded cups for shape and support. Cups are...
WingsLove Women's Full Coverage High Impact Wirefree Sport Bra
​This one comes in at the most affordable option out of the sports bras I reviewed. The WingsLove's Non-Padded Sports Bra is a gentle piece that offers a soft and tender feel to every part it touches.
It's designed for medium to high impact activities. If you play any type of sport, this bra will make a great addition to your athletic wardrobe.
The straps have a cushion in front and are adjustable to avoid digging into your skin. The low band at the back is joined together by a three-hook fastening system.
This bra also has double-lined cupping that's thin and wireless. It is made with mesh in the inner lining, and wicks away sweat to keep you dry. It's a full coverage sports bra.
The generous amount of fabric, thick straps, and band make your breasts stay in place and covered throughout your workout. There is no wiring in this undergarment, adding to its comfortability of it.
Even with the lack of wire, it's still supportive enough for women with D cups and higher. It also is good for plus sized women.
Highlights
The sizing ranges from 34-48 for the band and B-G for the cups. This is comparable to the size options given for the Lunaire sports bra I review below. If there's anything this bra is good at, it's preventing bounce and other breast movements.
It gives you ample protection, support, and comfort. These features show the quality of the bra.
Why Buy?
​Feel secure and supported with the bra that provides the most coverage.
Wingslove Women's Full Coverage High Impact...
Thin and wireless cup design, reduce constriction on your breast, improving comfort. Wide adjustable...
High sides and full coverage shape cover your breast greatly, no spillage. Perfect formfitting and...
Lightweight and quick dry material wicks moisture away from your skin. Mesh panel in the front,...
​Lunaire Women's Plus Size Coolmax High Impact Sports Bra
This neutral-colored Lunaire Coolmax High-Impact Sports Bra is discreet in appearance but shares almost the same features as the WingsLove bra. It has 3 hook clasps at the back, supported by a thick band and adjustable straps.
What's different are the eyelet-shaped cups, ensured with a floating frame underwire design. It creates a more structured and firm shape for your breasts, giving them a specified place to stay immobile throughout your sports activities and workout sessions.
Because of this, the Lunaire is more supportive than the WingsLove. However, the wireless aspect of the WingsLove makes it slightly more comfortable. Its name, Coolmax, is taken from its moisture-wicking powers. This keeps you dry however long you wear it and however much you sweat in it.
Highlights
Band sizes range from 32-48, making this sports bra the most diverse when it comes to sizing for your ribcage. The cup sizes range from C-G. This bra is really designed to endure high impact workouts, so it's ideal for any level of difficulty and exertion.
Why Buy?
​Great encapsulation for perfect suppression and reduced bounce.
Champion Women's Spot Comfort Full-Support Sport Bra
​A well known brand in the athletic attire industry, the Champion's Spot Comfort Sports Bra is my pick for the best sports bra with hooks in the back. With a padded 3 hook-and-eye closure in the back and gel-infused adjustable shoulder straps, this one excels when it comes to comfort.
When it comes to sizing, the bands range from 34-42 and the cups from C-DDD. In terms of support, sizes C-D will receive max support and DD-DDD will get high support when wearing this sports bra. Champion's tagline for their sports bras is "Beat the Bounce."
This specific model does not disappoint on that, according to reviewers. The molded cups help give shape to your breasts and keep them in place as you sweat through your HIIT sessions. Speaking of sweat, the ventilating mesh and moisture management technology help keep you dry during your workouts.
Highlights
Champion has been a well-known sportswear brand, and for good reason. This bra is a reflection of that good reputation. You can't go wrong with it and this bra is no exception.​ It also comes in a variety of colors, so whether for its functions or appearance, it's going to win you over either way.
Why Buy?
​Full support and comfort with sculpted, encapsulating cups and the soft moisture-wicking fabric.
Champion Spot Comfort Sports Bra, Best Sportsbra...
SUPPORT LEVEL – High-impact sports bra made for running and high-intensity workouts.
THE FEEL – Tight compression fabric for a stay-put fit.
THE SHAPE – Wire-free sports bra with lightly molded cups for shape and support. Cups are...
My Pick for the Best Hooked Back Sports Bra
In the end, my vote is for the Champion Women's Spot Comfort Full-Support Sport Bra. With its reputable brand name, sleek design, and ability to keep your boobs compressed and in place, this bra is a must to add to your collection.
Features to Consider for Sports Bras with Back Hooks
​Sports bras without any kind of fastening seem to only be made for women who can fit into them easily. Those who are bulkier and have more breasts to fit in are left to struggle, if not for sports bras with back hooks.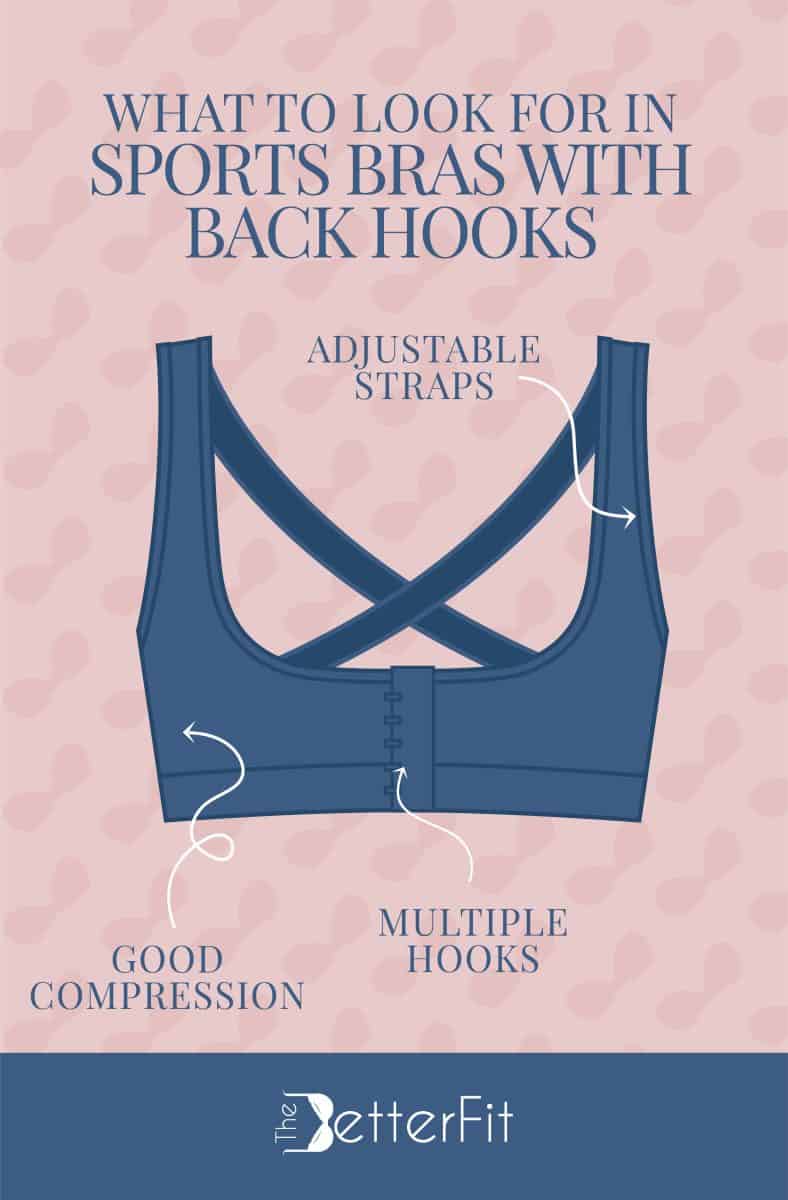 It's almost like a blessing for sports bras to have standard bra fastenings. Here are things you should probably check before committing on any one bra.
Comparing Sports Bra With Hooks in Back Features
| Bra | Hook Design | Straps | Cups |
| --- | --- | --- | --- |
| Wingslove High Impact | Three hook-and-eye back closure | Adjustable | Full-coverage, padded |
| Lunaire Coolmax | Three hook-and-eye back closure | Adjustable | Full-coverage, thin lining |
| Champion Spot Comfort | Three hook-and-eye back closure | Adjustable | Full-coverage, padded |
Multiple Hooks
​Since you use them for activities that require strenuous exertion and movement, sports bras are expected to be tighter than your normal everyday bra. If they're going to have back hooks, you might as well look for 3 rather than the normal 2. More hooks mean tighter security around your bust area.
It's also less likely for them to unhook. You will be more confident about moving your body and arms all over the place.
​Adjustable Straps
​Back hooks increase the tendency for your band to ride up at the back. It's a common thing that happens with regular bras, but it's more unacceptable with sports bras.
They need to stay aligned with your band in front of the underside of your breasts. You do not want your performance to be affected by any fitting issues. Adjustable straps allow them to elongate at the back, so they meet the band at the right place and not pull it up.
​Good Compression
​As mentioned, a sports bra needs to be tighter than regular bras. It's not only that but it's also better if they can offer compression. Playing a sport or doing an exercise will send your breasts bouncing,​ but not if your sports bra has great support.
The compression aspect in sports bras that is ​also seen ​in workout leggings will push your breasts inwards towards your chest and make sure they don't move throughout your activity. ​
Who Back Hooking Sports Bras are Meant For
​This type of bra was originally created for plus size women or full figured women, who typically wear the best push up bras for D, DD, and larger​, making it easier to take a sports bra on and off.
That being said, these bras now come in sizes that cater to women with average sized boobs (B-C cup) as well. If you have small boobs (A cup), there may be select brands that carry back hooked sports bras. For the most part, the B cup is the smallest size found.
Bonus: if your bra hooks end up breaking, fixing them is not necessarily very hard.
Related Questions
Do Sports Bras Have Hooks?
Yes, some sports bras have hooks. While most sports bras don't include hooks, others put hook-and-eye closures for a more customizable fit.
Why Are Bra Hooks at the Back?
The main reason why bra hooks are on the back is that it's easier to sew this mechanism at the back. There's not enough space for a 3×3 hook closure in front, so the wider space at the back accommodates it.
How Do You Wear a Sports Bra With a Hook?
To wear a sports bra with hooks, put your arms through the straps, scoop the breast tissue into the cups, and then fasten the hooks at the back. It's the same as wearing a regular bra, where you need to adjust the fit of the band and straps.
What Is a Sports Bra? (And How To Pick One For Various Activities)
​Conclusion
​Everybody can wear what they want; sports bras with back hooks included. However, this particular style of sports bra benefits women with large breasts the most. The wide opening enables you to wear it as easily as you would wear a regular bra.
You won't find yourself stuck in a jumble with the tight straps and band. If this is you every time you try to dress for a workout, there's something these bras could fix.